Stunning prenuptial photos are circulating all over the internet and every day, you see at least one prenup picture uploaded in Facebook, Instagram, Twitter and Snapchat. Fundamentally, a prenuptial shoot serves as a dry run for couples to feel more comfortable in front of the camera and to appear more natural on pictures on the wedding day itself. It is an intimate time to enjoy the last "boyfriend-girlfriend moments" before they officially become Mr. and Mrs. On top of that, I see it more as a preserved evidence of love that you can check once in a while when you feel like revisiting this precious moment of your lives.
Related Post: Getting Married in Dubai for Filipinos
Dubai has been one of the favorite sites for engagement shoots these days. Even celebrities and some well-known personalities will fly for several hours just to have their photos taken in the camera-ready city. Luckily, expats in Dubai are saving a huge amount of Dirhams as we no longer need to arrange a tourist visa and book a ticket. However, there are still other expenses to be considered.
How to Have a Budget Prenup Photoshoot in Dubai
Engagement shoot seems appealing until we think of the budget, right? So here are some ways to pull it off without stressing your wallet:
1.) Choose your location wisely.
There are numbers of photogenic spots here in Dubai. You just have to look for the ones with free or minimal entrance fees.
Dubai Miracle Garden –Who doesn't know this very popular tourist spot in Dubai? With millions of flowers covering 72 thousand square meters, this place will surely give you hundreds of photo opportunities. No props needed and the entrance fee is very reasonable (30 AED – Nov 2015 to May 2016).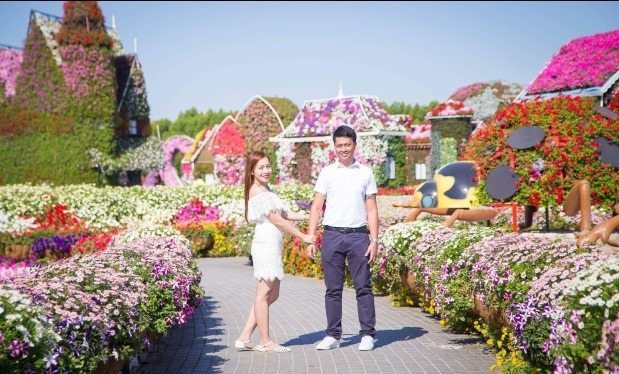 *Photo credit to DCM
Burj Khalifa – Such a classic landmark! Again, no props needed. The place itself will definitely give elegant feels. However, some people informed me that prenuptial shoot is being prohibited but you can always confirm with the security officer. I'm sure you wouldn't want to miss having a pre-wedding photo with the world's tallest tower as the background.
Jumeirah Open Beach / Burj Al Arab – Blue waters, sands and waves!!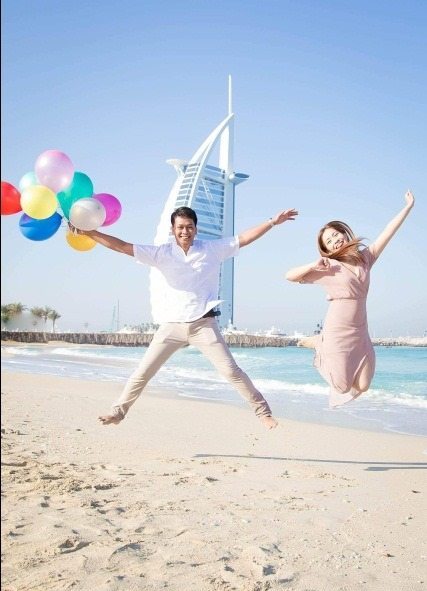 *Photo credit to DCM
Whether you want to capture the sunrise or the sunset, Jumeirah Open Beach is just perfect. When we had our engagement shoot last year, we started shooting few minutes after sunrise. We really wanted to start early to take advantage of shooting with less people. And yes, the Burj Al Arab view is absolutely a plus factor!
Dubai Creek – This place shows a different kind of beauty; far from the concrete and glitz of Dubai.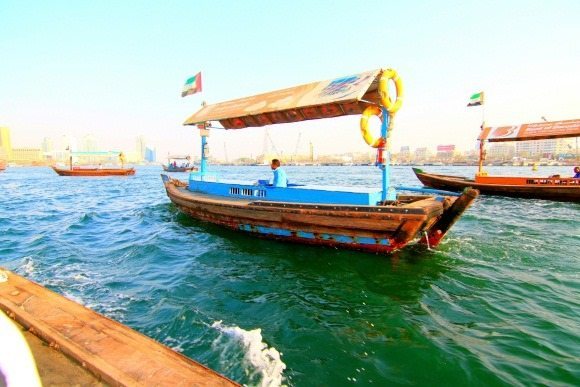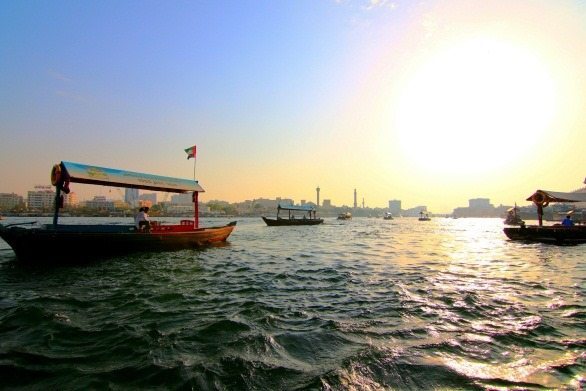 *Photo credit to Noli Raymon Samarita
Start the session from Abra station and consider extending until Al Ghubaiba (Old Souq). You can cross the creek by boat for just 1 AED per person and a quick shoot from there is also possible.
I also recommend choosing a place important to the couple; a favorite shawarma place, a memorable spot in one street or even a special metro station. Any place that is special to you can make great location for photos.
2.) The Photographer
The cost of a professional photographer certainly doesn't come cheap but you can look for alternatives. Find a freelancer or a friend with great skills and take time to discuss with him/her all the ideas you have in mind.
We had our engagement shoot taken by a friend who's into photography and we are more than happy with the result. He was able to successfully capture photos that perfectly portray our personalities.
3.) Do not splurge on your clothes
I'm pretty sure that the ladies are more concerned about what to wear during the shoot. Do not panic. It is not a fashion shoot, there is no need to be too trendy as styles come and go easily. It is still best to keep your style classic. The gentlemen are lucky as their outfits are not as complicated as with the girls. A crisp white shirt and nice fitting pants will sure match the casual attire of the bride-to-be.
If you are planning to buy, try not to spend too much on clothes that you will only wear once. Be practical. Invest on clothes that can still be used in the future. I recommend two shopping centers in Deira that I personally love; Al Bassam Centre and Al Kabayl Discount Centre. These shops offer budget-friendly stuff and good quality clothes for a lesser price. When I was in the hunt for my prenup OOTD, I was able to buy an elegant long dress for only 75 AED. Great find, right?
You can also give this shoot a more personal touch by using what you wore on your first date, your favorite couple shirt or something out of your closets that will show off your personality. Please, don't forget to have your clothes cleaned and pressed. Engagement ring must be shiny, free from dirt and marks as well.
Keep it simple, my dear. Make sure that both of you are comfortable with your outfits and that you feel happy wearing it. Your happiness will reflect in the pictures.
4.) Use readily available props
I personally suggest avoiding a seriously-themed engagement session. Instead, go for something timeless and classy. You can bring your favorite books with you, your own handy musical instruments or a box filled with exchanged letters. Remember to utilize your props only when appropriate.
To make your engagement photos unique, my number one tip is to bring your emotions with you. The most important thing needed in the shoot is you and your hubby's smiling faces.
5.) Bring packed food (baon)
The entire photo shoot might take 3 hours or more. It doesn't matter whether you are working with paid professionals or friends who volunteered to help; you've got to take care of their tummies.
Our goal is to have an engagement session without overspending and we cannot just buy and buy every time we feel like eating. It's always a good idea to bring fruits, crackers, chips, cookies and sandwiches. It's fine to have cold sodas but be sure to have lots of bottled waters. You guys need to stay hydrated throughout the day.
Remember, everyone is happy when they're not hungry.
6.) Have your relatives/friends around
Bring along relatives or friends you are comfortable with. During our engagement session, one of my friends did my make up at home and the other two were with me in the location of the shoot. I couldn't be more thankful of them as they absolutely made our lives easier that day.
Also, a trusted friend will not be afraid to give honest opinions. It is a lot easier if you have people you can completely be yourself around. The more comfortable you are, the more relaxed you will be and the more natural you will appear in camera.
A great engagement photo will show your connection as a couple. The trick isn't just having the right photographer or doing the correct pose. This shoot is all about the two of you as couple and how comfortable you are with each other. Be bold, be creative and have fun!! I'm sure in the future you'd be able to say; "Look. This is me and your dad when we were young. And this picture was taken right after we decided to live as one."
---
About the Author: Rachel Therese Ruiz

Rachel has been in Dubai since 2013 and she is currently working as Receptionist cum PRO Assistant in a wire company in JAFZA. She's a writer at heart who fictionalizes almost everything and she loves books bundled with chocolate almond bars. (Jeremiah 29:11 ❤). Facebook – Instagram – Twitter
---
Want to become a contributor? More details here – Become a Dubai OFW Contributor!