One of the best tourist attractions in Dubai is the Dubai Miracle Garden, the largest natural flower installation in the world that spans over 18 acres of flower displays. They reopen this season on 29th September 2023 and guests can visit the park from 9am to 9pm on weekdays and from 9am to 11pm on weekends.
In case you're wondering what's new this season, it hosts a display of new floral masterpieces, including a re-imagined Disney Avenue, Floating Beds, Floral Castle, and so much more.
Related Post: How to Get to Dubai Miracle Garden by Public Transport
Miracle Garden in Dubai
Location: Al Barsha 3, Arjan Dubailand, Dubai, UAE
Schedule this Season: September 29, 2023
Opening Hours: 9am – 9pm on weekdays (Monday to Friday), 9am – 11pm on weekends (Saturday and Sunday)
Entrance Fee: AED 95 for adults, AED 80 for children
Special Rate for UAE Residents: AED 65 (must be bought at the Dubai Miracle Garden counter only)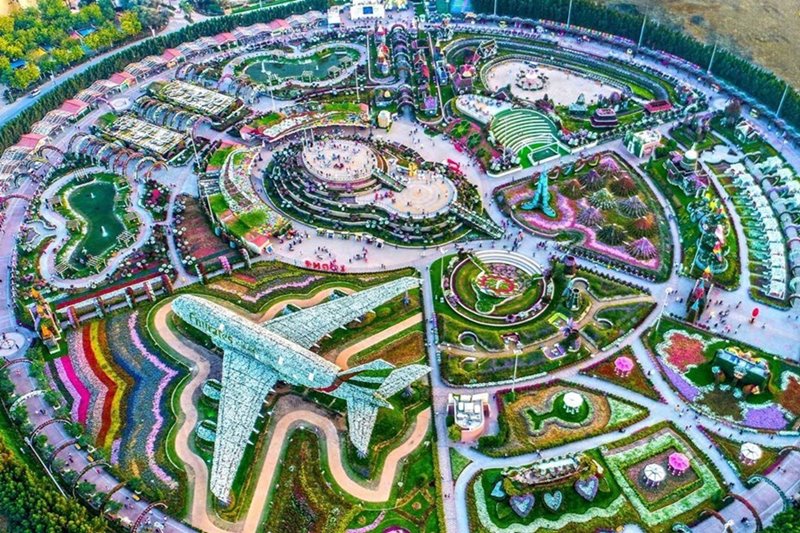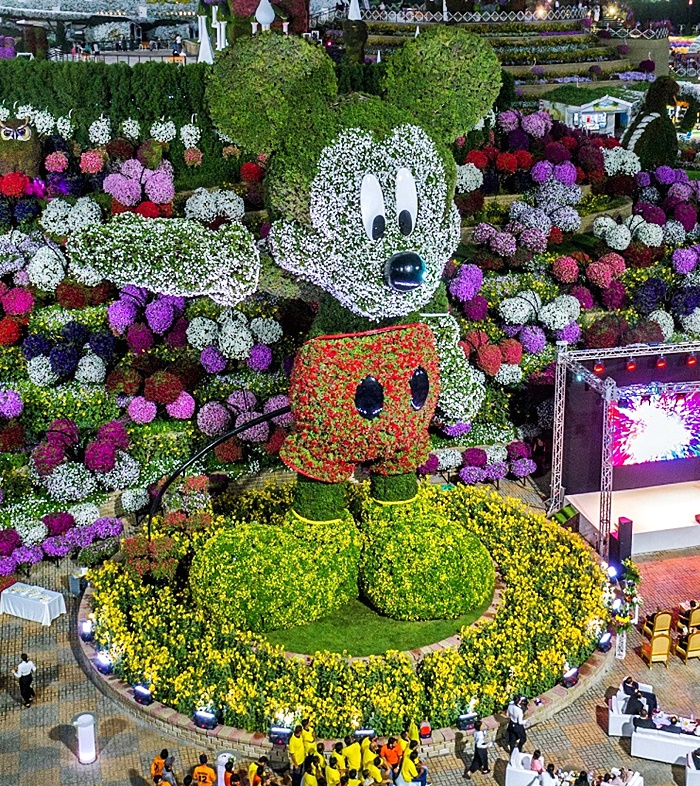 The Miracle Garden, located in Al Barsha – Dubailand, is one of the most-visited tourist spots during winter months in Dubai. Winter season is the time for residents to enjoy the outdoors, and the this is a perfect attraction to check out with friends and family. It is re-opening today
As a visitor in this colorful venue, you will be amazed with its wealth in flora and fascinating attractions. What's more, a visit in this lush field allows you to take pleasure at its exquisite scenery and vibrant ambiance. Touted as one the most beautiful places in UAE, this refreshing oasis will give you a taste of how Dubai creates something from a desert.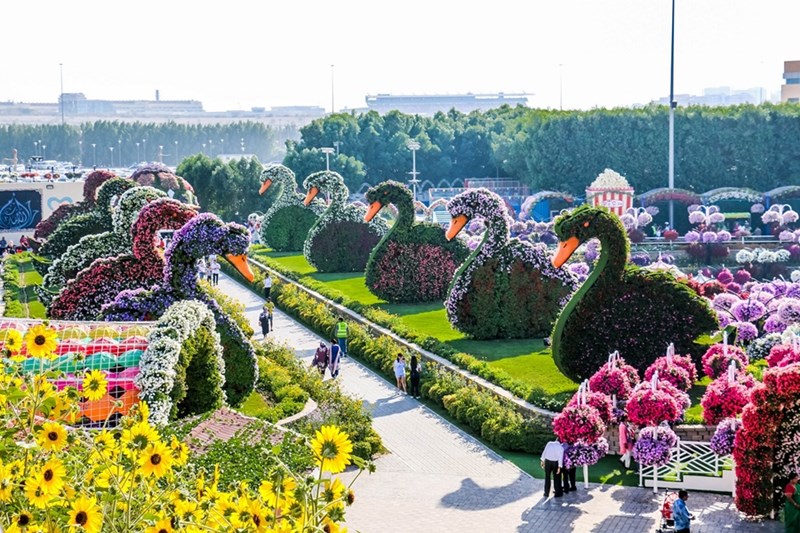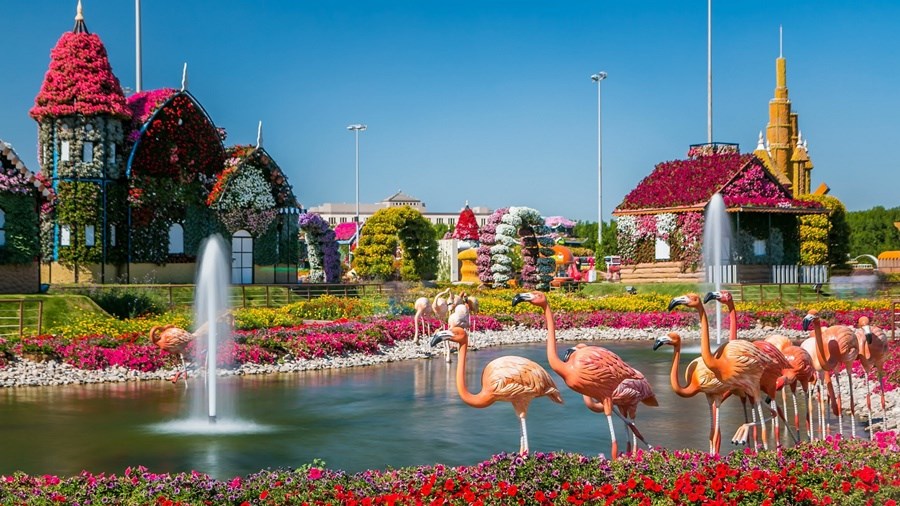 Below is a clip of what it has in store for every visitor: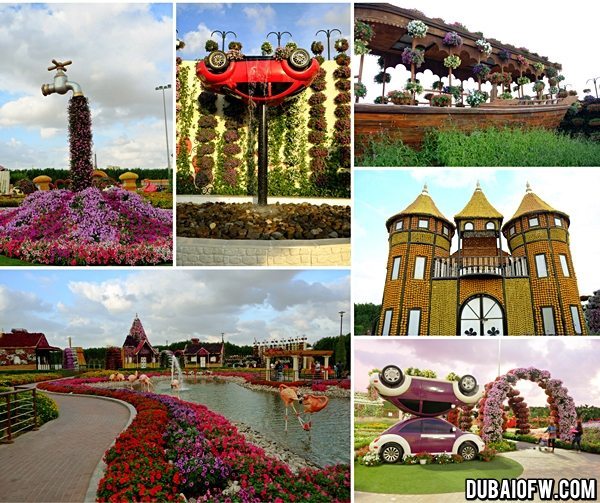 Miracle Garden Dubai – Must-Visit Tourist Spot during Winter in Dubailand
The Dubai Miracle Garden is a dramatic mega-garden that has a very fitting name. As with most towering skyscrapers and man-made attractions in Dubai, this scenic greenhouse is practically built on a desert land, which is nothing short of amazing.
Keep in mind that a desert is a dry land in which only a few strong genetically gifted species of plants and animals can survive. With the lack of water available on this dry land, it is indeed a miracle to see a garden as flourishing and lovely as this one.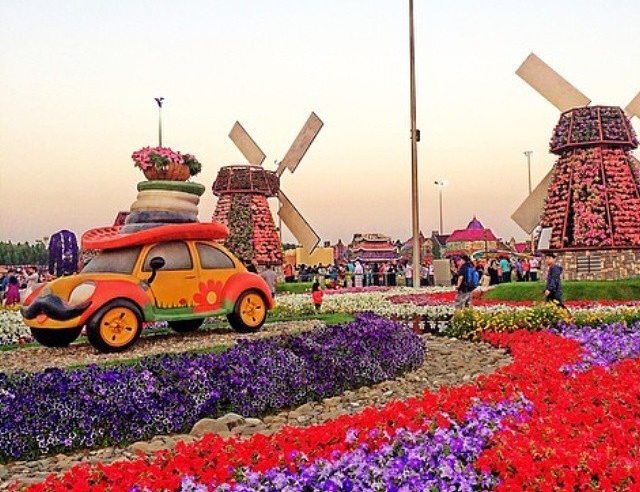 Photo by @rhiancess on instagram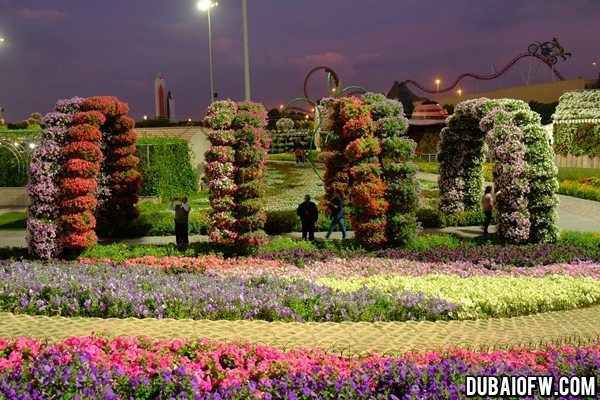 Largest Vertical garden in the world
This gigantic greenhouse was heralded by Guinness Book of Records as the world's largest vertical garden, after the opening of its 1st phase. With an impressive land area of 72,000 square meters, this garden definitely deserves this prestigious recognition from Guinness. Aside from its great land size, the venue also exhibits over forty five million flowers on display.
A Spectacular display of flowers
Words simply cannot describe the beauty of this marvelous tourist magnet. Here, you get lay your eyes on an endless array of flowers that are embellished and arranged in a variety of ways. The blooms of these colorful and lively vegetations have been designed to look like pyramids, igloos, stars, hearts and other eye-catching figures. Every season, the garden's floral arrangements and patterns change, to give you a new and different experience during your next visit to this place.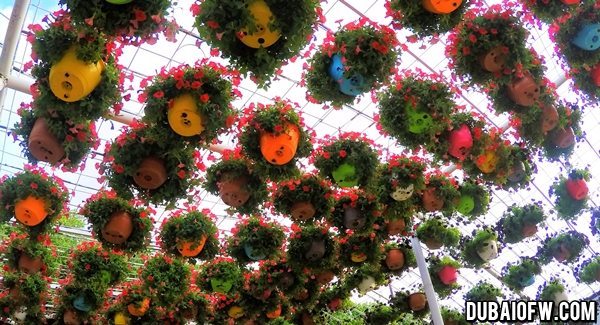 The Dubai Miracle Garden is far from being complete. As a matter of fact, it has yet to open some its commercial and retail outlets that include a souvenir shop, ice cream shop, coffee shop, grocery store and restaurants. Still, a trip to this place is a breathtaking journey that will make you appreciate the beautiful creations.
Besides, this picturesque oasis is one of the most popular and beloved tourist attractions in the region, drawing millions of tourists from all corners of the world every year. No trip to the city of Dubai is complete without a stop at the world's largest natural flower garden, the Dubai Miracle Garden.
A380 Plane Made of Flowers – Largest Flower Installation in the World
Did You Know: There is an Emirates A380 plane made out of flowers inside the garden and this has been honored as the largest flower installation in the world by the Guinness Book of World Records. More details here –  Dubai Miracle Garden's Emirates A380 Declared World's Largest Flower Installation
Here's a photo of the said A380 plane in DMG: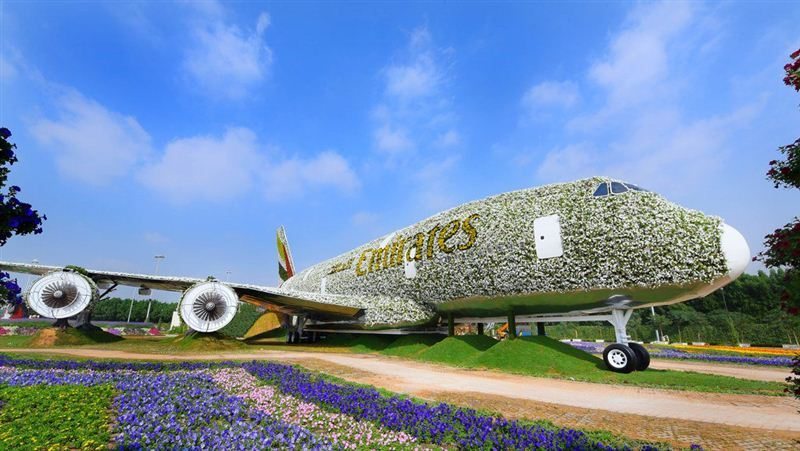 Mickey Mouse Garden and Disney Merchandise
Mickey Mouse and Walt Disney fans can see a floral sculpture of the famous character here. As part of a new licensing deal between Dubai Miracle Garden and The Walt Disney Company, they have created a spectacular 18-metre high Mickey Mouse floral installaion – Disney's first character floral display in the Middle East – earning the GUINNESS WORLD RECORDS title for the Tallest Topiary Sculpture (supported). Aside from the Disney Flower Garden, visitors can also purchase and take home Disney merchandise at the gift shop.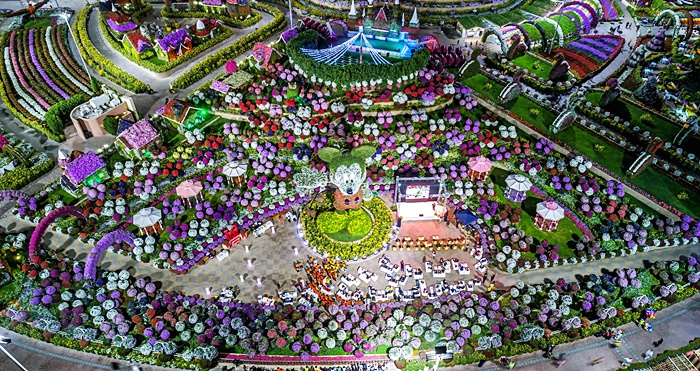 Miracle Garden Pictures:
Below are some more photos of what you can expect from this place: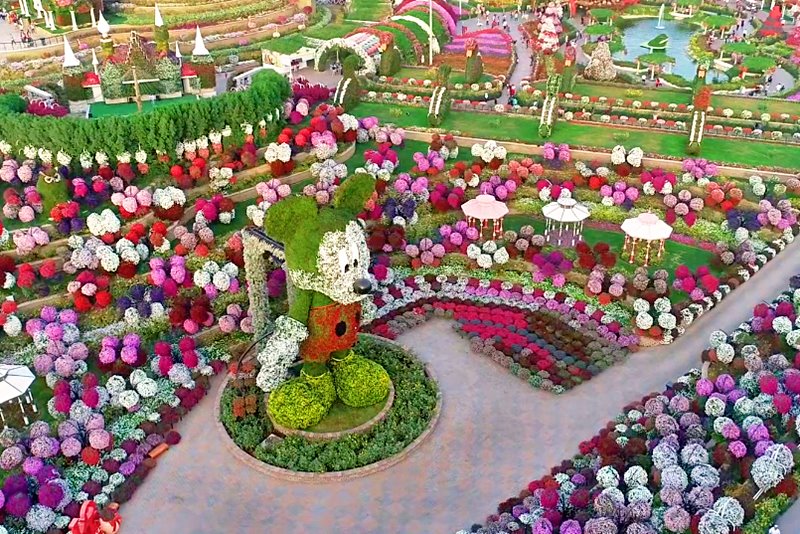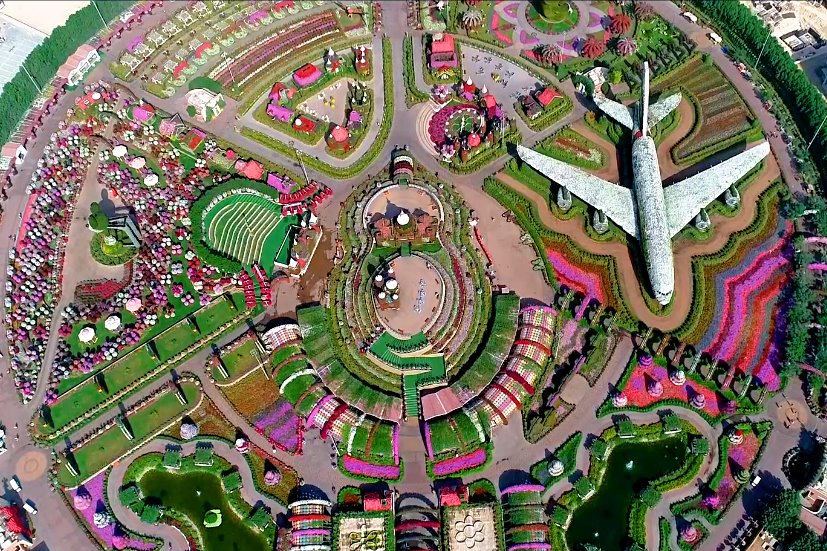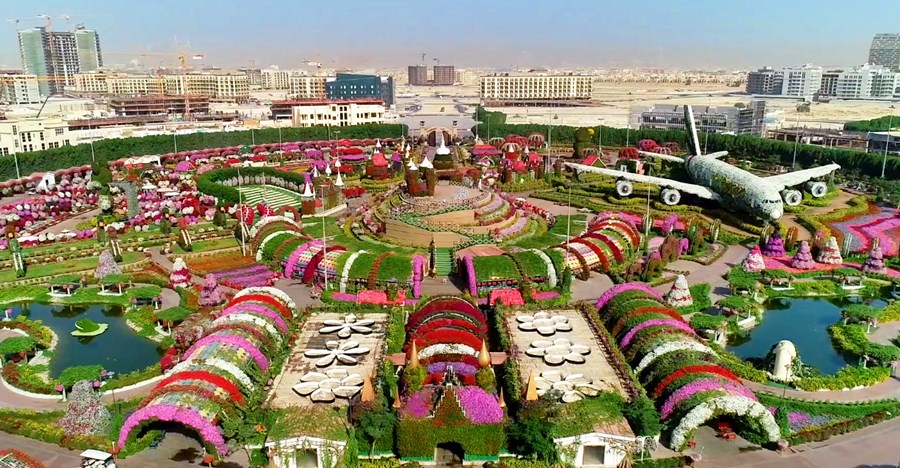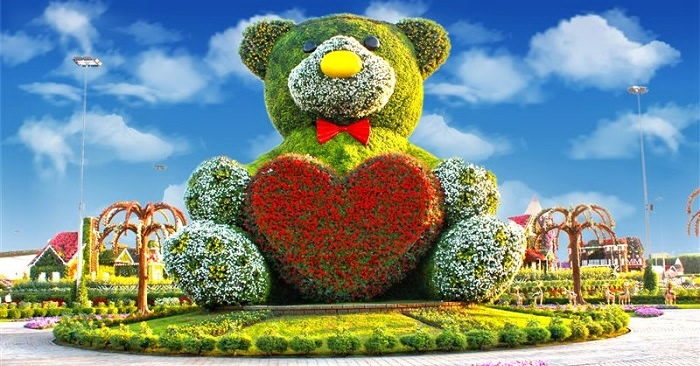 How to Get There
Cheapest way to get to the Miracle Garden is to take the Dubai Metro train and stop at the MOE (Mall of the Emirates station) – Red Line.
Take RTA public Bus 105 and it will directly take you to Dubai Miracle Garden. Cost is 5 Dirhams and takes about 20-30 minute ride.
Going Back to the Metro
Once you finished touring the place, you can take the same bus going back to the MOE metro station. Or you can hire a taxi to take you back to the metro station.
When To Visit: Winter Season (as it is closed during Summer)
Opening Hours
9am – 9pm – Weekdays
9am – 11pm – Weekends (Friday and Saturday).
Ticket Prices in Dubai Miracle Garden
Entrance Rates (Please note that this may change without prior notice)
95 AED – Regular Admission (Adults)
80 AED – Children (12 years old and below)
65 AED – Special Rate for UAE Residents
FREE – 3 yrs old & below
Video Preview of the Miracle Garden in Dubai
Here's a short preview of what you can expect in this beautiful tourist spot in Dubai. This was taken during our visit to this amazing place.
Location Map: Dubai Miracle Garden
Please check out this Google map of the Dubai Miracle Garden in case you are travelling via private car for your reference.