Did you know that nestled beneath the glittering waves of the Arabian Gulf lies a dining experience like no other? Welcome to the enchanting world of the best underwater restaurants in Dubai, where gastronomy meets marine magic.
As we dive into this captivating culinary journey, you'll discover not only the finest flavors but also the mesmerizing beauty of the deep blue sea. Join us as we explore the best underwater dining destinations that redefine the concept of "dinner with a view." Let's get started.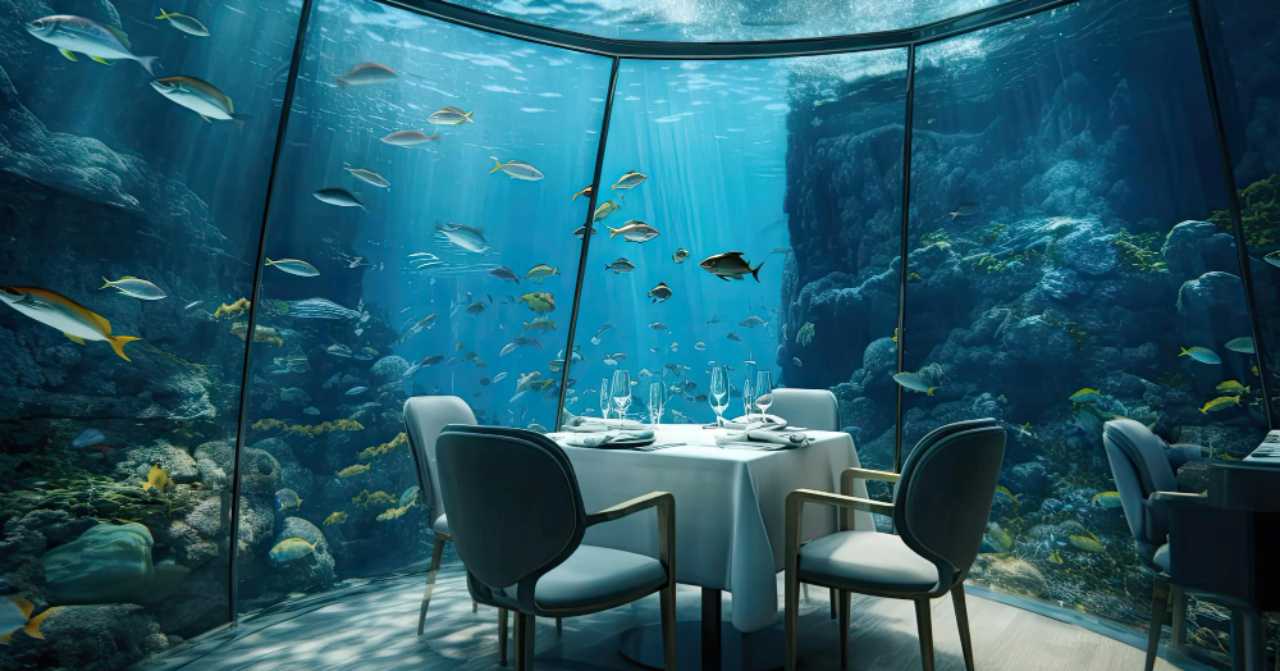 Underwater dining in Dubai is an absolute must-try for those seeking the pinnacle of luxury travel experiences.
While underwater dining opportunities can be found around the globe, Dubai stands out as the ultimate hotspot for indulging in this bucket-list-worthy culinary adventure.
The city's reputation as a melting pot of diverse cuisines and cultures ensures that your taste buds will embark on a journey as extraordinary as the setting itself.
Imagine savoring the finest seafood dishes in a tranquil, serene environment, where the aquatic world becomes your backdrop.
These underwater restaurants are not just places to dine; they are temples of opulence and elegance, making them perfect for celebrating life's most special moments, whether it's a romantic wedding proposal, a dreamy honeymoon, or a milestone birthday.
In Dubai, underwater dining isn't just a meal; it's an experience that elevates the art of gastronomy to new depths.
Address: Crescent Rd – The Palm Jumeirah – Dubai – United Arab Emirates
Contact number: +97144260770
Google Map Location:
Ossiano, a sophisticated and Michelin-starred underwater restaurant in Dubai, offers an extraordinary dining experience that transcends the boundaries of traditional gastronomy.
Nestled within a luxurious hotel, it boasts floor-to-ceiling views into a vast aquarium, immersing diners in an enchanting marine world.
From the moment patrons step inside, they are transported into a cinematic setting where the ambiance is as captivating as the cuisine.
The culinary journey at Ossiano is nothing short of exceptional. Each dish is a work of art, meticulously designed and presented to perfection.
As you indulge in these culinary delights, your gaze is drawn to the mesmerizing aquatic life in the aquarium, creating a truly immersive dining experience.
The service, rated 10/10, is both professional and hospitable, ensuring that every guest feels pampered.
While Ossiano is undeniably a splurge, it offers unparalleled value for money, as it's not just about the food; it's about the unforgettable experience.
This underwater gem is the perfect venue for celebrating special occasions, and the complimentary birthday cake is a testament to their attention to detail.
Overall, Ossiano is a 5-star sensory delight that leaves a lasting impression, making it a must-visit for those seeking a unique and unforgettable dining adventure in Dubai.
Address: Burj Al Arab Jumeirah – Jumeirah St – Dubai – United Arab Emirates
Contact number: +971800323232
Google Map Location:
Ristorante L'Olivo at Al Mahara inside the iconic Burj Al Arab offers an unparalleled underwater dining experience in Dubai.
The restaurant's unique ambiance is defined by a breathtaking wall-to-ceiling aquarium that immerses diners in a mesmerizing aquatic world.
It's no surprise that this establishment is regarded as one of the city's finest dining destinations, perfect for those celebrating special occasions.
Upon arrival, guests are greeted by friendly hostesses, setting the tone for exceptional service.
The waitstaff, true professionals, provide detailed explanations of the menu, guiding patrons through an exquisite culinary journey.
The chef's culinary prowess shines through, starting with an exceptional tomato bruschetta that tantalizes the taste buds.
The recommendations from the attentive waiters consistently deliver delightful surprises.
The charming ambiance, highlighted by the interior aquarium, makes Ristorante L'Olivo a cozy and romantic spot for a memorable night out.
With optimal location, impeccable service, and a menu featuring divine dishes like tagliolini, this restaurant is a seafood lover's dream come true.
Without a doubt, it's a must-visit in Dubai, an experience to be savored and shared with loved ones.
Address: Crescent Rd – The Palm Jumeirah – Dubai – United Arab Emirates
Contact number: +97144262000
Google Map Location:
The Underwater Suites at Atlantis, The Palm offer a truly exceptional underwater dining and accommodation experience in Dubai.
While not traditional restaurants, these suites provide an immersive encounter with the mesmerizing marine world.
Guests are treated to Arabian-themed luxury, complete with breathtaking views of the Ambassador Lagoon, where thousands of fish glide by.
What sets these suites apart is the opportunity to swim within the floor-to-ceiling aquarium, creating a unique and unforgettable connection with the underwater realm.
Each suite spans over 1,700 square feet, featuring aquatic vistas, even from the ensuite bathroom.
In addition to the stunning surroundings, these suites offer practical amenities, including a fully equipped kitchen, a spacious dining area for six, and the convenience of 24-hour private butler service.
The occupancy limit accommodates three adults and two children below the age of 16, making it an ideal choice for families or those seeking a luxurious retreat.
While the average price per night is around AED 36,000+, the overall experience is nothing short of fantastic.
The well-maintained and comfortable rooms, along with impeccable room service, contribute to a memorable stay.
Although dining at the hotel may be on the expensive side, the delectable dishes more than compensate for the cost, offering a culinary delight that complements the underwater wonder of Atlantis, The Palm.
Address: 65G6+72X – Venice Island, The Heart of Europe – The World Islands – Dubai – United Arab Emirates
Contact number: +971 4 818 14 81
Google Map Location:
The Floating Venice (Floating Lido) is poised to become a standout underwater restaurant experience in Dubai, setting the bar for luxury and innovation in the city's dining scene.
Located on The World Islands, a man-made archipelago off the coast of Dubai, this ambitious project combines the allure of Venice with the opulence of Dubai.
Its underwater deck is a marvel, featuring not only dining establishments but also rooms, shops, bars, and a vibrant coral nursery.
What makes this venture truly exceptional is its commitment to providing an "authentic Venetian experience" in the heart of Dubai.
Italian-inspired designs adorn the resort, complete with replicas of the Basilica San Marco and the romantic charm of gondolas drifting through the crystal-clear waters.
Guests can relish underwater dining while gazing at the mesmerizing marine life that surrounds them.
The Floating Venice promises to be a remarkable fusion of culture, luxury, and aquatic wonder, making it one of Dubai's most anticipated attractions.
Other Attractions with Underwater Facilities Worth Noting
Address: Downtown Dubai – Dubai – United Arab Emirates
Contact number: +971800382246255
Google Map Location:
The Dubai Aquarium and Underwater Zoo, situated within the iconic Dubai Mall, offers an extraordinary underwater experience that is nothing short of awe-inspiring.
As one of the world's largest indoor aquariums, it beckons visitors with its sheer size and grandeur.
The focal point, a colossal viewing panel, immerses guests in a captivating underwater realm where a stunning array of marine life thrives.
Majestic sharks and graceful rays are just a glimpse of the diverse species on display.
A highlight of this attraction is the tunnel walkway, providing a unique perspective as visitors are enveloped by a mesmerizing display of colorful fish and marine creatures.
It's a truly unforgettable encounter with the ocean's wonders.
The Dubai Aquarium further enhances the experience with interactive features, such as the Underwater Zoo, allowing visitors to get even closer to the animals.
Educational exhibits shed light on marine life and conservation, making it enriching for all ages.
Notably, the facility is impeccably managed, with a focus on cleanliness, maintenance, and safety, ensuring a secure and comfortable environment for guests.
For an unparalleled journey into the aquatic world, the Dubai Aquarium and Underwater Zoo is an absolute must-visit destination.
2. Hydropolis (PENDING PROJECT)
Hydropolis, the proposed underwater hotel and resort in Dubai, promises to be a groundbreaking marvel in the world of hospitality.
This ambitious project is set to become the first multi-room underwater hotel globally, setting a new standard for luxury and innovation.
Originally planned to be submerged 20 meters beneath the waters off Jumeriah beach, Hydropolis aims to sprawl across a vast 260-hectare area, equivalent to the size of London's Hyde Park, making it one of the largest construction projects worldwide.
Owned by the Prince of Dubai and backed by a consortium of around 150 companies, Hydropolis represents a vision of the future realized today.
The estimated construction cost of approximately 600 million Euros underscores its status as one of the most expensive hotels ever conceived.
Designed by Joachim Hauser and Professor Roland Dieterle, the hotel will consist of three distinct segments: a land station, a connecting train, and the underwater hotel itself.
This visionary project's overarching goal is to seamlessly connect humans with the mesmerizing world of water, offering an unparalleled and transformative underwater experience.
Things to Consider When Dining at an Underwater Restaurant
Dining at an underwater restaurant is a truly unique and unforgettable experience.
The combination of exquisite cuisine and mesmerizing underwater views makes for a memorable meal.
However, to fully enjoy this one-of-a-kind adventure, there are some important things to consider.
Reservations are Essential: Underwater restaurants are often in high demand, so it's crucial to make reservations well in advance. Check the restaurant's booking policies and secure your spot to avoid disappointment.
Dress Code: Understand the restaurant's dress code, which can range from casual to formal. Dress comfortably, but respect any specific requirements to maintain the restaurant's ambiance.
Arrive Early: Arriving a bit early allows you to soak in the underwater views before being seated. Take your time to explore and capture the beauty of the marine life outside the restaurant's windows.
Dive into the Menu: Review the restaurant's menu in advance to get an idea of the cuisine offered. Many underwater restaurants specialize in seafood, but they often cater to various dietary preferences.
Dine During Daylight: If possible, choose a daylight reservation. Natural light enhances the underwater experience, allowing you to see marine life more clearly.
Understand Seating Arrangements: Some restaurants have different seating options, such as tables by the window or central seating areas. Discuss your preferences with the staff when making your reservation.
Photography Etiquette: While it's tempting to capture the underwater wonders, be mindful of other diners. Use discreet photography without flash to avoid disturbing the ambiance.
Safety Briefing: Pay attention to any safety briefings provided before the meal. Familiarize yourself with the restaurant's evacuation plan and safety features.
Respect the Marine Environment: Remember that you are in a delicate marine ecosystem. Avoid tapping on the glass or attempting to interact with the marine life outside. Appreciate their beauty from a distance.
Budget Accordingly: Dining at an underwater restaurant is often a splurge. Be prepared for higher prices compared to traditional dining establishments.
Special Occasions: Consider celebrating special occasions like birthdays, anniversaries, or proposals at underwater restaurants. Many of them offer tailored experiences for such events.
Relax and Savor: Finally, relax and savor every moment of your underwater dining experience. It's a unique opportunity to enjoy gourmet cuisine while being surrounded by the wonders of the deep sea.
What to Expect in Underwater Dining in Dubai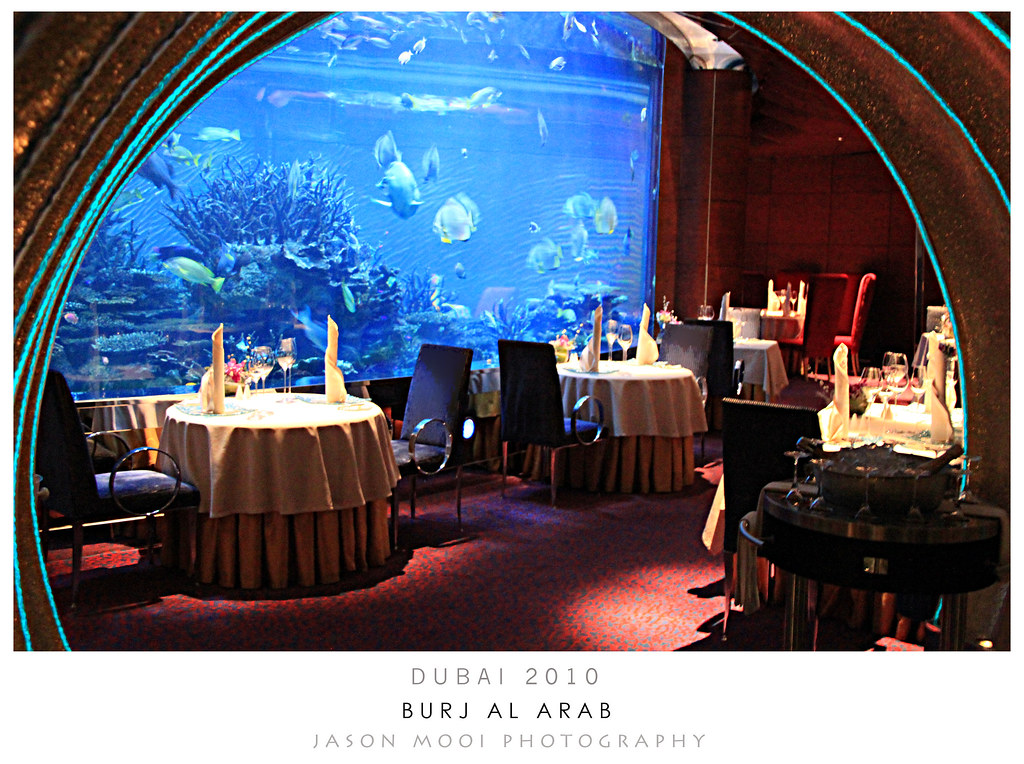 Awe-Inspiring Ambiance:
Upon entering an underwater restaurant, you'll be struck by the mesmerizing ambiance. The interiors are meticulously designed to create an immersive underwater atmosphere with large windows offering unobstructed views of marine life.
World-Class Cuisine:
Expect world-class cuisine that ranges from international flavors to seafood specialties. Dubai's underwater restaurants pride themselves on delivering exquisite dishes that cater to diverse palates.
Stunning Marine Life:
While dining, you'll have the privilege of observing a breathtaking array of marine life. Keep your eyes peeled for colorful fish, graceful rays, and even the occasional shark passing by your window.
Unique Dining Experiences:
Dubai's underwater restaurants often offer unique dining experiences like tasting menus, wine pairings, and chef's specials. Be sure to inquire about these options when making your reservation.
Photographic Opportunities:
Don't forget your camera or smartphone! The stunning views and striking interiors provide excellent photo opportunities to capture this unforgettable experience.
Pricing and Budget:
While these dining experiences are undeniably luxurious, they come with a corresponding price tag. Be prepared for higher-than-average restaurant prices, but rest assured that the experience is worth every dirham.
Special Occasions:
Underwater dining in Dubai is perfect for celebrating special occasions such as anniversaries, proposals, or milestone birthdays. Many restaurants offer customized experiences for these moments.
Timings and Atmosphere:
The ambiance varies throughout the day. Lunchtime offers a brighter, more vibrant view of the underwater world, while dinner creates a romantic, intimate atmosphere with subdued lighting.
Video: This is why Dubai is so amazing! (underwater restaurant Dubai Atlantis)
In this video, we look at an extraordinary dining adventure that takes you from the heights of the sky to the depths of the sea in the vibrant city of Dubai.
Join the vlogger as they embark on a culinary journey like no other, dining at some of Dubai's most remarkable restaurants, including the world's first Masterchef restaurant.
But the highlight of this vlog is an awe-inspiring underwater dining experience at Ossiano, the underwater restaurant located at Dubai Atlantis.
Imagine savoring delicious seafood while being surrounded by a mesmerizing world of 65,000 sea creatures—a truly eye-opening experience that showcases the uniqueness of Dubai's dining scene.
Not only does this vlog offer a taste of the exquisite cuisine in Dubai, but it also provides a glimpse of the city's diverse culture, from its rich traditions to its futuristic innovations.
Discover why Dubai is such an amazing destination, from its safety and cleanliness to its captivating blend of the old and the new.
Frequently Asked Questions
1. What is an underwater restaurant?
An underwater restaurant is a dining establishment located beneath the water's surface, typically in an aquarium-like setting with large windows or walls offering breathtaking views of marine life while patrons enjoy their meals.
2. Are there many underwater restaurants in Dubai?
Yes, Dubai is home to several underwater restaurants, making it a global hub for this unique dining experience.
3. How deep are these restaurants usually located underwater?
The depth can vary, but most underwater restaurants in Dubai are typically situated around 4 to 6 meters below the water's surface, providing guests with close-up views of marine life.
4. What types of cuisine are offered at underwater restaurants in Dubai?
Dubai's underwater restaurants offer a diverse range of cuisines, including international and seafood specialties. You can expect exquisite dishes prepared by skilled chefs.
5. Is it necessary to make reservations in advance?
Yes, reservations are highly recommended for underwater restaurants in Dubai, as they are popular and often have limited seating. It's advisable to book well ahead of your visit.
6. Can I see marine life while dining?
Absolutely! One of the main attractions of underwater restaurants is the opportunity to observe marine life through large windows. You may spot colorful fish, rays, and even sharks swimming by.
7. Are underwater restaurants suitable for special occasions?
Yes, these restaurants are perfect for special occasions like proposals, anniversaries, and milestone birthdays. Many offer customized experiences for such events.
8. What is the price range for dining at underwater restaurants in Dubai?
Dining at underwater restaurants in Dubai is a premium experience, and prices can be higher than at conventional restaurants. It's a good idea to check the menu and pricing in advance to plan accordingly for your visit.
Summary
In conclusion, Dubai's underwater restaurants offer a dining experience that transcends the ordinary and immerses you in a world of culinary excellence and natural wonder.
As we've delved into the concept of underwater dining, you've had a glimpse of the incredible fusion of flavors and marine magic that awaits beneath the Arabian Gulf's shimmering waves.
These underwater dining destinations in Dubai are not just about satisfying your taste buds; they are about creating memories that will stay with you forever.
Whether it's the vibrant marine life or the exceptional cuisine, every aspect of this experience is designed to leave you in awe.
READ NEXT: List of Best Beaches in Dubai