Have you ever wondered what OFWs in Dubai do during their days off? We all know that life is an OFW can be quite challenging, but they strive to work hard every working day for their families back home, and they truly deserve a much needed break at least once or twice a week.
Also Read: UAE Labour Law: Working Hours, Official Leaves, and Vacations
In this article, the lives of three OFWs in Dubai share their day off activities through their YouTube vlogs. Their experiences will give you an idea about how you might spend your days off if you're planning on becoming an OFW yourself.
Disclaimer: The information posted here is based on the experience shared by the OFWs in the videos below.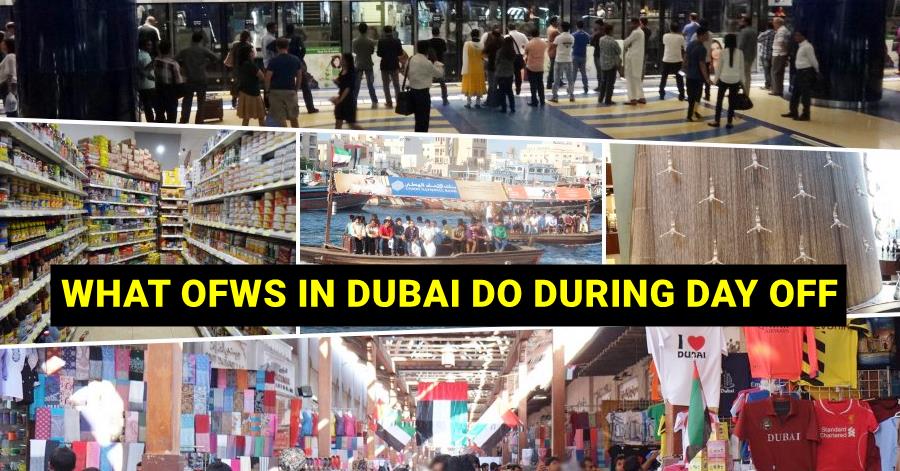 Buhay OFW sa Dubai: Why OFWs in Dubai are Still Busy Even During Their Day Off
It's tough being an OFW as there are those who have only one day off during the week and they utilize the time they have to household chores. A lot of them also do their best to try to explore Dubai at the same time.
Water Front Market
This first video is from the YouTube channel Gee Ann Pard's. It is a relatively recent video which shows how OFWs in Dubai spend their days off despite quarantine.
As you can see in this video, the lockdown is not as strict anymore; more people are going outside, albeit still wearing masks and following social distancing.
One way OFWs spend the day off is by going out to buy groceries and food items. In this example, they went to the Water Front Market to buy fish, meat, vegetables and fruits.
Here are some facts about the Water Front Market
At the Fish Section, the setup is like a mall where you have to bring a trolley cart in to choose from a wide variety of fresh fish and sea food.
Unlike a mall, you can ask for a discount from the vendors and they typically comply with reasonable deals.
The fruits and vegetables section provides lots of fresh options, with an abundance of dates; a popular delicacy in the UAE and the Middle East in general.
Stay at Home Day Off
This next video shares a day off by a YouTuber named Geneva Reyes. Through the video, she showed a summary of her routine from waking up in the morning to sleeping at night.
After waking up, she goes through the daily early morning hygiene essentials.
She mentioned that the water from the faucet in Dubai is hot, so they usually store water in a pail in advance so that it cools down.
After breakfast, she proceeds to clean the house, wash clothes and hang them to dry, shower, skin essentials, and more.
Geneva found time to go out, going to Westzone Dubai to shop.
Day ends with dinner, resting for a bit before going to bed and sleep.
Enjoying Amenities in Accommodation
This final video shows how some OFWs don't have to leave the comforts of their accommodation to enjoy their day off.
This video showcases the experiences of Arnette in her YouTube channel iHeartDayOff. She explores the building where she lives in Dubai, and features some of its amenities including the following:
Steam bath – located beside the gym
Sauna – just next to the steam bath. There are lockers near both amenities as well.
Gym – it has treadmills, bench presses, weights, exercises bikes.
Pool – the swimming pool is located at the rooftop of their building (7th floor).
Arnette added that the amenities are free. All you need to show is your keycard which is issued to you if you are a resident of the building.
There are two swimming pools, one for the men and another for the women. Segregation of men and women is widely practiced in the UAE.
These amenities open at 9 am and close at 9 pm.
OFWs in Dubai surely have different ways of making their days off productive and fun. For soon to be OFWs in the UAE, these videos show how you might spend your days off.