As the outbreak continues to affect countries all over the world, help continues to arrive in the form of food and cash aid, especially for those who need it the most. And while this is generally a good thing, misunderstandings and disagreements are bound to happen as well.
Recently, a welfare officer in Dubai was ordered suspended and told to return to the Philippines, after allegedly cursing at an overseas Filipino worker (OFW) who was inquiring about food assistance. The OFW, Joy Parafina, had taken to social media to share her experience, by posting this video on Facebook:
Welfare Officer in Dubai Ordered Suspended Over Food Aid
On Saturday, 18th April 2020, Philippine Labor Secretary Silvestre Bello III said that he had ordered the suspension and recall of the welfare officer, ABS-CBN News reported.
"Mayroon kaming welfare officer in Dubai na minumura niya 'yung OFW. I saw it on Facebook na itong aming welfare officer na sa halip bigyan ng tulong, ng pagkain itong mga OFW, abay minumura (We have a welfare officer in Dubai who was cursing at an OFW. I saw it on Facebook that this welfare officer, instead of giving help, food to the OFW, he was cursing at her)," Bello stated.
"I ordered a suspension and investigation and ordered his recall to the Philippines. The first available flight uuwi na siya (he will return)," he added.
Last 16th April, OFW Joy Parafina shared that she asked the officer, Danilo Flores, if there was a receipt for the food pack being given, and if it was part of the USD 200 cash aid that the Philippine government had announced earlier for OFWs affected by the pandemic.
However, instead of answering her query, Parafina said that the officer cursed at her: "Nagmura po, ako na nga daw po ang tinutulungan ayaw ko pang tanggapin (He cursed at me and said they are helping me but I won't accept)," she quoted the officer as saying.
Later, Parafina said she found out that the food packs being given to OFWs were donations, and not part of the cash assistance from the Philippine government.
In response, Bello stated that the welfare officer would be investigated.
Photos of Food Packs Shared Online
Although there's no news yet on the actual contents of the food packs given to OFWs, we found the following pictures shared by netizens online.
According to Dj em on Facebook, here is a picture of the grocery pack posted by OFWs Ana Zuzane and Ji Jarder in Dubai. It contains rice, pasta spaghetti sauce, black tea, tuyo (dried fish), bagoong (shrimp paste), coffee, milk, noodles, sardines, biscuits, and other food items.
Likewise, here is a picture of the food pack reportedly given by POLO Abu Dhabi:
Cash Aid for Affected OFWs
Aside from food packs, OFWs affected by the pandemic may also avail a one-time cash aid worth USD 200, which is equivalent to PHP 10,000 or AED 730. This is part of the DOLE-AKAP for OFWs initiative of the Philippine Overseas Labor Office (POLO).
To avail the cash aid, OFWs need to accomplish an application form and submit document requirements (e.g. certificate of employment issued by their agencies). Upon submission, the POLO or Overseas Workers Welfare Administration (OWWA) will evaluate their application.
For OFWs in Dubai and the northern emirates, please visit the POLO Dubai website for more information about how to avail the cash aid, as well as to download an application form.
POLO Abu Dhabi has also made an announcement about the initiative. In their subsequent advisory, the authority reminded OFWs to fill up an application form and submit supporting documents. Their application will be evaluated first before any assistance is given.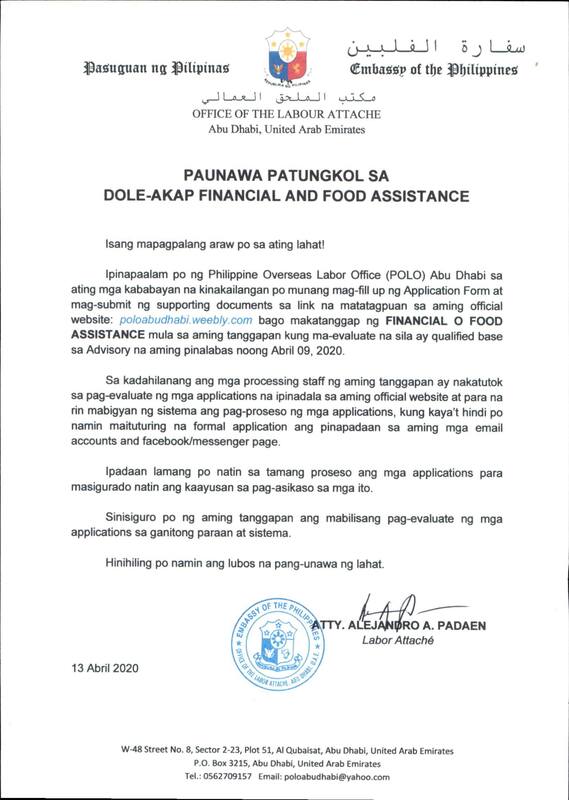 For OFWs in Abu Dhabi, please visit the POLO Abu Dhabi website for more information about the steps and document requirements needed to avail the cash aid.
During this time when local and global economies are uncertain, many people are definitely affected. Fortunately, programs like the DOLE-AKAP for OFWs are certainly a big help to our kababayans abroad who are jobless or have no money to buy food and basic necessities.
Furthermore, it is also reassuring that the UAE government has been actively combating the pandemic by setting up measures, including these drive-thru centres where people can get tested.