Get ready to dive into the world's deepest swimming pool! With an astounding depth of more than 60 metres and holding 14 million litres of H2O, Deep Dive Dubai's pool has been recognized as the world's deepest swimming pool by the Guinness World Records.
Also Read: Desert Safari Adventure in Dubai
Recently, on July 7, Deep Dive Dubai was opened by none other than the Crown Prince of Dubai, HH Sheikh Hamdan bin Mohammed bin Rashid Al Maktoum. He was accompanied by the Chairman of the Dubai Media Council, HH Sheikh Ahmed bin Mohammed bin Rashid Al Maktoum. Let's get to know more about this pool, which is located in Nad Al Sheba.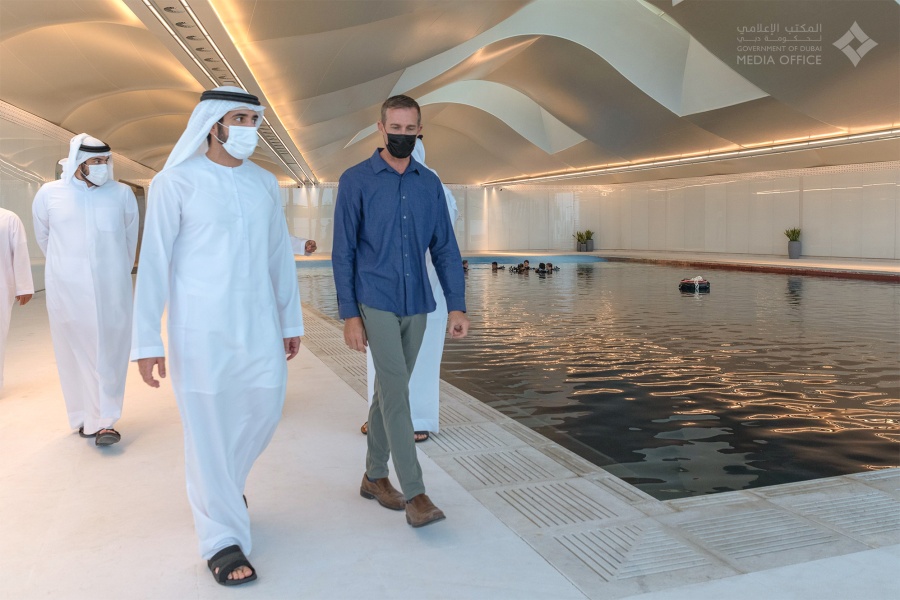 Deep Dive Dubai – Home to the World's Deepest Pool
Based on a press release from the Dubai Media Office, Deep Dive Dubai's record-breaking pool features two underwater habitats. There's a dry chamber at six and 21 metres, plus there are 56 underwater cameras, and a state-of-the-art sound and mood lighting systems.
Every six hours, the pool's water is filtered through siliceous volcanic rock, NASA-developed filter technology, and UV radiation. This is one of the region's largest and fastest filtration systems, circulating water that is equal to about six Olympic-sized swimming pools!
Whether you're a beginner, intermediate, or advanced diver, you will enjoy the pool's free-diving and scuba diving courses. Get ready to explore an incredible "sunken city," which includes an apartment, garage, and arcade — all set within an abandoned street-scape! Without a doubt, the pool is the most advanced hyperbaric chamber in the region!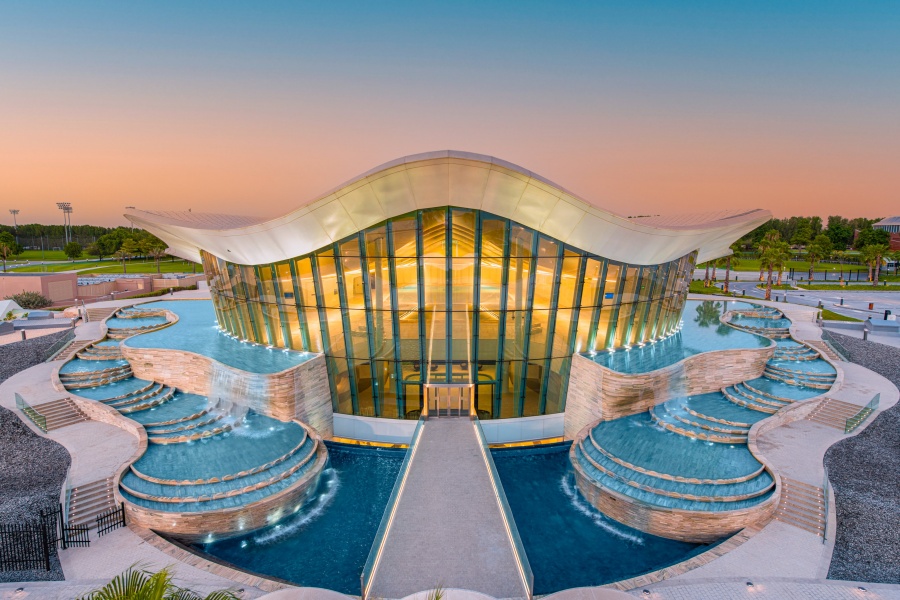 "A New Underwater Dimension"
"Deep Dive Dubai allows thrill-seekers to dive inwards and discover a new underwater dimension filled with adventure and wonder," according to Abdulla bin Habtoor, spokesperson of Deep Dive Dubai, as cited in a Dubai Media Office press release.
"We offer an unparalleled experience with year-round diving, in a safe environment, with outstanding instructors and services," he added. "This facility is an investment in Dubai's growing sports culture and will add another world-class destination to Dubai's thriving tourism and adventure sports sector."
Inspired by the UAE's pearl diving industry, the 1,500-square metre facility is shaped like a gigantic oyster. "We took inspiration from the bravery and fortitude of the UAE's pearl diving heritage," Bin Habtoor explained. "We also hope to embody the determination of Emirati explorers and innovators, both past and present, as well as provide a platform for future achievements and discoveries."
For his part, Jarrod Jablonski, Director of Deep Dive Dubai, stated: "Deep Dive Dubai offers something truly unique for everyone and our team is committed to ensuring a memorable experience, with outstanding service. For those seeking a unique experience, Deep Dive Dubai provides an exceptional, safe and controlled environment to learn all about diving."
Notably, Jablonski is a leading figure in the development of scuba diving. He also happens to hold a world record in cave diving. Cool!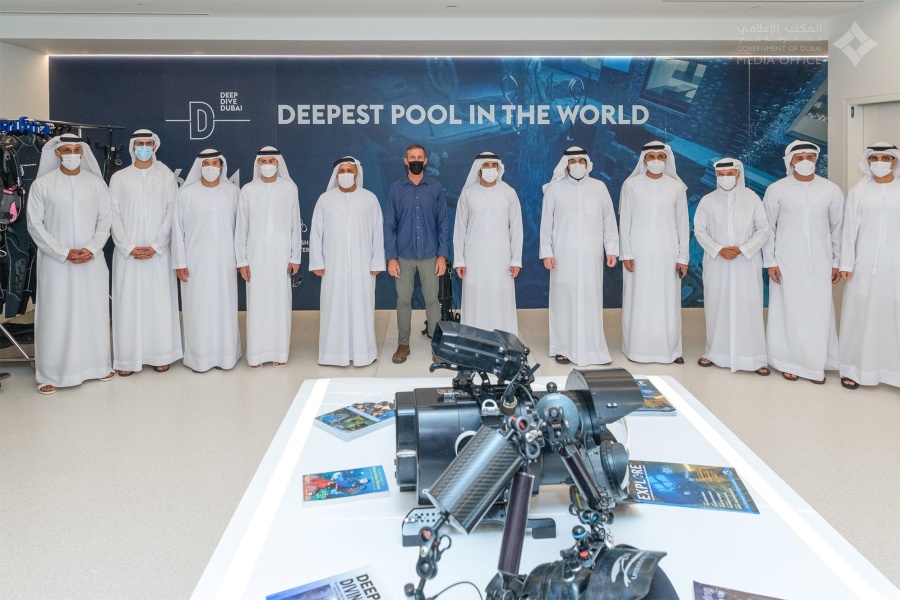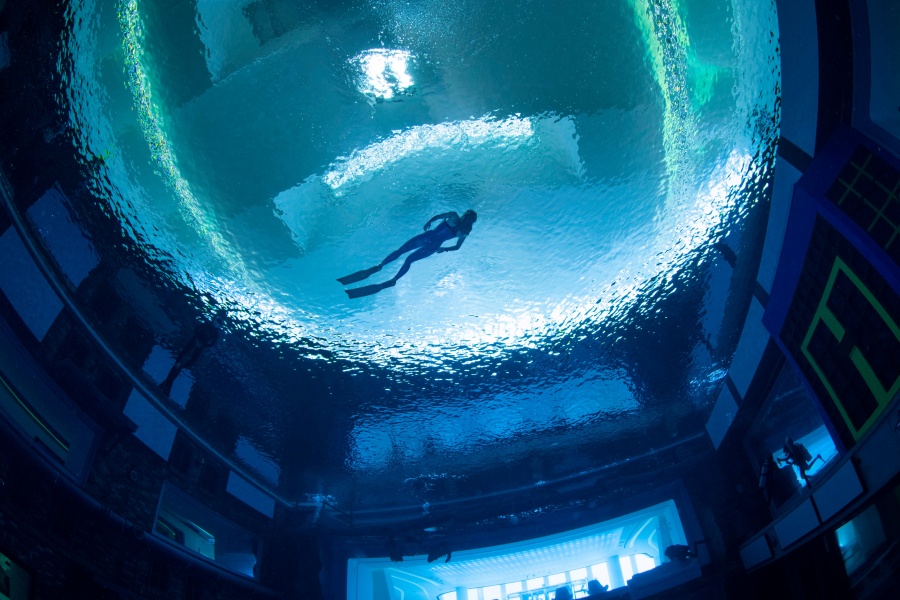 "Discover, Dive, and Develop"
Deep Dive Dubai is currently open by invitation only. However, public bookings are set to open later this month (July 2021). Training courses and experiences are divided into three categories: Discover, Dive, and Develop. These are open to residents and visitors who are 10 years old and above, including beginners as well as certified divers and athletes.
Discover. This category is geared towards beginners or first-time divers who want to take a shot at diving. The maximum diving depth for the Discover category is 12 meters.
Dive. This category caters to certified divers only. They can dive to the maximum depth indicated in their certification. Of course, they need to bring proof of their certification and experience in diving.
Develop. As the term suggests, this category aims to help divers develop their skills as well as gain free-diving and scuba diving certifications. It includes beginners, intermediate, and advanced divers. The maximum depth is based on the diver's certification (if any). Like the previous category, they need to bring proof of their diving certification and experience.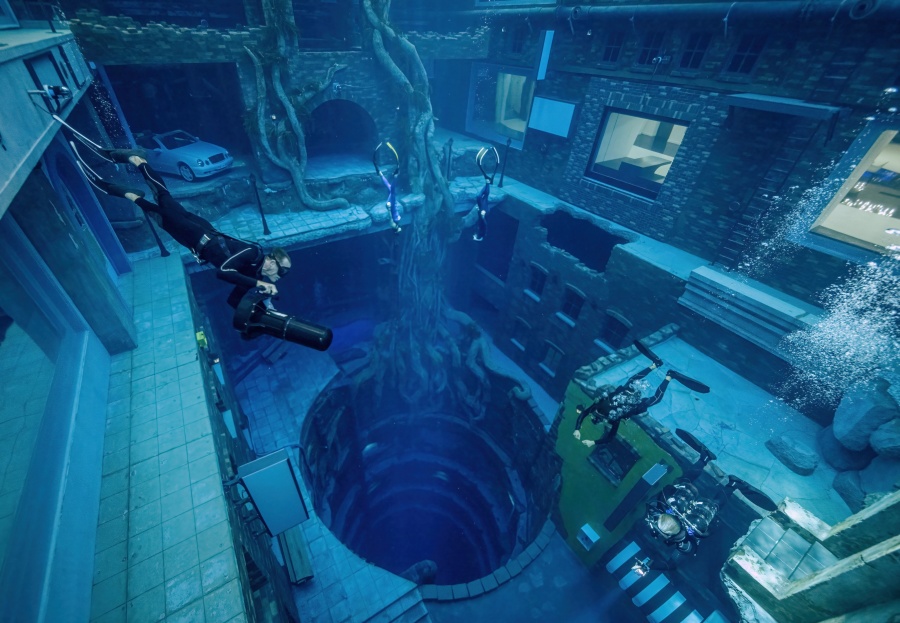 To make a booking, you need to contact Deep Dive Dubai directly (contact details are given below). The admission fee includes a full set of diving equipment, so you don't need to bring anything except your swimwear, slippers, and "a sense of adventure!" Moreover, the facility's dressing rooms are stocked with towels and toiletries, so no worries about those!
Fast Facts about Deep Dive Dubai
Aside from being the deepest swimming pool in the world, here are some more interesting facts about Deep Dive Dubai:
Freshwater. The water in the facility is not saltwater, but freshwater, purified and circulated through a state-of-the-art filtration system.
Comfortable temperature. The water is maintained at a comfortable level of 30 degrees Celsius (or 86 degrees Fahrenheit) all year round, so you can dive wearing any regular swimsuit or rash guard. However, for longer dives — or if you get cold easily — a wetsuit may be more appropriate. The use of a wet suit is included in the admission fee.
Zero animals. Deep Dive Dubai is a diving facility, not an aquarium! You will not encounter any marine life, but you will certainly enjoy exploring the different parts of the facility.
Underwater studio. In addition to being a diving facility, Deep Dive Dubai is also an underwater studio — the biggest in the region, in fact. There are 56 underwater cameras, 164 lights (for mood lighting), a video wall, and a media editing room. So if you want to make an underwater movie, you know where to go!
Dining options. There are restaurants and a cafe on the basement level, featuring large windows that provide a magnificent view of the diving facility. So as you enjoy some coffee, juice, sandwiches, and snacks — you can wave to the divers passing by your window!
Video – Deep Dive Dubai
Here's a video shared by HH Sheikh Hamdan himself, as well as Hollywood actor, Will Smith, taking the plunge.
Check out this cool video of the world's deepest swimming pool at Deep Dive Dubai, as shared via Dubai Media Office on Twitter:
Located in #Dubai's Nad Al Sheba neighbourhood, Deep Dive #Dubai's pool has been verified by @GWR as the world's deepest swimming pool for diving at an incredible depth of over 60 metres and holding 14 million litres of water, the equivalent of six Olympic-sized swimming pools. pic.twitter.com/zqRZzXNCC9

— Dubai Media Office (@DXBMediaOffice) July 7, 2021
Here are teaser videos released by @DeepDiveDubai on their Instagram page:
Photos: Deep Dive Dubai Adventure at NAS Sports Complex
Check out these pictures of Deep Dive Dubai as shared by Dubai Media Office on their pages. They sure know how to find interesting and unique adventures even in the desert:
Will Smith visits Deep Dive Dubai
Recently, Hollywood actor, Will Smith, posted a video of himself on his official Instagram account where he mentions that he was going to dive in the facility. Check out this video below:
Tickets to Deep Dive Dubai
Currently, the website of Deep Dive Dubai mentions that they are open by invitation only. They will be opening soon to the public where guests can book different diving experiences.
Contact Information – Deep Dive Dubai
Address: Deep Dive Dubai, Nad El Sheba 1, Dubai, UAE
Telephone: +971 4 501 9444
Email: info@deepdivedubai.com
Website: https://deepdivedubai.com/
Facebook: http://facebook.com/DeepDiveDubai
Instagram: https://www.instagram.com/deepdivedubai/
YouTube: https://www.youtube.com/channel/UCdwJ7SM-3jQGEVDy2OI_S5g
Google Map Location
Below is the location of Deep Dive Dubai on Google Maps, for your reference:
Once again, you don't have to be an experienced diver to come and experience Deep Dive Dubai! Take it from HH Sheikh Hamdan, who is an experienced diver himself. Speaking of the Crown Prince, check out these cool photos of HH Sheikh Hamdan's active lifestyle!