Great news for Filipinos as Emirates airlines launches a new route to the Philippines, this time from Dubai to Cebu and Clark! Emirates currently operates 2 flights a day from Dubai to Manila. This will be the first direct flight from Dubai to Cebu once the route becomes operational in 30th March 2016.
This new route will be serviced by a Boeing 777-300ER aircraft, and this will help reinforce the international connectivity to two of the Philippines' fastest-growing international hubs.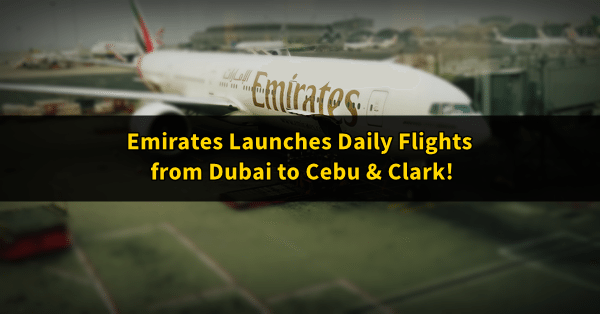 Emirates Airlines Direct Flights from Dubai to Cebu
There are over 900 Thousand Filipinos residing in the UAE and currently, there are no direct flights from Dubai to Cebu. People who want to go to Cebu have to pass through cities like Singapore (via Singapore Airlines), Hong Kong (Cathay Pacific) or Manila (Philippine Airlines) first and this is via other airlines and connecting flights.
Current Flights – Dubai to Cebu Routes:
Flights from Dubai to Hong Kong to Cebu (Cathay Pacific)
Flights from Dubai to Manila to Cebu (Philippine Airlines or Cebu Pacific)
Flights from Dubai to Singapore to Cebu (Singapore Airlines)
Planning to Book Cheap Flights? Check out our Flight Scanner here – DubaiOFW Flight Scanner
This news of a direct flights daily is a welcome news for people in Cebu and the Southern regions. This gives OFWs more opportunities to fly directly from Visayas to the United Arab Emirates!
We cannot wait for end of March 2016 when the flight will be inaugurated!
Other News:
Emirates24/7- http://www.emirates247.com/business/economy-finance/emirates-adds-more-flights-to-philippines-2016-01-04-1.615977
7Days –  http://7days.ae/emirates-launch-daily-service-philippines-cebu-clark/78682
The National – http://www.thenational.ae/business/aviation/emirates-to-start-daily-flights-from-dubai-to-cebu-and-clark-in-the-philippines