If you are craving for seafood dishes prepared from the freshest catch, head to Fish Market, one of the restaurants at Radisson Blu Hotel along Dubai Deira Creek. We have dined in a number of food outlets in this five-star hotel and it's always been a pleasure every time.
As the name suggests, Fish Market offers fresh seafood that is sourced locally and sustainably. This seafood eatery has been serving the people of Dubai for more than 30 years, and has served literally millions of kilograms of fish, prawns, and oysters since it opened in 1989!
Buy One Get One offer For OFWS and frontliners!
Fish Market restaurant is offering a seafood Friday Brunch feast experience for OFWs at Buy 1 Get 1. Call 04 205 7033 to make a reservation.
Check out a video of our experience below:
Enjoy Delicious and Unlimited Seafood at Fish Market Restaurant in Radisson Blu Dubai Deira Creek
As soon as you enter Fish Market, you'll be drawn in by the cozy white and aqua blue interiors, reminiscent of the colours of the sea. What's more, you can choose fresh catch from the seafood display, then ask the chef to cook it whichever way you want!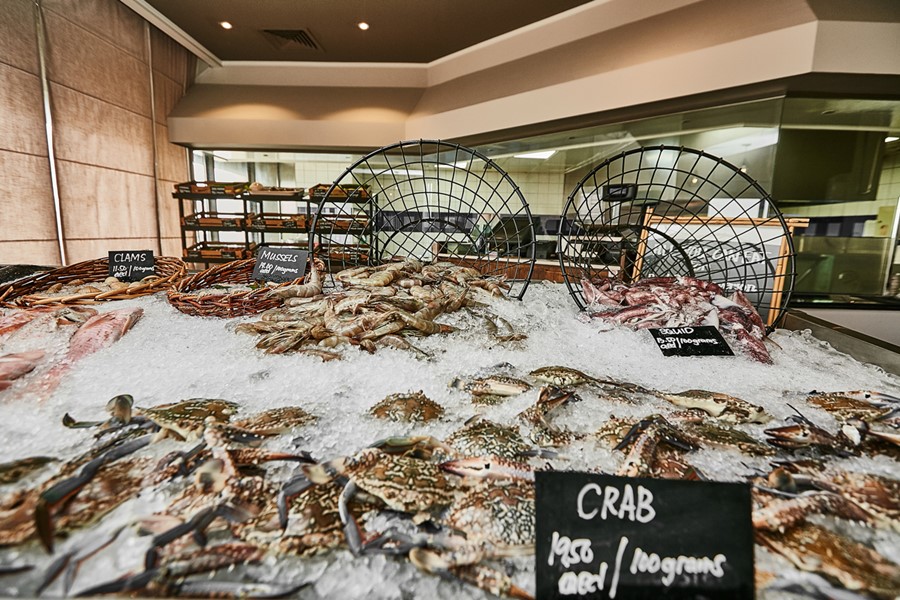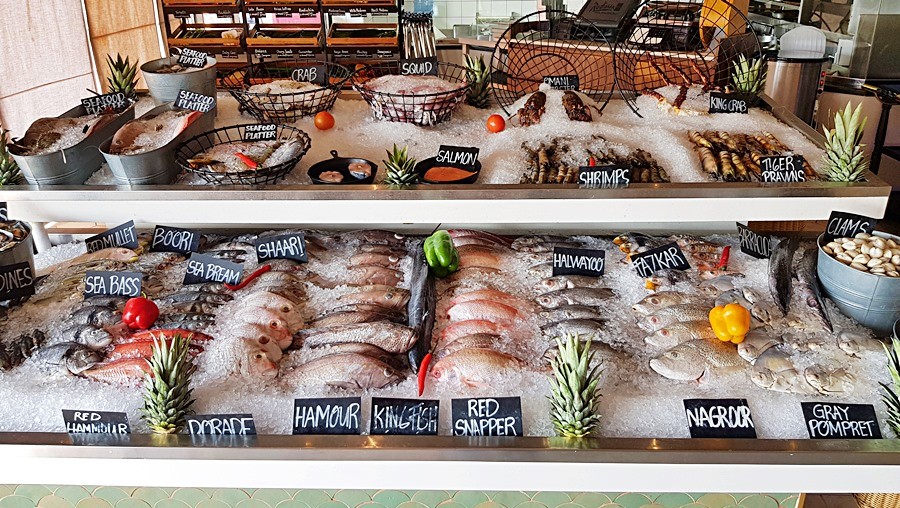 As for the food, you're up for a "foodgasmic" experience! You can start by having the Scallops & Prawn Salad, or be more adventurous and try the Baby Octopus Salad, served with baby potatoes, sun-dried tomatoes, and onions. Meanwhile, the Thai Fish Cakes (served with sweet chili dip), Seafood Taco, and California Maki are just some of their appetizers.
Likewise, don't forget to try their hearty soups, which include Seafood Laksa (mixed seafood in creamy coconut-based sauce) and Tom Yum Kung, a spicy hot and sour soup with lemon grass, lime leaves, and prawns.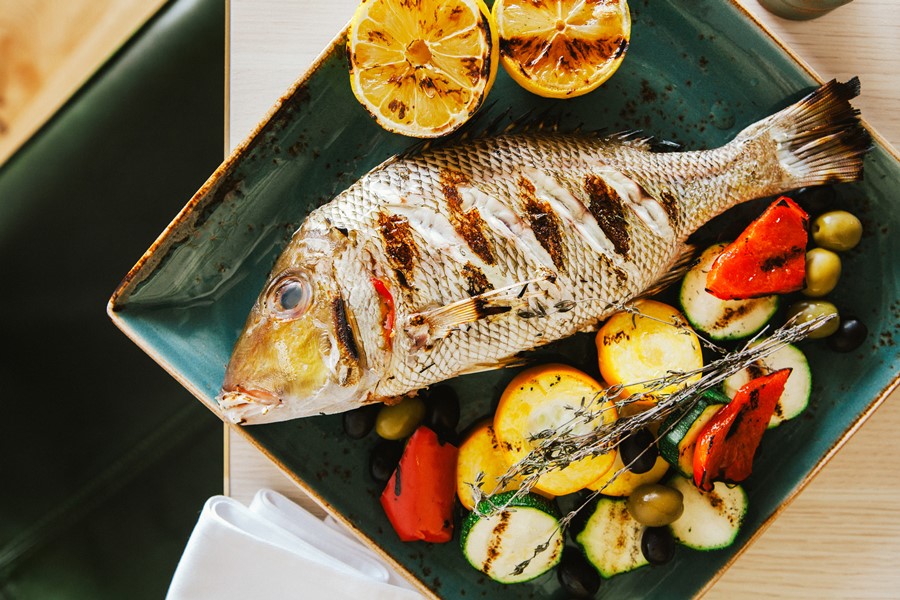 Of course, the "main stars" are the fish, including cream dory, red mullet, Norwegian salmon, and more. Shellfish such as clams, mussels, and prawns also abound, and you can ask the chef to bake, steam, grill, deep-fry, or wok-fry them! There's also a variety of sauces available — garlic butter, Thai red curry, teriyaki, sweet and sour, tamarind, and red chili, to name a few.
To complement your dish, choose from a variety of sides, such as baked potatoes, French fries, garlic fried rice, vegetable fried rice, or the sweet and sour tasting pineapple fried rice!
Fish Market also serves different kinds of beverages, including alcoholic and non-alcoholic drinks. As for dessert, their menu features yummy delights to satisfy your sweet tooth: chocolate fudge, mocha truffles, mini cakes, mousses, and sago in coconut milk with mango!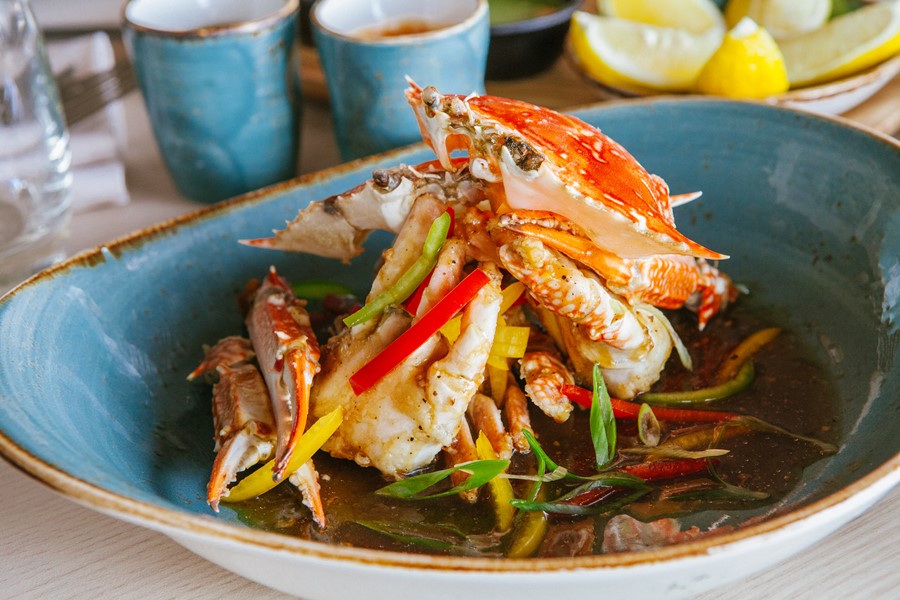 Opening Hours and Prices
Fish Market is open daily, from 12:00 noon to 11:00 pm. For AED 299 per person, you can enjoy their all-you-can-eat promo with unlimited servings!
Every week, the restaurant features Friday Seafood Brunch from 12:30 pm to 4:00 pm, at AED 299 per person (with soft drinks) or AED 399 per person (with house beverages).
Dishes are served a la carte via "live stations" where you can choose the type of fish you want, and ask the chef to cook it whichever way you want. Notably, the Friday Brunch menu includes starters like Thai Papaya Salad and Mixed Seafood Salad, the soup of the day, main dishes (fish or shellfish cooked to your preference), a live sushi station, and of course, dessert!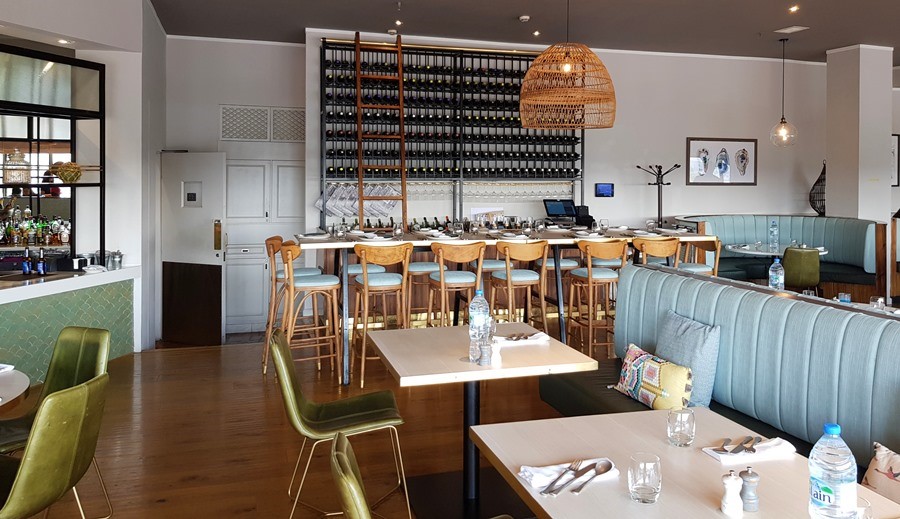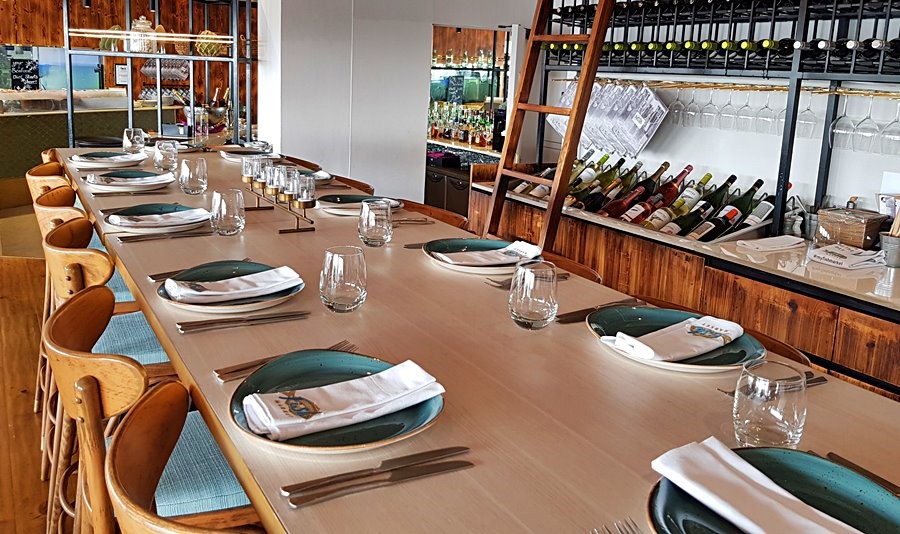 Promo for OFWs at Fish Market – Buy One Get One
Filipinos in Dubai, rejoice as Radisson Blu Deira Creek is offering a treat for OFWs where you can get a discount – a Buy One Get One deal wherein if you dine during their Friday Seafood Brunch experience, you can have the other meal free. So that is two for the price of one.
To avail this offer, you need to contact the restaurant reservation team (04 205 7033) and then provide your details. You only need to present your ID upon claiming the offer. This is limited to Pinoys in the UAE. Terms and conditions apply. However, if you have an Entertainer App, you can also get a Buy One Get One offer at this restaurant.
Video: Fish Market at Radisson Blu Deira Creek
Here's a glimpse of what you can expect to enjoy at Fish Market, in a video shared on Facebook by Radisson Blu Deira Creek:
Below is a video of our own experience dining in the restaurant:
Are you craving for some grilled or wok-fried fish yet? Talking about all this seafood has sure made us hungry! To satisfy your cravings, check out Fish Market at Radisson Blu Deira Creek for the ultimate seafood dining experience!
Contact Information – Fish Market Restaurant
Address: Radisson Blu Hotel, Baniyas Road, Dubai Deira Creek, Dubai, UAE
Telephone: +97142057033
Email: booking.diningdubaicreek@radissonblu.com
Website: https://www.radissonhotels.com/en-us/hotels/radisson-blu-dubai-deira-creek/restaurant-bar/fish-market
Google Map Location
Below is a map guide to the location of Fish Market. This is in Radisson Blu Dubai Deira Creek: