The Global Village is one of the most popular destinations in Dubai, especially during the winter season. Currently on its 25th season, it reopened to the public on October 25, 2020 — featuring a gigantic Ferris wheel, a Carnaval, a circus, a floating market, and lots of new attractions!
ALSO READ: Global Village is Now Open!
The Global Village is situated at Exit 37, Sheikh Mohammed Bin Zayed Road and Emirates Road. You can go there via private car, but if you are looking for a more affordable option, there's always the public bus, courtesy of the Dubai Roads and Transport Authority (RTA).
How to Get to Dubai Global Village by Public Bus
The RTA website presents not just one, not two… but four bus routes to Global Village! These include the following public bus numbers and their respective routes:
Bus No. 102 – This route starts from Rashidiya Metro Station.
Bus No. 103 – Starting from Ittihad Station, this route passes by Baniyas Street, Al Rebat Street, and Nad Al Hamar.
Bus No. 104 – Starting from Al Ghubaiba Station, this route passes by Sheikh Rashid Street, Al Jafiliya Metro Station, 2nd Za'Abeel Street, and Dubai – AlAin Street.
Bus No. 106 – This route starts from the Mall of the Emirates Metro Station.
NOTE: These bus routes operate from 3:15 pm to 11:15 pm, with a travel time of about 30 minutes. For more information about these routes and timings, you may contact RTA at 8009090.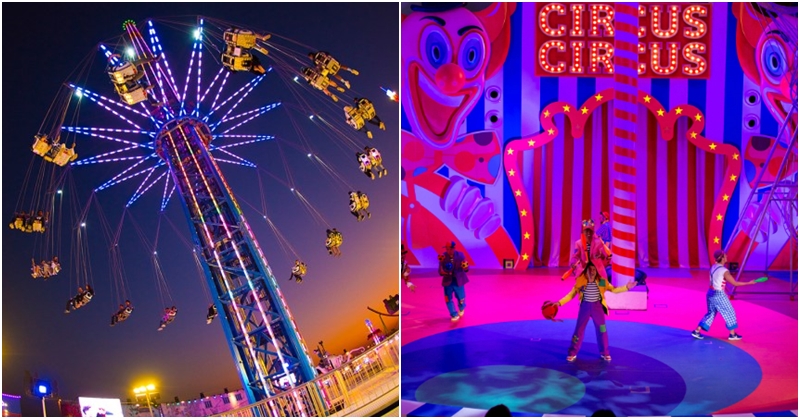 Entrance Tickets, Schedule, & Timings
The current season of Global Village will run from October 29, 2019 to April 4, 2020. General admission tickets cost AED 15 each, while the operating hours are as follows:
Saturday to Wednesday – 4 pm to 12 am
Thursday, Friday, and Public Holidays – 4 pm to 1 am
Here is the location of the Global Village, as reflected in Google Maps:
ALSO READ: Cheapest Way to Dubai Miracle Garden
A trip to Dubai during the winter season would not be complete without going to the Global Village. Fortunately, with these public bus routes, getting there is easy, wherever you may be coming from in the emirate! You will definitely have a great time there with your family and friends!