Our next OFW feature. Meet Russell, a world-class bartender who has been in Dubai for 12 years now. He is the first-ever winner and hall-of-fame in the World Class Raising the Bar in the Middle East by Diageo, beating other competitors in the region. He is currently working as a beverage consultant, developing beverages for various international brands and also trains bartenders local and abroad.
Russell has over 18 years experience in the hospitality industry. He started working in hotels in the Philippines and has gained more experience in Dubai, working for a top hotel chain and high-end bars and restaurants. In the course of his career, he has gained extensive training, won many awards and garnered accolades in his field. He also develops and trains future bartenders in being the best that they can be.
Russell's situation proves that if you have good work ethics, you can work your way up to the top. Russell shares a tip to love what your work as it fills a huge part of your life as an expat so it's good if you are happy with it. Read the rest of our interview below.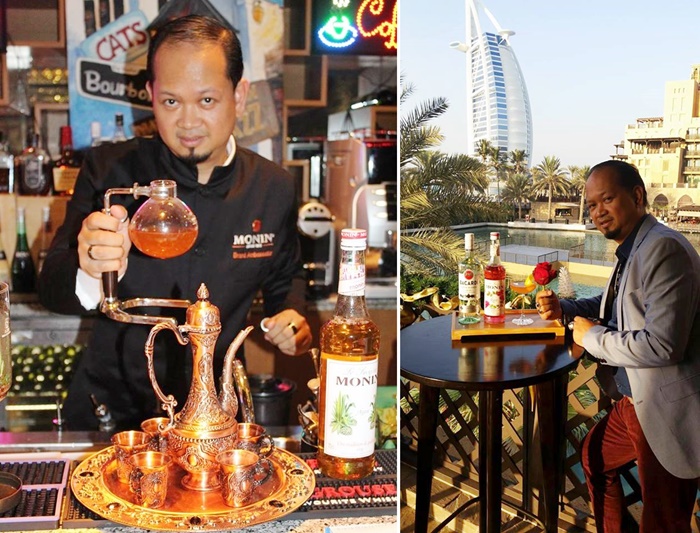 OFW Profile: Russell, Beverage Consultant and Brand Ambassador for MONIN UAE
Nickname: Russell
Current Profession: Beverage Consultant
College course: Electronics ITC in Faculty of Engineering at University of Santo Tomas
How many years in Dubai? 12 years
1. Tell me about yourself.
My name is Russelito B. Sanchez, Russell for short , the Brand Ambassador for MONIN UAE and Beverage consultant of Fresh Express Beverage International. I studied Electronics ITC in Faculty of Engineering at University of Santo Tomas. Already 12 years in Dubai and going.
A Hall of fame by Diageo and the First ever bartending champion for world class raising the bar in the Middle East in 2009 and Winners of few more bartending titles. I also had been privilege to travel to different parts of the world to compete and represent UAE for global finals.
With more than 18 years of expertise in the hospitality industry in various top end bars and restaurants in the middle east. My passion for beverage comes from my roots back home in the Philippines, Pampanga.
My solemn bartending career started in Dubai at the luxury collection hotel by Starwood Grosvenor house hotel in some of the most sophisticated high end bars and fine dining experience. During this period I acquired my extensive experience in beverage, conducting training, workshop, and master classes and eventually provides beverage solution consultancy.
Developed and implemented menu engineering for various global brands within the Middle East, Asia and Africa. Worked closely with international chain and beverage innovation directors to be in line with local and global trends. Regularly participating and conducting bar related seminars and competition. Trained thousands of Bartenders both local and abroad.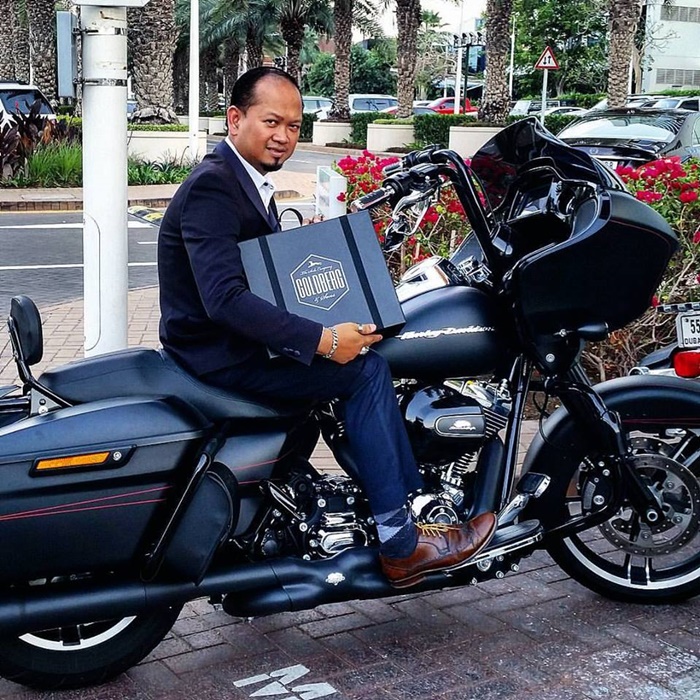 2. Why did you come to Dubai?
It's no surprise Dubai fascinates expats from all corners of the world. Apart from the generic reason of OFW to give a better future for the family, Dubai is a very attractive place for work due to its high quality of leisure facilities. Many consider Dubai's leisure facilities to be among the best in the world. The crime rate is one of the lowest in the world. The emirate also has the only seven-star hotel in the world, a symbol of the steady growth in Dubai's economy. One of the major incentives for a career in Dubai is the possibility of higher salaries.
3. What were your previous jobs?
My work experience has been nothing but top notch. In the Philippines I started to work in hotels, such as Hyatt regency, Heritage hotel and Edsa Shangri-La.  abroad, I went right to the best hotel in the Middle East in 2005 at Grosvenor house hotel one of the luxury collection hotels of Starwood property. I was able to open some famous and iconic bars like Buddha bar, Bar44 and Toro Toro. Working with the best of the best has made me an asset to my company.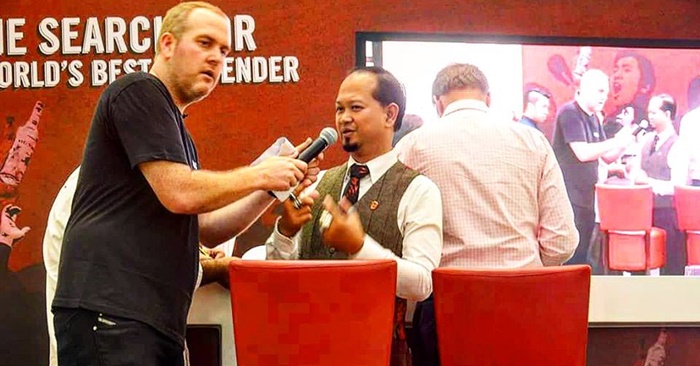 4. How do you find your current job? Are you happy/satisfied with it?
My current boss Mr. Ghaith Zeidan was looking for a person for a new role he wanted to create for the company (Beverage Consultant) which will look after the beverage development solution and heading the beverage training department.
I was then highly recommended by one of Dubai`s most respected professional beverage industry guru (Mr. Sasha 'Aleksandar Milovanovic). Which I joined the new role on 2012, it is very satisfactory, fulfilling and am loving it.
5. Are you able to save in Dubai? Why/How?
Dubai is a city of excitement and opportunities. Hundreds of people from around the world come here to seek employment and dream of living in the city. Though Dubai offers a sophisticated and comfortable lifestyle, saving money in this city can be a real challenge. Here is my tips below:
"Refrain from spending from your future income"
"Think about saving before spending…and make sure you at least keep 1/3rd of the salary aside as saving"
"Just focus on the basic needs…be within limits.
"Say no to credit cards and spend according to your salary budget including other general expenses and deposit a certain fixed amount monthly in your bank account"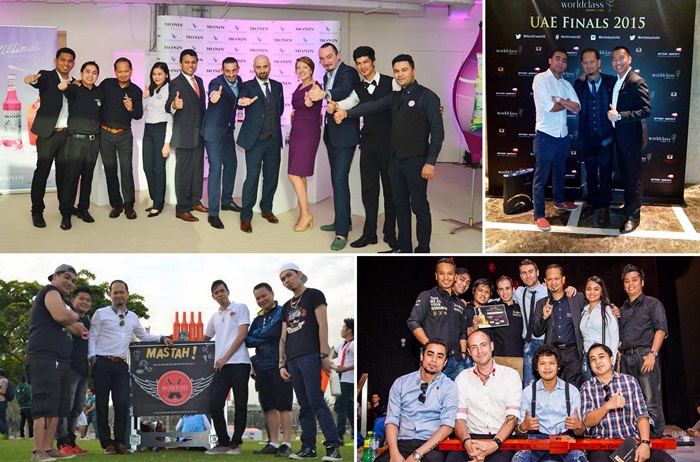 6. Is it difficult to live in Dubai? What are/were your struggles? What's life like outside work?
Not everything here is Gold and diamonds, there is racism and discrimination that's absolutely unspoken of. This reality is generally not talked about. Dubai is nothing if not expensive, and your attractive tax-free expat salary can quickly be eaten up by rent, luxury goods, and school fees and so on.
7. What do you Like about Dubai?
Despite the stereotyped image of the Middle East, the UAE tops list of the world's safest countries and Dubai is blessed with leaders who believe that 'anything is possible' – thanks to the leaders with visions of progress, this country only moves forward.
8. What do you NOT Like about Dubai?
The terribly hot weather, Dubai has a tropical desert climate, because of its location within the Northern desert belt. Summers are extremely hot and humid with an average high around 41 °C and overnight lows around 30 °C. The highest recorded temperature in Dubai is 55 °C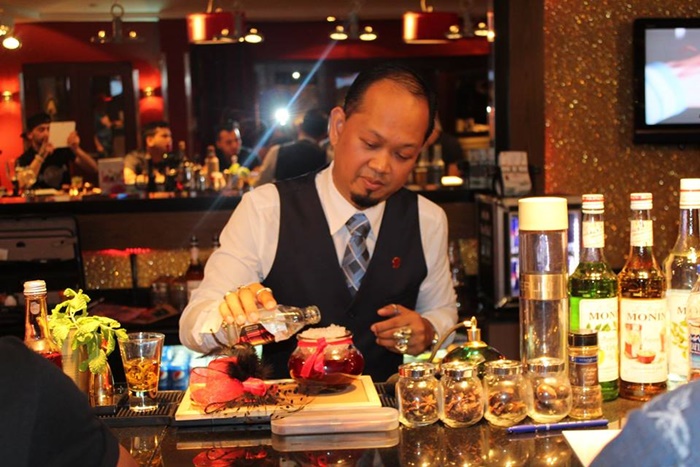 9. What are your plans in your career/family/future?
So far so good, still happy with my career and family in Dubai. Future plan is to open my own Beverage training facilities hopefuls here in Dubai or back home.
10. You have any tips for Kabayans when working/finding work/living in Dubai?
I'm convinced that the only thing that kept me going here in Dubai is that I loved what I do. You've got to find what you love. Your work is going to fill a huge part of your life, and the only way to be truly happy is to do what you believe is great work. And the only way to do great work is to love what you do. God has given everyone different talents to be used for the benefit of others. Be a blessing to others. There is always an opportunity to bless someone. The more we seek to bless others, God will provide for us and open more doors to accomplish His will.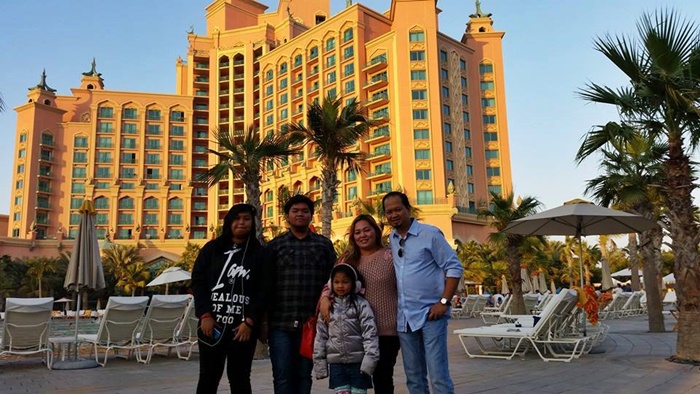 —————————————
*Photos provided by Russell
Are you an Expat in Dubai? Do you want to be featured in the website? Send us an email telling us you want to be featured at admin@dubaiOFW.com and we will send you the set of questions! Let's help other Pinoys who want to come to Dubai understand what life in the UAE is like through your story.