Considering the huge Filipino population in the UAE, it's not surprising why many Pinoy celebrities come here to hold concerts or promote films. For sure, many kabayans are excited for the arrival of the latest on-screen tandem… Kathryn Bernardo and Alden Richards!
ALSO READ: Pierce Brosnan Spotted in Dubai While Filming "The Misfits"
You heard that right! The two Filipino stars will be coming to Dubai and Abu Dhabi for the screening of their latest film, "Hello, Love, Goodbye," directed by Cathy Garcia-Molina.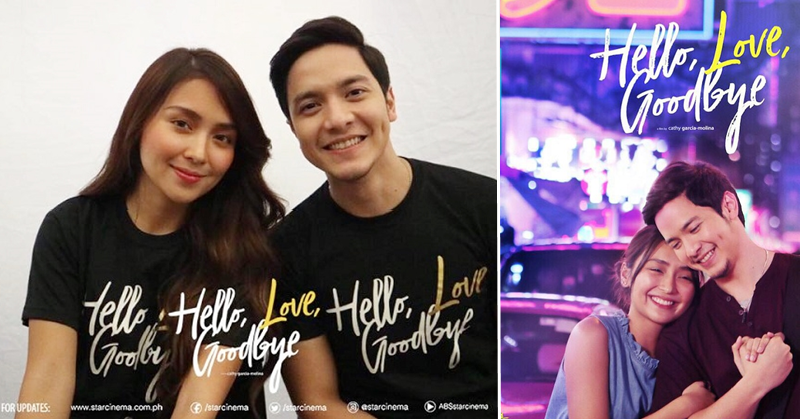 Kathryn & Alden to Visit UAE for Screening of "Hello, Love, Goodbye"
The movie follows the story of two Filipino workers in Hongkong. Joy (Bernardo) is a young, headstrong woman who views her domestic worker job as temporary, while planning to relocate to Canada and pursue her dreams. On the other hand, Ethan (Richards) is a "playboy" bartender who intends to live permanently in Hong Kong, and he will soon officially become a resident in the city.
Despite their contrasting personalities, Joy and Ethan fall in love. The question is, will they decide to stay together, or will their individual dreams lead them to part ways? Obviously, you'll have to watch the film to find out!
For movie fans in the emirates, we've got great news! Kathryn and Alden will be holding "
meet and greets
" during six special screenings in the UAE. The pair will be at
The Dubai Mall
 on
Friday, August 9
, for the 11 am screening; afterwards, they will head to
Al Ghurair Centre
 for the 3 pm and 4 pm screenings,
The National
 reported.
On Saturday, August 10, Kathryn and Alden will go to Al Wahda Mall in Abu Dhabi for three screenings, which begin at 10 am.
Notably, the visit marks Kathryn's first time in the UAE for a movie screening. The movie role also happens to be her first romantic lead outside her usual "love team" pairing with Daniel Padilla.
Here is the official trailer of the movie, "Hello, Love, Goodbye," shared by @starcinemaofficial on Facebook:
To buy your tickets, please visit the official websites of
Reel Cinemas
 in Dubai and
Oscar Cinema
 in Abu Dhabi.
ALSO READ: Catch Westlife LIVE in Dubai at the Coca-Cola Arena this August
If you want to catch Kathryn and Alden here in the UAE, now is your chance to see them and watch their latest movie! Aside from watching films, however, here's a list of things to do in Dubai, in case you are wondering what to do this weekend or on your next day off!