As cases continue to rise due to the outbreak, UAE authorities have been implementing strict measures, especially in places where people often travel through. At the Abu Dhabi Main Bus Station, for instance, all passengers have to pass through a disinfection gate.
The disinfection gate was introduced by the Integrated Transport Centre (ITC) of the Department of Municipalities and Transport (DMT) in Abu Dhabi, as part of the authority's precautionary measures to help contain and prevent the outbreak.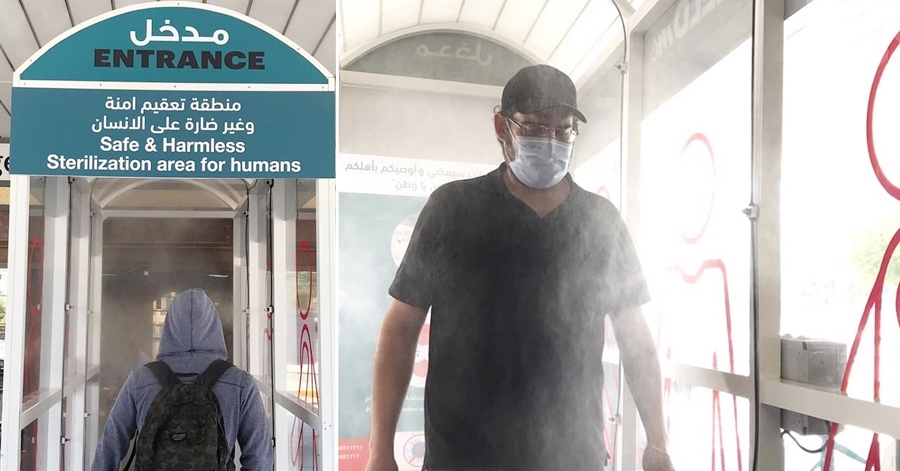 Abu Dhabi Bus Station Disinfects Passengers at Entrance
According to an ITC press release, the disinfection gate lies at the entrance of the Abu Dhabi Main Bus Station, detecting and spraying sterilising materials onto passengers as they enter, to help ensure their health and safety.
The gate is open every day, from 6:00 am to 8:00 pm, and a specialised team cleans and sterilises it regularly. Notably, the ITC has announced that it will implement disinfection gates at all of the main bus stations in Abu Dhabi, in order to maintain public safety.
Aside from the disinfection gate, the ITC has previously taken several precautionary measures since the outbreak started. These include the cleaning and sterilisation of public transport modes, as part of a National Disinfection Programme announced by the Ministry of Health and Prevention (MOHAP) and the Ministry of Interior (MOI).
Between Thursday, 26th March 2020 at 8:00 pm and Sunday, 29th March 2020 at 6:00 am, the ITC suspended public transport services to conduct an extensive sterilisation of all public transport modes and facilities, as part of nationwide efforts to control the spread of the pandemic.
Also on 26th March, the ITC suspended some public bus services until further notice. These include: public bus services to and from Abu Dhabi International Airport; intercity services between Al Dhafra Region, Abu Dhabi, and Al Ain; and bus services between Al Ain International Airport and Al Ain City. Free services in Musaffah and Khalifa City have also been suspended, along the closure of all bus shelters in the emirate.
All of these measures — suspension of bus services, closure of bus shelters, disinfection programmes — are being taken to protect the health and well-being of public transport users, and the entire society in general.
Indeed, it is good to know that UAE authorities have been quick to respond to the outbreak by introducing such measures and providing health facilities to those affected. All we have to do is to follow these measures, for our own health and safety.
And speaking of health, the simple act of cleaning our hands goes a long way to protecting ourselves. Learn more about hand washing vs. hand rubbing as measures to prevent the spread of diseases.