Today's OFW story features Mr. Benjun Rafer, a Swimming Coach and Co-founder of a swimming academy in Dubai. He has been residing in the UAE for 14 years now. Having completed a degree in Marine Transportation, he shares that he didn't get to practice his major… though we certainly think that his current profession is still "water" related, right?!
Benjun, or simply "Ben" to his family and close friends, started out as a Pool Lifeguard, before becoming a Beach Lifeguard, and eventually a Swimming Coach. Recently, he opened Water Warriors Sports Services with his wife and Co-founder, Ramife Rafer. Indeed, he has come a long way, from being a lifeguard to launching his own swimming academy!
According to Ben, his day-to-day life is truly fulfilling, because he gets to combine two of his passions: being in the water, and teaching children an important life-skill (i.e. swimming). When not busy at work, he spends quality time with his loving family. Let's get to know more about Ben in the following interview, where he talks about the ups and downs of being in Dubai. He also shares some insightful tips for our fellow kabayans!
OFW Feature: Benjun Rafer, Co-founder of Swimming Academy in Dubai
Name: Benjun Rafer
Nickname: "Ben"
Current Profession: Swimming Coach, Co-founder of Water Warriors Sports Services
Education: Bachelor of Science in Marine Transportation
Years in Dubai: 14 years
1. Tell us about yourself.
Hi! I'm Benjun Rafer, simply called "Ben" by my family, friends and colleagues. I work as a Swimming Coach, and I am also a co-founder of Water Warriors Sports Services , a company that I recently started with my wife, Ramife Rafer, who used to be a Freight and Operations Manager in Dubai. I hold a diploma in Bachelor of Science in Marine Transportation, but when I landed in Dubai 14 years ago, like many OFWs, I didn't get to practice my major.
2. Why did you come to Dubai?
I was working as a Part-Time Waiter in the Philippines way back when, and was jobless for several years after graduation. This situation pushed me to strive and explore my luck here in Dubai, with the support of my father who was an OFW back then.
3. What were your previous jobs?
Unexpectedly, I started out as a Pool Lifeguard for two years, became a Beach Lifeguard for three years, and was consequently employed as a Swimming Coach for nearly nine years. Today, I am still a Swimming Coach… in my own swimming academy, Water Warriors Sports Services.
4. How do you find your current job? Are you happy/satisfied with it?
Growing up in my hometown and living in a place where the beach is our playground, I have an unconscious feeling of happiness and excitement when I am in the water, like in the beach or a pool. In my current job, I found the same satisfaction. Secondly, I am fond of kids, and seeing them learn a life-skill through me is my everyday pride!
5. Are you able to save in Dubai? Or do you have any investments you wish to share?
Throughout my length of stay in this country, I would say "yes," I was able to save at some point, and also "no" at most times, I must say. With the high cost of living in Dubai and bringing home the bacon to my family of two kids, my wife, and a nanny, I must admit that saving can be a bit challenging. Nevertheless, I am proud to share that my investment in opening my own company here in Dubai is worth the risk.
6. Is it difficult to live in Dubai? What are your struggles? What's life like outside work?
Initially, "yes," coming from my personal point of view. I started as a Life Guard with a very low compensation, and working 15 hours a day is one of the hardest parts of being an OFW. On the other hand, I make it a point to spend my remaining hours in relaxing with a few important people in my life, especially my wife, family, and a few close friends.
7. What do you like about Dubai?
Security is mainly the reason why I love this country. Security in terms of safety as the crime rates are very low. Next is in terms of natural disasters and calamities. So far, I have noticed that the Gulf countries experience less; therefore I feel safe, for me and my family. Most importantly, the opportunities in this part of the globe are endless. I believe that financial stability can be successfully gained when we combine hard work, positive attitude, and prayers.
8. What do you NOT Like about Dubai?
I like almost everything about Dubai, except for the high-priced rents, extremely expensive tuition fees, and I must say the summer heat in this country is usually beyond my tolerance!
9. What are your plans in your career/family/future?
At the moment, we are currently building our newly-opened business, Water Warriors Sports Services, and operating at four locations in Dubai. Hopefully in the near future, we are planning to add more locations around Dubai. With God's grace, we hope to penetrate the seven emirates of the UAE and dream about expanding our services to our mother land, the Philippines. Of course, the success of this new venture of ours will benefit our entire family, which gives us more reason to stay and live in this beautiful country.
10. You have any tips for kabayans when working/finding work/living in Dubai?
For our fellow kabayans who are aspiring for jobs here in Dubai, always be careful and be vigilant regarding the kind of companies you are applying for. Always be knowledgeable of the laws and your legal rights as employees. Don't be afraid to make a stand when you know your rights.
On the other hand, considering the effects of pandemic to the economy, numerous companies are struggling; therefore, finding jobs might be more challenging. Keeping extra financial back-ups might be a good way to consider, in case things get even more difficult.
Dubai, as they say, is "The City of Gold," but it's not raining gold… you have to work hard for it. The path is not polished and obstacles are always there to weaken you, but staying positive is the key and never let yourself be dragged down. Your dreams must be bigger than your fears. No matter what happens, never give up!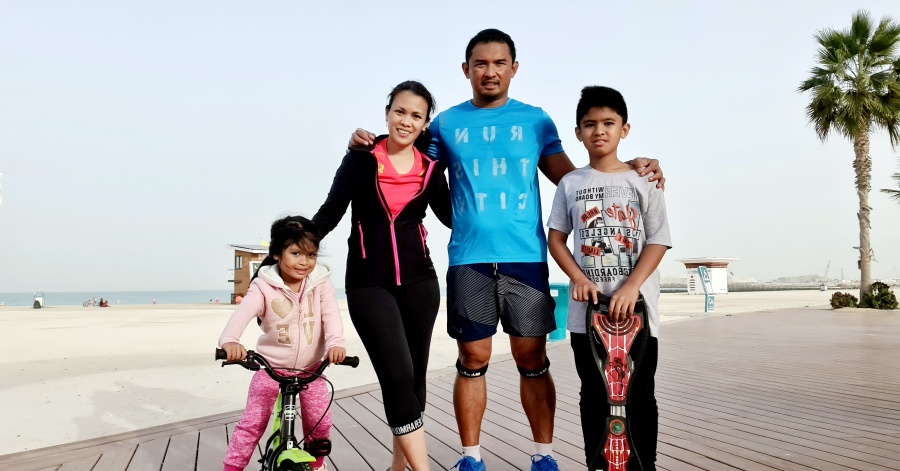 Is there anything else you'd like to share with our readers?
To my loving wife, Ramife Rafer, my rock and partner in everything, and also the co-founder of our company, the brain that gave birth to the idea of this company, I am forever grateful.
To Mr. Rommel Lumban, who patiently taught me the skills and techniques on how to become a better swimmer on a professional level, thank you.
I would also like to give thanks to "Mr. Fariborz," who mentored me when I started as an Amateur Swimming Coach. He opened opportunities for me to have additional exposure and experience in the field I am most passionate about, which is swimming.
To Troyden Princeloo, General Manager of Fit Republik, who offered me the chance to be part of the Aquatic Team, where I honed my skills and grew as a Professional Swimming Coach, thank you so much!
To "Mr. Wayne" and "Mr. Tolga," who believed in us and unconditionally gave their support, thank you very much!
Last but not the least, to all my family, especially "Badz" and "Jobi," I appreciate all your efforts.
To all our friends in the UAE, MAASINHON family, and PINOY OFFROADERS, who always expressed their love and faith in the success of our plans, my heart is deeply thankful.
Connect with Benjun on Social Media
To know more about Benjun and his company, Water Warriors Sports Services, you may follow and connect with him through these online channels and contact numbers:
Website: https://waterwarriors-sportsservices.com/
Facebook: Water Warriors Sports Services
Instagram: @BensWaterWarriors
Email: info@benswaterwarriors.com
Mobile / WhatsApp: 050 323 9743
—————-
*Photos provided by Benjun and Ramife Rafer
Are you an expat in Dubai? Do you want to be featured in the website? Send us an email telling us you want to be featured at admin@dubaiOFW.com and we will send you the set of questions! Let's help other Pinoys who want to come to Dubai understand what life in the UAE is like through your story.