In the movie, "Tomorrowland," the main character puts on a pair of rockets that enable him to fly like a bird. Well, this futuristic technology is now a reality, as Dubai's very own "Jetman" takes to the skies, as shown in a video shared by none other than the Crown Prince!
ALSO READ: HH Sheikh Hamdan Visits UAE SWAT Challenge
On Instagram, His Highness Sheikh Hamdan Bin Mohammed Bin Rashid Al Maktoum, Crown Prince of Dubai and Chairman of Dubai Executive Council, posted a video of Fred Fugen and Vince Reffet (Jetman Dubai pilots) performing incredible stunts high in the sky!
View this post on Instagram
"Future is Here" – Sheikh Hamdan on Jetman Dubai
Who exactly is the Jetman? A few years ago, Yves Rossy, a Swiss military-trained pilot and aviation enthusiast, designed and created the "Jet-wing," which enables pilots to perform "autonomous human flight." Eventually, this led to the formation of Jetman Dubai.
In 2015, a partnership between Jetman Dubai and XDubai made headlines when Rossy and Reffet performed the world's first ever "twin Jetman formation" over Dubai, Gulf News reported. This was followed by another breathtaking performance in the same year, when the two pilots again flew — this time alongside an Emirates Airline A380! How cool is that?!!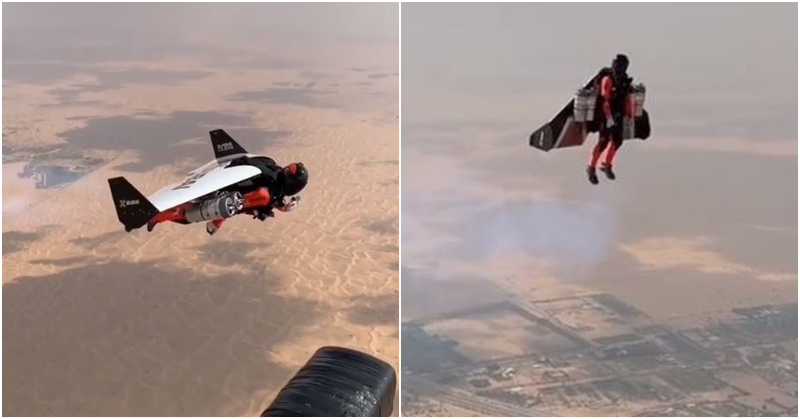 Remarkably, their latest stunt caught the attention of Prince Hamdan, who commented "Future is here" in English and Arabic as he shared the video to his Instagram followers. As of this writing, the post has garnered more than 922,600 views! It has definitely gone viral!
In response to the Crown Prince's post, Jetman Dubai posted their own video clip, stating: "Yes… Future is here!"
ALSO READ: HH Sheikh Hamdan Launches "Dubai Future Councils"
Unlike the pilots at Jetman Dubai, we may not be able to "fly" like a bird, but we may be able to experience something like it… soon! In a few years time, Dubai's Flying Taxis and Sky Pods will soar over the city's skies. By then, we can also say that, indeed… the future is here!