From flying cars to driverless taxis, showcasing crime-busting robocops and 3D projectors — the 38th edition of GITEX Technology Week 2018 at Dubai World Trade Centre is in full swing!
Happening from October 14-18, 2018, GITEX Technology Week features the latest in robotics, AI, Internet technology, and virtual reality. Based on the theme, "Experience Future Urbanism," it offers a glimpse into Dubai's (and the world's) exciting future… a future that starts today!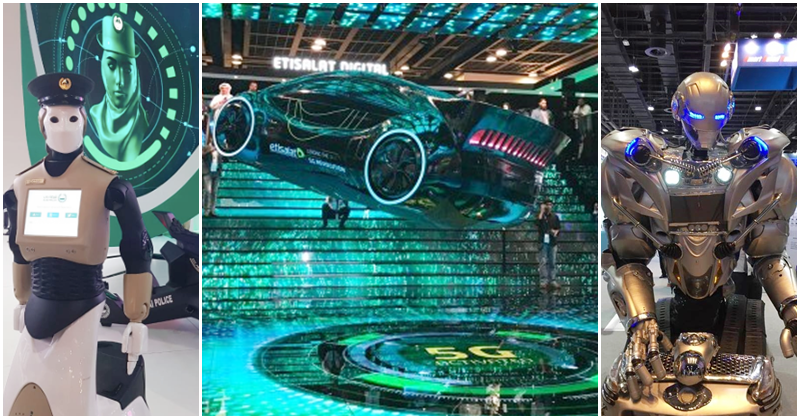 GITEX Technology Week Showcases the Future
In today's article, we have gathered 10 futuristic technologies presented at GITEX Technology Week (so far). Get ready to get a glimpse of what the future has in store for Dubai!
#1 – Food Cart Delivery
Although vending machines have been around for decades, they are often stationary and tucked into a corner. At GITEX however, you don't have to worry about getting hungry, because this food cart by Etisalat-UAE will deliver fresh food right where you are!
#2 – Robot Serving Drinks
Of course, you'll need a drink to go with your meal. Just head to these ever-busy robots, who will gladly prepare a refreshing beverage just for you!
#3 – "Robo" Pharmacists
In the future, your prescription medicine will be prepared by these robots. Health and technology, combined!
#4 – Boxer Projectors
Two-dimensional projection is fast becoming a thing of the past. The Christie Boxer 4K30, made by Christie Digital, is turning heads with its "wolf head" features! Cool, huh!
#5 – Female "Robocop"
Do you remember Robocop, introduced by Dubai Police last year? Well, he now has a partner! Meet the first female, crime-busting robocop at GITEX!
#6 – Marshall the Robot
"Hello, I'm Marshall. I am 9.5 feet tall. I can sing, dance, talk, and laugh!" Marshall is an interactive robot who has been around since April 2018. He can interact with guests in real time, or be programmed to entertain his wide-eyed audience!
#7 – Dart-playing Robot
Want to play a game of darts, but nobody wants to join you? Don't worry, this dart-playing robot is always "game"!
#8 – Teotronico Robot
Who needs a pianist when you can listen to this Teotronico robot by azetpr play some jazzy tunes all day long?!
#9 – Driverless Taxi
At GITEX, the Dubai Roads & Transport Authority (RTA) proudly exhibited the first "Autonomous Taxi" in the Middle East. This amazing vehicle was designed in coordination with DG World (Digirobotics) and Dubai Silicon Oasis.
#10 – Flying Car
No, you're not watching an episode from The Jetsons… this is an actual flying car developed by Etisalat! Just like RTA's driverless taxi, this vehicle aims to help transform 25% of the total transportation in Dubai to autonomous mode by 2030 — as part of the "Dubai Autonomous Transportation Strategy."
ALSO READ: HH Sheikh Hamdan Witnesses First Flight of Dubai's Flying Taxis
With a few days more to go, we are bound to see more exciting things at GITEX Technology Week. As for space aspirations, the UAE is fast becoming a pioneer, as well! Read all about the Mars Science City, a project that aims to build a habitable city on the red planet by 2117.