A Filipino restaurant was recently featured in the news for making a difference, especially during these worrying times. The owners of Spice Grill Restaurant, based in Sharjah, specifically hired our kababayans who had lost their jobs during the current pandemic.
Restaurant owners Lourds Adalia-Evertse and Cristine Caringal had planned to open Spice Grill earlier this year when the outbreak struck. Seeing the plight of their fellow Pinoys, they decided to hire people who had been displaced from their work because of the crisis.
Spice Grill offers a variety of seafood dishes as well as meat items. So it's a fusion between seafood and meat. Check out this video of our experience dining in this restaurant: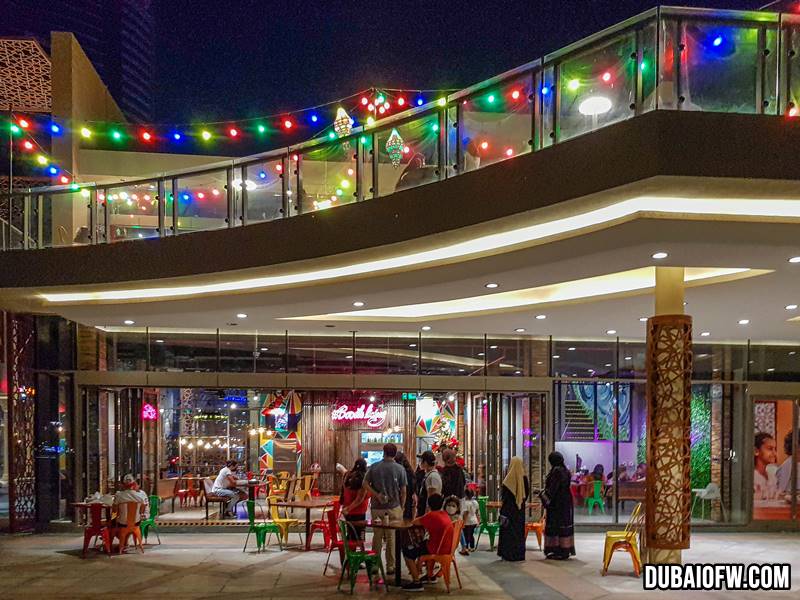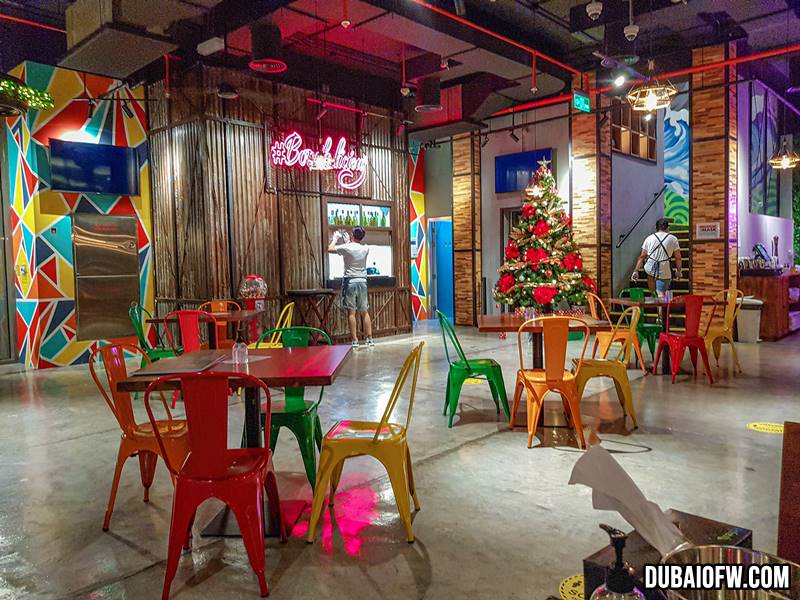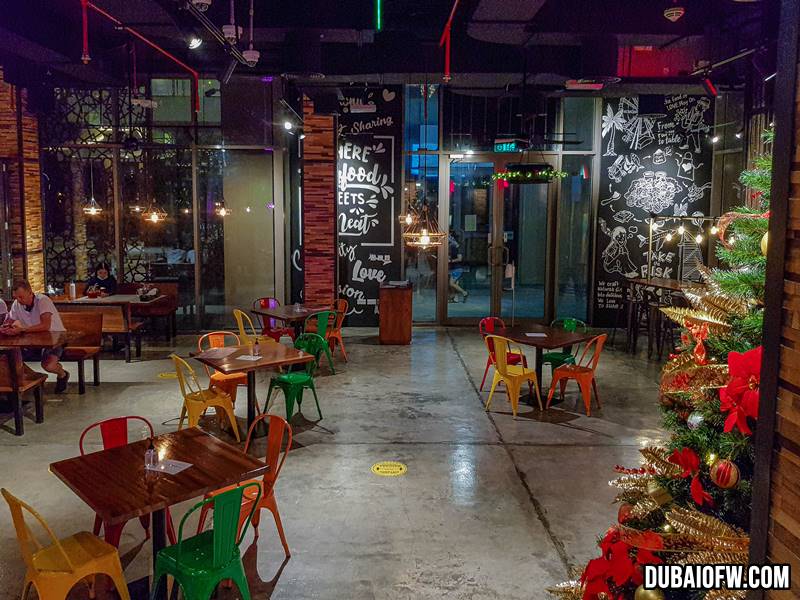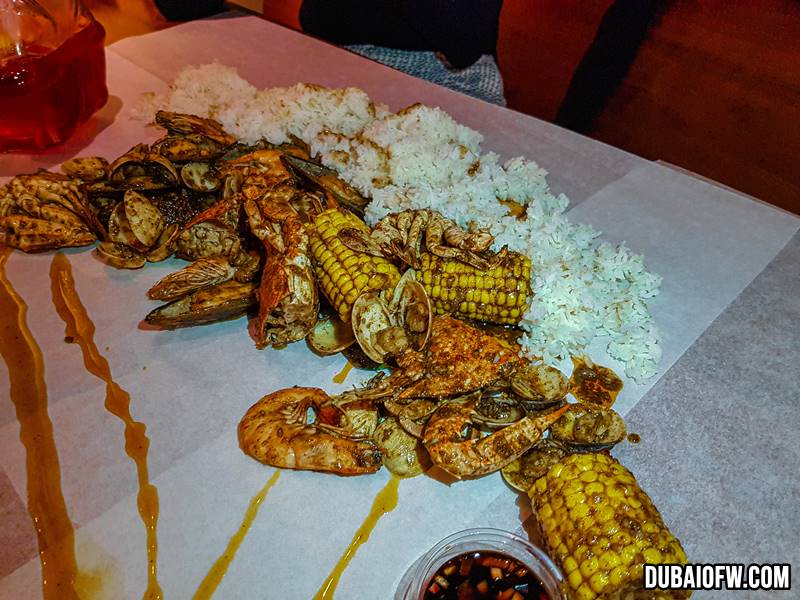 Indulge in Asian Fusion at the Colorful and Hip Spice Grill Restaurant in Al Majaz Waterfront
The owners of Spice Grill are also the people behind Dampa Seafood & Grill, a popular Filipino restaurant in Dubai. Seeing the demand for delicious seafood and meat dishes, they decided to establish a restaurant "where seafood meets meat;" hence, Spice Grill was born!
As soon as you enter the restaurant, you'll be sure to notice its lively, cool, and colourful vibe. The ambience is casual, fun, and definitely Instagram-worthy! There are indoor and outdoor areas featuring awesome views of the waterfront, and home delivery is available, too.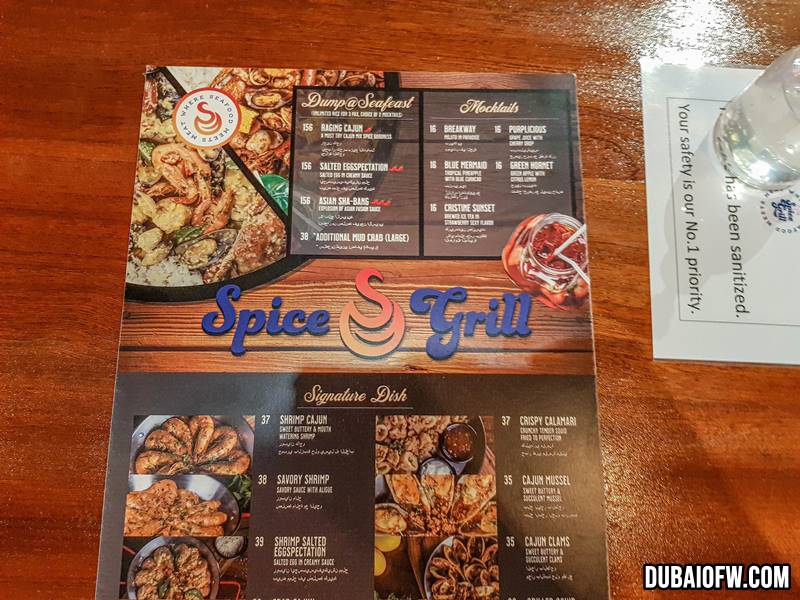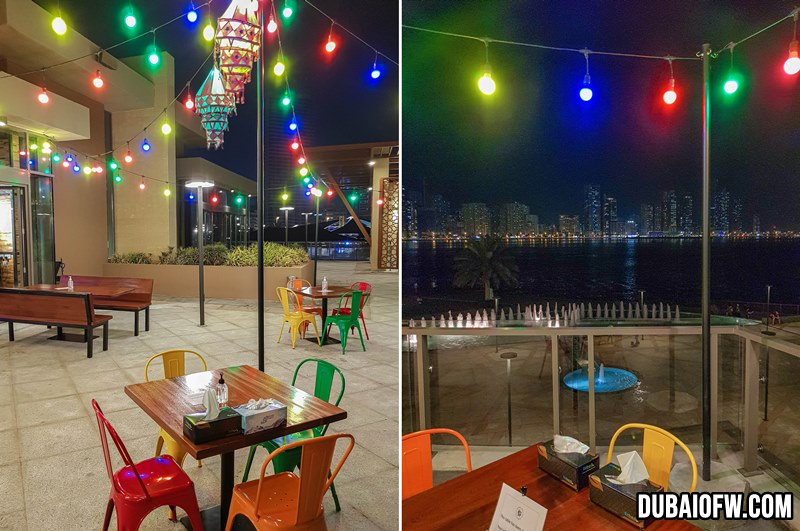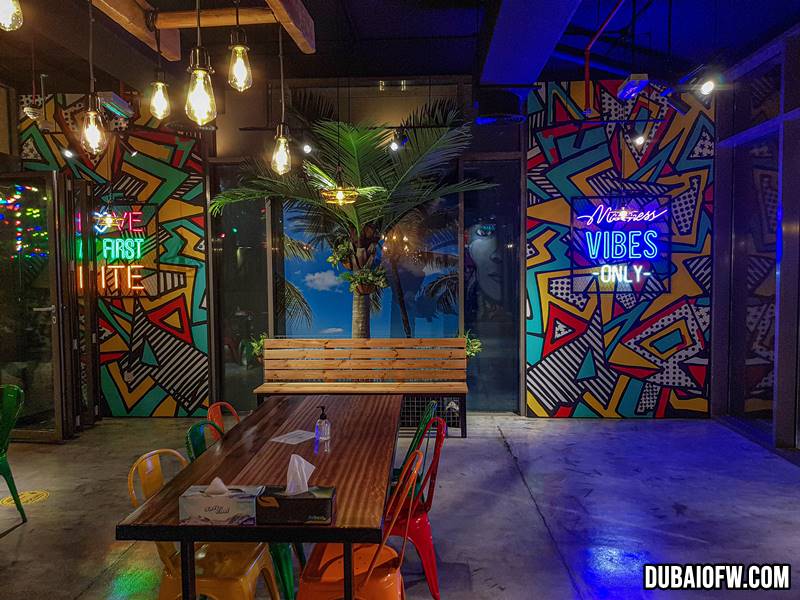 Seafood and Meat Menu
As for the food, Spice Grill serves Asian fusion cuisine, including classic favorites from the Philippines. Just like in Dampa Seafood & Grill, the restaurant features Baked Mussels, Cajun Shrimp, Crispy Calamari, Grilled Squid, and other seafood dishes. These are served with a variety of sauces, such as Cajun spice, Thai curry, and Mexican spices.
On the other hand, if you prefer something more meaty, you should try the restaurant's famous Tomahawk Steak and Lamb Chops. The "Lourd of the Wings" is also a popular choice, coming in lemon pepper, Parmesan, and "dynamite" flavours.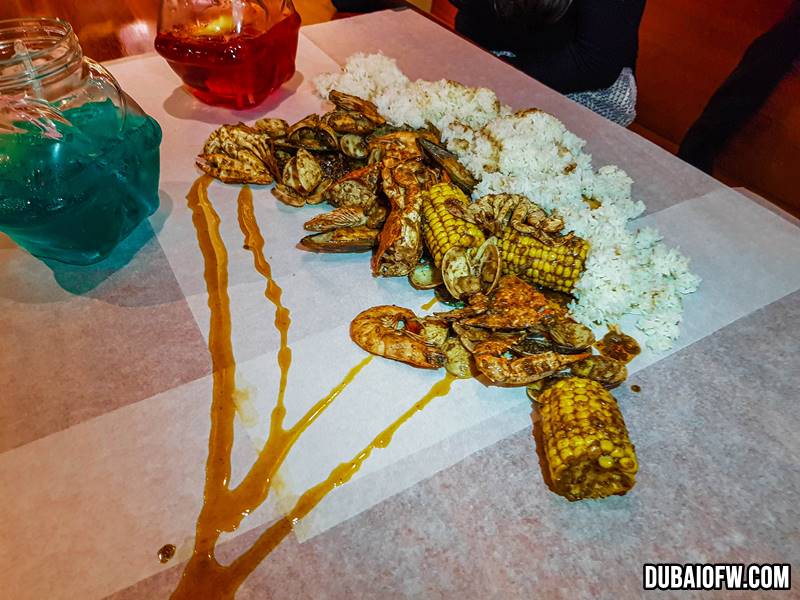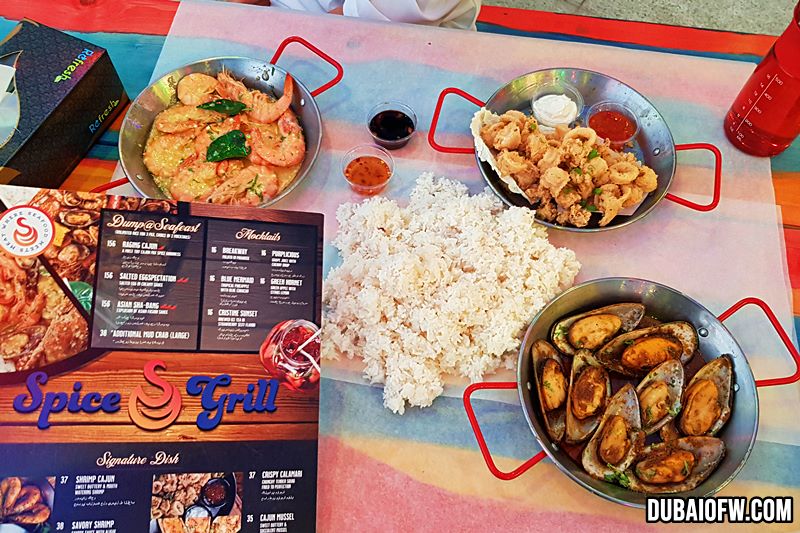 For desserts, you can't go wrong with their Banana Date Fritters and Vanilla Ice Cream, among other sweet offerings. Wash everything down with a glass jar of flavourful Mocktails: Blue Mermaid, Breakaway, Cristine Sunset, Green Hornet, and Purplicious!
Video – Spice Grill Restaurant
In case you are wondering what to expect in Spice Grill, here's a video showcasing our dinner experience when we visited this place:
If you craving for delicious seafood and meat dishes, head to Spicy Grill Restaurant for a hearty meal while overlooking beautiful views! Meanwhile, if it is classic Pinoy food favourites that you're after, here is a
list
of the best Filipino restaurants in Dubai.
Al Fresco Dining in Terrace
We believe one of the best parts when you dine in Spice Grill is the view of the waterfront. Aside from the food and the colorful interior design, you can have a wonderful view from the terrace with the buildings and the water.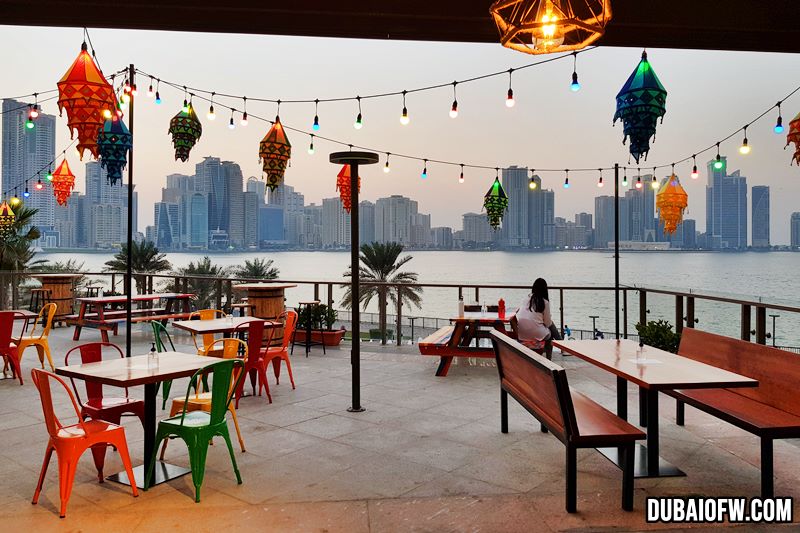 Opening Hours and Prices
With regard to cost, you can expect to spend an average of around AED 145 for two persons. The restaurant is open daily at the following times:
Sunday to Wednesday – 12:00 pm to 10:00 pm
Thursday – 12:00 pm to 12:00 am
Friday – 1:00 pm to 12:00 am
Saturday – 12:00 pm to 11:00 pm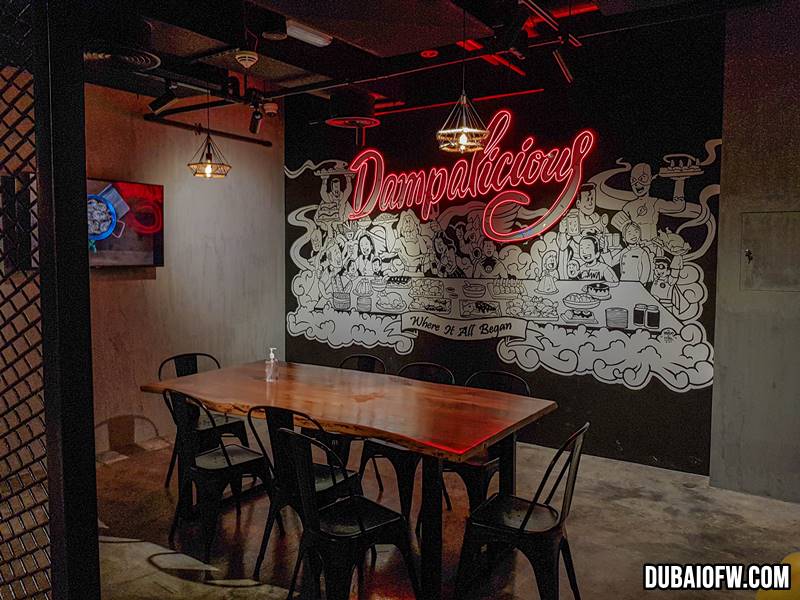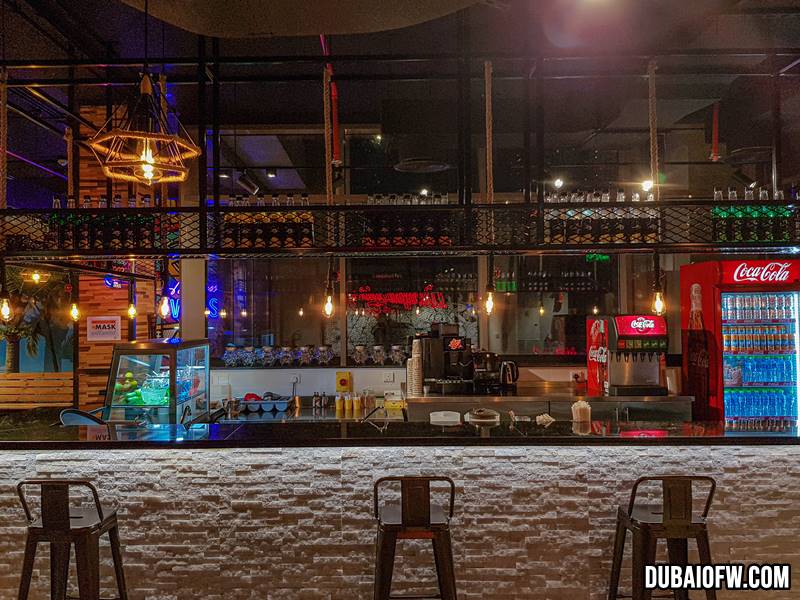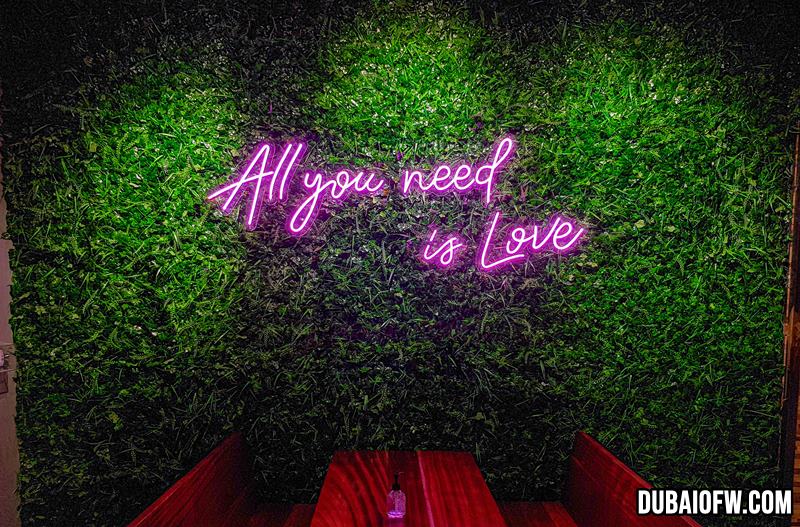 Contact Information – Spice Grill Restaurant
Address: A2 Unit, Al Majaz Waterfront, Sharjah, UAE
Telephone: +971 6 764 8167
Facebook: @SpiceGrillSharjah
Google Map Location
Spice Grill Restaurant is situated along Al Majaz Waterfront in Sharjah. It is within walking distance of popular landmarks like Al Majaz Splash Park and Fountain Plaza, overlooking Khalid Lake. If you want to go shopping, City Centre Sharjah is just a 10-minute walk away. Below is the Google Map location of the restaurant: