PhilHealth is a health insurance program mandated by the government of the Philippines. Formally known as the Philippine Health Insurance Corporation, it was established in 1995 to provide universal health coverage to Filipinos both inside and outside the country.
While workers in the Philippines are generally required to be a PhilHealth member, the same is also recommended for those who are working abroad. To avail of the program's benefits, an Overseas Filipino Worker (OFW) pays a premium contribution of PHP 2,400 per year.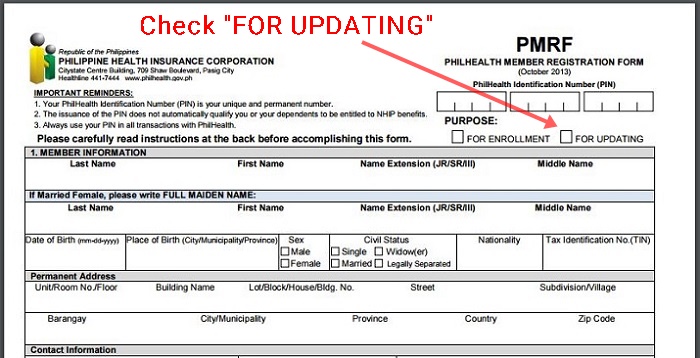 Guide to Updating Your PhilHealth Membership Online
From time to time, you may need to update your PhilHealth Membership Data Record (MDR), e.g. changing your civil status or adding a new dependent / beneficiary. Members in the country can simply go to any PhilHealth office to do this, but for OFWs, their option is to go online.
Here is a step-by-step guide to updating your PhilHealth MDR online:
#1 – Download the PhilHealth Member Registration Form (PMRF). Click here to download the form.
#2 – On the upper right-hand side of the form, check the box, "For Updating."
#3 – Fill out the form with the necessary revisions. Don't forget to double check all your details.
#4 – Send the accomplished form via email to ofp@philhealth.gov.ph.
#5 – Wait for your updated MDR, which will be sent to your email address. It's that simple!
As soon as your MDR is updated, continue paying your premium contributions as before. Notably, you can opt to pay your PhilHealth contributions in advance — two to five years, in fact — depending on your overseas employment contract.
Even if you are working abroad, updating your PhilHealth MDR is now easy and hassle-free. This way, you can be assured of health coverage for you and your dependents in the Philippines. To learn more about the program and its benefits, check out the official PhilHealth website.