Visiting the world's tallest building, skydiving over the palm, riding an abra along the Creek — these are just some of the fun and exciting things to do in Dubai. But let's add one more to the list… how about dining in the city's only revolving restaurant? Sounds awesome, right?!
Also Read: Shabestan Restaurant in Radisson Blu Dubai Deira Creek
Located in Hyatt Regency Dubai is Al Dawaar, the city's only rooftop revolving restaurant. It offers international dining — Arabian, Middle Eastern, European, and Asian cuisines — all while overlooking spectacular, 360-degree views of the Dubai skyline, the Creek, and the sea.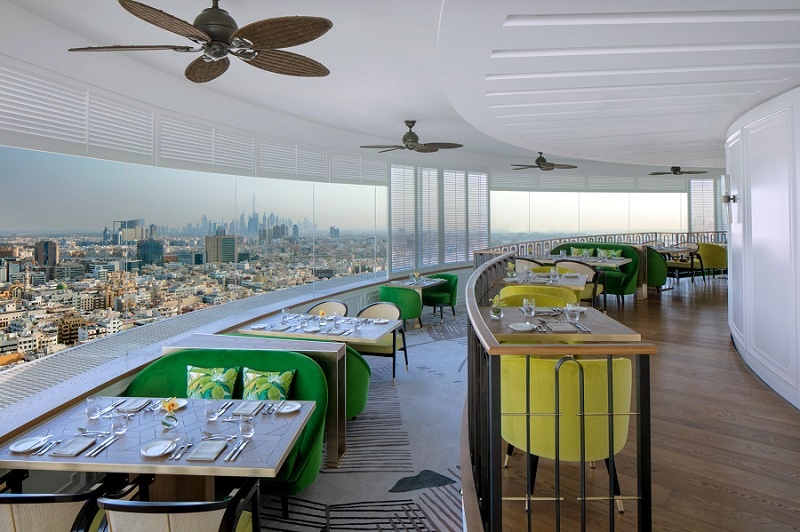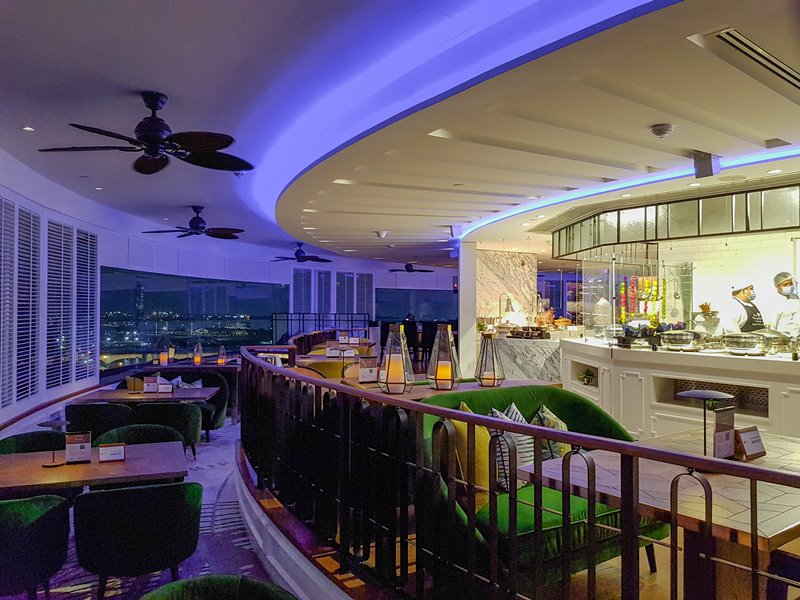 Dine While Overlooking Spectacular Views at Al Dawaar
As soon as you enter, Al Dawaar welcomes you with an elegant and stylish ambiance: panelled walls, French windows, rattan furniture, and "Birds of Paradise" tropical palms. During the day, guests will enjoy the bright and exciting atmosphere. In the evening, Al Dawaar offers a cozy and romantic setting, amid the glittering city lights of Dubai below.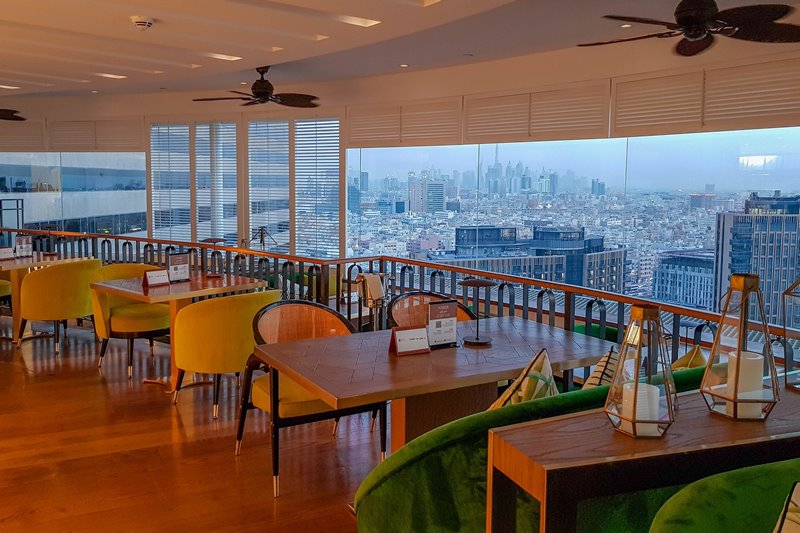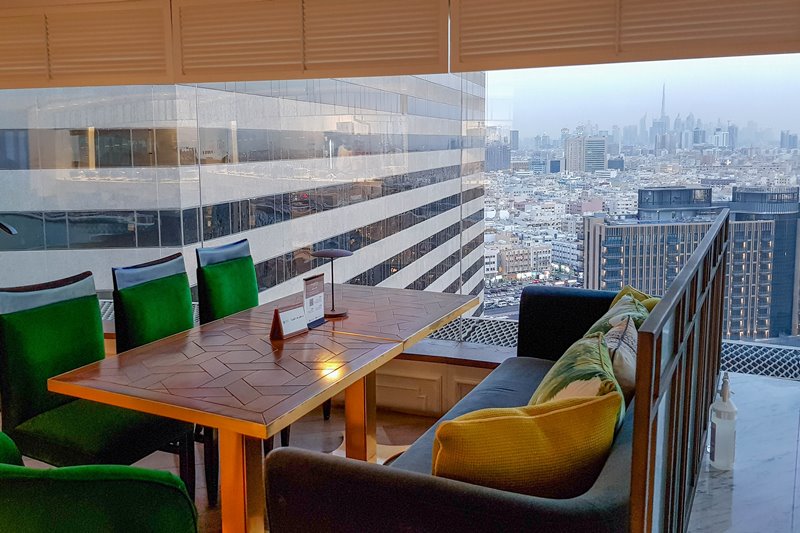 The restaurant serves a wide array of international cuisines, featuring an open and vibrant "live" kitchen where guests can watch Al Dawaar's master chefs in action! For starters, you can sample the Assorted Sushi or enjoy a bowl of Clear Minestrone Soup. The Crab Mango Salad, White Quinoa Tabouleh, Mini Shrimp Ceviche, and Papaya Salad are also worth a try!
For the main course, there's Rib Eye Steak, Ossobuco Alla Milanese, Teriyaki Salmon Steak with Pak Choi, Whole Seabream, Seafood Stew, and Stir Fried Beef with Black Pepper Sauce, to name a few. Meanwhile, the "pasta live cooking" feature allows you to design your own pasta dish, with ingredients such as tomato, basil pesto, garlic, and wild mushroom!
Of course, don't miss dessert, as Al Dawaar provides lots of cakes and sweet treats: Mango Cheese Cake, Chocolate Orange Sponge Cake, Pecan Honey Tart with Citrus Mascarpone Cream, Raspberry Almond Cake, Coconut Cake with Spicy Pineapple Chutney, and more!
As for the beverages, the restaurant serves fresh juices, mocktails, soft drinks, coffee, tea, still and sparkling water. Alcoholic beverages are also available; simply choose from the vast selection of red wine, white wine, vodka, champagne, beers, and cocktails.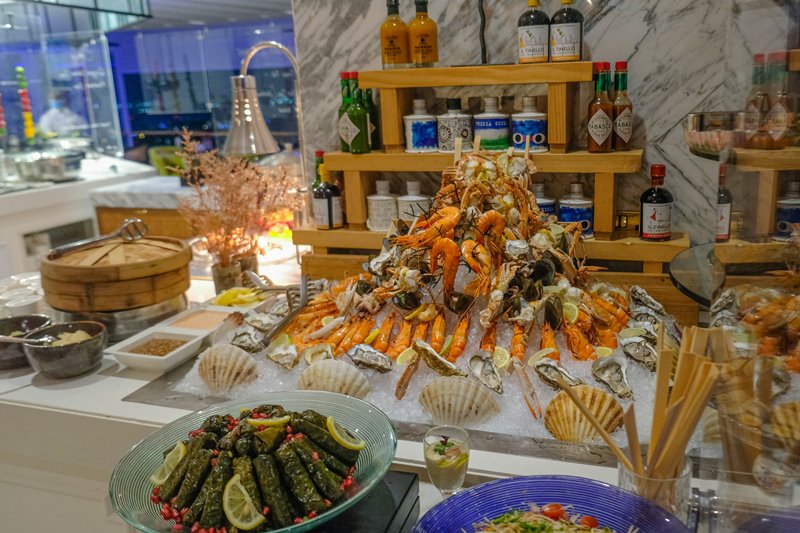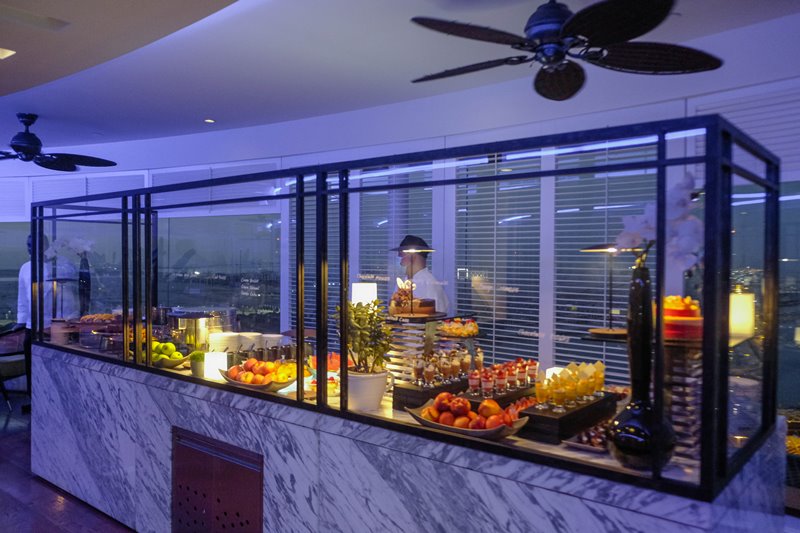 Opening Hours and Prices
Al Dawaar is open for dinner and brunch at the following days and times:
Dinner: 7:00 pm – 11:00 pm (Wednesday to Saturday)
Sky Brunch: 12:30 pm – 4:00 pm (Friday)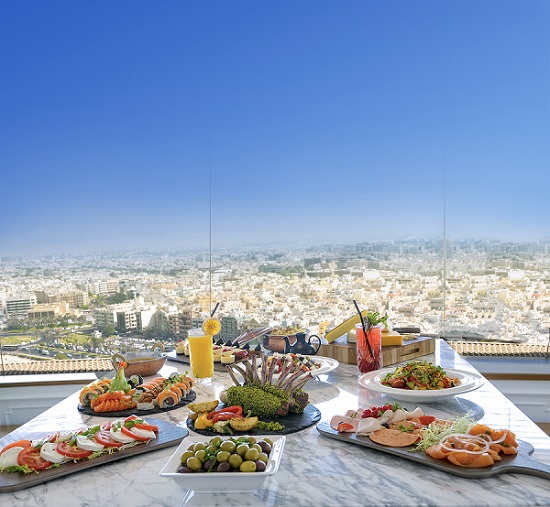 The prices for dinner every Wednesday to Saturday are as follows:
AED 229 – per person (excluding beverages)
AED 115 – per child between 6 to 12 years old (excluding beverages)
FREE – children below 6 years old
Meanwhile, the prices for "Sky Brunch" every Friday are:
AED 249 – per person (including soft beverages)
AED 369 – per person (including house beverages)
AED 569 – per person (including champagne)
AED 125 – per child between 6 to 12 years old
FREE – children below 6 years old
Video: Al Dawaar at Hyatt Regency Dubai
Wondering what it's like to dine at Dubai's only rooftop revolving restaurant? Check out this video of Al Dawaar, as featured by Hyatt on YouTube:
Just imagine: a romantic dinner for two or a hearty brunch with the family, savoring world-class dishes while gazing at the beautiful city skyline. Indeed, you can look forward to "an experience like no other" at Al Dawaar restaurant in Dubai!
Meanwhile, if you are a craving for Filipino cuisine, here's a list of the best Filipino restaurants in Dubai, where you can enjoy a taste of home while staying here in the emirates.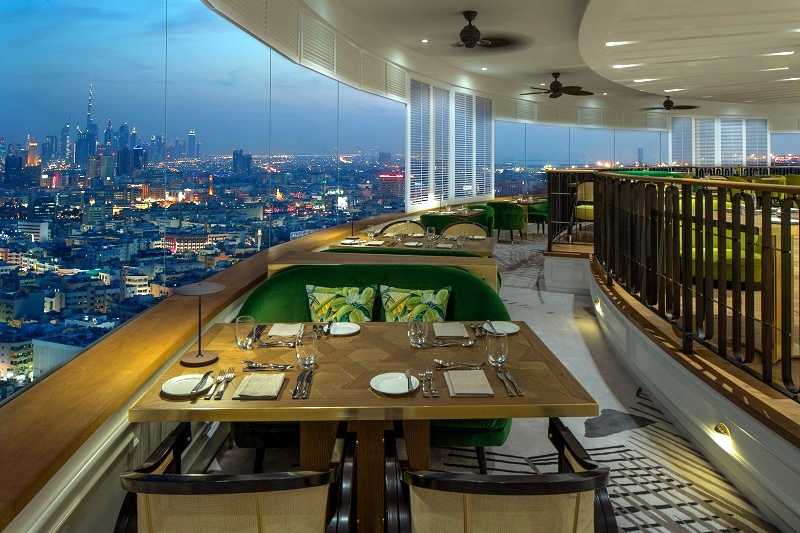 Contact Information – Al Dawaar at Hyatt Regency Dubai
Address: Hyatt Regency Dubai, 25th Al Khaleej Road, Dubai
Telephone: +971 4 2096887
Website:
https://www.hyattrestaurants.com/en/dining/uae/dubai/international-restaurant-in-deira-corniche-al-dawaar-revolving-restaurant
Facebook: https://www.facebook.com/AlDawaar/
Instagram: http://www.instagram.com/aldawaar
Google Map: