Warning to OFWs and tourists, reports of a "bullet" scam have been circulating on the internet wherein NAIA airport staff are reportedly victimizing unsuspecting travellers. We have read 3 incidents about a "Laglag Bala" modus operandi that have gone viral on Social Media.
In these 3 incidents, NAIA airport staff allegedly plants a bullet in a passenger luggage during X-ray scanning. Bullets are ammunition and are banned when travelling whether via handcarry or check-in luggage. Check the full list of Prohibited Items here – Revised Prohibited Items List – Office for Transportation Security
In these instances, the victims denied the accusations and in order to settle the incident, airport staff would allegedly ask for money in return.
Alleged "Laglag Bala" Modus Operandi at NAIA Airport
Here are the three instances we've compiled:
First Incident:
Rhed Austria de Guzman, a Filipina who was flying to Los Angeles, CA, posted on Facebook about her experience when NAIA staff examined her baggage and mentioned that they "found" a bullet in her baggage, to which she denied the allegation. The staff took her passport and greencard to discuss the matter further.
When the staff came back, they said "Ate, ayusin mo nalang. Pwede na yan sa 500. O sige po, iabot mo nalang sakin patago. Baka mahuli ako ng supervisor." (Ma'am, we can settle this. You can simply pay Php 500.00. Please hand it to me secretly as my supervisor might catch me)
More about her experience here – https://www.facebook.com/rdalejo/posts/10200907325201483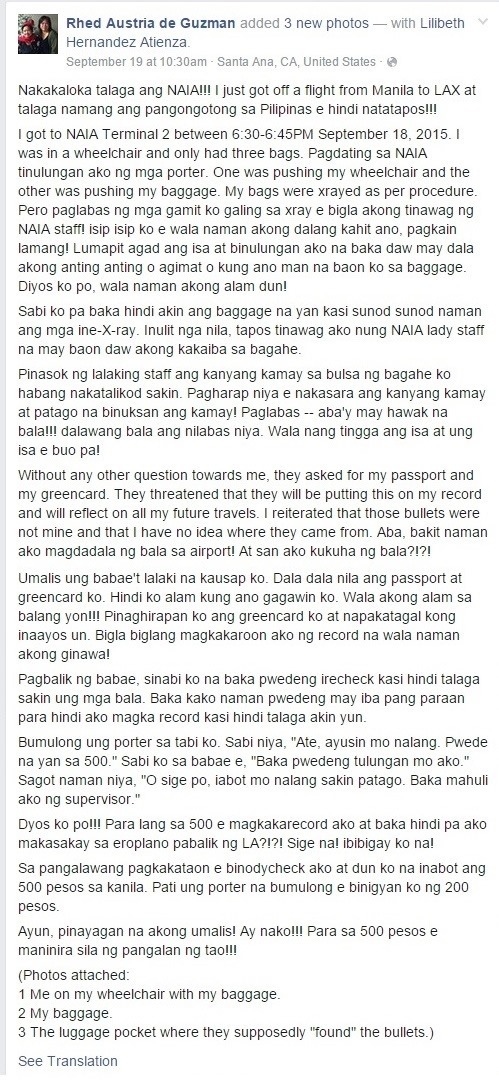 —————————————-
2nd Incident:
It appears that this modus is not only limited to Pinoys. A report by ABS-CBN mentions that Lane Michael White, 20 and a first-time tourist, was stopped at the X-ray scanner area of NAIA Terminal 4 for an alleged bullet in his check-in luggage.
White was with his father and stepmother as they were travelling to Palawan when airport security repeatedly scanned his bag on the X-ray machine. He denied the allegations and didn't know how it got inside. White mentioned that the airport security told him that this issue would be settled if he paid 30,000 Php, to which the tourist refused to give, insisting that he was innocent.
View full FB Post here – http://www.abs-cbnnews.com/nation/metro-manila/09/24/15/laglag-bala-victimizing-passengers-naia
—————————————-
3rd Incident:
Netizen, Kim Cruz posted a short video where she claims that she witnessed the "Laglag Bala" Modus first-hand.
"I saw the bald official holding the bullet in his hand pretending that it came from the woman's bag." Kim posted. And the lady official said "wag po kayo mag alalala tinawag na po namin ang pulis." (Don't worry, we just informed the police authorities). Of course the poor woman panicked even more! "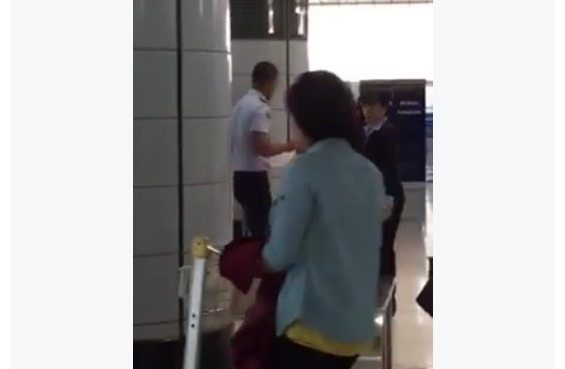 Photo screengrabbed from Kim Cruz FB Post – Source here
View her full FB Post here – https://www.facebook.com/Kimcruzers/videos/10153119762932747/
——————-
Please be advised that these 3 instances were recently posted online. 2 were victims, and the other one witnessed it from a distance. One of the posts was also sourced from an ABS-CBN Report. NAIA and authorities are investigating these incidents.
If any party would like to share their side of the story, we are welcome to hear your comments. We are posting this news online so that our concerned OFW community will be notified of this alleged Modus Operandi. So to all our travelling Pinoys and even non-Pinoys, please be careful and remain vigilant when travelling!