In the bustling metropolis of Dubai, where the mercury can soar to extreme heights, the importance of a fully functional car AC system cannot be overstated. Whether you're a resident braving the daily commute or a visitor seeking to explore the city's many wonders, the sweltering heat of the Arabian Desert makes an efficient car AC not just a comfort, but a necessity. Car AC repair service is a crucial segment in Dubai's automotive service industry dedicated to ensuring that your vehicle remains a haven of coolness amidst the scorching temperatures outside.
Highly regarded providers including Profix Auto Care Garage, Car Focus, and Kings Auto Garage, just to name a few, stand ready to offer their expertise. Get to know about them below.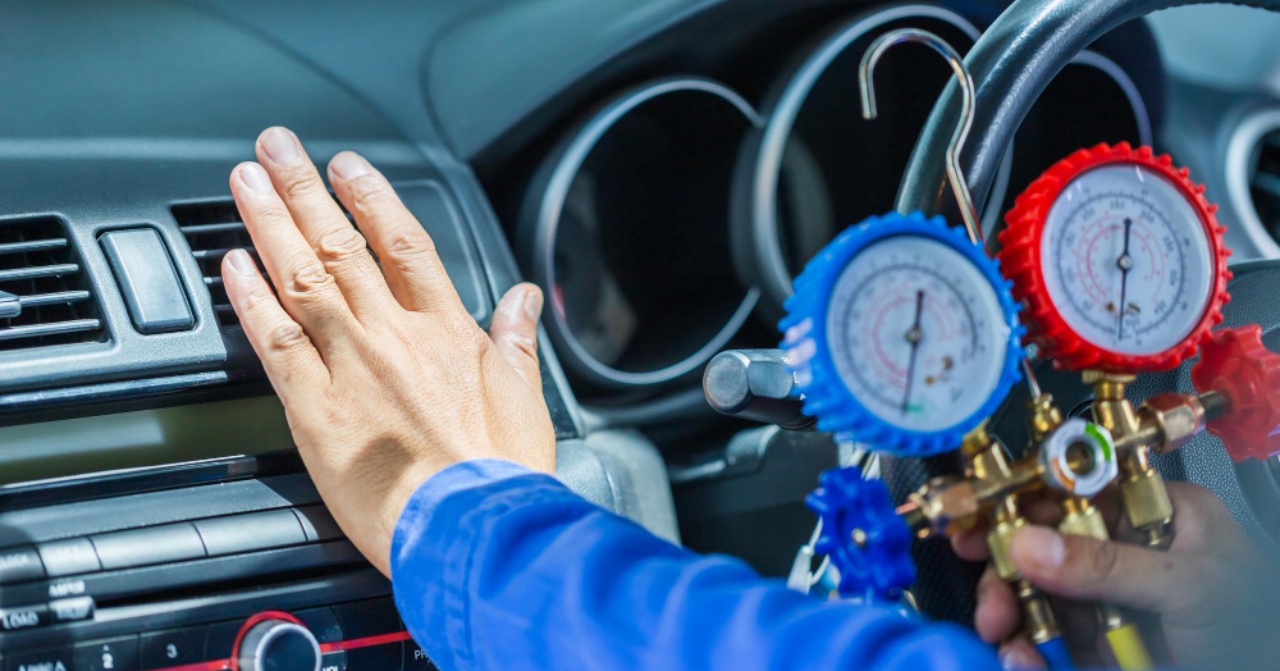 Common Issues That Affect Car AC Performance
Maintaining an optimal temperature inside your vehicle is crucial, especially in the scorching heat of Dubai. A car AC system that's not functioning properly can quickly turn your comfortable ride into an unbearable journey. Here's a rundown of common issues that could be hindering your car AC's performance:
Refrigerant Leaks
Symptoms: The AC blows slightly cooler air than the outside temperature or doesn't cool at all.
Causes: Holes or cracks in the AC unit's hoses, connectors, or the condenser can lead to refrigerant leaks.
Solution: A professional AC repair service can use a specialized leak detection technique to locate and seal any leaks, followed by recharging the system with refrigerant.
Faulty Compressor
Symptoms: The AC isn't blowing cold air, or there's a noticeable reduction in the airflow.
Causes: The compressor, which circulates the refrigerant and cools the air, may fail due to lack of use, refrigerant level issues, or internal wear and tear.
Solution: Regular use of the AC and proper maintenance are key. In cases of failure, the compressor needs to be replaced by a professional service.
Clogged Filter
Symptoms: Weak airflow even when the AC is set to maximum.
Causes: Dust, pollen, and other airborne materials can clog the cabin air filter over time.
Solution: Replace the cabin air filter at intervals recommended by your vehicle's manufacturer or more frequently in dusty conditions.
Electrical Issues
Symptoms: The AC unit fails to turn on, or it behaves erratically.
Causes: Blown fuses, a malfunctioned switch, a failed sensor, or any electrical fault can prevent the AC from operating correctly.
Solution: Electrical diagnostics are required to find and fix any loose connections or replaced failed components.
Condenser or Evaporator Problems
Symptoms: The AC isn't cooling adequately or is emitting a bad odor.
Causes: A blocked or damaged condenser can impede the cooling process, while a dirty evaporator can cause a foul smell.
Solution: Cleaning or replacing the condenser or evaporator as needed can restore function and freshness to the system.
Worn Out Serpentine Belt
Symptoms: Squealing noise from the engine area when the AC is turned on.
Causes: The serpentine belt, driving the AC compressor, can wear out or become loose, reducing the compressor's efficiency.
Solution: Inspecting and replacing the serpentine belt can eliminate the noise and restore AC performance.
By being attentive to these issues, you can ensure that your car's AC system operates at peak efficiency, providing a respite from Dubai's relentless heat. Regular maintenance and timely repairs by qualified technicians are your best defense against these common problems.
Signs Your Car AC Needs Attention
A well-functioning car air conditioning system is a must-have in the intense heat of Dubai. It's not just about comfort; it's a health necessity. Here are telltale signs that indicate your car's AC system requires a professional check-up:
1. Reduced Cooling Efficiency
Insufficient Cooling: If your car's interior remains lukewarm despite setting the AC to the coldest setting, it's a clear indicator that the system is struggling.
Inconsistent Temperature: Fluctuating temperatures or having areas that are cooled unevenly can also signal a problem with the AC components.
2. Strange Noises
Squealing or Grinding: Unusual sounds when you turn on the AC can be due to a loose belt or failing components within the AC system.
Rattling Noises: These may be caused by debris trapped in the system or parts that have become loose over time.
3. Unpleasant Odors
Musty Smell: A stale or musty odor from the AC vents is often a sign of mold or mildew growth in the system, which can affect air quality and breathing comfort.
Pungent Odors: If you notice a sharp, chemical smell, it could indicate a refrigerant leak, which requires immediate attention.
4. Visible Leaks or Stains
Water Stains Inside the Car: If you notice water stains on your mats or pooling water inside the vehicle, it could be a result of a blocked drain hose.
Oily Substance Around AC Components: Any oily residue on AC parts could signify a refrigerant leak, which not only impacts efficiency but can also damage other parts of the AC system.
If you encounter any of these signs, it's advisable to seek out car AC repair services in Dubai promptly. Neglecting these warnings could lead to more significant issues, resulting in a complete system failure, which is especially troublesome in Dubai's desert climate. Regular maintenance from a trusted professional can save you from the discomfort and potential health risks of a malfunctioning car AC.
Professional AC Repair Services in Dubai
1. COOL TECH AUTO SPARE PARTS TRADING LLC
Address: دبيRAS AL KHORE INDUSTRIAL AREA-1 – Dubai – United Arab Emirates
Telephone number: +971504298662
Google Map Location
COOL TECH AUTO SPARE PARTS TRADING LLC stands out in Dubai's competitive AC repair and spare parts landscape for its exceptional service and expertise.
Acknowledged for their reliability in procuring scarce spares, they have garnered a reputation for resolving complex AC issues with efficiency and promptness.
The owner, Mr. Kurien, is recognized for his personal involvement and swift action in sourcing high-quality parts like the coveted Denso Air Compressor from Japan, ensuring customers like Mercedes owners not only receive the best price but also benefit from his vast knowledge and service excellence.
His commitment extends to connecting customers with skilled technicians, ensuring a seamless repair experience.
With COOL TECH, clients are assured of genuine parts and informed support, which is why they come highly recommended for anyone in search of top-tier AC components and advice in Dubai.
Address: RCCR Motors al quoz 3 st 3 warehouse no 5 – Dubai – United Arab Emirates
Telephone number: +971501244944
Google Map Location
RCCR MOTORS Auto Repair is recognized for their exemplary service and expertise in Dubai's car AC repair landscape.
Their approach to AC repair transcends the usual by involving customers in the process, providing insightful updates, videos, and photos that unveil the meticulousness of their work on vehicles like the BMW 435i.
This unprecedented transparency and customer involvement display a unique blend of hospitality and professionalism.
Clients are not just informed but made part of the repair journey, creating a compelling narrative of trust and skill.
RCCR's attentiveness and courteous service are consistently noted, making customers feel genuinely cared for.
Their swift and precise intervention on various models, including the Audi Q7, speaks to their proficiency with luxury European brands.
Competitive pricing combined with a strong reputation among car enthusiasts confirms RCCR MOTORS as a top-tier choice for car AC repairs—where the sophistication of service meets the warmth of genuine concern, ensuring both car and owner are treated with paramount importance.
Address: next to Audi Service Center – Al Quoz – Al Quoz Industrial Area 3 – Dubai – United Arab Emirates
Telephone number: +971509894674
Google Map Location
Profix Auto Care Garage has established itself as a premier car AC repair service provider in Dubai, with a reputation for delivering brilliant service.
Esteemed for their expertise in luxury cars, the team has won the trust of customers through their exceptional work and hospitality.
The garage's adept handling of complex AC issues is evident from their successful resolution of a newly installed compressor's cooling problem, where others had not succeeded.
Clients recommend Profix not only for their affordable solutions and professional diagnostics but also for the comfort they guarantee, achieving a remarkable 16.7 degrees of coolness even on the hottest summer days in Dubai.
With skilled technicians praised for their professionalism, Profix Auto Care Garage ensures a reliable and hospitable service experience, making it a highly recommended destination for car AC repairs.
Address: Ras Al Khor Industrial Area – Ras Al Khor Industrial Area 2 – Dubai – United Arab Emirates
Telephone number: +97143475928
Google Map Location
Al Nahdha Auto Garage emerges as a premier destination in Ras Al Khor, Dubai, for car AC repair services, where dedication to customer satisfaction shines through.
With a reputation built over two years of impeccable service to vehicles like the Mercedes C350, including intricate tasks such as AC compressor replacement, Al Nahdha stands out for its exceptional work quality.
The facility, adept at handling diverse needs—from wheel alignments and bearing replacements to AC gas refills and pipe replacements—ensures that every car, including models like the Ford Explorer 2010, receives thorough attention.
Managers Sanjith and Anish, known for their transparent approach to costs and repairs, alongside the vigilant owner Mr. Syed, reinforce trust by personally overseeing services, reflecting a philosophy that prioritizes customer contentment over profit.
With accolades for their responsive service, particularly from Mr. Ahdal who offers detailed diagnostics and repair options, Al Nahdha Auto Garage is celebrated for its trustworthy and highly recommended car care, all based on genuine customer experiences.
Address: 2 Street 18A – Al Quoz – Al Quoz Industrial Area 4 – Dubai – United Arab Emirates
Telephone number: +971509085750
Google Map Location
Kings Auto Garage stands out in Dubai as a beacon of reliability and honesty in the world of car AC repair services.
Nestled in the heart of Al Quoz, this garage has earned accolades from patrons for their swift and effective solutions to AC malfunctions, including adept handling of unexpected blower issues during the fiercest of summers.
Distinct from its peers, Kings Auto Garage's diligent approach involves meticulous step-by-step troubleshooting to pinpoint the true problem, a testament to their commitment to integrity over temporary fixes.
The professional staff to the adept mechanics, ensures that customers like you leave with a fully functional AC, assuring a return for future service needs.
This garage's fair pricing on genuine parts and labor further solidifies Kings Auto Garage as the go-to for affordable, high-quality car AC repairs in Dubai.
Address: 129 318th Rd – Al Quoz – Al Quoz Industrial Area 4 – Dubai – United Arab Emirates
Telephone number: +971526477064
Google Map Location
Check Point Car Garage stands out as a beacon of excellence in Dubai's bustling automotive service industry, renowned for its masterful handling of car AC repairs.
Esteemed for their ability to accurately diagnose a wide array of issues, Check Point offers comprehensive services that go beyond simple fixes, encompassing everything from meticulous mechanical repairs to detailed car care.
What sets them apart is not just their competitive pricing, but the transparency and honesty that their team embodies. Commended for breaking stereotypes and offering genuine, considerate service, Check Point is a place where trust is built and vehicles are treated with the utmost respect.
Clients laud their swift, quality workmanship, enhanced by the delightful bonus of a complimentary car wash.
As a testament to their reliability and customer satisfaction, Check Point Car Garage comes highly recommended, especially for those seeking refuge from the unforgiving Dubai heat with a car AC system in top-notch condition.
Address: 16A St – Al Qusais Industrial Area – Al Qusais Industrial Area 1 – Dubai – United Arab Emirates
Telephone number: +971554177786
Google Map Location
Al Chaman Auto Repairing L.L.C has earned its reputation as one of Dubai's premier AC repair service providers. Esteemed for their professionalism and courtesy, they have consistently impressed with their attentive service.
A patron's recent experience with a Jeep Compass 2018 model stands testament to Al Chaman's expertise. The team's ability to address complex AC and mechanical issues efficiently resonated with the customer's expectations, all at a commendable price point.
This level of service excellence is hard to come by in the bustling automotive repair landscape of Dubai. The glowing endorsements highlight not just the quality of work but also underscore the trust and reliability that Al Chaman Auto Repairing brings to the table.
With Mr. Dilnawaz at the helm, the company continues to receive high recommendations, solidifying its position as a go-to destination for car AC and automotive services.
Address: 24B Street – Al Quoz – Dubai – United Arab Emirates
Telephone number: +971567253107
Google Map Location
Abdur Rehman Auto A/C & Elect. Rep. Workshop stands as a beacon of automotive care in the heart of Dubai, acclaimed for its proficient team and exceptional service in air conditioning repair.
Their knowledgeable personnel are praised for their expertise in A/C systems, ensuring vehicles beat the heat effectively.
This workshop distinguishes itself by maintaining transparent communication, keeping clients informed throughout the repair process—an approach that garners commendation and trust.
Clients speak highly of the impeccable service they received, particularly highlighting the honest and diligent work ethic of the team.
Satisfied customers recount their experiences of thorough A/C services, from comprehensive overhauls involving compressor, condenser, and gas refills, to routine maintenance, leading to the optimal functioning of their Toyota and various other car makes.
With a reputation built on trust, quality, and customer satisfaction, Abdur Rehman Auto A/C & Elect. Rep. Workshop is celebrated as one of Dubai's premier car AC repair providers.
9. AUTO NEEDS GARAGE & SERVICES
Address: اﻟﻘﺼﻴﺺ – Al Qusais Industrial Area 1 – Dubai – United Arab Emirates
Telephone number: +971588971001
Google Map Location
Auto Needs Garage & Services stands out as one of Dubai's premier car AC repair service providers, earning high praise for its comprehensive expertise and customer-centric approach.
Clients have consistently experienced the keen diagnostic acumen of the management, swiftly identifying and resolving complex software/system issues with remarkable efficiency.
The garage's commitment to service excellence is further highlighted by complimentary AC cleaning, underscoring their dedication to value beyond repair.
With a reputation for not exploiting customers financially, this establishment offers a refreshing alternative in an industry often criticized for inflated costs.
Technicians at Auto Needs are lauded for their talent and amiable disposition, adeptly addressing AC malfunctions in a single visit and ensuring any post-repair concerns are promptly attended to by the management.
The blend of quick, quality service, reasonable pricing, and an unwavering resolve to guarantee customer satisfaction cements Auto Needs Garage & Services as a go-to destination for auto AC repair, particularly recognized for making high-end vehicles like Mercedes perform at their best.
10. Al Boroda Auto Refrigeration and Maintenance LLC
Address: 5th St – Umm Ramool – Dubai – United Arab Emirates
Telephone number: +97142885318
Google Map Location
Al Boroda Auto Refrigeration and Maintenance LLC stands out as one of Dubai's premier car AC repair service providers, acclaimed for their exceptional service.
Their punctuality, combined with a helpful and reliable team, ensures customer satisfaction that keeps clients returning. The trustworthiness they've cultivated over years of service shines through in every job they undertake.
Specializing in both the repair of existing units and the installation of new chillers and freezers for vehicles, their professional approach addresses the unique needs of each vehicle's air conditioning system.
They maintain rigorous standards for the products they service, ensuring that every repaired or newly installed unit functions seamlessly in the challenging Dubai climate.
Al Boroda's dedication to quality and their customer-first mindset make them a top choice for those seeking dependable car AC maintenance and repair.
11. Car Focus
Address: Behind President Hotel – 7 2B St – Al Karama – Dubai – United Arab Emirates
Telephone number: +971522120038
Google Map Location
Car Focus stands as a beacon of excellence in Dubai's car AC repair landscape, renowned for their masterful approach to automotive air conditioning dilemmas.
With a professional ethos that emphasizes integrity and customer satisfaction, Car Focus has garnered acclaim for diagnosing and resolving complex AC issues with commendable expertise.
When faced with an evaporator leakage, Car Focus' technicians showcased their skill by first attempting a conservative repair, offering their services gratis.
Only when this approach proved insufficient did they recommend a comprehensive solution – an evaporator replacement, presenting multiple options to suit the customer's needs and delivering the vehicle ahead of schedule.
The meticulous work left no trace of the extensive maintenance required, reflecting the team's respect for the customer's vehicle. Their cooperative staff, transparent pricing, and refusal to upsell unnecessary parts have earned Car Focus high recommendations.
Their commitment to quality service without the premium price tag truly sets them apart as one of Dubai's premier car AC repair service providers.
Address: 14C St – Al Quoz – Al Quoz Industrial Area 4 – Dubai – United Arab Emirates
Telephone number: +9718002274878
Google Map Location
800CarGuru Mobile Auto Repair Services stands out as one of Dubai's premier AC repair service providers, offering an exceptional blend of expertise, efficiency, and customer care.
Their ability to handle complex tasks, such as the precise replacement of damaged AC vents and accurate wheel alignment, showcases their dedication to quality.
Clients commend the professionalism of the team whose prompt service exceeds expectations.
Whether it's for a routine oil change or comprehensive AC service, their staff's proficient approach ensures vehicles are handled with the utmost care, minimizing downtime.
The commitment of 800CarGuru is further exemplified by their 24/7 availability; a client in distress at 3:30 am found solace in their swift response and the reassurance offered by Amin, a testament to the company's customer-first philosophy.
Their ability to provide reliable recovery services and prompt repairs, even outside conventional hours, has garnered trust and a strong recommendation from satisfied customers.
Address: 6 15 A St – Al Quoz – Al Quoz Industrial Area 3 – Dubai – United Arab Emirates
Telephone number: +971544444728
Google Map Location
Carstars Garage European Car Repairs stands out as one of Dubai's premier AC repair service providers, particularly for luxury vehicles such as the Audi Q7.
Their adept team swiftly diagnoses issues, recently pinpointing and resolving an evaporator problem with remarkable speed. Not only are their prices competitive, but their approach to service is unparalleled.
They go above and beyond by documenting repairs with a GoPro camera, providing clients with an insightful view of the intricate work performed – a rare transparency in the automotive service industry.
Their ability to handle labor-intensive tasks efficiently without compromising on quality, combined with their friendly and professional demeanor, sets Carstars Garage apart.
Their exceptional service delivery guarantees that each vehicle is not just fixed but provided with a thorough, understandable, and honest repair experience, making them a trusted ally for car owners in the scorching heat of Dubai.
Address: Unit 12 – شارع ١٩ – Dubai – United Arab Emirates
Telephone number: +971505710433
Google Map Location
Quick Service Auto Repairing stands out as a pinnacle of car AC repair expertise in Dubai, particularly praised for their work on premium vehicles like the Cayenne GTS 2013.
They are known for their meticulous approach to diagnostics, as evidenced by their discovery and rectification of a 70% AC gas deficit in one customer's vehicle.
Their methodical inspection protocols ensure no leakage goes unnoticed, ensuring a comprehensive service that goes beyond mere refills.
This attention to detail enables them to achieve outstanding cooling efficiency, significantly enhancing the driving experience in Dubai's torrid climate.
Furthermore, the team, including noted professionals Mesham and Mortaz, garners acclaim for their communication skills, providing customers with clear explanations and cost-effective solutions.
The personalized advice and efficient service at their Al Quoz location underscore their commitment to excellence.
The result is a highly professional, affordable, and effective service, earning Quick Service Auto Repairing five-star reviews and hearty recommendations from satisfied clients.
Address: Warehouse – Al Mullah compound – 2 23rd St – Al Quoz Industrial Area 3 – Dubai – United Arab Emirates
Telephone number: +971524400057
Google Map Location
Autostadt Motor Services stands as a paragon of automotive excellence in Dubai, renowned for its mastery in car AC and mechanical repairs.
With a team of highly qualified staff, Autostadt ensures that every vehicle, from luxury brands like Audi to everyday models, receives meticulous care.
Esteemed for its quick and reliable service, Autostadt has garnered a loyal customer base that consistently rates its AC and gearbox repairs as 'fantastic'.
The service provider excels not only in technical prowess but also in delivering cost-effective solutions, making top-tier car maintenance accessible.
Their ability to resolve complex issues with commendable speed and efficiency is why clients do not hesitate to describe Autostadt as 'highly recommended'.
Autostadt Motor Services does not just fix cars; it restores the seamless comfort and performance of your vehicle, ensuring every journey is as pleasant as it should be in Dubai's challenging climate.
Address: 8 12 St – Al Quoz – Al Quoz Industrial Area 4 – Dubai – United Arab Emirates
Telephone number: +971559907697
Google Map Location
Black Edition stands as a beacon of integrity and expertise in Dubai's bustling automotive service landscape. Revered for their unyielding commitment to honesty and excellence, Black Edition is spearheaded by the owner, Radik, and his adept team, who are celebrated for their professional prowess.
Esteemed for their diagnostic acumen, they don't just repair what's apparent; they unearth underlying issues, much like they did with a vehicle recently overlooked by another dealership, discovering critical concerns with the AC system among other components.
Their dedication to quality service is matched by their fairness in pricing, particularly with original spare parts.
This exemplary service extends to their car AC repair, where customers find themselves welcomed into the hands of specialists who not only restore coolness to their vehicles but also instill trust and peace of mind.
With Black Edition, your car is not just another job—it's a testament to their commitment to safety, quality, and the sheer delight of a cool drive in the heat of Dubai.
Address: Al Hunoof public kitchen – ware house No.5 – 4 Umm Suqeim St – Al Quoz – Al Quoz Industrial Area 4 – Dubai – United Arab Emirates
Telephone number: +971528147376
Google Map Location
MPR For Auto Mechanical Repair is quickly gaining a reputation as one of Dubai's premier car AC repair service providers.
With a personal touch and professional rigor, Nishad, the founder, brings over five years of trust and expertise to the table.
Clients repeatedly commend MPR for its exceptional ability to diagnose and resolve complex issues that even branded dealerships like Nissan struggle with.
This prowess is not just limited to steering problems but extends impressively to AC maintenance, where MPR's dedicated team delivers swift and satisfying service. What truly sets MPR apart is their commitment to affordability without compromising on quality.
The prompt identification and rectification of AC issues underscore the team's extensive knowledge and customer-centric approach.
Testimonials laud MPR's speed, reliability, and professionalism, ensuring that it stands out as a highly recommended, budget-friendly option for auto mechanical repairs in Dubai's competitive market.
Address: First Al Khail St – Al Quoz – Al Quoz 1 – Dubai – United Arab Emirates
Telephone number: +971582424253
Google Map Location
Perfect Fix Auto Repairing LLC stands as a paragon of automotive excellence in the heart of Dubai, particularly celebrated for its expertise in luxury car AC repair.
Their professional staff, renowned for their amiable and attentive service, ensure that each client's cherished vehicle receives meticulous care.
The workshop recently received accolades from a satisfied customer who entrusted them with a Mercedes Benz suffering from a plethora of warning messages, malfunctioning AC, and engine troubles.
In a mere four days, Perfect Fix expertly rectified all issues at a reasonable cost, much to the delight of the owner. Another testimonial praises the replacement of an AC condenser, a complex task executed with utmost professionalism, resulting in sustained performance after eight months.
Furthermore, their efficiency in AC compressor repairs, completing tasks ahead of schedule without compromising quality, secures Perfect Fix Auto Repairing LLC's reputation as a highly recommended destination for reliable car AC services in Dubai.
Address: CARE Auto Repair Services – Warehouse 6 – Ras Al Khor Industrial Area 1 – Dubai – United Arab Emirates
Telephone number: +971567411142
Google Map Location
CARE Auto Repair Services stands out as a beacon of excellence in Dubai's bustling automotive service landscape. Their adept handling of a Mercedes Benz S400 for general maintenance and the adept replacement of an AC fan motor in a VW Jetta solidifies their reputation.
This premier service center shines not just for its swift and efficient work, but for its cost-effective solutions, distinguishing itself by diagnosing a mere faulty fan motor when a pricier compressor issue was suspected.
This diagnostic acumen not only saved their client valuable time but also a significant sum of money.
The workshop's pristine condition, a rarity in the realm of car services, coupled with its meticulous organization, positions CARE Auto Repair Services as the quintessential one-stop shop for automotive care.
The combination of stellar service, precise problem diagnosis, and highly skilled staff has rightfully earned CARE Auto Repair Services the respect and repeat business of its clientele, setting the bar high with their exceptional standards.
Address: 54 28B Street – Al Quoz – Al Quoz Industrial Area 3 – Dubai – United Arab Emirates
Telephone number: +971501696632
Google Map Location
Kaiman Auto emerges as one of Dubai's premier AC repair service providers, distinguished by their exceptional professionalism and thoroughness.
Customers, who often come through word-of-mouth referrals, experience first-hand the remarkable expertise and care Kaiman Auto offers.
Their lead engineer, Abdullah, exemplifies the company's commitment to excellence. With his friendly demeanor and fervent dedication to resolving complex issues, Abdullah utilizes cutting-edge diagnostic technologies to identify and address the root cause of each problem.
Kaiman Auto stands out not only for their precision in repair but also for their swift service delivery. The added attention to detail, ensuring a car returns to the customer spotless, further sets them apart.
The outcome is a vehicle in optimal condition, with both the electronic hand brake and AC system functioning flawlessly, solidifying Kaiman Auto's status as a top-tier automotive service provider in the demanding Dubai market.
Criteria for Selecting a Reliable AC Repair Service
When searching for a dependable car AC repair service in Dubai, it's important to consider several key factors to ensure you receive the best care and value for your vehicle. Here's what to look for:
Expertise and Certification
Qualified Technicians: Ensure that the service center employs certified professionals who specialize in AC repair.
Training and Expertise: Look for a team that receives ongoing training and stays updated on the latest AC repair techniques and technologies.
Reputation and Reviews
Positive Feedback: Check for customer testimonials and online reviews to gauge the satisfaction of previous clients.
Referral Strength: A service with strong referrals is often a sign of dependable and quality service.
Diagnostic and Repair Technology
Advanced Diagnostics: Choose a service that uses the latest diagnostic equipment to accurately identify issues.
Repair Technology: Ensure they have state-of-the-art repair tools and technology to fix problems efficiently.
Customer Service Excellence
Communication: A reliable service will keep you informed throughout the repair process and explain issues in understandable terms.
Service Guarantee: Look for a service center that offers a guarantee or warranty on their repair work.
Turnaround Time
Quick Service: Time is crucial; hence, a good service center should offer a timely turnaround without compromising on quality.
Additional Services
Comprehensive Service: A center offering a range of services (like full car check-up and cleaning post-repair) can provide more value.
Convenience Offerings: Services such as pick-up and drop-off options can significantly enhance your repair experience.
Transparent Pricing
Clear Quotations: A trustworthy service provides transparent pricing and detailed quotes before commencing any work.
Competitive Rates: Ensure the rates are competitive but also reflect the quality of the service offered.
By considering these criteria, car owners can confidently select a car AC repair service that will provide reliable, high-quality maintenance and repair, ensuring their comfort even in the scorching heat of Dubai.
Common AC Repair Procedures and Their Importance
Maintaining a car's air conditioning system is essential for comfort and safety in Dubai's harsh climate. Below are common AC repair procedures that are crucial for ensuring a vehicle's AC system operates efficiently:
1. Refrigerant Recharge:
Importance: The AC system relies on refrigerant to cool the air. Over time, levels can drop, reducing the system's efficiency. Recharging the refrigerant ensures optimal cooling performance.
Procedure: Technicians evacuate the system, check for leaks, and recharge the refrigerant to manufacturer-specified levels.
2. AC Compressor Replacement:
Importance: As the heart of the AC system, a faulty compressor can lead to no cooling at all. Replacing it restores the system's ability to circulate cold air.
Procedure: The faulty compressor is removed, the system is flushed of contaminants, and a new compressor is installed.
3. Condenser Cleaning and Repair:
Importance: The condenser cools the refrigerant after it's been heated during compression. A clean condenser is vital for this process to work efficiently.
Procedure: The condenser is inspected for damage, cleaned of debris, and repaired or replaced if necessary.
4. Leak Detection and Sealing:
Importance: Leaks can cause the refrigerant to escape, reducing the system's cooling ability. Detecting and sealing leaks prevent refrigerant loss and potential damage to the environment.
Procedure: A special dye is added to the refrigerant, the system is run, and the source of any leaks is identified using a UV light, then sealed.
5. Cabin Filter Replacement:
Importance: A clean cabin filter ensures that the air entering the cabin through the AC system is free of pollutants and allergens.
Procedure: The old filter is removed, and a new one is installed to improve air quality and AC efficiency.
6. Electrical Repairs:
Importance: The AC system relies on numerous electrical components. Faulty wiring or sensors can cause the system to fail.
Procedure: Electrical components are tested, faulty wiring is repaired or replaced, and sensors are checked and recalibrated if necessary.
Each of these procedures is instrumental in ensuring that a vehicle's AC system operates as intended, providing a cool and comfortable environment for drivers and passengers alike.
Services Offered by Professional AC Repair Shops in Dubai
Professional AC repair shops in Dubai provide a comprehensive suite of services to address a wide range of issues. Can't put a finger on what exactly your car needs? Here are some of the professional services AC repair shops in Dubai typically offer:
1. AC Diagnostic Services:
Comprehensive System Check: A full evaluation to pinpoint issues with the AC system.
Leak Detection: Utilizing advanced technology to find and seal any leaks in the AC system.
2. AC Maintenance:
Refrigerant Recharge: Ensuring the AC system has the correct amount of refrigerant for optimal performance.
Oil Replacement: Substituting the compressor oil to maintain the efficiency and longevity of the system.
Air Filter Replacement: Changing out cabin air filters to ensure clean air circulation within the vehicle.
3. Repair and Replacement:
Compressor Repair/Replacement: Addressing one of the most critical components of the AC system.
Condenser and Evaporator Services: Repairing or replacing these key components to enhance the cooling efficiency.
Electrical Fault Rectification: Fixing any electrical issues that affect the AC system's performance.
4. Cleaning and Sanitization:
System Flush: Removing debris and contaminants from the AC system.
Ventilation Cleaning: Ensuring the air vents are free from dust and bacteria.
5. Performance Enhancements:
Upgrades: Implementing improvements to the system for enhanced cooling and energy efficiency.
Custom Tune-ups: Tailoring the AC system to meet specific needs or preferences.
6. Customer Service and Support:
Warranty Services: Offering service warranties on new installations and repairs.
Aftercare Advice: Providing customers with tips and practices to maintain their AC system's health.
Each service is performed by certified technicians equipped with the latest tools and knowledge to ensure that your car's AC system operates smoothly and efficiently, even in the intense heat of Dubai.
Best Practices for Car AC Usage in Dubai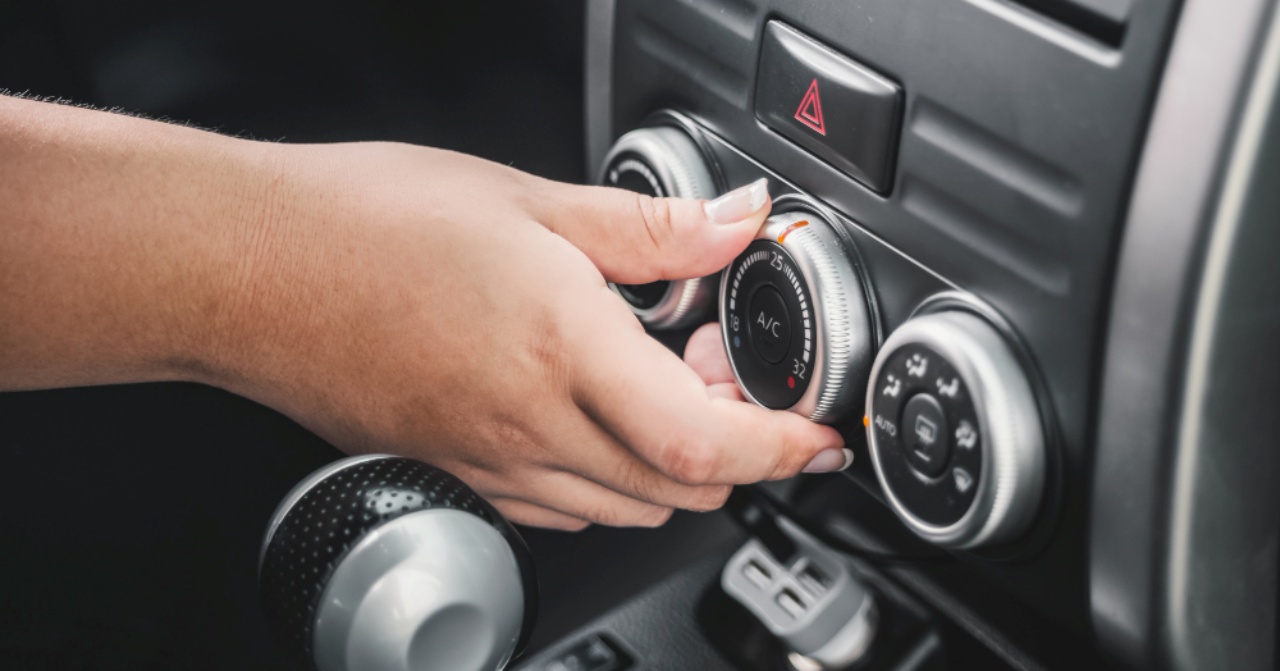 Navigating Dubai's sweltering heat calls for a well-functioning car air conditioning system. Here are some of the best practices for AC usage as shared by the experts in the industry.
1. Regular Maintenance Checks
Schedule Professional Inspections: Arrange for regular AC system evaluations by professionals to prevent unexpected failures.
Clean or Replace Filters: To ensure efficiency and longevity, clean the air filters monthly and replace them as recommended by your service provider.
2. Optimal Temperature Settings
Set Appropriate Temperatures: Keep the AC set between 22°C and 24°C to maintain comfort without overburdening the system.
Utilize Automatic Climate Control: If available, use your car's automatic climate control system for consistent temperature management.
3. Smart Operations
Avoid Overuse on Short Trips: For brief journeys, try to limit the use of AC to conserve fuel and reduce wear and tear.
Circulate Air Before Cooling: Start your drive with windows down to allow hot air to escape and then turn on the AC for more effective cooling.
4. Parking Strategies
Seek Shade: Park in shaded areas to reduce the interior temperature and lessen the AC's workload upon startup.
Use Sunshades: Deploy windshield sunshades to keep your car's interior cooler when parked.
5. Driving Habits
Roll Up Windows at High Speeds: Close windows when driving at high speeds to reduce drag and allow the AC to function more efficiently.
Ventilate upon Start: Before turning on the AC, allow the car to ventilate naturally for a few minutes to expel hot air.
6. Energy Conservation
Leverage Recirculation Mode: Use the recirculation mode to cool the cabin faster and reduce the AC's effort.
Minimize Electrical Load: Turn off unnecessary electrical accessories to help the AC perform better.
By following these practices, you can ensure your vehicle's AC runs optimally, providing relief from Dubai's intense heat while also conserving energy and extending the life of your AC system.
Frequently Asked Questions
1. How often should I service my car's AC in Dubai?
In Dubai's hot climate, it's recommended to service your car's AC at least once a year to ensure it operates efficiently and to prevent major issues.
2. What are the signs that my car's AC needs repair?
Key signs include weak airflow, AC only blowing hot air, strange noises when the AC is on, a musty smell emanating from the AC vents, and your car taking longer to cool down.
3. Can I perform any car AC maintenance myself?
Basic maintenance like cleaning or replacing the air filter can be done at home, but other services, such as refilling refrigerant or checking the compressor, should be done by a professional.
4. How long does a car AC repair take in Dubai?
Most AC repairs can be completed within a few hours, depending on the issue's complexity and the service provider's schedule.
5. Is it more cost-effective to repair or replace my car's AC system?
This depends on the extent of the damage. Minor issues are usually cost-effective to repair, but if the system requires significant work, it might be more economical to replace it.
6. What can cause the car AC to stop working?
Common causes include a refrigerant leak, a faulty compressor, a broken condenser, electrical issues, or a clogged expansion tube or refrigerant charging hose.
7. Why is my car AC blowing hot air?
This could be due to a refrigerant leak, a broken compressor, a faulty thermostat, or an issue with the blend air door.
8. What should I do if my car AC starts making a strange noise?
If your car's AC starts making noises like clicking, banging, or rattling, it's best to have it inspected by a professional as soon as possible to avoid further damage.
Summary
As the sun dips below the skyline of Dubai, one can't help but reflect on the critical role that a robust car AC system plays in navigating the city in comfort.
Reliable providers such as Profix Auto Care Garage, Car Focus, and Kings Auto Garage represent the pinnacle of automotive care in the region, ensuring that whether you're winding through the busy streets or cruising along the expansive desert highways, the refuge inside your vehicle remains pleasantly cool.
These esteemed service providers are not merely businesses; they are the guardians of your comfort against the relentless Dubai heat, enabling every journey to be as refreshing as the destination itself.
With such dedicated professionals at your service, you can traverse the City of Gold with peace of mind, knowing that no matter how high the mercury climbs, the sanctuary of your car's interior will remain a reprieve from the heat, a testament to the impeccable standards of car AC repair services in Dubai.
READ NEXT: Best 23 AC Cleaning Services in Dubai