In the heart of Dubai, under the visionary leadership of Gabriel John Rimando, a renowned Filipino photographer, lies a beacon of hope and empowerment for Overseas Filipino Workers (OFWs) – the Filipino Institute. Established in November 2015, this social enterprise has quickly evolved into more than just an educational institution; it's a thriving community hub dedicated to uplifting Filipinos abroad.
This remarkable institution not only equips OFWs with the skills needed to thrive in foreign lands but also knits a tapestry of connections that empower them to navigate and succeed in their overseas journeys. Excited to learn more? Join us as we go through everything you need to know about the Filipino Institute in Dubai.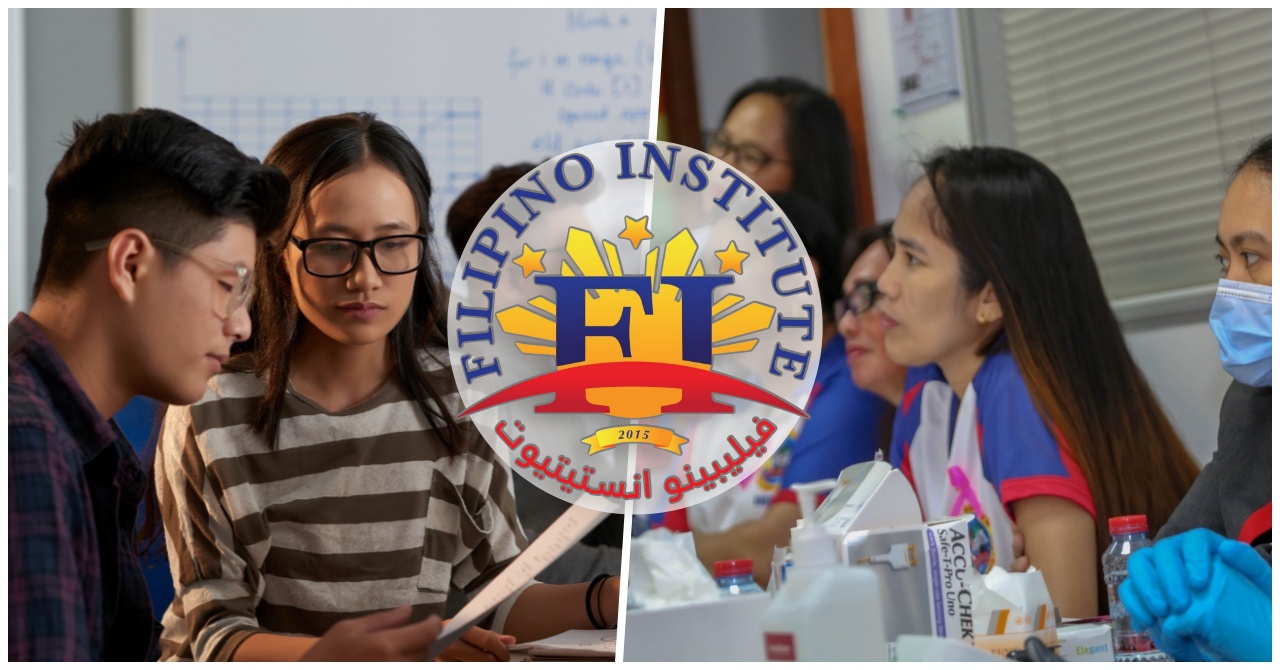 At A Glance
Founder: Gabriel John Rimando, a renowned Filipino photographer.
Establishment: Founded in November 2015 in Dubai, UAE.
Mission: Empowering Overseas Filipino Workers (OFWs) through education and exposure to opportunities abroad.
Growth: Rapid expansion, with about 50,000 graduates in less than three (3) years, and branches in Qatar, Kuwait, and Bahrain.
Philosophy: Societal entrepreneurship, emphasizing networking and community among Filipinos.
Most OFWs know how hard it is to live and work far from home. You might face problems like not speaking the language well, feeling different from others, or needing new skills for better jobs.
It's tough, not just to work, but to feel happy and successful in a new place. This is where the Filipino Institute can help you a lot. Think of it as a special place where you can learn new things to help in your job and make friends who understand what you're going through.
At the institute, you can learn important skills, like how to speak different languages and do different jobs. You will also meet other Filipinos who can help and support you, like friends or people you can work with. It's a place where you can learn, feel like you belong, and find people who care about your success and happiness.
Educational Programs and Offerings
Overview of Courses
The Filipino Institute offers a wide range of courses to help Filipino workers grow and succeed in foreign countries. These courses are divided into three main categories: language, professional skills, and creative arts. Let's look at each one:
Language Courses: These are very important for Filipinos living in a new country. The institute offers courses in many languages like English, Spanish, French, Italian, Arabic, Korean, and Japanese. Learning these languages helps OFWs communicate better and feel more at home in the new country.
Professional Skills: These courses are about learning skills for jobs. They include things like accounting, logistics, and computer programs like MS Excel, Word, and PowerPoint. These skills are very helpful for getting better jobs and doing well at work.
Creative Arts: For Filipinos who love being creative, there are courses in photography, videography, music (like violin, guitar, keyboard), and even makeup and hair styling. These courses let people explore their creative side and can lead to exciting new hobbies or even careers.
Unique Teaching Methodologies
The Filipino Institute uses special ways of teaching that make learning easier and more fun. Here are a few:
Learning by Doing: Instead of just listening to lectures, students get to practice what they learn. For example, in a photography class, students actually take photos and learn by trying different techniques.
Friendly and Supportive Teachers: The teachers at the institute really care about their students. They make sure each student understands and gets the help they need.
Community Learning: Students learn not only from teachers but also from each other. They work together on projects and share their experiences, which makes learning more interesting and useful.
Case Studies And Success Stories of Graduates
Many students who graduated from the Filipino Institute have gone on to do great things. Here are just some of their stories:
1. Jonardel Almonte Lopez
Jonardel Almonte Lopez's incredible journey from being a simple barista to becoming an award-winning caregiver is a story of determination, dedication, and faith that can inspire anyone facing difficulties in life.
In the beginning, Lopez's main goal was to help his family financially. This became even more important when his mother suffered a serious stroke, leaving her half-paralyzed. Despite working as a barista in Abu Dhabi, he found it challenging to earn enough money to support his family's needs.
Driven by a strong desire to do more, Lopez decided to explore the world of caregiving. He enrolled in caregiving courses at the Filipino Institute Abu Dhabi Branch while continuing to work, a challenging path that he pursued with unwavering determination.
Lopez's hard work paid off, and he not only completed his studies but also graduated with several awards on March 19th. He credits much of his success to the Filipino Institute in Hamdan, which guided him on his journey to success.
One person who played a crucial role in Lopez's education was Miss Nancy M. Ramos, an exceptional instructor. He recognizes her as a significant influence in his development as a healthcare provider.
Today, Jonardel Almonte Lopez proudly serves as a professional caregiver at Health Premium, one of Abu Dhabi's respected home care providers. He's even had the pleasure of working alongside his former classmates, showing the strong bonds they formed during their educational journey.
2. Marc Francis A. Leal
Marc Francis A. Leal is a shining example of dedication and success in the field of Medical Coding. He is a registered nurse with over 5 years of experience in insurance processing, assessment, and payment. Despite his demanding job, Marc pursued further education at the Filipino Institute in Qatar, where he excelled in the Medical Coding course.
Marc's journey is inspiring, as he managed to balance his professional responsibilities with his thirst for knowledge. He didn't let the challenges of the global pandemic deter him and eagerly waited for face-to-face classes to resume. His dedication and time management skills allowed him to achieve top grades in his class.
In addition to his corporate job, Marc also taught Nursing Assistant classes, impacting the lives of many students. His story demonstrates how determination, time management, and the right mindset can lead to remarkable success. He attributes his achievements to the support of his institute, his professor, and his classmates, along with his faith in God and himself.
Marc's message to fellow students is one of inspiration and determination: "Don't stop chasing your dreams, seize every opportunity, believe in your abilities, trust in God and yourself, work hard, and find joy in learning."
His journey, from being an insurance processor to a top student, serves as a testament to the power of perseverance and commitment. The institute is immensely proud to have been part of his journey and wishes him the best as he prepares for his certification exam and future successes.
These stories are just a few examples that demonstrate how the Filipino Institute assists Filipinos in acquiring new skills and discovering improved opportunities in their new countries. Offering a variety of courses, employing innovative teaching methods, and fostering a supportive community, the institute serves as an excellent platform for Overseas Filipino Workers (OFWs) to develop and achieve success.
Building a Community Beyond Borders
In addition to its role as an educational institution, the Filipino Institute places significant emphasis on building a vibrant and supportive community among OFWs across borders. This sense of community is instrumental in helping OFWs adapt to their new environments, share experiences, and forge lasting connections. This section explores the institute's efforts in community building and the impact it has had on the lives of its members.
Networking and Community-Building Efforts
The Filipino Institute recognizes that for OFWs living abroad, creating a strong support network is essential. To facilitate this, the institute actively promotes networking opportunities.
Through various events, seminars, and workshops, students and graduates come together to share insights, experiences, and business ideas. These gatherings foster a sense of camaraderie and unity among community members, helping them navigate the challenges of living and working in foreign lands.
Additionally, the institute encourages students to collaborate on projects and initiatives, leveraging their diverse skills and backgrounds. This collaborative spirit extends beyond the classroom, leading to the establishment of entrepreneurial partnerships and friendships that span geographical boundaries.
Cultural and Social Activities
Cultural preservation and celebration are vital aspects of the Filipino Institute's community-building efforts. The institute organizes cultural and social activities that allow OFWs to stay connected with their roots while adapting to their new homes. These activities include traditional Filipino festivals, dance performances, culinary events, and language classes.
These cultural activities not only provide a sense of nostalgia and belonging but also serve as opportunities for members to educate others about Filipino culture. They promote cross-cultural understanding and appreciation among diverse communities, contributing to a harmonious and inclusive society.
Growth and Milestones
The Filipino Institute's journey has been marked by remarkable growth and numerous milestones that underscore its commitment to empowering OFWs. In just a few years since its inception in November 2015 in Dubai, UAE, the institute has experienced exponential growth, becoming a beacon of hope for Filipinos seeking education and opportunities abroad.
Number of Graduates
One of the most impressive achievements of the Filipino Institute has been the graduation of approximately 50,000 OFWs in less than three years.
This staggering number reflects the institute's dedication to providing accessible and quality education to its students. Each graduate represents a success story, a life transformed through knowledge and skills acquired at the institute.
New Branches
The institute's expansion has been nothing short of remarkable. From its humble beginnings in Dubai, it has established branches in countries such as Qatar, Kuwait, and Bahrain.
These new branches have not only extended the reach of the institute but also created hubs of empowerment for OFWs in different regions.
The establishment of these branches is a testament to the institute's commitment to bringing education and opportunities closer to Filipinos wherever they are.
Impact on Individual Lives
The impact of the Filipino Institute on individual lives cannot be overstated. For many OFWs, the institute has been a lifeline, offering a path to personal and professional development. Through its wide range of courses, skilled instructors, and a supportive learning environment, the institute has transformed the lives of countless individuals.
Education and Empowerment
Graduates of the Filipino Institute have not only gained valuable skills but also a newfound sense of confidence and empowerment.
Many have been able to secure better job opportunities, enhance their careers, and provide more for their families.
The institute's courses, including vocational training, language classes, and professional skills development, have equipped OFWs with the tools they need to thrive in their host countries.
Community Building
Beyond education, the institute has played a pivotal role in fostering a sense of community among Filipinos living abroad. It has become a place where people from different backgrounds come together, share experiences, and build lasting friendships. This sense of belonging is invaluable for OFWs who often face the challenges of being far from home.
Here are some of the few initiatives that the Institute has organized and facilitated through the years:
In a Facebook post last April 21, the Filipino Institute shared a heartwarming story of OFWs celebrating Eid al-Fitr in Dubai. Despite being far from their homes and families, thousands of OFWs came together to celebrate the spirit of Eid.
Maria, a hardworking mother of two with over five years of work experience in Dubai, was among them. She missed her family dearly but understood that her sacrifice was for their future. During the Eid celebration, Maria and her fellow OFWs shared stories, food, laughter, music, and prayers, creating a sense of camaraderie and togetherness.
For a brief moment, Maria felt like she was back home, surrounded by the love and warmth of her family. This experience reminded her that no matter the distance, the spirit of Eid and the bond of family and community always remained with her.
Through their strength and unity, Maria and the OFWs in Dubai exemplified resilience, sacrifice, and community. They emphasized that, regardless of our location in the world, we can always find a home away from home. The post concluded by encouraging readers to share this heartwarming story and celebrate the spirit of Eid and the strength of the OFW community together.
Here's another one:
The Filipino Institute shared an exciting update on November 20, 2022, inviting everyone to watch the highlights of Sportsfest 2022. This event is a significant part of their 7th-anniversary celebration.
In the video, you can witness the vibrant Parade of Colors and the grand Opening Program, showcasing the institute's dedication to fostering a sense of unity and camaraderie among its members. It's a visual representation of the institute's commitment to providing a platform for growth, celebration, and community building.
Expansion into New Countries and Future Plans
The Filipino Institute's journey is far from over. It continues to look ahead with ambitious plans for the future, focusing on expanding its reach and impact on an even larger scale.
The institute's success story has inspired further expansion into new countries. With each new branch, it seeks to replicate its formula for success, providing education and empowerment to OFWs in diverse locations. The goal is to ensure that Filipinos in different parts of the world have access to the institute's resources and opportunities.
Looking ahead, the Filipino Institute envisions a future where it continues to evolve and adapt to the changing needs of OFWs. It plans to diversify its course offerings, explore innovative teaching methods, and enhance its support systems for students.
Additionally, the institute aims to strengthen its global network of alumni, fostering collaboration and mentorship among graduates.
From its growth in the number of graduates and establishment of new branches to its profound impact on individual lives, it stands as a testament to the power of education and community building. With a steadfast commitment to its mission, the institute looks forward to an even brighter future, empowering generations of OFWs to come.
Enrolling and Joining the Community
The process of enrolling at the Filipino Institute is straightforward and designed to ensure that prospective students have access to the wealth of educational opportunities and community engagement the institute offers.
Learning Options: Short Courses, International Diploma, MBA Professional
At the Filipino Institute, students have the opportunity to choose from three distinct types of learning programs:
Short Courses: These are designed to provide quick and focused skill development in various fields, allowing students to acquire practical knowledge efficiently.
International Diploma: This program offers a comprehensive and internationally recognized diploma, enhancing students' qualifications and career prospects.
MBA Professional: For those seeking advanced business education, the MBA Professional program equips students with the skills and knowledge required for leadership roles.
Types of Learning: Classroom, Virtual, Online
The Filipino Institute offers flexibility in the learning environment with three main types of learning:
Classroom Learning: Traditional classroom settings provide face-to-face interactions with instructors and fellow students, fostering a dynamic learning experience.
Virtual Learning: Students can participate in virtual classes, combining the benefits of live instruction with the convenience of online access.
Online Learning: Online courses offer the flexibility to register anytime via the institute's website, making it a convenient choice for self-paced learning.
Campuses: UAE, Qatar, Bahrain, and Online
The Filipino Institute operates across multiple locations to accommodate students' needs:
United Arab Emirates: With a presence in the UAE, students have access to high-quality education in this region.
Qatar: The institute extends its reach to Qatar, offering courses to those in this location.
Bahrain: Students in Bahrain can also benefit from the institute's programs.
Online: The online platform is accessible to learners worldwide, providing the opportunity to enroll from any location.
List of the Most Popular Courses Offered by the Filipino Institute Online
The Filipino Institute offers a variety of popular online courses. While popularity may vary over time, here are some courses that have been frequently sought after:
1. Caregiving
Are you compassionate and eager to make a difference in the lives of those in need? The Caregiving course offered by the Filipino Institute is an excellent choice for individuals looking to become professional caregivers. This program equips you with the essential skills and knowledge required to provide care and support to individuals who may be elderly, disabled, or in need of assistance due to various health conditions. Through comprehensive training and hands-on experience, you'll learn how to provide quality care, ensuring the well-being and comfort of your clients. With the demand for caregivers on the rise, this course opens doors to a rewarding and in-demand career path.
2. Accounting Skills for New Supervisors
Stepping into a supervisory role in the field of accounting? Enhance your expertise with the Accounting Skills for New Supervisors course. This program is designed to equip you with the necessary skills and knowledge to excel in a supervisory position within the accounting department. You'll dive deep into advanced accounting principles, financial analysis, and management techniques. Whether you're aiming for career advancement or seeking to become a more effective leader within your accounting team, this course provides the tools and insights you need to succeed.
3. Business Process Management
Businesses thrive when their processes are efficient and well-managed. The Business Process Management course at the Filipino Institute is tailored to business professionals who want to optimize their organization's operations. You'll delve into the fundamentals of process analysis, improvement, and management. Learn how to identify bottlenecks, streamline workflows, and enhance productivity. This knowledge is invaluable for individuals seeking to drive positive change within their organizations and achieve better results.
4. Marketing and Sales
In the dynamic world of business, effective marketing and sales strategies are essential for success. The Marketing and Sales course offered by the Filipino Institute provides a comprehensive understanding of modern marketing techniques and sales practices. Explore creative marketing approaches, customer engagement strategies, and sales tactics that can set you apart in a competitive market. Whether you're an aspiring marketer, sales professional, or business owner, this course equips you with the tools to create impactful marketing campaigns and drive sales growth.
5. Project Management Fundamentals
Project management skills are highly sought after across various industries. The Project Management Fundamentals course is designed to introduce you to the core principles of effective project management. Whether you're a seasoned professional or new to project management, this course covers the essentials, including project planning, scheduling, budgeting, and risk management. Gain the knowledge and techniques needed to successfully lead and execute projects, making you a valuable asset to any organization.
6. E-Commerce Management
The digital landscape has transformed the way businesses operate. E-Commerce Management is a course that delves into the essentials of managing an online business. Learn about e-commerce platforms, online marketing strategies, and customer relationship management in the digital realm. With the growth of online commerce, this course equips you with the skills to thrive in the e-commerce industry, whether you're an entrepreneur or a professional looking to expand your knowledge.
7. Inventory Management: The Nuts and Bolts
Efficient inventory management is crucial for businesses in retail and manufacturing. The Inventory Management course focuses on the principles of inventory control, demand forecasting, and supply chain optimization. Understand how to minimize costs, reduce waste, and ensure product availability. This course is beneficial for professionals involved in inventory management or individuals looking to improve their understanding of this critical aspect of business operations.
8. Social Media and Your Business
In today's digital age, social media plays a pivotal role in business success. The Social Media and Your Business course explores the impact of social media on businesses and teaches strategies for effective online marketing. Discover how to create compelling social media content, engage with your audience, and leverage social platforms for brand promotion. Whether you're a business owner or marketing professional, this course empowers you to harness the full potential of social media for your brand.
9. Entrepreneurship 101
Dreaming of starting your own business? The Entrepreneurship 101 course is the perfect starting point. Explore the fundamentals of entrepreneurship, from business ideation and planning to execution. Learn how to develop a business concept, create a business plan, and navigate the challenges of entrepreneurship. Whether you're a budding entrepreneur or simply curious about the world of startups, this course provides valuable insights to kickstart your entrepreneurial journey.
10. Stress Management
Workplace stress is a common challenge in today's fast-paced world. The Stress Management course addresses this issue and equips individuals with effective strategies for managing stress in the workplace. Understand the causes of stress, learn relaxation techniques, and discover how to maintain a healthy work-life balance. This course is beneficial for professionals seeking to reduce stress and improve their overall well-being, leading to increased productivity and job satisfaction.
How to Enroll at the Filipino Institute
Enrolling at the Filipino Institute is a straightforward process, and here are the steps to get started:
Step 1: Visit the Website
Go to the Filipino Institute's official website at filipino-institute.com to access detailed information about the program.
Step 2: Contact for More Information
For inquiries or additional information, you can reach out to them via email or phone.
Email: athe@filipino-institute.com
Contact Representative: Dean Cheryl
Phone: +971 56 113 0989
Step 3: Pre-Registration
If you're interested in enrolling, you can pre-register online by filling in the provided form on their website. They will get in touch with you as soon as possible.
Step 4: Understand the Levels
Gain an understanding of the various qualification levels offered, as per the UK's National Qualification Framework (NQF):

Level 3: Equivalent to A level.
Level 4: Equivalent to the Business and Technology Education Council (BTEC) Professional Diploma.
Level 5: Equivalent to Higher National Certificates (HND) or foundation degree level.
Level 6: Equivalent to Bachelor's Degree level.
Level 7: Equivalent to Master's Degree level.
Level 8: Equivalent to Doctorate level.
Step 5: Choose Your Course
Select your desired course from the Level 3 offerings, such as:

ATHE Level 3 Diploma in Accounting
ATHE Level 3 Diploma in Applied Statistics
ATHE Level 3 Diploma in Business and Management
ATHE Level 3 Diploma in Business English and Communication
ATHE Level 3 Diploma in Health and Social Care (2020)
ATHE Level 3 Diploma in Information and Digital Communication
ATHE Level 3 Diploma in Law
ATHE Level 3 Diploma in Small Business and Social Enterprise Start-up
Step 6: Requirements
Ensure you have the necessary documents and requirements for enrollment:

ID or Passport
Birth Certificate
2×2 ID Picture
Step 7: Contact for Enrollment
If you're ready to enroll, get in touch with the institute's representative, Dean Cheryl, at +971 56 113 0989 or via email at athe@filipino-institute.com for further guidance and assistance with the enrollment process.
Enrolling in the UK Accredited Diploma program at the Filipino Institute opens doors to internationally recognized qualifications and valuable learning experiences. Take these steps to kickstart your educational journey and career advancement.
How to Enroll in Online Courses
Here's a step-by-step guide for enrolling in online courses at the Filipino Institute:
Step 1: Register Online
Step 2: Make Course Payments
Complete your course payments through either bank transfer or money exchange.
Step 3: Email Payment Receipt
Step 4: Wait for Confirmation
Await a reply from the institute to confirm your enrollment and be added to the WhatsApp group for the selected courses.
Step 5: Connect with Classmates
Join the WhatsApp group to connect with your classmates and trainers for a collaborative learning experience.
Step 6: Install Required Application
Install the necessary application for access to the virtual classroom. Ensure you are well-prepared for online learning.
Step 7: Attend Virtual Classes
Participate in virtual classes, designed to replicate the classroom experience. Engage in interactive learning.
Step 8: Receive Certificates
Upon successfully completing the course and meeting its requirements, certificates can be delivered to you via email, WhatsApp, or physical delivery to the address you provided during registration.
Step 9: Certificate Accreditation
Consider processing your certificates for accreditation with KHDA (Knowledge and Human Development Authority) and MOFA (Ministry of Foreign Affairs). This enhances their utility for job applications, promotions, or visa requirements.
Opportunities for Community Involvement
The Filipino Institute values community engagement as an essential part of its mission. Here are some ways you can get involved:
Join Clubs and Organizations: The institute hosts various clubs and organizations catering to diverse interests. Whether you want to join a language club, a cultural appreciation group, or a professional network, there's a place for you.
Volunteer and Outreach Programs: Participate in volunteer and outreach programs organized by the institute. These initiatives provide opportunities to give back to the community and make a positive impact.
Events and Workshops: Attend events, workshops, and seminars conducted by the institute. These gatherings offer valuable insights, networking opportunities, and a chance to connect with like-minded individuals.
Guidance for Prospective Students
Prospective students seeking guidance on course selection, program details, and educational pathways can benefit from the following resources:
Academic Advisors: The institute has dedicated academic advisors who can assist you in choosing the right courses and creating a personalized learning plan.
Information Sessions: Attend information sessions to learn more about specific programs and their benefits. These sessions provide a comprehensive overview of what to expect.
Peer Support: Connect with current students and alumni who can share their experiences and offer insights into course selection and academic success.
Enrolling at the Filipino Institute is the first step toward a rewarding educational journey and active community involvement. By following the enrollment process and exploring the various opportunities available, students can make the most of their time at the institute and contribute to the thriving Filipino Institute community.
Video: FILIPINO INSTITUTE ONLINE COURSES STEPS TO ENROLL
Here's a video message discussing the current situation and the availability of online courses at the Filipino Institute. In light of the ongoing challenges posed by COVID-19, the institute emphasizes the importance of continuous learning as a lifelong process.
The video highlights the range of courses offered online, including short-term courses, international diplomas, 24-week programs, and the MBA Professional program. These courses are accessible to individuals from various locations, making enrollment convenient.
Summary
The Filipino Institute in Dubai, under the guidance of Gabriel John Rimando, stands as a shining example of empowerment and community for OFWs. More than just an educational center, it has become a vital network, providing skills and connections essential for success in foreign environments. This institute not only enhances the professional capabilities of OFWs but also fosters a sense of belonging and mutual support, crucial for those far from home.
READ NEXT: 7 Practical Tips on Job Hunting in the UAE
Contact Information
Address: 6th Floor, 604, Al Zarooni Building, Al Rigga Street, Deira, Dubai
Telephone number: 04 234 0401 / +971561130989
Office hours: Open daily from 8:00 AM to 10:00 PM, except Fridays until 11:00 PM
Website: https://www.filipino-institute.com/
Facebook Page: https://www.facebook.com/fiuae/
Google Map Location