The entire country — and the whole world, for that matter — is in a state of crisis due to the outbreak, and the fact that some people are spreading fake news definitely doesn't help. At times like these, we cannot help but feel excessively troubled, worried, and afraid.
Fortunately, the UAE government focuses not just on people's physical health, but their emotional and mental well-being as well. Just recently, the National Programme for Happiness and Well-being (NPHW) has launched an online campaign for mental support amid the outbreak.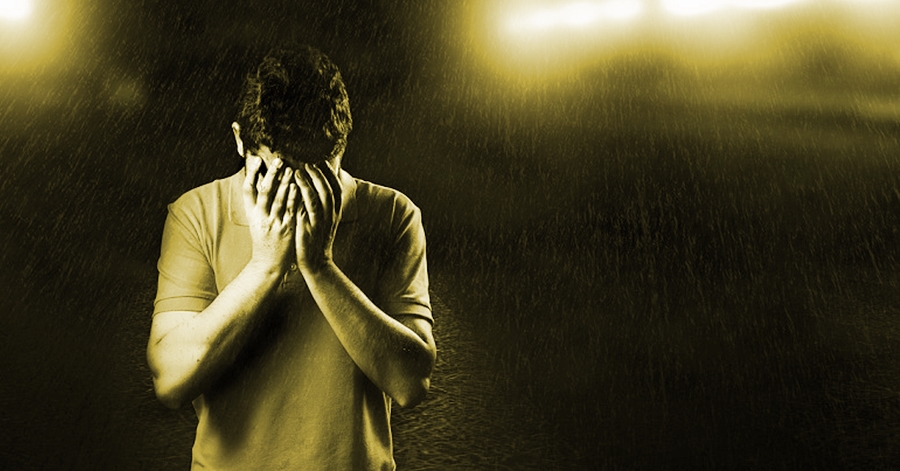 Online Campaign for Mental Support Launched in the UAE
The NPHW launched the national campaign to help UAE residents overcome the psychological impact brought about by the pandemic, WAM News Agency reported.
Over 50 experts in the fields of mental and social support, psychology, and life skills are joining the campaign, which will be carried out through social media channels and digital platforms. The initiative is composed of three components, as follows:
#1. Let's Support, Together
This component features daily, live virtual sessions wherein mental health professionals and experts offer mental support, answer questions, and share tips to help people overcome challenges amid the health crisis.
These sessions will be broadcast daily via the NPHW's social medial channels. The English language session starts at 5:30 pm, while the Arabic language session starts at 8:30 pm.
#2. Let's Reassure, Together
This component features a series of short, focused, and awareness-raising videos prepared by life skills coaches and experts. The aim of these videos is to help people build coping skills and mental resilience amid the outbreak.
These videos will be published regularly, at 11:00 am, via the NPHW's social media channels.
#3. Let's Talk, Together
This component features a series of virtual support groups led by professionals for specific segments of the community, including students, parents, and the elderly.
These support groups will be held regularly, at 4:30 pm, through online platforms. For those who are interested in joining, applications for participation will be opened periodically.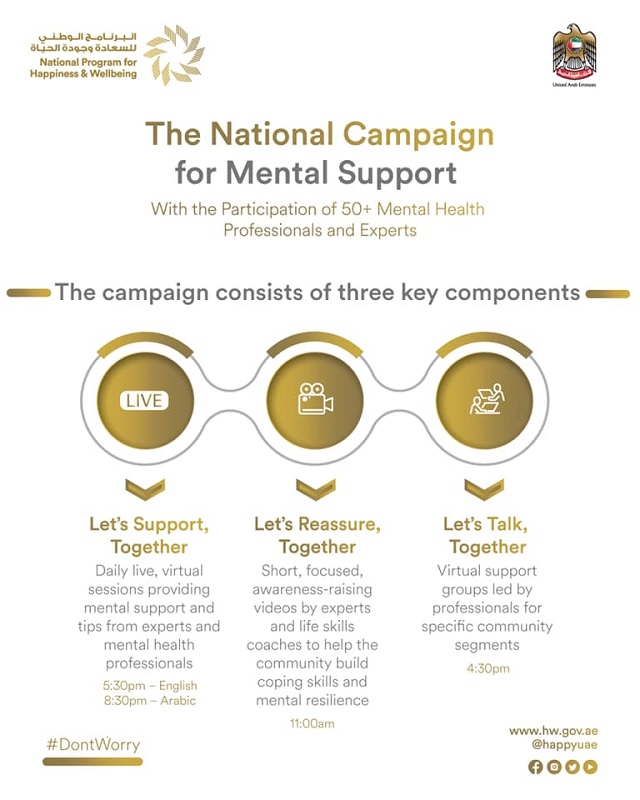 "Mental Support is a Basic Need"
The Minister of State for Happiness and Well-being and Director-General of the UAE Prime Minister's Office, Ohood bint Khalfan Al Roumi, assured that the people's safety, security, and well-being are prioritised by the UAE Leadership.
Al Roumi also cited mental support as a basic need; hence, the NPHW launched an online campaign to address this need. By tapping into the knowledge and expertise of mental health professionals and life coaches, the campaign aims to help all residents to cope with the current crisis. Likewise, it also seeks to raise awareness and help ensure the community's commitment and support for the UAE government's efforts during this time.
Notably, the Executive Director of the NPHW, Aziz Al Ameri, stated that the online campaign goes in line with the government's efforts to utilise digital communication and social media in providing mental support to the members of the community.
For more information about the online campaign for mental support, and to inquire about joining virtual support groups, simply follow @HappyUAE via their social media pages on Facebook, Instagram, and Twitter.
If you are feeling excessively worried, depressed, and fearful during these times, please do not hesitate to join this national campaign for mental support. Keep in mind that you are not alone; we are all in this together! In the meantime, here are some tips to protect yourself from the outbreak, for your own safety and security.