The Vice President and Prime Minister of the UAE and Ruler of Dubai, His Highness Sheikh Mohammed bin Rashid Al Maktoum, recently launched the tunnel drilling of Route 2020, which would connect the Dubai Metro to the Expo Metro Station at the Expo 2020 Dubai site.
The Ruler of Dubai was welcomed at the site by the Director-General and Chairman of the Board of Executive Directors of the RTA, His Excellency Mattar Al Tayer, along with other officials from the RTA, Parsons Systra (project engineer), and Expolink Consortium (project contractor).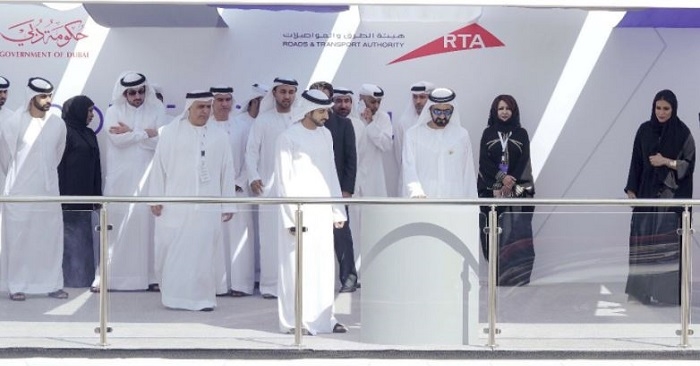 Drilling of Route 2020 Tunnel Begins
During the visit, the timeline for completing Route 2020 was presented as follows:
January 2018 – The giant tunnel boring machine will cross the underground station near Jumeirah Golf Estates.
July 2018 – The first of the new Dubai Metro Rolling Stocks will arrive.
November 2018 – Construction works for metro viaducts will be completed.
December 2018 – All tunnel drilling works shall be completed.
July 2019 – All railway works of Route 2020 shall be completed.
February 2020 – Trial run of the metro begins.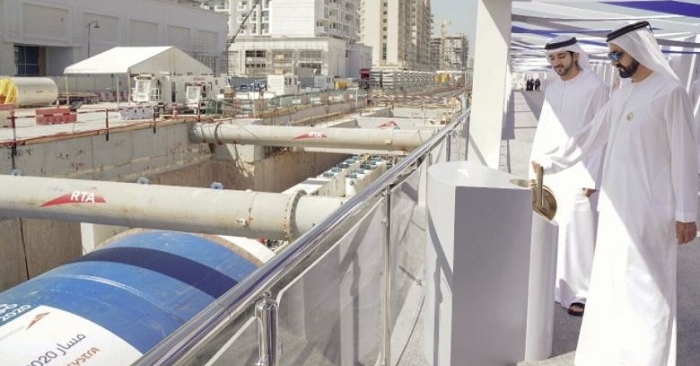 Giant Tunnel Boring Machine
At the site, HH Sheikh Mohammed launched the operation of Al Wugeisha Expo 2020, the name of the giant tunnel boring machine. Drilling begins at the Discovery Gardens, constructing a 3.2-kilometre tunnel towards The Green Community area.
With a length of 103 metres, Al Wugeisha is able to penetrate soil, sandy layers, and crush stones. Despite its huge size and immense power, this machine is environment-friendly, leaving minimal impact on the land surrounding the drilling area.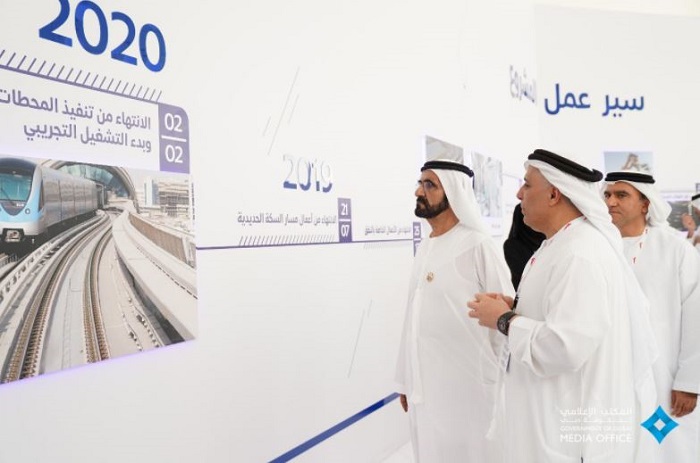 New Interior Design for Metro Carriages
Likewise, HH Sheikh Mohammed also inspected the new design of the Dubai Metro carriages, Rolling Stocks. These carriages are currently being made in France; 15 carriages will be allotted for Expo 2020, while 35 carriages will be used to upgrade the Dubai Metro.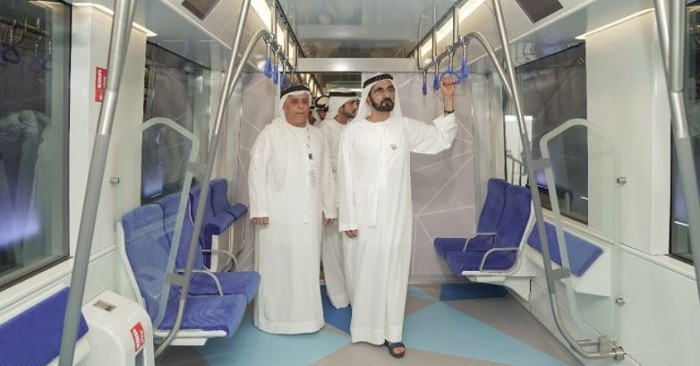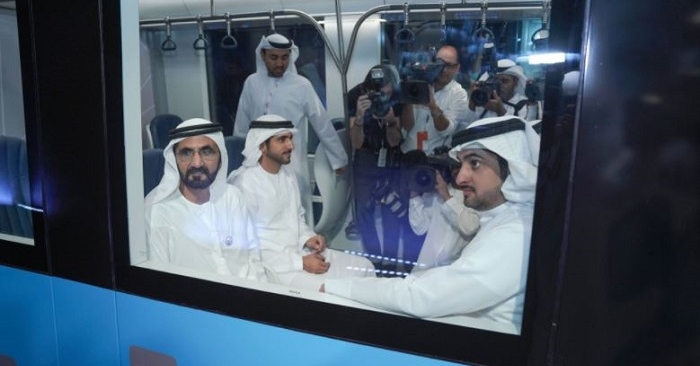 Notably, the new additions and improvements to the metro carriages include:
Dedicating the last car for Women & Children only
Designating part of the first car for Gold Class and other cars for Silver Class
Transversal seats for Gold Class; longitudinal seats for Silver Class, Women & Children's car
New designs for lighting, handles, and locations of digital signage
Illuminated dynamic map for the metro route and stations using an LED system
New design of luggage compartments, allowing standing computers to use them
New carriages designed specifically for People of Determination
Meanwhile, in order to maintain the familiar colour and identity of the Dubai metro, the exterior design of the trains shall remain as it is.
Here is a video of HH Sheikh Mohammed's visit, posted on RTA Dubai FB Page:
The start of drilling operations and inspection of new interior designs for the metro indicate that Expo 2020 Dubai is clearly on it way. A lot of people are definitely looking forward to this event! To give you a glimpse, here is a video of how the Expo 2020 Dubai site will look like.