Who's up for some flame-grilled jumbo prawns, roasted chicken, or rib eye steak? Pair these up with a handcrafted cocktail while enjoying spectacular views of the Dubai skyline. Simply head to FireLake Grill House and Cocktail Bar for this amazing gastronomic experience!
The restaurant is located at Radisson Blu Hotel, Dubai Waterfront. Originating from Minnesota, US, FireLake Grill House and Cocktail Bar features the Midwestern tradition of wood oven and open flame cooking. Get ready to indulge in juicy steaks, seafood, and other delectable dishes!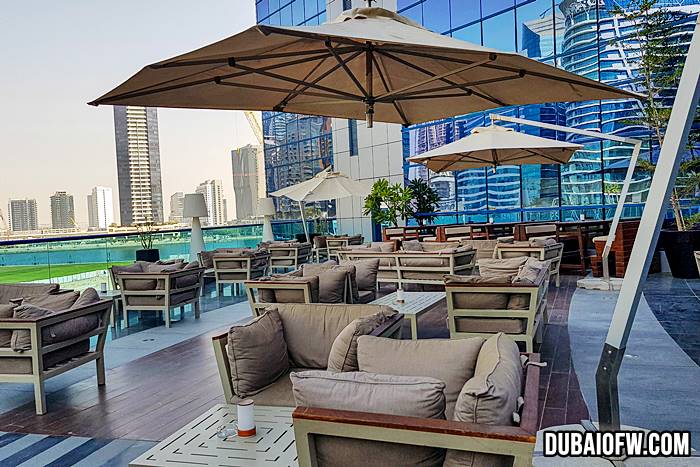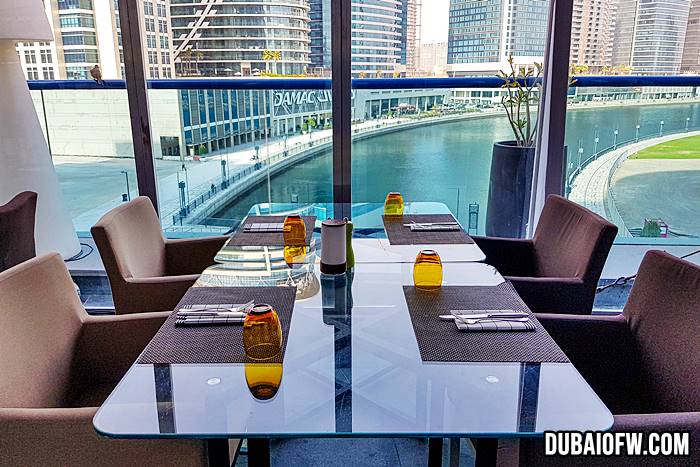 Succulent Steaks and Amazing Views in a Chic Urban Setting
FireLake Grill House and Cocktail Bar is described as a "comfortable but sophisticated retreat." Set within a 5-star hotel along the Dubai Water Canal, it is definitely a place to see — and be seen — in one of Dubai's most impressive waterfront developments! Prepare to enjoy a hearty meal and refreshing drinks while marveling at waterfront views and the breathtaking Dubai skyline.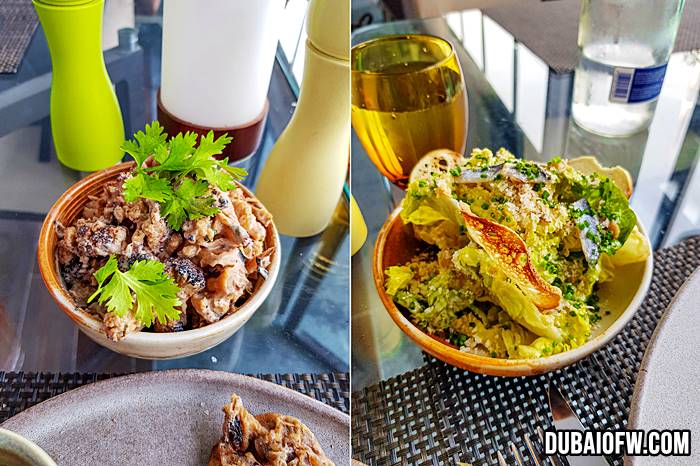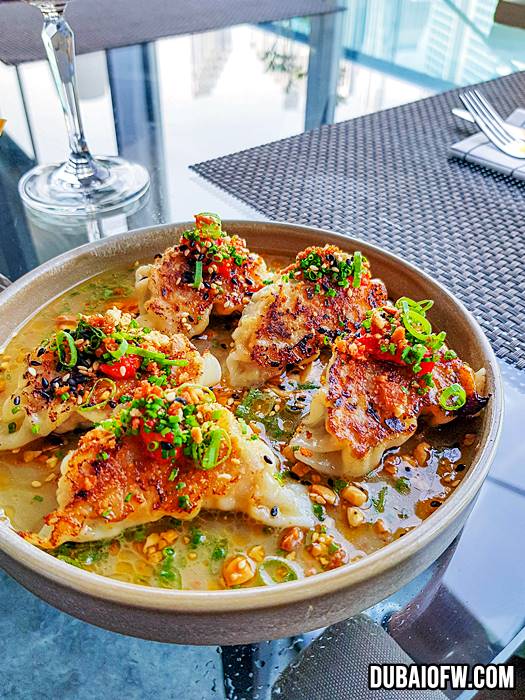 The restaurant has indoor as well as outdoor dining areas, including a couple of private dining rooms available for family gatherings, mini parties, and corporate functions. Staying true to its US Midwest tradition, the restaurant sources all its beef from Omaha and Nebraska… a.k.a. the world's best cattle country! And now, let's get to know more about the menu!
The restaurant menu's "From the Land" portion features Roasted Chicken, Slow Cooked Beef Short Ribs, and Coal Roasted Lamb Rump. Meanwhile, the Roasted Sea Bass, Lemon and Herb Yellow Fin Tuna, and Flame Grilled Jumbo Prawns are the resto's "From the Sea" options.
Of course, grilled meat lovers shouldn't miss the "Butcher's Block" menu, featuring: Bone in Rib Eye, New York Strip, and Dutch Veal Chop, to name a few. These dishes come with chips, crispy onions, and any sauce of your choice: smoked bearnaise, lemon and charcoal butter, bourbon peppercorn (with alcohol), and chimichurri.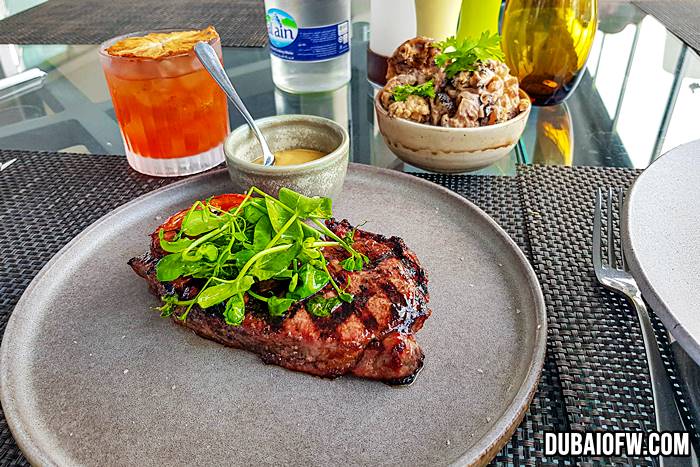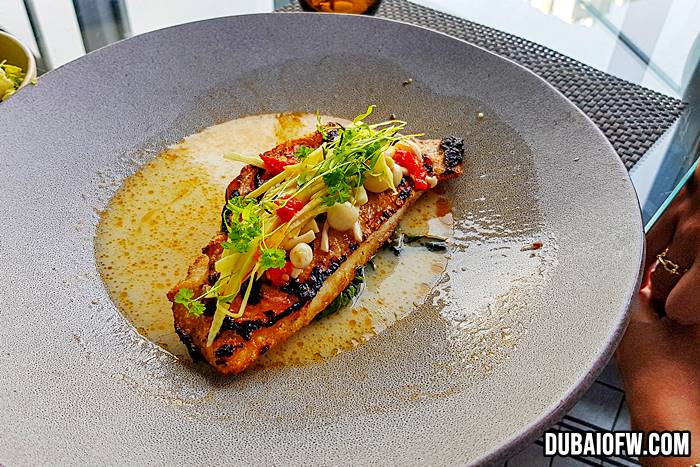 On the other hand, vegetarians need not worry as the restaurant serves Cauliflower "Chop," flavoured with cauliflower puree, lemon, oregano, and walnut-caper salsa. There are also plenty of sides available, such as Coal Roasted Cauliflower, Charred Broccolini, Smokey Baked Beans, and Crispy Duck Fat Potatoes with pepper and mayo. Yum!
As for dessert, be sure to try the Warm Date Cake, Meyer Lemon Tart, Churros, and Berry Ripple Cheesecake. Ice cream lovers should also have the Double Chocolate Ice Cream Sandwich and the "Snickers," which is chocolate and caramel ganache with peanut brittle and burnt cinnamon ice cream. Everything sounds really good!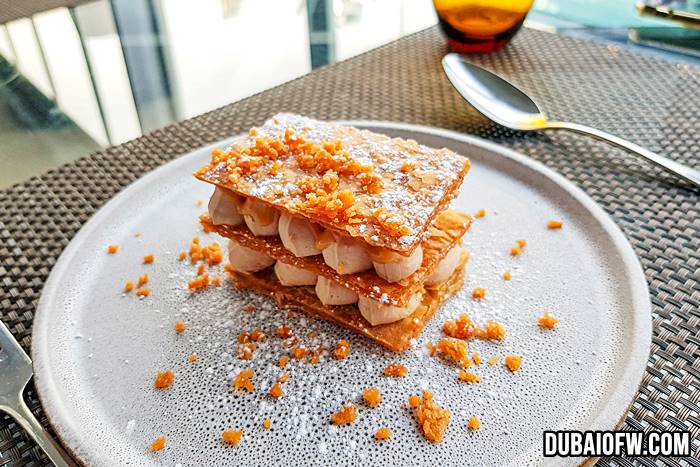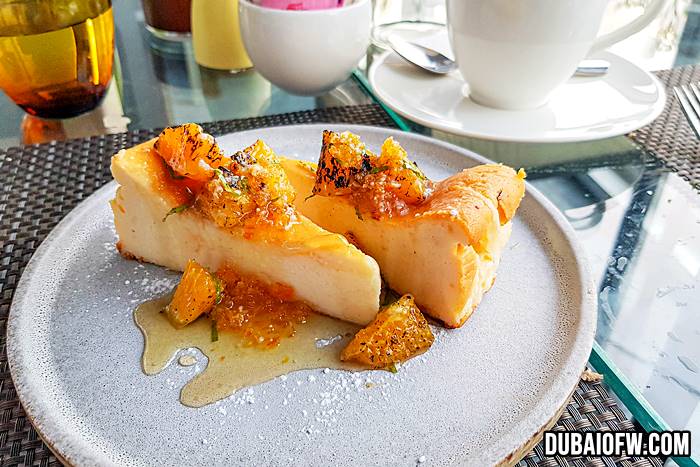 Notably, FireLake Grill House combines US Midwest cuisine with the Middle Eastern tradition of Shisha, which is a typical part of post-dinner gatherings in this part of the world. If you're up for some Shisha, the restaurant offers "blends" like Lemon Mint, Grape Mint, and Blue Mist. It also features the FireLake Mix and Republic & Co. Mix as signature blends.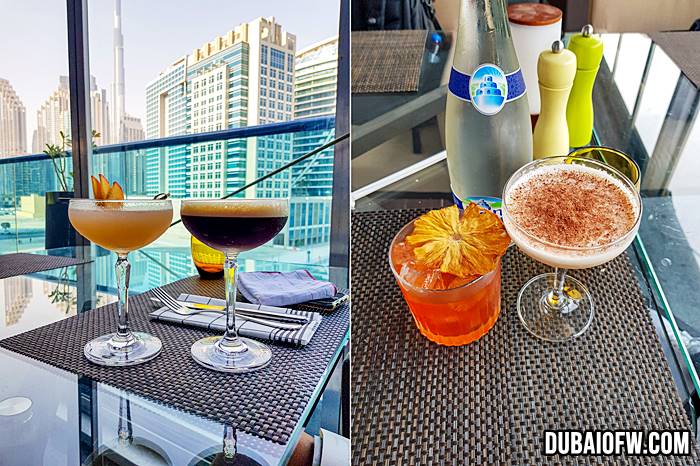 Opening Hours
FireLake Grill House and Cocktail Bar is open daily, from 12:00 noon to 1:00 am. The restaurant also offers the following weekly deals:
Sunset Sessions – Daily, 4:00 pm to 7:00 pm
Ladies' Night – Thursdays, 7:00 pm to 10:00 pm
Brunchs – Saturday, 12:30 pm to 4:00 pm
Video: FireLake Restaurant at Radisson Blu Dubai Waterfront
FireLake Grill House and Cocktail Bar is all about the "flavor of the flame" or open flame cooking, as this video posted by Radisson Hotels shows. Most of the dishes are wood, flame grilled, or smoked — offering guests the best of US Midwest cooking traditions:
Contact Information: FireLake Grill House and Cocktail Bar
For more information or to make reservations, you may get in touch with the restaurant through the following contact details:
Address: Radisson Blu Hotel, Dubai Waterfront, Marasi Drive, Business Bay, Dubai, United Arab Emirates
Telephone: +971 4 249 7800
Email: firelake.waterfront.dubai@radissonblu.com
Website: https://firelake.ae/
Facebook: https://www.facebook.com/FireLakeGrillHouseAndCocktailBarDubai/
Instagram: https://www.instagram.com/firelake_dubai/
Google Map Location
FireLake Grill House and Restaurant is located at Radisson Blu Hotel, Dubai Waterfront. Here is the restaurant's location on Google Maps, for your reference:
At FireLake Grill House and Restaurant, you're in for a treat as you tuck into a hearty meal of delicious steak, refreshing drinks, and creamy dessert… while enjoying panoramic views of the Dubai Water Canal and the city's stunning skyline! In the meantime, if you're looking for classic Pinoy cuisine, here's a list of the the best Filipino restaurants in Dubai!