Embark on an Asian Culinary Journey with Radisson Blu Dubai Deira Creek's Exclusive Dining Package
This summer, Radisson Blu Dubai Deira Creek is offering a unique opportunity for food enthusiasts to explore different tastes from across Asia with their exclusive dining package called "Tour of Asia"
Priced at an unbeatable AED 499, the package presents a tantalizing array of dining experiences at five distinct restaurants plus karaoke access. Whether you're craving the intricate flavors of Yum Cha Dimsum at the China Club, or the spicy Cajun Seafood Wok Set at Yum! Noodle Bar. From the unlimited Korean BBQ Experience at Sumibiya, to the Japanese Sushi & Teppanyaki buffet at Minato, to the Weekend Brunch Buffet at Aseelah, the dining experiences on offer are a testament to Radisson Blu Deira's commitment to delivering unparalleled quality and variety.
In addition to the culinary delights, the package includes a fun Karaoke Experience at Marbles Bar. But that's not all! Each purchase of the package also comes with a chance to win a night stay at Dubai's first five-star hotel, adding an extra layer of excitement to the deal.
With this offer valid until the end of September, there's plenty of time to indulge.
What to Expect:
Unlimited Yum Cha Dimsum Package with Soft Beverages at The China Club – AED 199
Unlimited Sushi and Teppanyaki Buffet with Soft Beverage at Minato – AED 225
Unlimited Korean BBQ Experience with Soft Beverages at Sumibiya – AED 225
Unlimited Cajun Seafood Wok Set with Soft Beverages at Yum! Noodle Bar – AED 189
Aseelah Weekend Brunch Buffet with Soft Beverages – AED 225
Karaoke Experience with House Beverage at Marbles Bar – AED 48
Total worth AED 1,111, now only AED 499.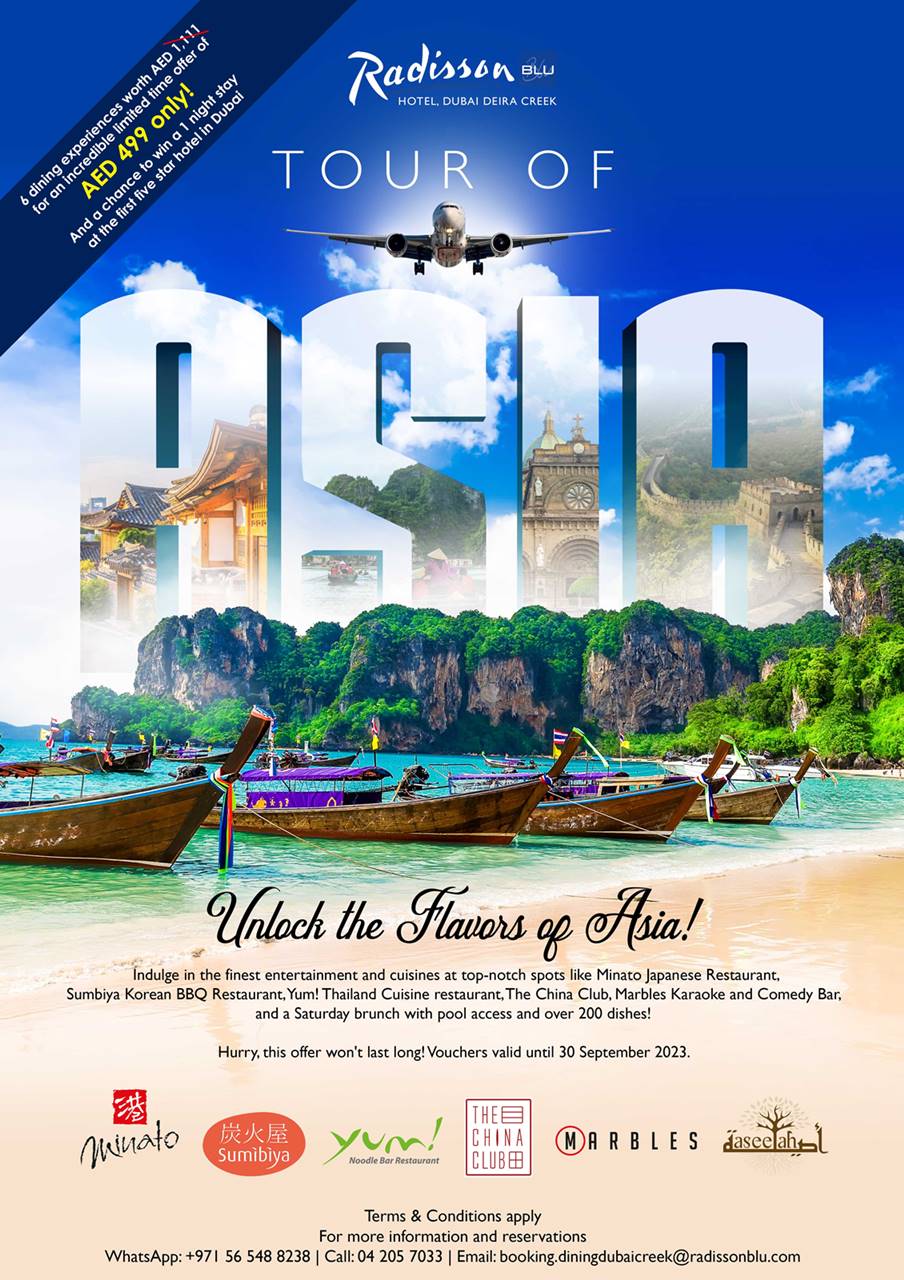 The Radisson Blu dining package is more than just a meal—it's a journey through the rich, delicious landscapes of global cuisine, right in the heart of Dubai. So, why wait? Unlock the flavors of Asia and beyond at Radisson Blu Dubai Deira Creek this summer.
For more information, or to secure your package, reach out via WhatsApp at +971 56 548 8238, call 04 205 7033, or email booking.diningdubaicreek@radissonblu.com. Don't miss out on this culinary adventure!
Terms and conditions apply.
For more information and reservations
WhatsApp: +971 56 548 8238
Call: 04 205 7033
Email: booking.diningdubaicreek@radissonblu.com