Have you ever had a "yakiniku style" dining experience yet? If not, then you should check out Sumibiya, a Korean restaurant in Radisson Blu Hotel along Dubai Deira Creek. Imagine sitting in this upscale restaurant, having a lively discussion with your friends while cooking your own food… That's right! The term "yakiniku" means "grilled meat," which means you get to cook your food, and enjoy it, too!
Buy One Get One offer For OFWS:
Sumibiya Restaurant is offering this experience for OFWs at Buy 1 Get 1. Call 04 205 7033 to make a reservation.
Nearest Metro Station: Union Metro Station (Red Line) — it will be about a 10 minutes walk to Radisson Blu Hotel Deira Creek
Want to know what to expect when you visit this restaurant? Check out the clip below:
Enjoy a Unique Dining Experience at Sumibiya in Radisson Blu Deira Creek
Sumibiya offers guests an unlimited buffet of Korean favourites during their Korean BBQ Theme Night. So you can enjoy your food and cook it in your table. It's a different experience altogether and definitely creates a casual and fun dinner.
Sumibiya is known as the first among "yakiniku-style" restaurants in Dubai. From the moment that you enter and start grilling your own food, to relishing the tantalizing sides and refreshing beverages — you and your buddies are up for an enjoyable dining experience!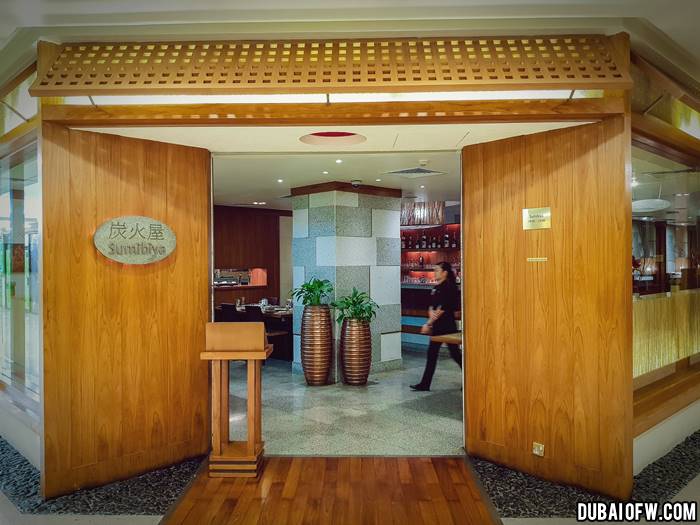 An Inviting Ambiance
You will find Sumibiya on the ground floor of Radisson Blu Hotel at Dubai Deira Creek. As soon you get inside, well-dressed waiters and waitresses would be guiding you to your seats. There are open individual tables as well as semi-private booths to choose from, and the atmosphere is definitely inviting, with neat surroundings enhanced by warm lighting.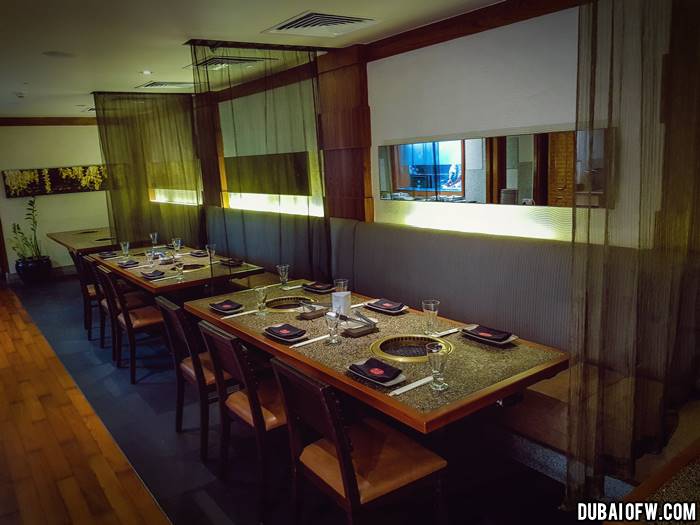 "Yakiniku" Style of Dining
Of course, nothing beats the enticing aroma of food being grilled, which is bound to make your mouths water once you're inside the restaurant. You can opt to grill meat, poultry, seafood, and vegetables — whichever way you want — based on your preferences!
Sumibiya serves seafood including salmon and shrimp, plus well-marinated beef that simply pops with flavour when grilled. In addition, the restaurant offers a variety of sauces, sides, salads, and appetizers… How about some delicious kimchi, for starters?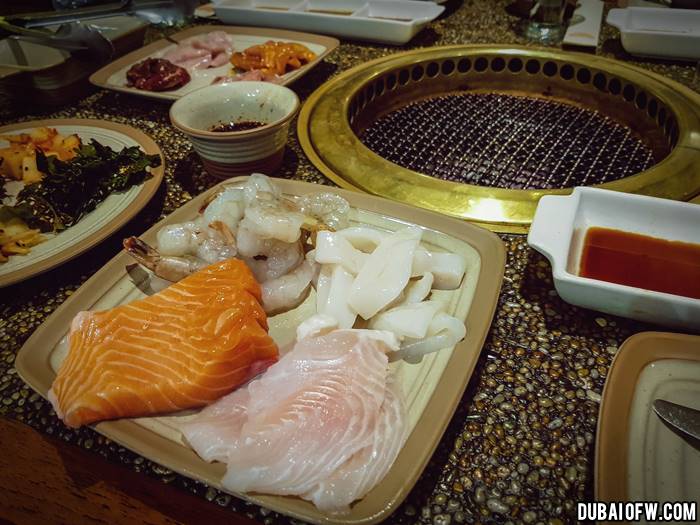 Aside from Korean dishes, Japanese and Asian dishes are available as well. While enjoying your food, wash it all down with soft drinks and other beverages, including beer and wine.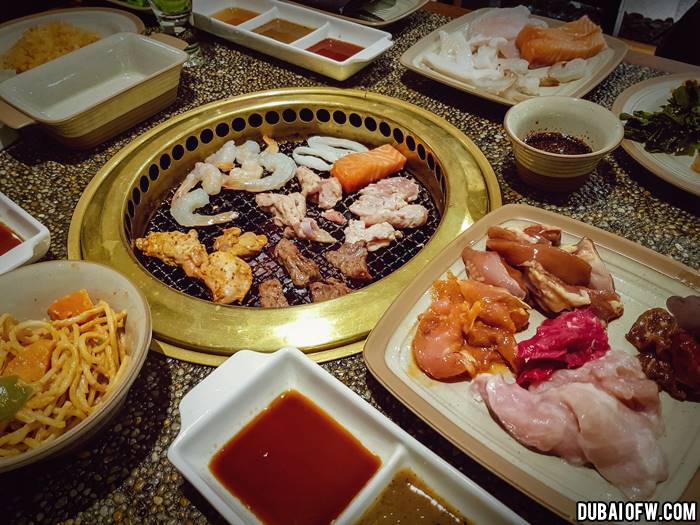 Video: Sumibiya Restaurant
Below is a short video of what you can expect at Sumibiya. So you can see the options for you to get in case you visit this restaurant:
Opening Hours & Price
The yakiniku at Sumibiya costs AED 225 per person.
The restaurant is open to serve dinner:
weekdays, from 6pm to 10pm
weekends from 12pm to 4pm, and 6pm to 10pm
Please note that the price/offers shared here may change without prior notice. Contact the restaurants for updated information.
Promo for OFWs at Sumibiya – Buy One Get One
Filipinos in Dubai, rejoice as Radisson Blu Deira Creek is offering a treat for OFWs where you can get a discount – a Buy One Get One deal wherein if you purchase a dinner, you will get the other one free. So that's two for the price of one. To avail of this offer, you need to contact the restaurant reservation team and then provide your details. You only need to present your ID upon claiming the offer. This is limited to Pinoys in the UAE. Terms and conditions apply. However, if you have an Entertainer App, you can also get a Buy One Get One offer at this restaurant.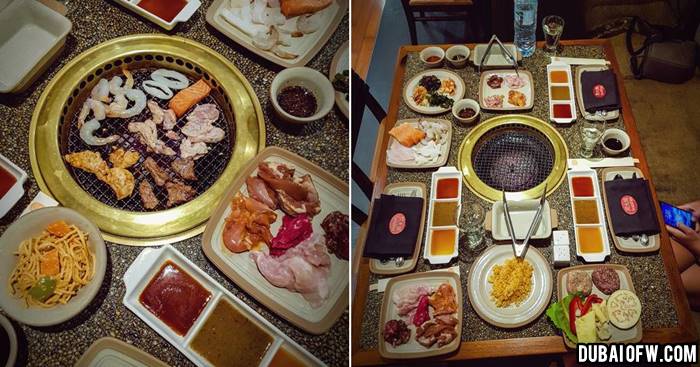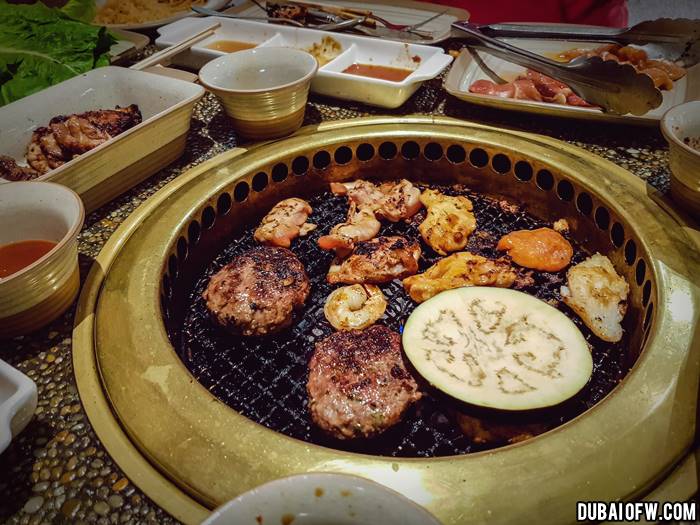 Contact Information – Sumibiya Restaurant
Address: Radisson Blue Hotel – Dubai Deira Creek (lobby level), Baniyas Road, Dubai, UAE
Telephone: +971 4 205 7033
Email: booking.diningdubaicreek@radissonblu.com
Website: https://www.radissonblu.com/en/hotel-dubaideiracreek/restaurants#/sumibiya
Google map:
Perhaps the only thing better than having good food is getting to cook it exactly the way you want… and you can expect this experience in Sumibiya at Radisson Blu Hotel – Dubai Deira Creek! Meanwhile, if you're craving for some classic Pinoy dishes, here's a list of Filipino restaurants that you should check out in Dubai.
Also Read: