Looking for the best green spaces in Dubai? Look no further than the enchanting oasis of Hatta Hills Park. Nestled amidst the arid beauty of the UAE, this hidden gem offers a refreshing escape from bustling city life. With its picturesque landscapes, tranquil ambiance, and a plethora of outdoor activities, the park stands as a testament to Dubai's commitment to preserving nature's wonders.
Whether you seek an exhilarating adventure or simply a moment of serenity surrounded by nature's embrace, this extraordinary park promises an unforgettable experience for every nature enthusiast and curious explorer. Discover the adventure that awaits you when you visit this green sanctuary in the city. Read on to learn more.
Looking for a serene and elevated oasis in Dubai's Hatta town? Well, Hatta Hills Park is the perfect destination for you!
Situated just a short drive away from the heritage village, this green space offers more than just picturesque landscapes.
Along with its lush greenery, the park boasts running tracks, sports fields, and a dedicated children's playing area, making it an ideal spot for both relaxation and recreation.
Back in 2004, the Dubai Municipality took the initiative to develop this park, aiming to provide the local residents with a beautiful green space for leisure and enjoyment.
Over the years, it has garnered immense popularity among day trippers and visitors from the city, becoming a go-to destination for those seeking a refreshing break from the urban hustle and bustle.
Discover the magic of Hatta Hills Park, where nature's tranquility and exciting activities blend harmoniously for an unforgettable experience!
What to Expect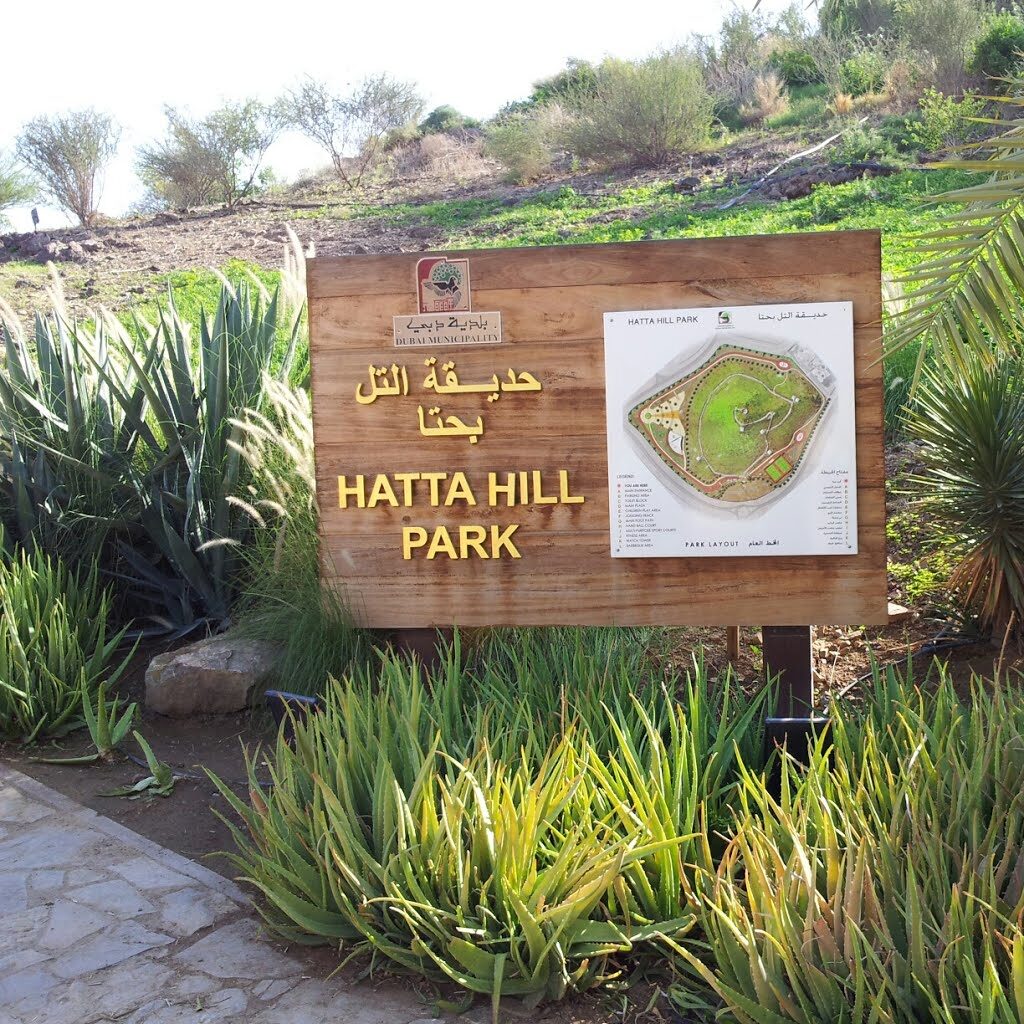 This well-liked picnic and barbecue area covers 63,915 square meters at the base of the Hajar Mountains. If you climb the rocky terrain, you'll reach a watchtower with stunning views of the majestic mountain range and the nearby village.
If you're interested in history and culture, you can also visit the Hatta Heritage Village, which is about 3,000 years old and located close to the park. This village offers insights into the traditional Emirati way of life from ancient times.
Afterward, take some time to visit Swan Lake, a large bathing pool where local birds can be seen wading in the water.
For a more immersive experience, you can even book a ride on a swan-shaped pedal boat, allowing you to float beside these beautiful creatures.
Enjoy your day full of fun and exploration in this fantastic spot!
Location
Hatta Hills Park is a stunning oasis situated atop Hatta Hill, offering a delightful escape in Dubai.
Just a short distance from the renowned "region's heritage village," this expansive park boasts sports fields, BBQ spots, and play areas for children.
Created in 2009 by the Dubai Municipality, it has become a favorite destination for both tourists and day trippers exploring Dubai's wonders.
Its picturesque setting and various recreational facilities make it an ideal spot to unwind and enjoy the beauty of nature.
Address: Hill Park – Dubai – United Arab Emirates
Google Map Location
How to Get There
1. Bus (E16):
One of the most convenient and budget-friendly ways to get to Hatta Hills Park is by taking the E16 bus.
This public transport service passes near the park, making it easily accessible for visitors.
Check the local bus schedule and hop on the E16, which will take you on a scenic journey to the park.
The bus ride itself can be a delightful experience, as you get to enjoy the surrounding landscapes before arriving at your destination.
2. Personal Car
For those who prefer a more independent and flexible travel option, driving to Hatta Hills Park from Dubai is a great choice.
The freedom of having your own vehicle allows you to set your own pace and explore the region at your leisure.
The drive to the park is relatively straightforward and offers stunning views along the way.
You can make stops at other nearby attractions like Hatta Heritage Village and Hatta Dam, creating a memorable road trip experience.
3. Group Tour or Excursion
If you want a hassle-free and guided experience to Hatta Hills Park, consider joining a group tour or excursion.
Many tour operators in Dubai offer day trips to Hatta Hills Park, which often include transportation, guiding services, and sometimes additional activities.
Going on a group tour can be an excellent way to meet fellow travelers and share the experience while leaving all the logistics to the experts.
Things to Do at Hatta Hills Park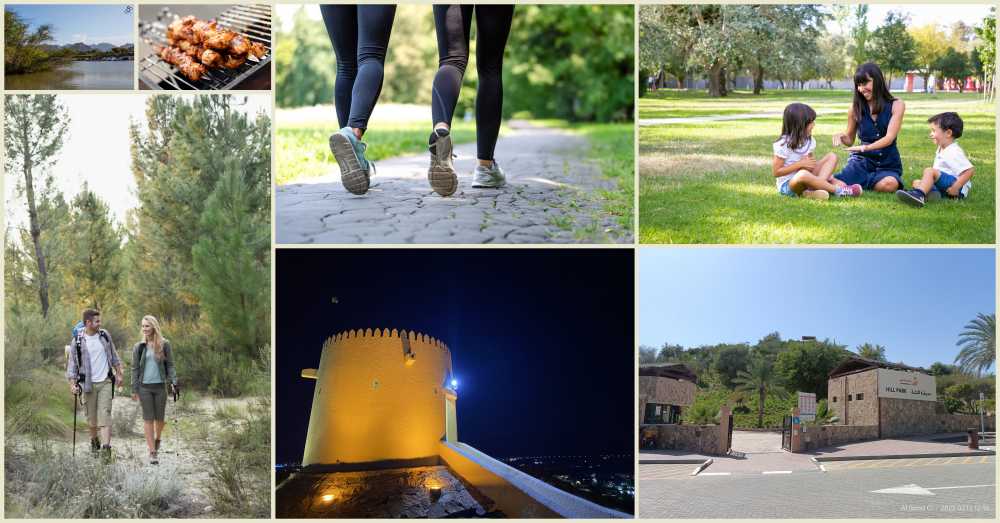 1. Indulge in Sports Activities
For all you sport enthusiasts out there, Hatta Hills Park has got you covered. With football and basketball courts, you can gather your friends or family for some friendly competition. If you're more into a quick adrenaline rush, the park also offers running tracks for a refreshing outdoor sprint. So, lace up those sneakers and get ready for an active day ahead!
2. Let Your Kids Have Fun at the Play Area
If you're bringing along your little ones, the kids' play area in Hatta Hills Park is a dream come true. They can splash around in the swimming pool or engage in a range of exciting activities specially designed to keep them entertained. Parents can relax knowing their kids are having a blast in a safe and enjoyable environment.
3. Enjoy the Perfect BBQ
After all that activity, it's time to fuel up with a scrumptious BBQ. Hatta Hills Park provides the ideal setting for a memorable family grilling experience. Whether you're craving tender short ribs or flavorful chicken tikka, fire up that grill and satisfy your taste buds. And remember, leave the area clean and tidy for the next visitors.
4. Climb the Mountain
Calling all hiking enthusiasts! If you love a good challenge and stunning panoramic views, don't miss the opportunity to climb the rocky mountain all the way to the watchtower. From there, you'll be treated to breathtaking vistas of the nearby village. It's a rewarding adventure that shouldn't be skipped.
5. Things to Do Near Hatta Hills Park
Explore the nearby Hatta Heritage Village, a living testament to the rich history and culture of the region. Wander through the charming labyrinths, where you'll discover the old Emirati lifestyle and traditions. Don't miss Bait Al Wali, the former residence of Hatta's local ruler, which stands as a remarkable piece of history.
6. Stop by Swan Lake
Make a point to visit Swan Lake, the shining jewel of Hatta. This serene lake offers tranquility and stunning views, making it the perfect spot to unwind and connect with nature. For an extra touch of whimsy, consider booking a swan-shaped boat to glide across the calm waters.
7. Explore Nearby Attractions
Apart from Hatta Hills Park and the Heritage Village, there's so much more to explore nearby. Consider visiting Hatta Dome Park or experiencing an adventure-packed day at Hatta Wadi Hub. Alternatively, discover other exciting activities in Hatta that will make your trip truly unforgettable.
Guidelines to Enjoy your Visit at Hatta Hills Park
Hatta Hills Park is a fantastic destination for nature lovers and adventure seekers alike. To make the most of your visit and ensure a memorable experience, here are some guidelines to follow:
Plan Ahead: Before heading to Hatta Hills Park, take a moment to research the park's facilities, activities, and opening hours. Decide on the activities you want to enjoy and plan your day accordingly.
Dress Comfortably: Wear comfortable clothing and appropriate footwear, especially if you plan on participating in sports activities or hiking the mountain. Don't forget to bring sunscreen, a hat, and sunglasses to protect yourself from the sun.
Stay Hydrated: The outdoor activities and warm weather can be exhausting, so remember to carry an ample supply of water to keep yourself hydrated throughout the day.
Respect the Environment: Hatta Hills Park is a natural oasis, and it's essential to respect and preserve its beauty. Dispose of trash in designated bins and avoid littering. Leave no trace of your visit, so others can enjoy the park's charm as well.
Follow Safety Guidelines: If you're engaging in sports activities or hiking, adhere to the safety rules and guidelines provided by the park authorities. Use the sports facilities responsibly, and be mindful of others sharing the space.
Supervise Kids at the Play Area: If you have young children, keep a watchful eye on them while they play in the designated kids' area. Ensure their safety and prevent any accidents by staying close and intervening if necessary.
Enjoy a BBQ Responsibly: If you plan to have a BBQ, use designated grilling areas and follow park rules for open flames. Always extinguish the fire properly and clean up the area after you're done.
Capture Memories: Don't forget to bring your camera or smartphone to capture the picturesque landscapes and joyful moments. Hatta Hills Park offers plenty of opportunities for stunning photographs.
Explore Nearby Attractions: While at Hatta Hills Park, consider exploring other nearby attractions, such as Hatta Heritage Village and Swan Lake, to enhance your experience and learn more about the local culture and history.
Be Mindful of Wildlife: Hatta Hills Park is a natural habitat for various wildlife. Respect their space and refrain from feeding or disturbing them. Observing animals from a distance ensures their well-being and your safety.
Stay Informed about Weather Conditions: Keep an eye on the weather forecast and be prepared for changes in weather conditions. Pack accordingly and be flexible with your plans if needed.
Have Fun and Relax: Most importantly, enjoy your time at Hatta Hills Park! Embrace the beauty of nature, indulge in exciting activities, and create lasting memories with your loved ones.
Video: HATTA HILLS PARK || Best Places To Visit In Dubai for FREE! || One of the Best Tourist Destination
Join Khat, an OFW-vlogger, as she embarks on a remarkable journey to Hatta Hills Park. Nestled in Dubai, this park promises a one-of-a-kind experience with its unique topography, diverse environment, and outstanding facilities.
As the vlogger sets foot in Hatta Hills Park, she is immediately captivated by its breathtaking scenery.
The park's mountainous landscape provides the perfect backdrop for family picnics and gatherings, making it an ideal spot to reconnect with loved ones amidst nature's embrace.
For families and friends seeking adventure, Hatta Hills Park offers designated areas for picnics and barbecues.
The aroma of sizzling BBQ fills the air, adding to Hatta Hills Park's vibrant atmosphere.
This green sanctuary not only caters to nature lovers and hikers but also fosters a sense of community among the residents of the surrounding region and all citizens and residents of Dubai.
Frequently Asked Questions
1. Are picnics allowed at Hatta Hills Park?
Yes, picnics are allowed at Hatta Hills Park, and it's a popular spot for leisurely barbecues with family and friends. The park also offers a children's playing field, running tracks, and sports fields for added enjoyment.
2. Are there any hotels near Hatta Hills Park?
Yes, there are hotels near Hatta Hills Park, such as JA Hatta Fort Hotel, Sedr Trailers Resort, and Damani Lodges Resort, all within a 10-minute drive from the park. Additionally, visitors can opt to stay at Happiness Farm Hatta, a nearby self-catered farmhouse.
3. How can I get to Hatta Hills Park?
The easiest way to reach Hatta Hills Park is by car, as it is about an hour and a half away from Dubai's city center. The park is conveniently located within a 10-minute driving distance from other popular destinations like Hatta Dam and Hatta Heritage Village.
4. When is the best time to visit Hatta Hills Park?
For the best experience, it is recommended to visit Hatta Hills Park during early morning or sunset hours. This allows visitors to enjoy the scenic sights and pleasant weather as the park overlooks the village below. The park's tower at the mountain's top offers a fantastic vantage point of the surroundings.
5. Where can I park at Hatta Hills Park?
Hatta Hills Park provides ample on-site parking for visitors. Whether you're planning a relaxing day in the sun or a fun-filled picnic with family and friends, the park has you covered with its convenient parking facilities. Enjoy the lush greenery, running tracks, and play areas while admiring the splendid vistas of the residential spaces and palm trees below.
6. Is there an entrance fee to the park?
No, according to the Dubai Municipality website, there is no entrance fee applicable for Hatta Hills Park. However, keep in mind that some activities within the park may have associated charges.
7. Can I come with my dog?
Unfortunately, pets are not allowed in Hatta Hills Park. As a public park, it adheres to regulations that do not permit animals inside the premises.
8. Are bonfires allowed inside the park? Are there any alternate places where you can light a bonfire?
Bonfires are not allowed inside the park. However, you can enjoy a barbecue (BBQ) in specific designated spots within the park.
Summary
Hatta Hills Park emerges as the ultimate destination for those yearning to immerse themselves in the beauty of nature.
This hidden gem, nestled amidst the UAE's arid landscapes, offers an enchanting escape that will leave you spellbound.
The park's picturesque landscapes and serene ambiance provide the perfect backdrop for a myriad of outdoor activities, catering to both adventure seekers and those seeking moments of peaceful contemplation.
Hike the rocky mountain for breathtaking vistas or indulge in a delightful picnic with loved ones on the lush green spaces. For the sporty souls, the park's facilities beckon for a friendly game of football or basketball.
Hatta Hills Park stands as a testament to Dubai's unwavering commitment to preserving and nurturing nature's wonders.
It serves as a reminder that amidst the modern marvels, there exists a space where one can disconnect from the hustle and bustle, reconnect with the earth, and rejuvenate the soul.
READ NEXT: Top 7 Things You'll Miss When You Leave Dubai for Good