Previously, residents who wanted to go out during the National Disinfection Program (from 8pm to 6am) until April 4 were required to apply for a 'move' permit online. However this service has been suspended.
Also Read: New List of Fines for Quarantine Violators, Preventive Measures
In fact, when you go to the dedicated website to apply for the said permit – move.gov.ae – it will redirect you to a different page with a notice mentioning that the service has been suspended. 
Below is a screenshot of the said notice: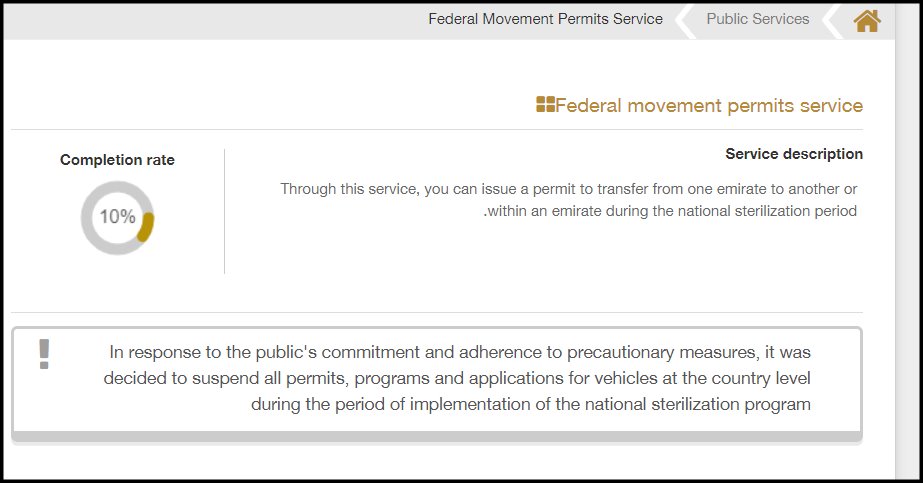 No Need to Apply for Move Permits to Go Out at Night for Absolute Necessity
The notice says "In response to the public's commitment and adherence to precautionary measures, it was decided to suspend all permits, programs and applications for vehicles at the country level during the period of implementation of the national sterilization program."
The Ministry of Interior, MoI, has decided to suspend all federal and local permits, and online applications for vehicles during the National Disinfection Programme, including the federal movement permit service, 'Tajawal' or 'Move'.
The Ministry also added that this update served as a response to the high level of commitment shown by the public with the precautionary measures to restrict traffic movement. So great job as residents have been following the night rules and regulations to help ensure everyone's safety.
IN PHOTOS: An Empty Sheikh Zayed Road during 2nd Night of Disinfection Program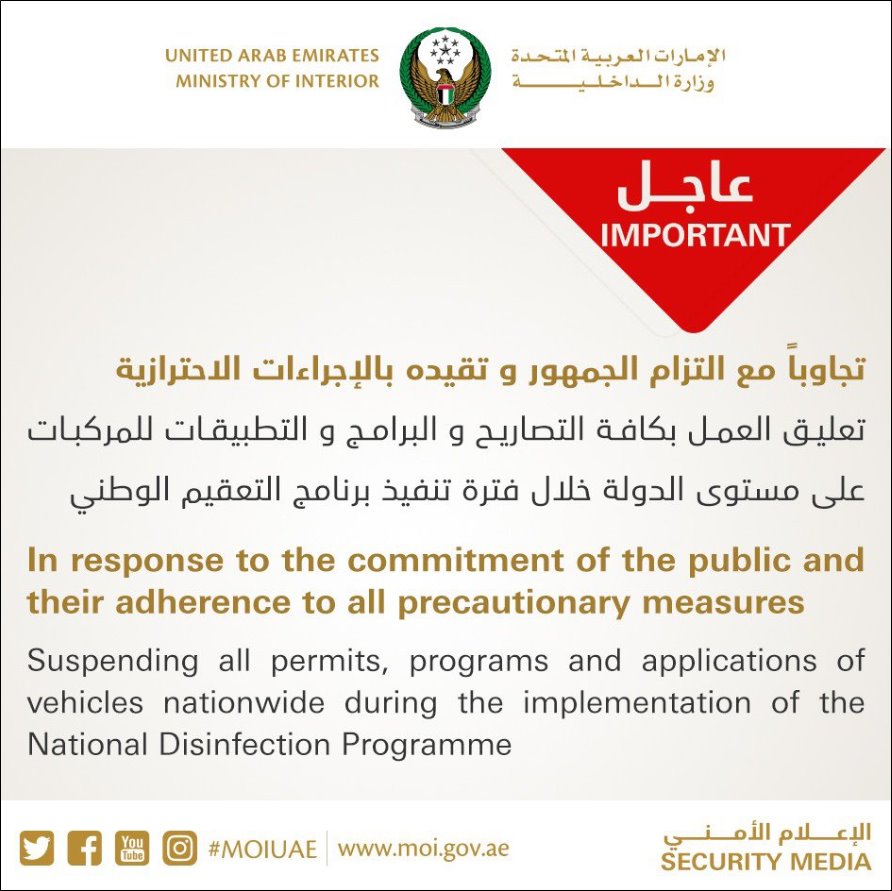 What does this mean for residents?
Based on the information, you DO NOT need to apply for a permit to go out during the disinfection hours. However, it is still important to be aware that you cannot go out unless it is absolutely necessary to get essentials like food/medicine, or working in vital sectors (energy, telecommunications, health, education, security, law enforcement, military, postal service, shipping and logistics, medicines, water, food, civil aviation, airports, passports, banking financial services, government media and the service sectors, including petrol stations and construction).
Workers who will go out at night will be checked and verified.
Below is the Twitter post from the Ministry of Interior of UAE:
الداخلية: تجاوباً مع التزام الجمهور و تقيده بالإجراءات الاحترازية تقرر تعليق العمل بكافة التصاريح و البرامج و التطبيقات للمركبات على مستوى الدولة خلال فترة تنفيذ برنامج التعقيم الوطني
#خلك_في_البيت #stayhome #معاً_ضد_كورونا #فيروس_كورونا_المستجد #كوفيد19 pic.twitter.com/hsqZpGKvH2

— MOIUAE (@moiuae) March 31, 2020