The UAE has recently updated the penalties for people who will violate quarantine rules and regulations amid the outbreak, including those who refuse to comply with home quarantine instructions, those who leave their homes for unnecessary reasons, and other violations.
Also Read: 1000 AED Fine for NOT Wearing a Mask Only to Those Who have Symptoms, 1000 AED for NOT Maintaining Social Distance
On Saturday, 28th March 2020, UAE Attorney-General Dr. Hamad Saif Al Shamsi issued the updated Resolution No. 38 of 2020 regarding the enforcement of penalties for violations, soon after Cabinet Resolution No. 17 of 2020 was issued to curb the pandemic.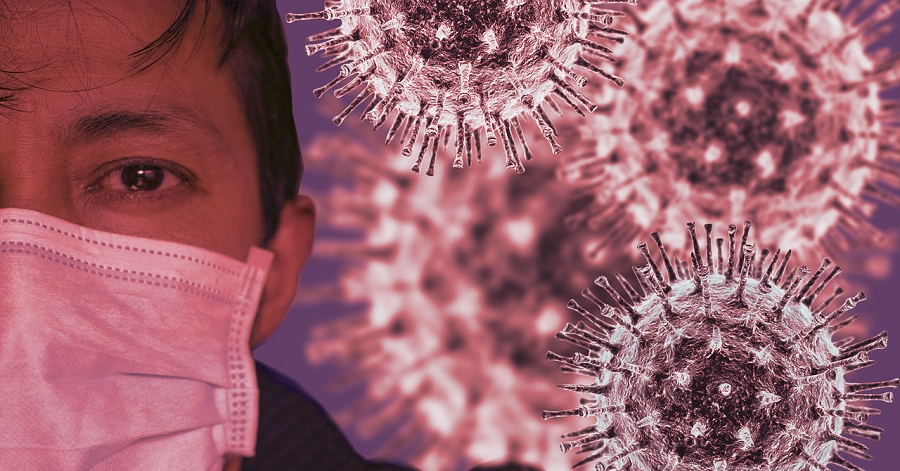 AED 1000 to AED 50,000 Fines/Penalties for Quarantine Violators in the UAE
According to WAM News Agency, the latest Resolution prescribes the following fines, which start from AED 1,000 up to AED 50,000:
AED 1,000 – Fine for unnecessarily visiting a health facility.
AED 1,000 – Fine for a motorist who exceeds the number of passengers in his vehicle (more than three persons per vehicle).
AED 1,000 – Fine for not wearing medical masks indoors by persons suffering from chronic diseases and those exhibiting cold and flu symptoms, OR failing to maintain social distancing.
AED 2,000 – Fine for violating precautionary measures issued by the Ministry of Health and Prevention (MOHAP) by passengers coming to the UAE from countries affected by a communicable disease.
AED 3,000 – Fine for anyone who leaves his/her home for unnecessary reasons, except for buying essential necessities or performing vital jobs.
AED 3,000 – Fine for failing to take proper health measures with regard to the regulation of roads, markets, and other public places that are exempted from temporary closure.
AED 3,000 – Fine for refusing an order to dispose of clothes, luggage, and any other stuff proven to be contaminated or might be contaminated by any pathogen if they cannot be disinfected by established procedures.
AED 3,000 – Fine for violating the executive regulations of the Law on Communicable Diseases with regard to burying or transporting a dead body infected with a communicable disease.
AED 5,000 – Fine for refusing to undergo a medical test upon request.
AED 5,000 – Fine for the executive in charge of managing a facility or company that violates sterilisation measures of public and private transport modes.
AED 10,000 – Fine for anyone who invites or organises meetings, gatherings, public and private celebrations, as well as being present in groups at public places or private farms. Each participant will also be fined AED 5,000.
AED 10,000 – Fine for failing to take precautionary measures for the crew of shelter ships.
AED 50,000 – Fine for not complying with home quarantine instructions, including quarantine at private facilities and refusing to take the test again based on health protocols.
AED 50,000 – Fine for violating mandatory hospitalisation by patients who directly refuse to receive or continue prescribed medicines, despite being instructed to do so.
AED 50,000 Fine and Administrative Closure – For failing to temporarily suspend an establishment. AED 500 fine shall be issued for a customer.
AED 50,000 Fine and Administrative Closure – For violating the closure instruction of schools, cafés, restaurants, gyms, sports clubs, malls, cinemas, outdoor markets, parks, and others OR for receiving customers. Those who visit such establishments will be fined AED 500 each.
NOTE: Fines will be doubled for repeat violations. If the violation is committed for a third time, the offender will be referred to the Emergency and Crisis Prosecution at the Federal Public Prosecution. The offender will also bear the costs of any damages caused by him/her.
The Resolution also mandates the UAE Attorney-General, along with members of the Emergency, Crisis, and Disasters Prosecution to impose administrative penalties on the violations listed in Article 1 of this decision, once a case is referred to them.
Enforcement and Collection of Fines
The Resolution is effective starting 26th March 2020. The Ministry of Interior and police departments will be the authorities in charge of collecting fines from violators. They may also coordinate with other relevant authorities regarding the matter.
In addition, a violation report shall be issued if an offender refuses to respond to warnings and directives issued by the Ministry of Interior, general headquarters of police, or law enforcement officers of concerned federal and local authorities.
The above rules may seem strict, but as we all know, the current outbreak poses a serious threat to the community. Let us fully comply with all these regulations, not only to avoid penalties but to ensure our own health and safety. For now, let us stay at home, especially since these establishments have been declared closed for the time being.
Below is a post from WAM News Agency: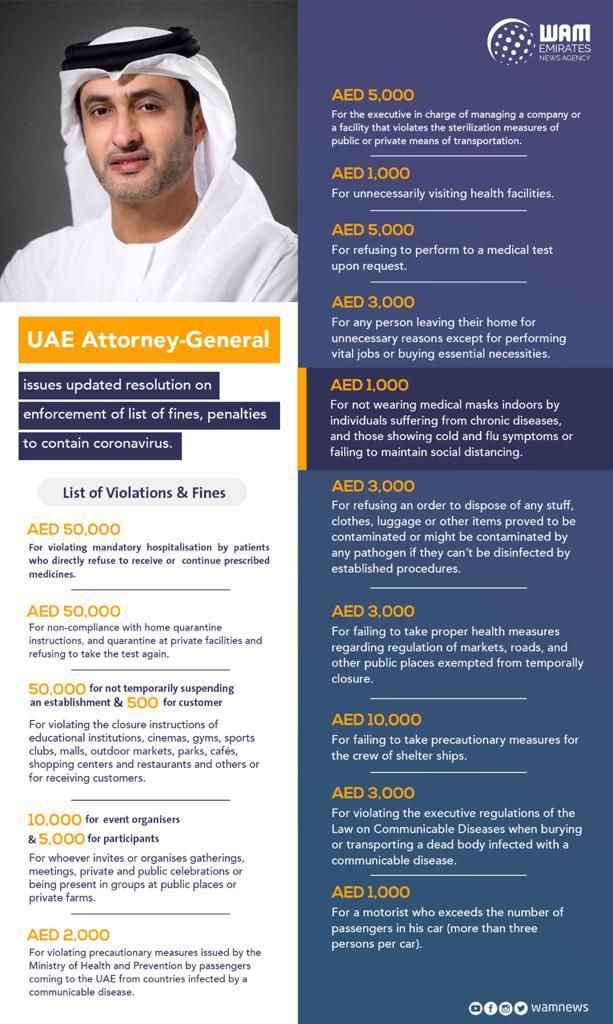 #UAE Attorney-General issues updated resolution on enforcement of list of fines, penalties ranging AED1,000-AED50,000 to contain #coronavirus#WamNews pic.twitter.com/AylRY0w1Qz

— WAM English (@WAMNEWS_ENG) March 29, 2020