Filipinos in the UAE could be in for a treat, as Manny Pacquiao hinted that his next fight would be in the country.
In a recent tweet on his official Twitter account, the boxing legend posted, "See you in UAE for my next fight." Sports authorities within the country have yet to confirm the announcement.
Pacquiao Tweets "See you UAE for my next fight"
According to an article in The National, Pacquiao was supposed to take on Australian boxer Jeff Horn on April 23 in Brisbane. However, it was suggested that the two fight in Dubai or Abu Dhabi instead. Still, nothing is final yet as Pacquiao posted a Twitter poll asking, "Who do you want me to fight next in the UAE?" As of this writing, the poll shows Amir Khan in the lead, followed by Kell Brook, Terence Crawford, and Jeff Horn.
In any case, such an event would need the approval of the Sports Council in Dubai or Abu Dhabi, but neither organization was aware of any plans. Still, Pacquiao's adviser, Michael Koncz, had already stated: "I'm here with full authority and power. I have been the marriage counselor for Manny and we have developed a relationship. I'm involved in all aspects of what he does. We have executed the agreement in the morning and 100 percent the fight will be here in the UAE."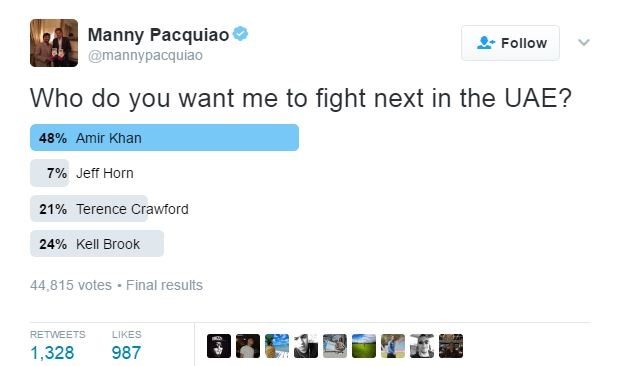 To add to the confusion, it was reported that Bob Arum, Top Rank's chief executive and Pacquiao's promoter, was already discussing with Horn's promoter, Duco Events, to hold the fight in Brisbane. However, Koncz said, "I told Bob to go ahead but don't close it. When Bob said it will happen there I asked him 'what are you talking about?' A promoter works for the boxer but the boxer doesn't work for the promoter." He added, "We have had a successful bond with him [Arum], but Manny is the boss."
For his part, Duco Events' Dean Lonergan expressed his surprise to the announcement. "For the last six weeks I've been dealing with Bob Arum and Top Rank, since he's the promoter of Manny Pacquiao, to put this together," Lonergan said, as quoted by The Sydney Morning Herald. He explained that he and Arum were close to sealing the deal in Australia.
When told about the possible change of venue, Lonergan, remarked, "As far as I'm concerned this has totally come out of the blue. We're just going to have to wait and see if there's any substance to the story." He went on to say that he and his team will continue to organize the fight in Brisbane, unless Bob Arum tells him otherwise.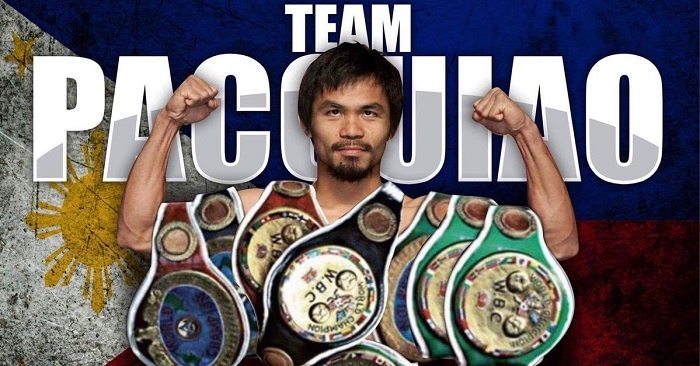 Just recently, Pacquiao made a successful comeback to the ring when he won a fight against Jessie Vargas last November. Aside from being a champion boxer, Pacquiao also happens to be a public servant. He is currently a Senator in the Philippine House of Representatives.