The preparations for Labour Day in the Philippines are on full swing. For those who are looking for work and new job opportunities locally or abroad, the Department of Labour and Employment (DOLE) has got you covered.
ALSO READ: 10 Things You Should Know when Working in the UAE
While the ground breaking ceremony of the DOLE-OFW hospital is set to banner the Labour Day celebrations on May 1, jobseekers and aspiring OFWs have plenty to look forward to, as well, as there will be several job and business fairs held simultaneously across the country.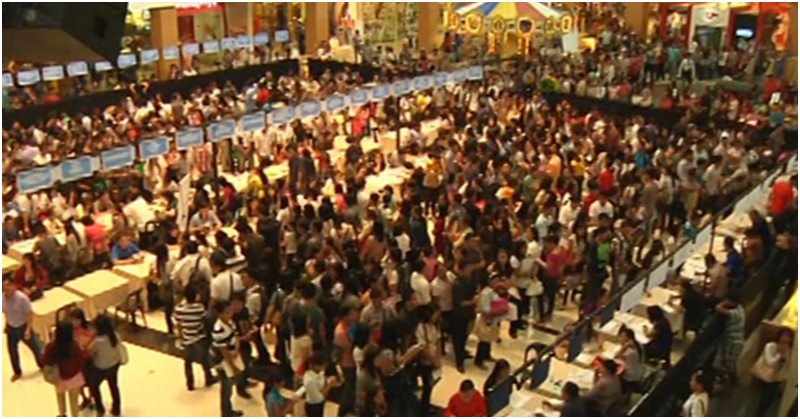 Local, Overseas Jobs to be Offered on Labour Day Job Fair
A number of multi-skill and job vacancies for local and overseas deployment will be up for grabs on Labour Day in simultaneous nationwide job and business opportunities fair to be offered across the country, as shared in an announcement by DOLE.
Labour Secretary Silvestre Bello III urged jobseekers to take advantage of the thousands of jobs to be offered by participating employers in 31 Trabaho, Negosyo, Kabuhayan job and business fair.
Around 200,000 job openings are expected to be offered to attendees, with close to 1,500 local enterprises and placement agencies participating.
The Department of Labour and Employment (DOLE) shared that top vacancies for local jobs are customer service representatives, production machine operators, carpenters, security guards, call center agents, micro finance officers and factory workers, among others.
Meanwhile, nurses, factory workers, cleaners, technicians, bakers, nursing aides, food servers, auto repair personnel, service crew, and barista are among the leading job openings for overseas deployment.
Vacancies to be posted are expected to come from New Zealand, Saudi Arabia, Germany, Taiwan, Bahrain, UAE, Poland, and Australia, among others.
Labour Secretary Bello reminded jobseekers to bring the following requirements:
multiple copies of resume
2 x 2 ID photo
photocopy of training certificates
PRC license (if applicable)
certificate of employment (COE) for those who were previously employed, and
diploma
While most people will be celebrating their holiday off someplace else, this will be a good time for fresh graduates and those who are interested to work overseas to take advantage of the opportunities offered by the government for interested and qualified individuals.
To know more about the latest news and updates on the Labour Day fair/s as well as new job openings both local and abroad, you may check out DOLE's official website for more details.