If you've just given birth to your son or daughter, it is important that you apply for a passport and residence visa for your child. The passport will be processed at your embassy. For the residence visa, parents need to apply at the General Directorate of Residency and Foreign Affairs (GDRFA) in Al Jafiliya. This is the colored building right after you exit Al Jafiliya metro station. Here we outline the steps to get a UAE residency visa for your newborn baby.
Related Post: How to apply for UAE Residence Visa for Your Husband or Wife in Dubai
The reason why you need to apply for a residence visa right away is that you have 120 days from the birth of your child to secure one. Otherwise, your child will not be allowed to leave the UAE and there will be Fines every succeeding day after the 120-day grace period.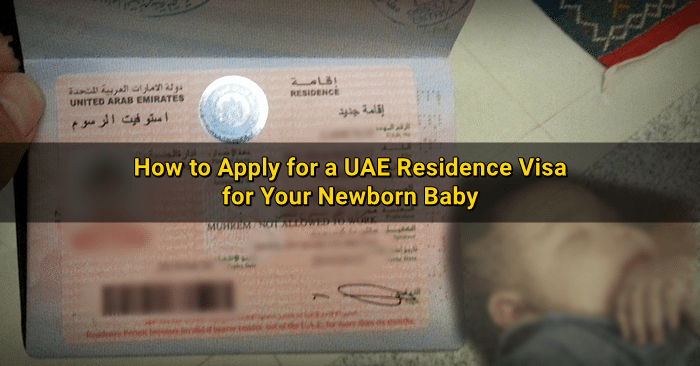 As per Emirates247 report, you need to have a minimum of 3000 AED salary to be qualified to sponsor your child. Also, the fine amounts to 25 AED per day after the grace period. View full report here – Emirates24/7
Documents / Requirements
Application form filled out at typing center
Original passport of newborn
Original and photocopy of birth certificate of newborn (authenticated/attested)
3 passport-size photos of newborn
Original and photocopy of marriage certificate of newborn's parents (authenticated/attested)
Passport photocopy of the sponsor (one of the parents)
Job contract copy or salary certificate of the sponsor
Original Tenancy Contract (ejari)
DEWA bill
Step by step process in Sponsoring Your Baby in UAE
Below is the procedure on how you can apply for the residence visa. Please be guided.
1. Go to an accredited typing center to fill out the application form. You cannot fill it out yourself as the Typing Center will encode the details into the system. Be ready to pay a fee for this typing service.
2. Head to the GDRFA office to submit all required documents. There is a special section for ladies if the mother is the one who will apply. You will be asked to pay the fees needed to process the application.
3. There will be a waiting period of up to 5 business days and once approved, you will receive the passport with the stamp of the UAE residence visa via courier service.
Fees will vary depending if you work in a government or private company in the UAE. We called one of the Typing centers in Dubai and they mentioned a slight difference in fees:
For sponsors working in private companies in UAE:
450 AED – visa stamping
220 AED – file opening
270 AED – emirates id application
For sponsors working in government companies in UAE:
550 AED – visa stamping
225 AED – file opening
370 AED – emirates id application
Note: Be advised that the information acts as a guide only. Fees may change without prior notice. For a more updated process, please call an accredited Typing Center or the GDRFA office at 800-5111.