In case you're wondering about the status of your UAE visa, whether you don't know until when it is valid, when it is going to expire, or even the status of your application (for visit visas), the UAE government has a website where you can enter your details and check the status. Here we share the steps on how you can verify the status online. This guide is based on the gdrfa.ae portal so you can see if your Dubai visa is expired or not.
Also Read: Working While on a Tourist Visa is Illegal, Beware
Trivia: What is GDRFA? GDRFA stands for General Directorate of Residence and Foreigners Affairs and this UAE government entity deals with residence permits and visas in Dubai.
Residents and tourists should be aware of your visa status and update your documents prior to expiry. There are corresponding Fines and Penalties if you overstay in the UAE. Do not wait for a few days before it expires, as you need to allot maybe about 1-2 weeks in order to file things accordingly. Check out this video clip tutorial below so you can see how to validate your UAE visa if it is valid/approved or not:
In case you do not want to watch the video above, you may also check out the procedure below. We have created a guide with pictures to make it easier to follow the process step by step. Hope our information helps.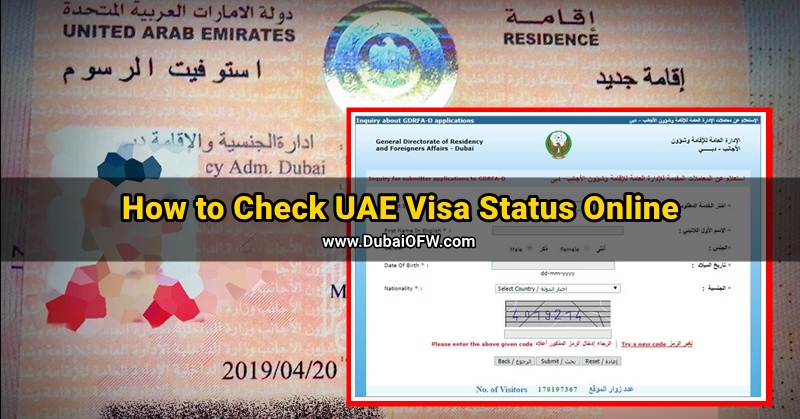 Step by Step Guide: Checking the Validity of Your Dubai Visa Status Online (with Photos) – UAE Visa Status Check
We are sharing with you a clear outline so you can determine the validity of your UAE visa. Please follow the instructions (with screenshots) below.
Note: First off, kindly make sure that you keep at least a photocopy or a digital copy of your UAE visa and your passport. So you can keep the details with you when you may need to enter them in the application. There are employers who might keep your passport (for safekeeping) but even for your protection, try to keep a copy in your email and your phone. But make sure you also keep your email and phone secure to avoid getting your privacy hacked.
Step 1. Go to this website – http://www.gdrfa.ae/portal/pls/portal/INIMM_DB.DBPK_VISAVALIDITY.Query_VisaValidity. This is an official portal is where you need to enter your details in order to check if your visa is valid and when it will expire.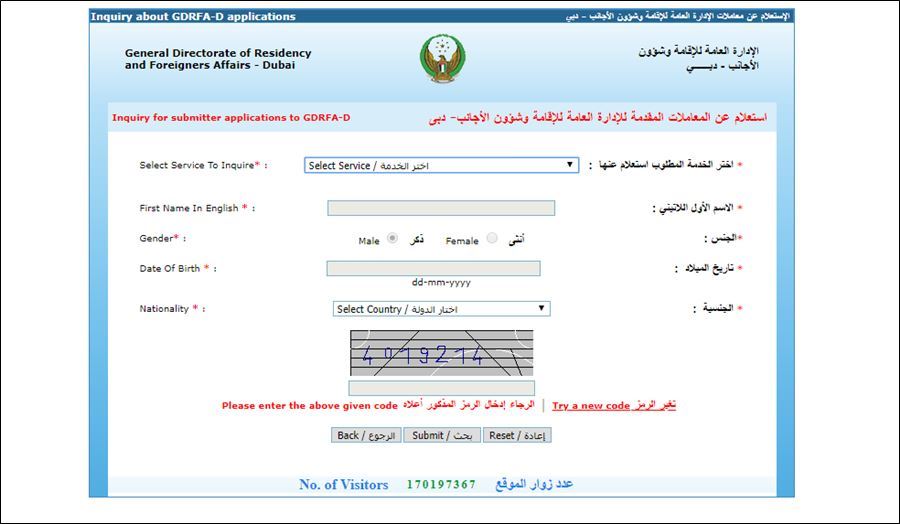 Step 2. Select the Service you wish to inquire. You can choose between Entry Permit Validity, Residence Validity, eDNRD Application, eForm Application, and Residence Application Status. In my case, I chose the residence validity status. Check the service that applies to you. If you are still applying for a visa, then you need to choose the appropriate service.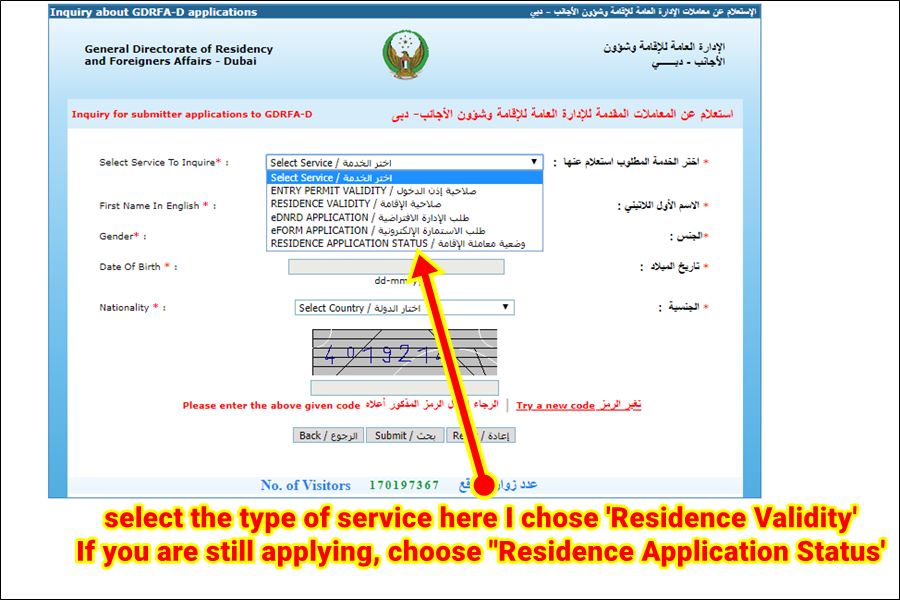 Step 3. Enter your Residence File Number. The residence file number can be found in your UAE visa sticker/stamp. Please see a sample photo of how the visa looks like. (Again, always keep a copy of your IDs and documents for your reference).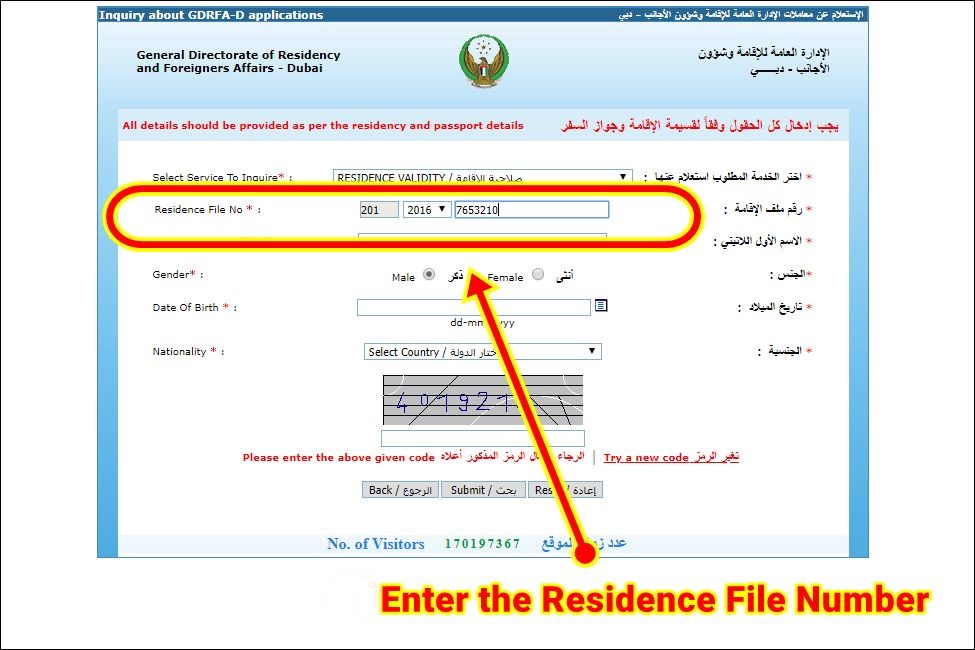 Below is a copy of a residence visa sticker attached to your passport when you are approved.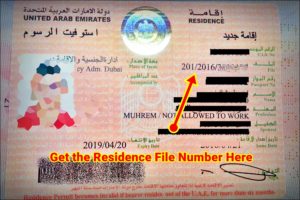 Step 4. Enter the your details including your First Name, Gender, Date of Birth, Nationality. Also, verify the security code (to prove you are not a robot).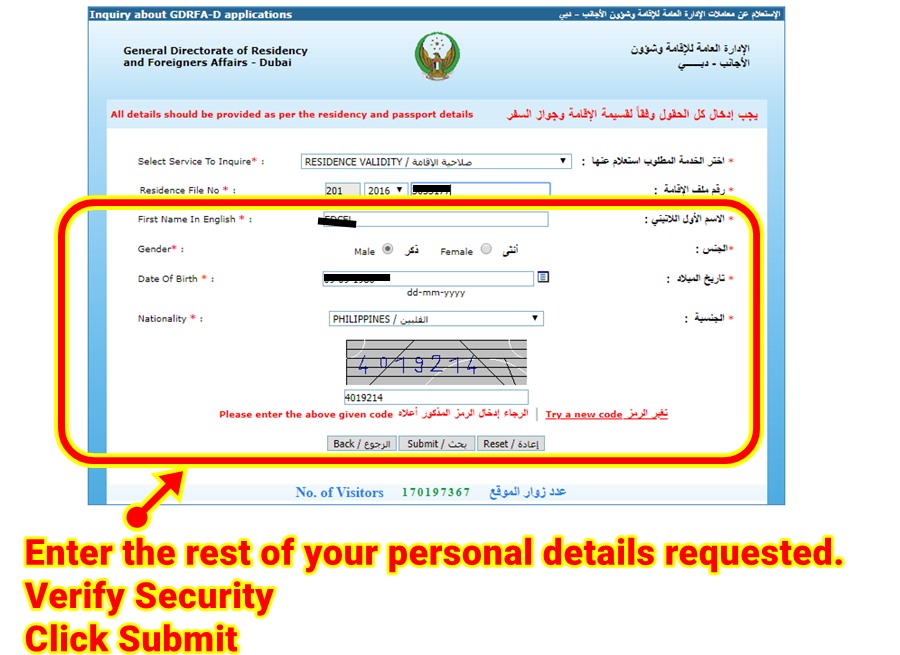 Step 5. Click Submit. The next page will show the status of your visa and will include other important details such as date of expiry.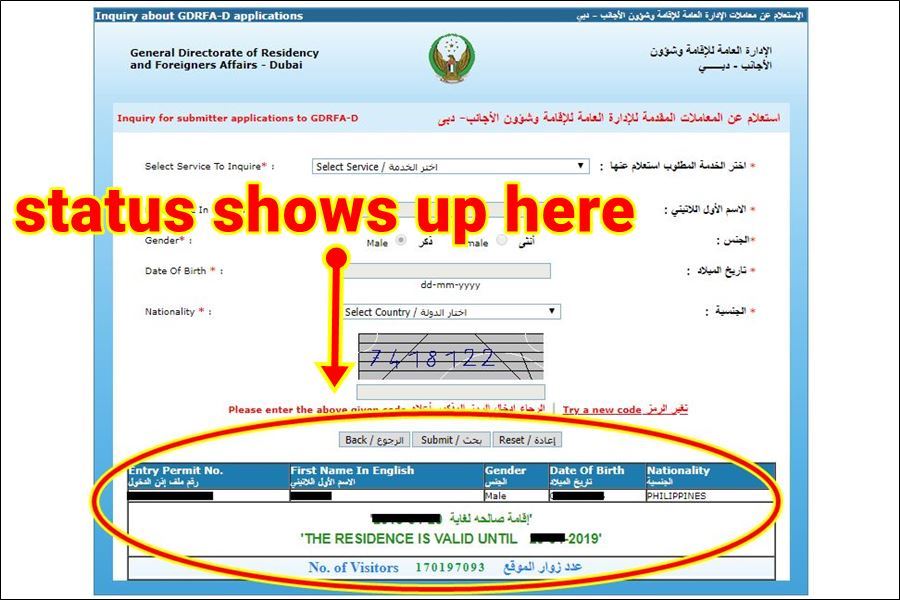 We hope you follow the steps above to see if your Dubai visa and residency is still valid or not. The steps make it easier for you to do it yourself as it is done conveniently online rather than having to go to GDRFA office to ask for the information.
Also Read: How to View your UAE Labour contract online
The online inquiry form is something that we really like and something to commend about the government of the UAE so you can check the visa status in Dubai or which emirate you may be in.
They have many projects and initiatives to make inquiries simpler and faster for residents and expats. Adapting to a 'smarter city' concept by applying technology in our everyday lives to make government procedures much more convenient.
Also Read: UAE Labour Law: Working Hours, Leaves, and Vacations
Already in the UAE and want to learn more about visa topics? Here are some helpful articles to guide you, please check them out: