Every now and then, diplomats take time to meet and discuss relations between their respective countries. Two years ago, UAE Minister of Foreign Affairs Anwar Gargash held bilateral talks with then Philippine Secretary of Foreign Affairs, Alan Peter Cayetano.
ALSO READ: Biggest Filipino Training Centre Opens in Dubai
Just recently, the Philippine Ambassador to the UAE, Hjayceelyn Quintana, met with the UAE Minister of State, Zaki Nusseibeh. Also present in the meeting were Embassy representatives, as well as officials from the Ministry of Foreign Affairs and International Cooperation.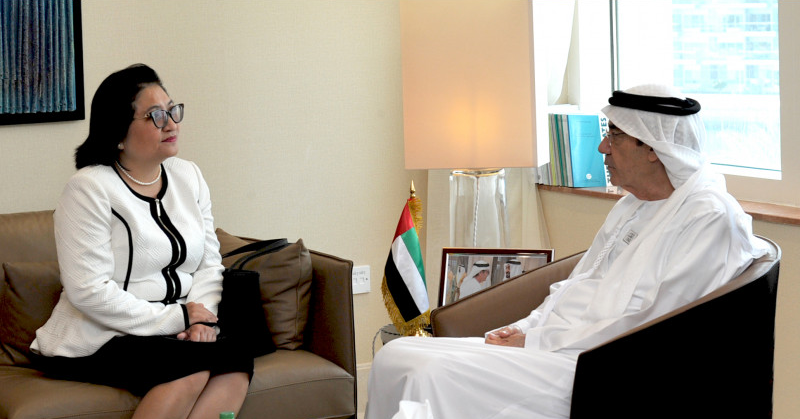 PH Ambassador Quintana Meets UAE Minister Nusseibeh
On Wednesday (August 7), Nusseibeh welcomed Quintana, expressing his hope that cultural and diplomatic ties between the UAE and the Philippines would be further strengthened, WAM News Agency reported.
The two officials reviewed bilateral ties between their countries, along with the means to advance them, especially in terms of cultural cooperation. They also exchanged views on matters of mutual interest, discussing topics on regional and international developments.
Notably, Quintana hails from Lucena City and Mauban, Quezon in the Philippines. Prior to becoming Ambassador to the UAE, she served as the Philippine Consul General in Oman and as Foreign Affairs Assistant Secretary for Middle East and African Affairs (OMEAA).
Meanwhile, Nusseibeh has been a UAE official since the 1960s, having accompanied the late Sheikh Zayed bin Sultan Al Nahyan. He has served as Head of Media Bureau at the Presidential Court, Assistant Minister of Foreign Affairs and International Cooperation, and other major posts before getting appointed as Minister of State in 2017.
ALSO READ: Filipinos Warned Against 33 Illegal Investment Activities
With such a huge Filipino population residing in the UAE, it is good to know that we have hardworking leaders to represent us, making sure that our rights and welfare and protected. Speaking of which, we are truly excited for Expo 2020 Dubai, where Pinoy culture and products will be featured in the unique Philippine Pavilion that we can't wait to see!