Romania is situated in South Eastern part of Central Europe with terrains consist of mountains, hills and plains. The country has a climate with four distinct seasons. Romania is always associated with Transylvania. You might be thinking now if it is the place associated with Dracula. It might be, yes or no. It is for you to discover.
I was able to apply for a Romania tourist visa in Dubai by filling out my application online and visiting the Consulate General of Romania in Dubai for my interview. This article aims to help you in case you wish to apply for a visa to Romania.
Related Posts:
— How to Apply for a Schengen Tourist Visa in Dubai
— How to Apply for a Jordan Tourist Visa in Dubai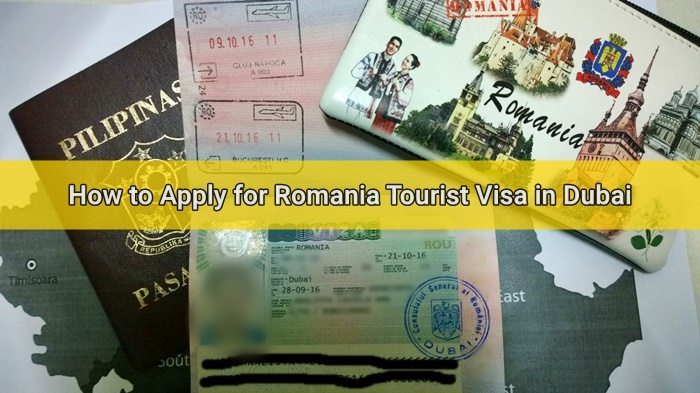 Guide to Processing a Romania Tourist Visa in UAE
Below is a guide on how to obtain Romanian Tourist Visa base on my experience as a Filipino currently residing in Abu Dhabi, United Arab Emirates who traveled to Romania for 13 days last October 2016. Be advised that I applied for the visa in Dubai as the office in Abu Dhabi was closed at the time.
1. The official website to start your visa is with http://evisa.mae.ro
2. From their home page, more information can be read or you can browse directly by clicking Apply for a visa. Make sure you have a valid e-mail ID and a computer or laptop to start with your application.
3. Follow the instructions and it will guide you properly what to do next. When uploading your documents, I suggest uploading the scanned ones in PDF form as it has lower memory to consume. Avoid taking photos from your mobile and upload it, you might run out of space for other documents.
4. When filling out the online forms, you can usually choose between Dubai and Abu Dhabi for the Diplomatic Mission/ Consular Post of Romania in UAE.
5. For type of travel document we have the Ordinary/ National Passport and our Philippine passport is already Biometric.
6. Since the purpose to visit Romania is for Tourism, choose Short-stay then Tourism (marked C/TU).
7. The next page will lead you to some questions if you are in particular situations like if you are a resident or traveling to other countries that are member of European Union, if you are a family member of Romanian citizen and others. Otherwise, you can choose 'I do not find myself in any of the above-mentioned situations.'
8. Upload and submit online the following documents:
Valid travel document which is passport and must be valid by at least 3 months.
2 Recent photographs 3 x 4 cm
Proof of accommodation
Valid travel tickets
Travel insurance- Romanian Embassy requires travel insurance with the number of days you'll stay in Romania plus one day after your departure
Means of support – They require 3 months bank statement
Proof of itinerary
9. Another page will ask you to fill-up the Application Form. After giving all the information they required, it will prompt you to print a copy. It's a must to have a hard copy or you can save it and print it out later.
Note: It is upon the Consul's discretion if they will require you to submit additional documents.
Communication will be through e-mail. They will give specific date and time for your appointment to bring all the original documents you uploaded including the printed Application Form to:
Consulate General of Romania in Dubai
Villa No.44- 12B St, Dubai.
Phone: 04 349 2971
Or,
Embassy of Romania in Abu Dhabi
Address: Plot No.13, 2nd St, Al Karamah St, Al Rodha Area – Abu Dhabi
Phone: 02 445 9919
Interview at the Romania Consulate in Dubai
The questions being asked to me were:
How did I know about Romania?
Why I want to go to Romania?
Where will I go to Romania?
Cost of Romania Tourist visa is 260 AED.
After 2 days, I received an e-mail to get my passport with the visa in it.
Note: If you are traveling to other European Countries with Schengen Visa, you can use the same visa to enter Romania as long as it is not the country of your first entry to Europe. Please be advised also that the above information might change without prior notice.
I hope I was able to help you in processing your Romanian Tourist Visa. Multumesc frumos. For sure, you will love Romania.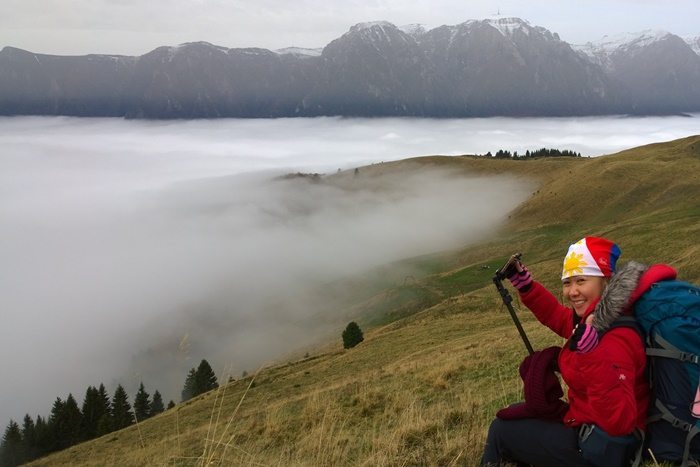 the author in Baiului Mountain, Romania
---
About the Author: Louiela

Louiela Ann Analista is a Pinoy expat in Abu Dhabi, a Nurse by profession and a nomad by heart… She's also the person behind Beyond Chasing Dreams and www.beyondchasingdreams.com
"Hi, thank you for passing by. May you keep on chasing your dreams whatever it is."}
---
Share your thoughts. Contribute an article to DubaiOFW.com
Want to publish your experience? Share your everyday stories, food trips, travel, photo stories, or tips in Dubai to our growing community. More information here – Become a Dubai OFW Contributor!