The Philippines is one of 53 countries that has recently been granted a free e-Visa access to travel to Russia. However, the visas are limited only for entry in two cities – St. Petersburg and Kaliningrad.
Also Read: 10 Reasons Why You Should Visit the Country of Georgia
In an advisory shared by PCG Dubai on their website, the Philippine Ambassador to Russian Federation Carlos D. Sorreta announced the new visa scheme for Filipino tourists traveling to certain cities in the country and warns Filipino travellers to be aware of its limitations.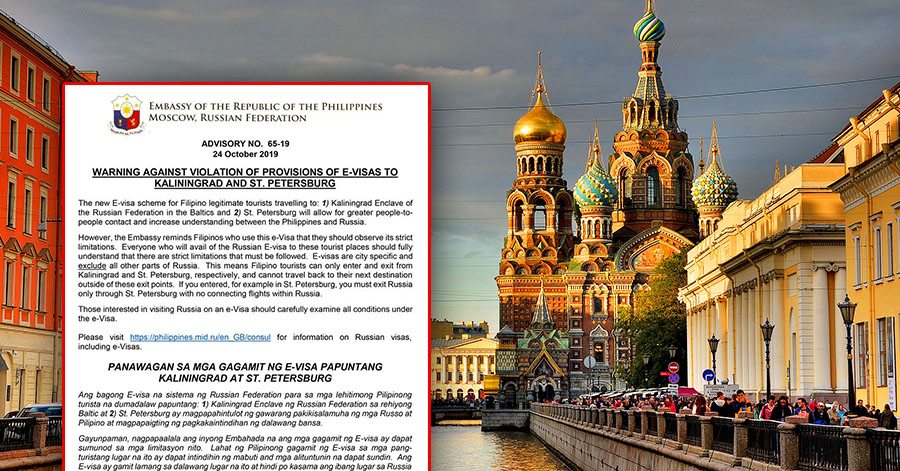 Tourists Warned: Russian E-Visas Exclusive to Certain Cities Only
It is important we should follow the rules when travelling and we should be aware of the policies to avoid unfortunate incidents that may ruin our plans. So for Pinoys (and even other nationalities granted with the free e-Visa to Russia), please be advised of the said limits.
Below is the statement from the advisory:
Embassy of the Republic of the Philippines
Moscow, Russian Federation
WARNING AGAINST VIOLATIOON OF PROVISIONS OF E-VISAS TO KALININGRAD AND ST. PETERSBURG
Advisory No. 65-19
24 October 2019
The new E-visa scheme for Filipino legitimate tourists travelling to: 1) Kaliningrad Enclave of the Russian Dederation in the Baltics and 2) St. Petersburg wiull allow for freate people-to-people contact and increase understanding between the Philippines and Russia.
However, the Embassy reminds Filipinos who use this e-Visa that they should observe its strict limitations. Everyone who will avail of the Russian E-visa to these tourist places should fully understand that there are strict limitations that must be followed. E-visas are city specific and exclude all other parts of Russia. This means Filipino tourists can only enter and exit from Kaliningrad and St. Petersburg, respectively, and cannot travel back to their next destination outside of these exit points. If you entered, for example in St. Petersburg, you must exit Russia only through St. Petersburg with no connecting flights within Russia.
Those interested in visiting Russia on an e-Visa should carefully examine all conditions under the e-Visa.
Please visit https://philippines.mid.ru./en_GB/consul for information on Russian visas, including e-Visas.