Last week, the Dubai Executive Council announced that tuition fees will not increase in private schools this year. Certain business fees have been decreased or waived as well. Meanwhile, more important changes have been made recently by the UAE Cabinet.
The UAE Cabinet met in Abu Dhabi on Wednesday to discuss foreign workers' insurance, visa facilitation, and other matters. The meeting was led by the Vice President and Prime Minister of the UAE and Ruler of Dubai, His Highness Sheikh Mohammed Bin Rashid Al Maktoum.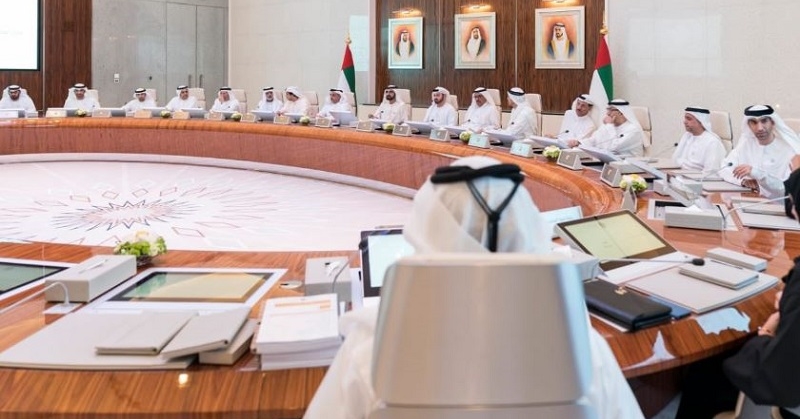 UAE Cabinet Introduce Major Changes
The major changes discussed by the UAE Cabinet include:
Low-Cost Insurance System. Previously, a deposit of AED 3000 per worker is required during labour recruitment. This has been replaced by a new, low-cost insurance scheme that amounts to only AED 60 per worker per year. The policy covers workers' entitlements, namely overtime allowance, vacation allowance, end-of-service benefits, and return ticket.
New Visa Facilitation Procedures. A newly-revised system would enable residents' children to extend their residency period up to two years after finishing university studies.
Entry Fee Exemption. For the first 48 hours upon entry, transit passengers will be exempted from all entry fees. In addition, for just AED 50, transit visas can be extended for up to 96 hours.
People Overstaying Visas. Those who have been overstaying their visas will be given the chance to leave the UAE without a "no entry" stamp in their passports. On the other hand, if they wish to work in the country, they would be granted a new, 6-month visa.
Illegal Entry to UAE. People who have entered the country illegally will be given the chance to leave without a "no entry" stamp for two years, provided that they present a valid return ticket.
Visa Renewal. For a certain fee, those who would like to renew their visas may do so without having to leave and re-enter the UAE.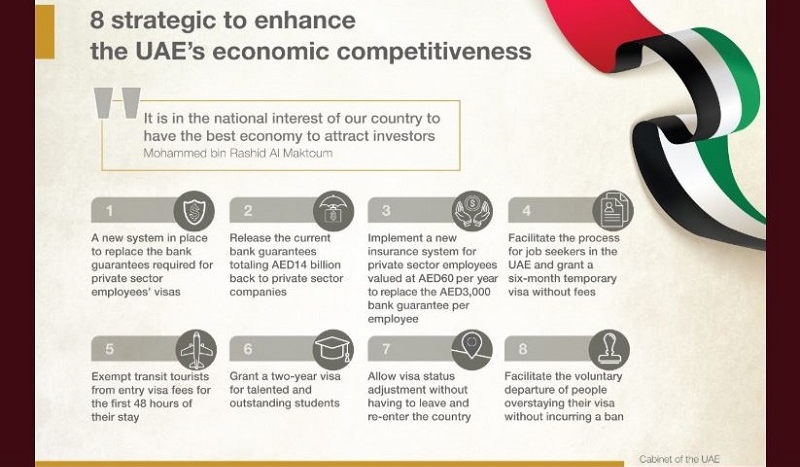 People of Determination
During the meeting, the UAE Cabinet has also adopted a resolution that will help empower "people of determination." The resolution grants them equal opportunities and support in applying for employment.
In addition, members of the Cabinet have agreed to host the Asian Paralympic Committee headquarters in the UAE — thus making the country a "sports hub" that would provide workshops and training for people of determination.
In a cabinet meeting today we approved reforms including replacing the bank guarantee system for private sector employees, with a low-cost insurance scheme. This will release AED 14 billion back to the private sector companies and will further lower the cost of doing business . pic.twitter.com/4BYNzldJ0S

— HH Sheikh Mohammed (@HHShkMohd) June 13, 2018
International Relations
With regard to international relations, the UAE Cabinet has also adopted/endorsed:
An agreement with the International Exhibitions Bureau regarding the benefits and privileges that would be accorded to Expo 2020 participants
An agreement with the Russian Federation on visa exemptions for citizens of both the UAE and Russia
Agreements on air transport services with the Republic of Guinea as well as the Federation of Saint Kitts and Nevis
Agreements on mutual protection of investments with the Republic of Colombia, Republic of Rwanda, and Republic of Uganda
Conventions on avoidance of double taxation and prevention of financial evasion with Turkmenistan, Republic of Rwanda, and Kingdom of Saudi Arabia
Aside from these changes, another groundbreaking decision is the long-term visa. The UAE will soon be issuing 10-year visas to foreign investors, select professionals, and top students. Indeed, all of these initiatives would be a big boost to the economy!