We went to Seafood in a Bucket Restaurant in Ansar Gallery branch after my shift from work. This is a popular restaurant in Dubai that offers a unique concept of dining in the UAE. Why unique? Well, their food is served in tin buckets and you eat with your hands!
Restaurant: Seafood in a Bucket
Location: Ansar Gallery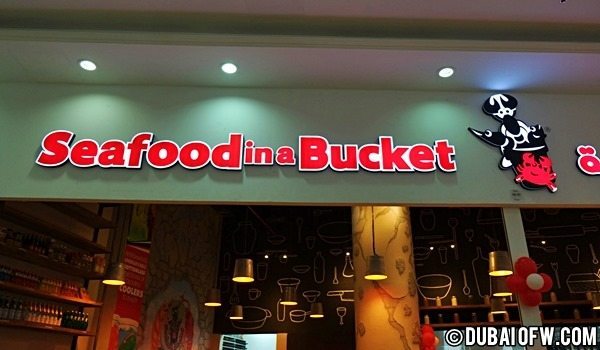 #seafoodinabucket

sea food in Dubai
Seafood in a Bucket Restaurant in Ansar Gallery
The SIAB Ansar branch is their 2nd branch in Dubai, the first one is in Al Attar – both in Karama. This is a hole-in-the-wall type of food place that offers seafood meals. This restaurant is also owned and managed by a Filipino family which is great knowing that there are successful Pinoys in the United Arab Emirates.

inside the restaurant
Food and tables are made of wood and it has an open carenderia-type set-up, similar as you would eat in typical Philippine restaurants.
You choose your food (CATCH), choose the SAUCE and how spicy you want it to be.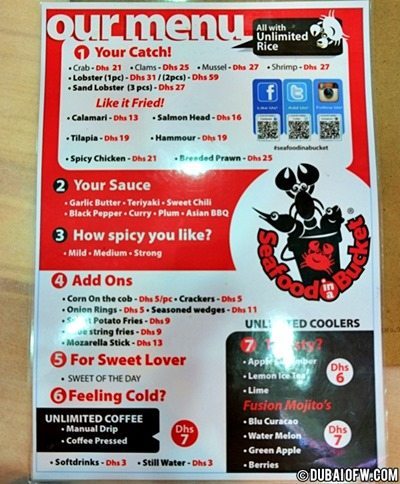 click to view a larger size
Food Menu Options
Seafood in a Bucket restaurant offers you an option to create your special meal. From lobsters, crab, clams, mussel, shrimps, hammour, etc. to name a few. After you've chosen the catch, you then choose the sauce whether it's garlic butter, teriyaki, sweet chili, black pepper, Asian BBQ, etc.
They also have side dishes like corn on the cob, mozzarella sticks, sweet potato fries, etc. as well as drinks and desserts.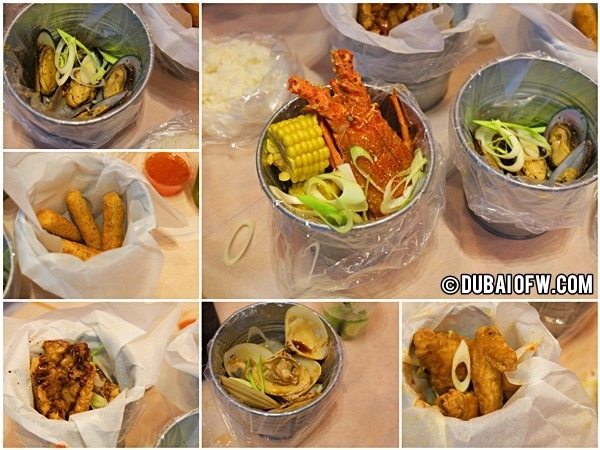 Mussels, mozzarella sticks, hammour, lobster, chicken wings, clams

couldn't wait to help ourselves
This is a good place to eat because the prices are affordable. In case you're not feeling the seafood, there's chicken wings available. The food is served in buckets and they have plastic gloves available so you can eat with your hands. They also have spoon and fork in case you don't want to use the gloves.
Compared to the Al Attar branch, this SIAB resto has a much bigger space. Even so, there were plenty of people inside the restaurant and we had to wait a few minutes to get spare seats.
I heard stories about other customers having to wait for some time to have their food served, but in our case, it didn't take long. The management is doing their best to cater their customers and provide better service.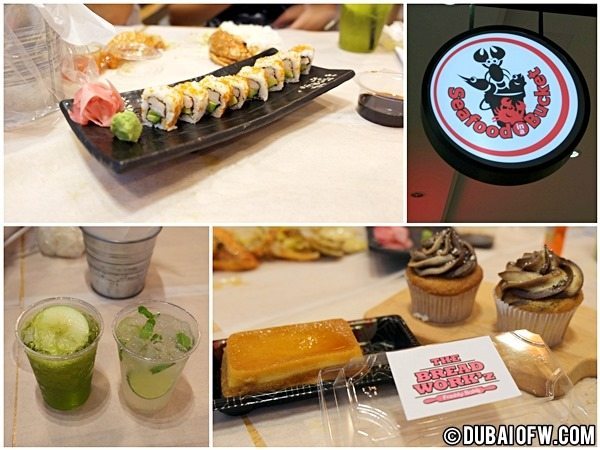 sushi, drinks and desserts!

seafood on a paper mat, time to eat – boodle fight style!
Just a note: Bring a lot of patience with you. Because there are plenty of customers, you MIGHT not get served right away. Based on blogs and experiences from other customers online, they said that it took a long time for them to have their food delivered.
It may be a case to case basis as other customers had their food served without delay. Based on the queue of customers, it doesn't stop a lot of people from eating as the food and the dining experience is already something worth going back for.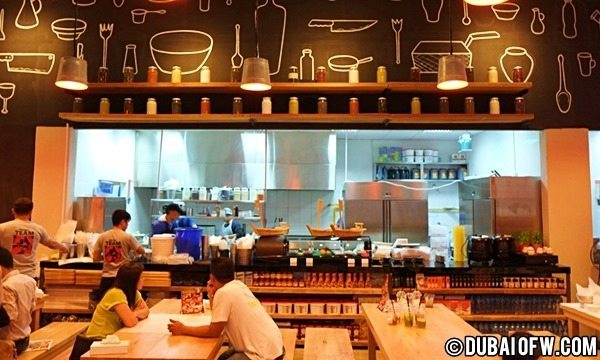 kitchen at the back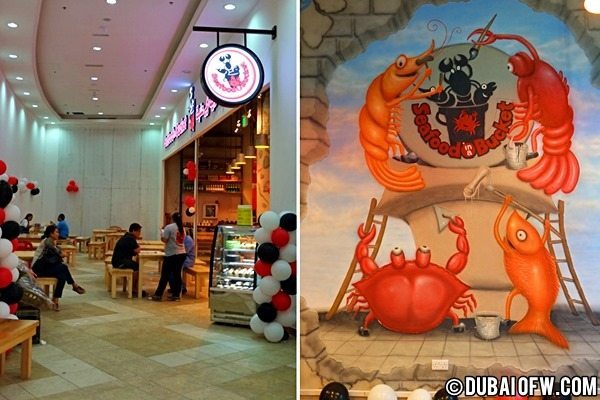 in Ansar Gallery mall
They will soon open another branch in Deira which is great as the demand is getting higher. We will update this page once the Seafood in a Bucket – Deira will open.
Contact Information
ANSAR Branch: 043968995
Address: Ground Floor – Ansar Gallery, Karama
Nearest Metro Station: Burjuman Metro Station – Red Line
ATTAR Branch : 043885219
Address: Ground Floor, New Al Attar Centre, Sheikh Khalifa Bin Zayed Road, Al Karama, Dubai
Nearest Metro Station: Karama Metro Station – Red Line