It's time for another interview with a Pinoy in Dubai. This time let's read about the story of a Filipina who has been living in the UAE for 12 years! Carla came to Dubai to join her immediate family as everyone else was living here.
Carla is also the author of the blog "My Yellow Bells" where she shares her life in this desert city. Another thing to take note is that in the 12 years of being in Dubai, she has worked for two employers in this time period only. Most expats in Dubai tend to switch jobs for various reasons but Carla has stayed long in each one.  Get practical tips and learn from her story here.
OFW Profile: Executive Assistant in a Real Estate Company
OFW Profile: Real Estate Executive Assistant
Name: Carla
Education: Mass Communications Major in Broadcasting
How Long in Dubai: 12 years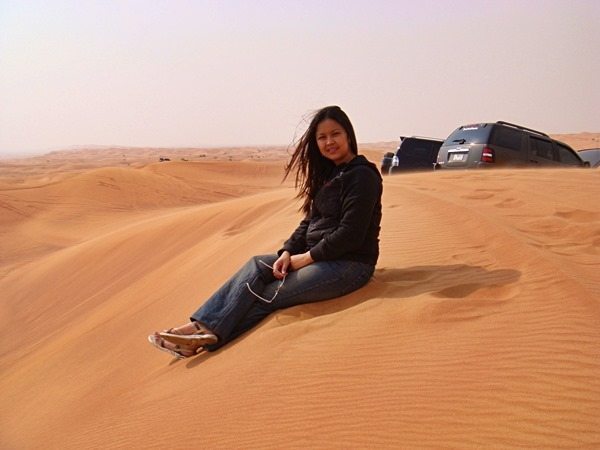 Carla in the desert
1. Tell me about yourself.
Hi, I am Carla, 33; married, with 2 kids' age 10 and 4. I am currently working as an Executive Assistant in a Real Estate Developer company. I am an alumna of PUP with a Bachelors Degree in Mass Communication Major in Broadcasting, batch of 2002. Dubai (UAE) has been my home, our home for the last 12 years.
After a very short working stint in the Philippines, my sister asks me to follow her in Dubai. My dream job back then was to work in Etisalat but I didn't get employed there. When my visa ends, I went for a visa run where I stayed in the airport for three days while waiting for my new visa to be released. Lucky enough, I was hired as a Sales Executive for a Turkish jewelry store when I came back. I spent one and a half year in this job then my company asked me to work in the head office as Admin Asst/PA to the GM. I lasted three and a half years. A better job opportunity knocks on my door and I grab it, I am still with them up to this day. Just two companies in 12 years, these companies are good giving me no reason the leave too fast.
2. Why did you come to Dubai?
The main reason I came to Dubai was to join my immediate family, all of them were already here and I was on my own in the Philippines. Second was to work and fulfill my dream of working in Etisalat but little did I know that it wasn't so easy to land a job there, I was so naive. I dropped the idea and work someplace else.
3. What were your previous jobs?
I only had three official jobs in two companies in Dubai as I have mentioned above however I had a couple of part time jobs, one was as a gaming assistant in Global Village for 10 days (in Garhoud) and as a waitress in Le Meridien Hotel for a day. Back in the Philippines, I worked as a Customer Service Executive at Robinsons Supermarket for three months after graduation and in Jollibee while I was in college, again for another three months.
4. How do you find your current job? Are you happy / satisfied with it?
My work is a mixture of administrative-hr-public relations and although it is not my line, I am happy that I have it and I am keen to stay in it. I also believe that I maybe not the best but I am good at what I do there. The company is strong and the people are professional and kind. There was never a time in the last six years that the salary was ever late. What else could I asked for, I think I am blessed.
5. Are you able to save in Dubai? Why/How?
Raising a family in Dubai is not easy. It feels the same way as if we're back home, earning and spending every penny since almost all our income goes to the basic needs including house rent, water and electricity bill, child care, school and transport fees, fuel and toll fee, food and a little entertainment for the kids each weekend. We have a small stocks investment back home and some stocks investment locally.
6. Is it difficult to live in Dubai? What are your struggles? What's life like outside work?
Dubai is a tax free and a very safe country that's why it is an ideal place to live and work. It is not difficult to live here, once you know the rules and the culture and you abide by them, you will be just fine. Dubai does not offer permanent residency though, only a permanent job will do because your employer will get you a residence visa which will allow you to stay in Dubai legally.
Just about a year ago, my husband lost his job. It was a trying time for us since part of the family income was lost as well as his residency. Thankfully he is now fully employed again. Living here makes you miss your family a lot. Homesickness is an OFW's ordeal. Even I who have my family around me can't help but miss the life in the Philippines from time to time.
When I am not working, I spend my days with my kids, friends and family. Dubai perfected the formula of awesomeness and you'll never run out of things to do because every day there is something new to try. That's one reason why I kept a blog, to keep memories and experiences somewhere I can easily refer to and share to others as well. It is called My Yellow Bells-named after my late dad's favorite flower.
7. What do you Like about Dubai?
I like the pristine beaches and its proximity, the whole year sunshine even during winter, its tax free, safety, and the people.
8. What do you NOT Like about Dubai?
Heat and humidity in July and August, I hate it just because it is too sticky to go out even after you just had a shower.
9. What are your plans in your career/family/future?
Career wise, I am happy where I am right now, no plans of moving out just yet. I just want the kids to finish their education and be prepared in life. In the future, I want to be able to travel in different countries with the husband and the kids. If there are opportunities to travel now then it is more than welcome. I also want to invest in properties in the Philippines where we can retire somewhere in my husband's province.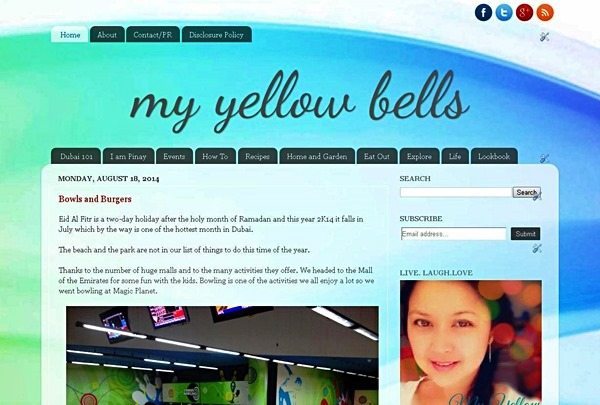 Carla's blog page
10. Tips for Kabayans when working/finding work/living in Dubai?
Don't get too overwhelmed by Dubai's lifestyle, glitz and glamour. Keep in mind the first reason you came here, it will keep you focused on your priorities. Find a job as quickly as possible, but the one you like really want. Do it as a daily exercise, send out as many CVs as you can, your time is ticking, I'm sure that the sound of staying in Kish or Oman for one whole month or going back home doesn't sound so appealing to you.
Learn and understand the rules and respect the culture of your host country and of your colleagues. Expect that you will have a multicultural work environment so be prepared to deal with different people. Love your work and do it good. Surround yourself with good positive and like minded people, avoid bad vibes. Save. Save. Save. Enjoy and have a life outside work when you can, Dubai is the best place to be but set your limits and don't forget your priorities.
Connect with Carla on Social Media:
Facebook: https://www.facebook.com/myyellowbells
Twitter: http://twitter.com/myyellowbells
Website: http://myyellowbells.blogspot.ae/
*Photos provided by Carla
————————
Do you want to be featured in our OFW Interviews? Send us an email at admin@dubaiOFW.com.