The last year has been quite challenging for everyone – even (or more so) for Filipinos working overseas. The need to work harder and support their families back home has never been greater until the pandemic happened.
ALSO READ: Supercar Blondie Surprises Employee With His Dream Car
And aside from the financial burden on the workers and their families, there's also the psychological component of it, where they want to be with their loved ones during these uncertain times and just to live every moment with them. Despite facing this predicament, Filipinos still need to do what they have to do and do what they can to make things better for their families back home.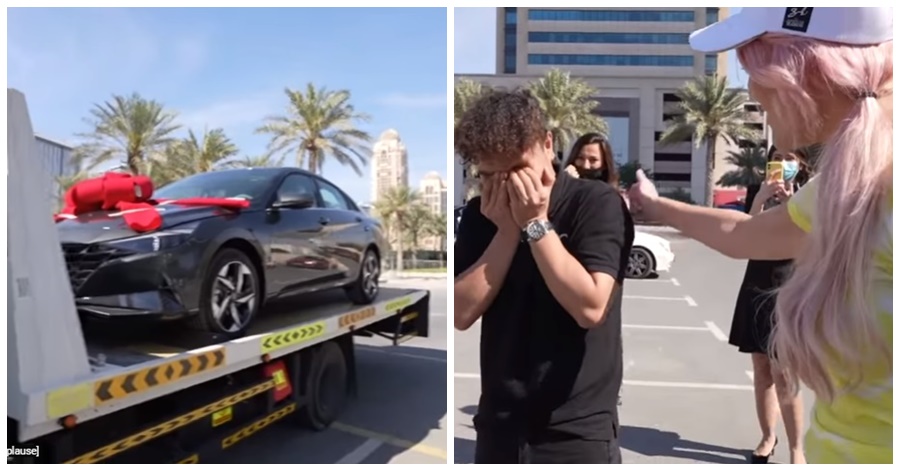 Supercar Blondie Surprises Filipino Office Worker in UAE with New Car
It's also a good thing that there are people like Supercar Blondie, who are thinking of others and try to bring smiles and joy to those who are struggling at a time like this.
On her Instagram page, the YouTube vlogger announced that she is holding a competition, where she is giving away three brand new cars from Hyundai UAE and Middle East: an Elantra, and two Creta. They are looking for three people who are deserving of the prizes, and within 24 hours after posting the announcement, they received more than 2,700 emails nominating people for the prize cars.
One of which came from Abir, an office manager nominating her Filipino assistant, Jeric, whom she considers one of her main team members.
Abir had nothing but praises for her prized team member, especially since she knows his humble beginnings, where he came from, and how he started to build a life in Dubai – with their company.
According to Abir, Jeric has the memory of an elephant. He memorizes orders with zero mistakes. And on top of that, he works hard and keeps a smile on his face – ready to help everyone.
It is for this reason that if Abir only had the capacity to help him with what he had been going through, especially during the past year, she said that she definitely would. And so, when the opportunity came up, she immediately nominated Jeric.
Abir and everyone in the team knows that Jeric is a big fan of Supercar Blondie, and so they told him that he was going to have a photoshoot with her at the carpark.
So when Jeric saw Alex (Supercar Blondie) in person, tears immediately formed in his eyes. He's such a big fan and had wanted to meet her in person for a very long time now.
But what really made him cry was the kind words that Alex said to him – the hard work he did for his team and his efforts to make their workplace fun and a great place to be in, based on his manager's feedback.
So when Supercar Blondie told him that he was one of their winners, with his brand new Hyundai Elantra waiting for him to check out, Jeric was just speechless. He was crying and thanking Alex in between sobs.
He also shared that it's because of his mom that he's working so hard. He said that even when his mom tells him that she's okay, he knows that she is feeling lonely, too. And so, he couldn't help but worry more about her and want to take care of her as best as he can. But for now, this means that he has to work hard and to support her during this difficult time, even if they're not together.
Jeric shared with Alex that the car is for his mom.
To catch the full clip of the heart-warming turnover, check out the video posted by Supercar Blondie on her YouTube page below:  
In the video, two other families were gifted with brand new Cretas – two fathers who both strived to support their families during the pandemic.
Indeed, it's such a nice feeling to know that despite the challenges we've all faced and experience to this day, people are still looking out for each other, and no hard work goes unnoticed, especially from family and teammates who are relying on your strength during this time.
READ NEXT: Social Media Celebrity, Supercar Blondie, Surprises Filipina Employee with Cash Gift