One evening, we went out to have dinner. We were planning to watch a movie in VOX cinema and we still had time to spare. We decided to try Texas Roadhouse restaurant  in DCC. I'm new in Dubai so every food place is always a welcome treat especially when I have not eaten in that resto before.
Restaurant: Texas Roadhouse Restaurant
Location: 2nd Floor, City Court Area – Deira City Center Mall (Beside PF Chang's Restaurant in DCC)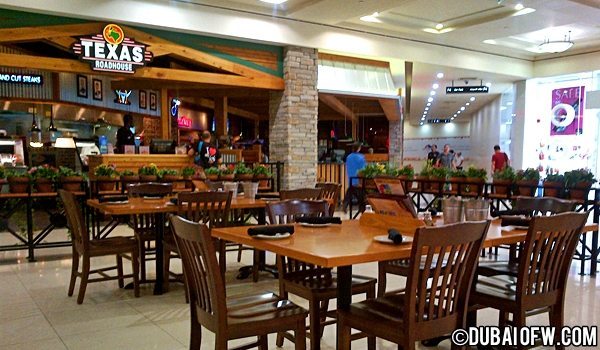 Dubai Texas Restaurant Roadhouse
Dining at Texas Roadhouse Dubai
We chose a table outside since as the lights were brighter. You can pick a table in the restaurant for a cozier ambiance. On with the food..
What I like best about this American-style restos are the side dishes that come with the main meal. I loved the mashed potato! Props to them as well for giving us peanuts and bread to munch while waiting for the main meal.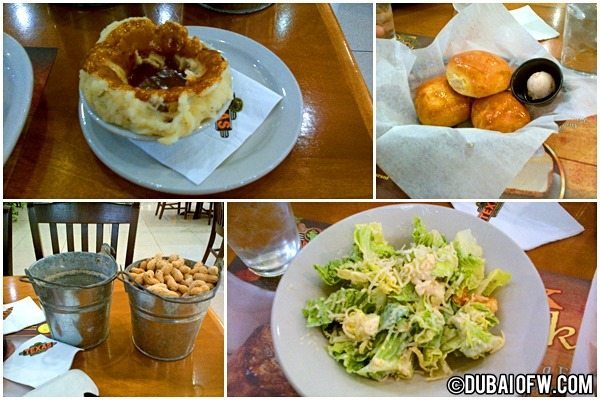 Mashed Potato, Bread and Butter, Peanuts for starters and Caesar salad
We had a rib and steak combo. It was a little beyond our budget but we still picked it since this is what Texas Roadhouse is known for. Might I say the meat would just slide off the bone! We also got fish to counter the meat. lol.
Here's the rest of our meals…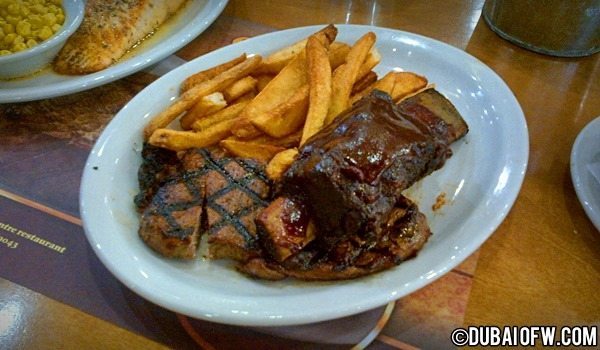 Rib eye Steak Combo with Beef Rib – 129 AED
Texas-Sized Combo meal served with your choice of two side dishes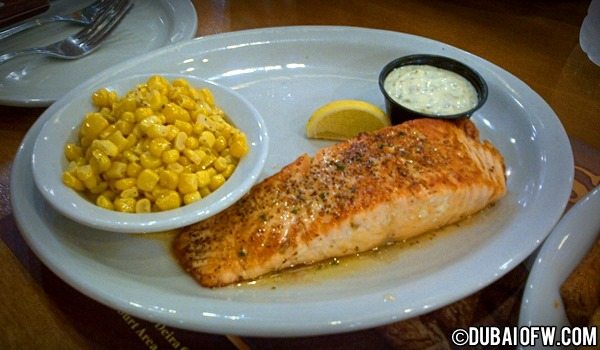 Grilled Salmon
A fillet of salmon steak, grilled moistnd tender, then topped with our special lemon pepper butter and served wit tartar sauce – 69 AED
Cheesecake Promo
What prompted us to eat at Texas Roadhouse was also the free slice of cheesecake they offered. If we buy a hand-cut steak from them, we'd get a desert included. This was one of their Dubai promotions and we were gladly persuaded to try this place out for the freebie.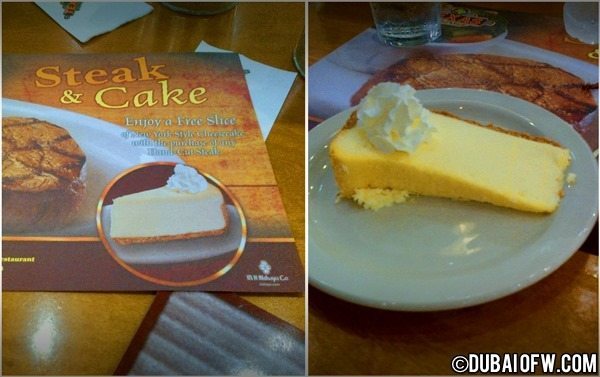 the 'cute' slice of cheesecake
Texas Roadhouse – An MH Alshaya Company
The Texas Roadhouse Story

Texas Roadhouse was founded in 1993 with a dream to create an authentic Texas-style restaurant with the same look, feel and tastes of the local roadhouses. With over 3755 US restaurants today, Texas Roadhouse is famous for hand0cutsteaks, fall-off-the-bone ribs, made-from-scratch sides and fresh baked bread.

Over the years, Texas Roadhouse has been named the umber on steakhouse in America by Consumers' Choice in Chains survey and was recognized as on of the nation's best companies by Forbes magazine.

-from Texas Roadhouse menu
How to Get There:
Restaurant: Texas Roadhouse Restaurant
Location: 2nd Level, Deira City Center Mall
Metro: Deira City Center Metro Station – Red Line
Telephone Number: (04) 298 9043