Known for its ultramodern architecture – with the world's tallest skyscraper built on its land, impressive man-made islands, luxury cars just typically roaming their streets, and automated teller machine dispensing gold (while ours only have the capacity to dispense cash!), it is no wonder Dubai is listed among the most expensive cities in the world, let alone in the whole United Arab Emirates.
All these impressions of luxury, the image painted mostly by the social media, could easily intimidate a true blue backpacker just like me. I had this vague thought back then that visiting Dubai needed A LOT OF MONEY. In fact, Dubai wasn't even part of my plan. But life, really, is that complicated. You just don't know where it will bring you next.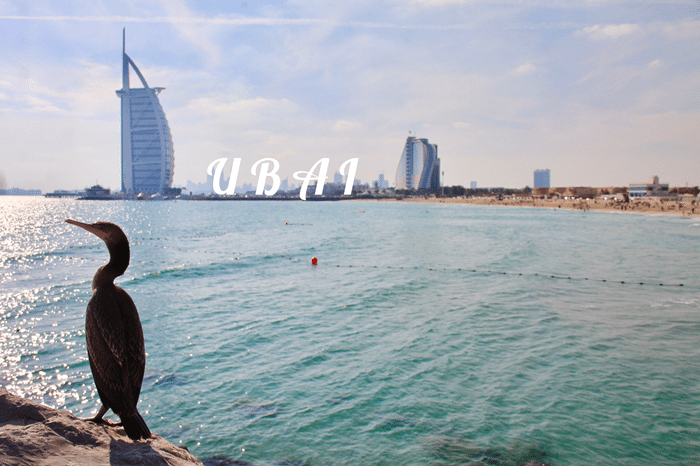 Things to Do in Dubai for FREE
So, jump-starting my life in this part of the Middle East, I tried to amuse myself looking for worthy attractions to visit without spending much of my precious dirhams. It came as a surprise as well as I learned that there really are places in this luxurious city that can be visited for FREE.
Here's a quick guide you may want to consider if you're planning your visit in Dubai. And I hope you will enjoy the city in its current form – caught in between their strong traditions and ambitious futuristic vision.
1. Art appreciation at Al-Satwa's 2nd December Street!
The street has 16 striking wall paintings which were made by various international graffiti artists. These murals showcase the rich culture and heritage of the United Arab Emirates.
How to Get There: Ride a metro (red line) and go down at Al Jafiliya Staition then take a bus (32C, 88, C15, C26, F12, X28) and alight at Satwa Roundabout.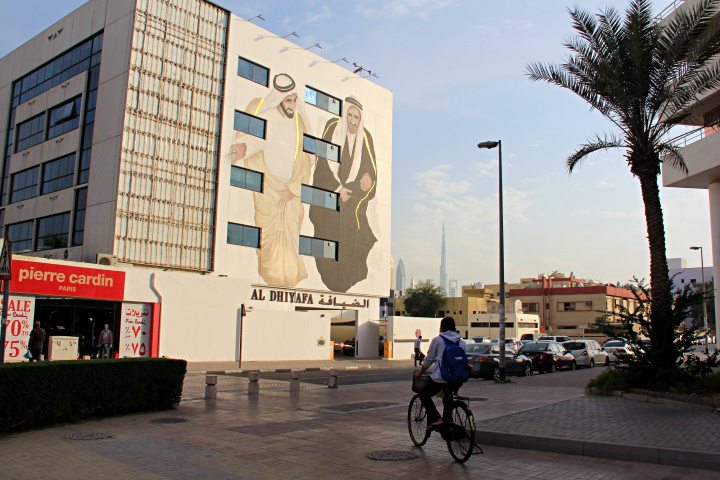 Al Satwa street art
2. Window Shopping at Dubai's Old Souq.
A traditional market in Dubai where a wide range of their local products (gold, fragrances, spices etc.) are being sold.
How to Get There: Ride a metro (green line) and go down at Al Ras Station.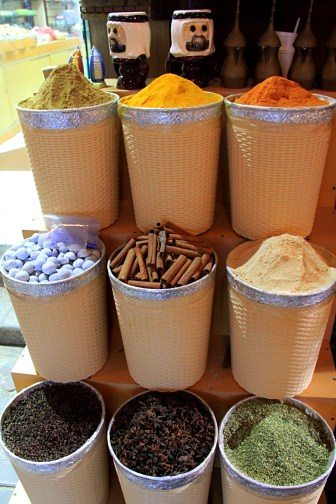 Spice souq
3. Observing the Water Taxi and Luxury Yacht at Dubai Creek.
The long watercourse of the creek divides the Diera and Bur in Dubai where the traditional water taxis are located. You can also spot the luxury yachts within the area. They do offer dinner cruise.
How to Get There: Ride a metro (green line) and go down at Al Ras Station. Cross the Old Souks and ask the locals where the water taxi terminal is.
 Tip: I visited the Old Souks first then I went to Dubai Creek and rode a water taxi going to Al Fahidi Fort. I paid 1 AED/0.25USD for the fare.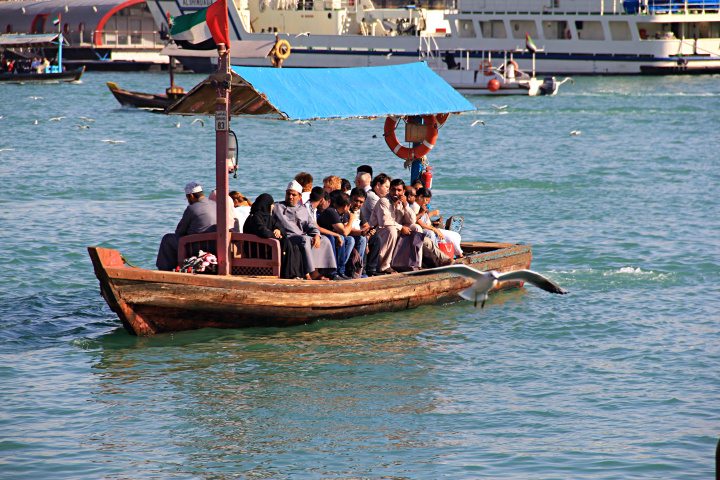 Dubai creek
4. Knowing the City's History at Al Fahidi Fort.
Dubai museum, the main museum in Dubai, is considered to be the oldest existing building in this emirate. It is located in Al Fahidi Fort and is situated just across the Dubai Creek and Dubai Old Souk. The museum aims to present the traditional way of life in Dubai. The structure is also surrounded by old houses and buildings around it.
How to Get There: Ride a metro (green line) and go down at Al Fahidi Station.
Note: The museum's admission fee is 3 AED/0.8 USD (I did not enter the museum. I just see what  the structure around the museum)
outside Al Fahidi Museum
5. Watching the Amazing Musical Fountain Show in Front of Burj Khalifa.
This is by far my most favorite! The Dubai Fountain is the largest choreographed fountain system in the world located right in front of the world's tallest building, Burj Khalifa.
How to Get There: Ride a metro (red line) and alight at Dubai Mall Station. Just follow the path going to the mall and go after the signage of Dubai Fountain.
Burj Khalifa
6. Night Exploring at Marina Dubai.
A man-made canal constructed along the shoreline of Persian Gulf. Restaurants, cafes, dinner cruises and yacht for-rent are available along Marina Walk.
How to Get There: Ride a metro (red line) and go down at DAMAC Properties Station.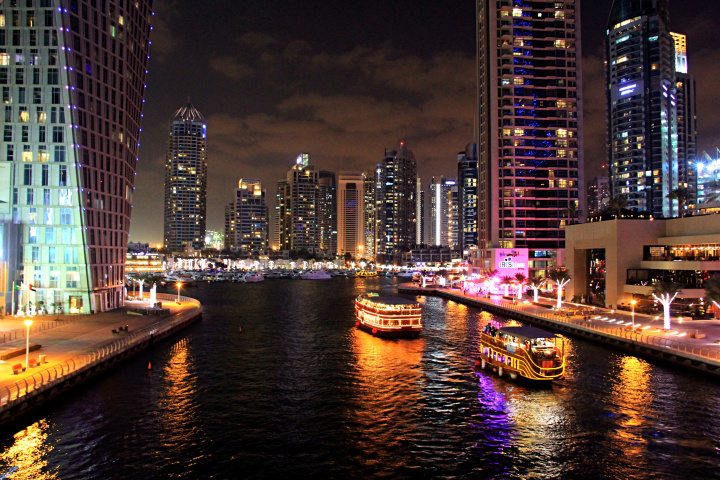 Dubai Marina at night
7. Beach Bumming at Jumeirah Public Beach.
Jumeirah Beach is a whitish/yellowish beach that is open for the public. You can rent a kayak and snorkel or just beach bum in front of the only 7-star hotel in the world.
How to Get There: Ride a metro (red line) and go down at  Mall of Emirates then take a bus number 81 and alight at Wild Wadi or Majarba Masjid. at  Mall of Emirates then take a bus number 81 and go down at Wild Wadi or Majarba Masjid.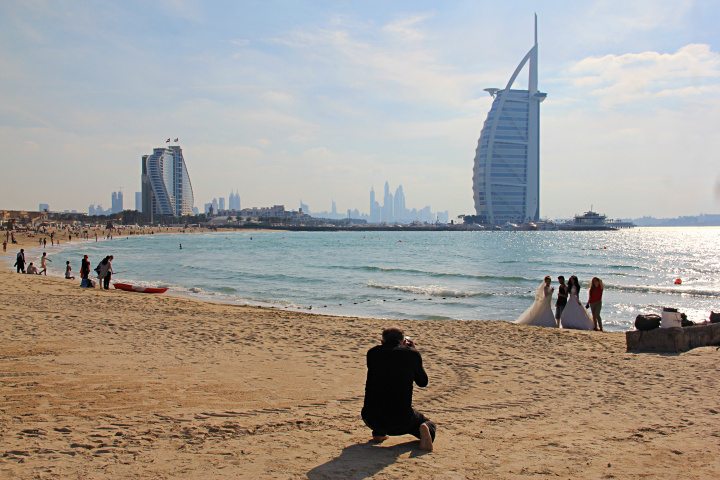 Jumeirah public beach
8. Chasing the Glowing Man-made Waterfalls at Dubai Water Canal.
The Dubai Water Canal is a man-made canal with a motion controlled waterfalls alongside its bridge and railway. The curtains of waterfall opens when a boat or a yacht is passing underneath the bridge and railway. This is also my favorite photo-taking spot.
How to Get There: Ride a metro (red line) and go down at Business Bay Station. Just follow the course of the metro railway and walk for about 10-15 mins.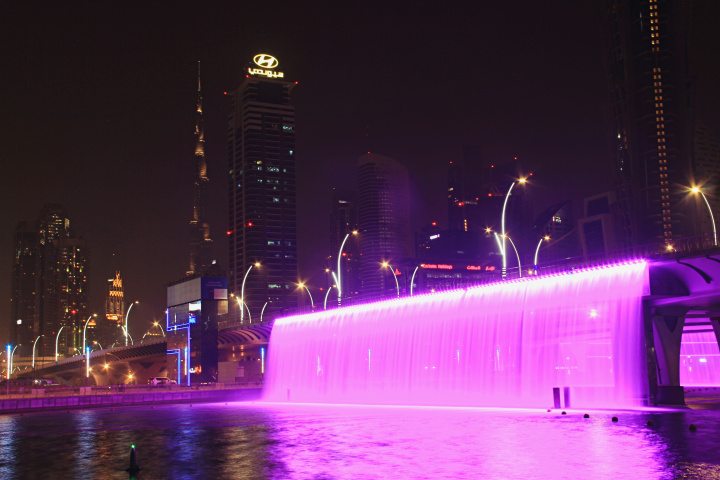 Dubai Water Canal – waterfalls
---
About the Author: Suharto

Suharto Kamir is a health care personnel by profession and an enthusiast travel photographer/blogger by heart. He has been travelling around Asia across 11 countries. He finds traveling as an escape through all the life's heartbreaking moments.
Blog link: tsetseflying.com
Email: suharto_kamir@yahoo.com
---
Share your thoughts. Contribute an article to DubaiOFW.com
Want to publish your experience? Share your everyday stories, food trips, travel, photo stories, or tips in Dubai to our growing community. More information here – Become a Dubai OFW Contributor!