As much as we are told to stop, look, and listen before crossing the street, there can be moments when we just mindlessly move along the pathway, especially when we're so used to doing it on an everyday basis.
However, when something unusual pops up (literally) right in front of you, will you not care to give it a second, third or even fourth look? This is something that you need to see if you're in the UAE, or at least in Al Marfa City.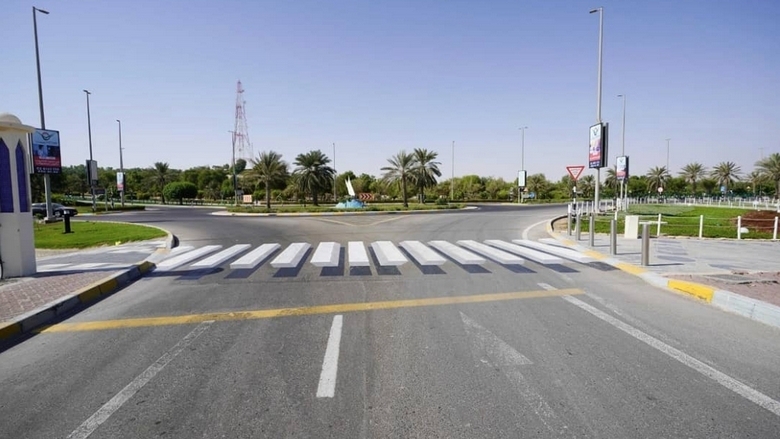 [LOOK] Have You Seen this Eye-Catching Crossing in the UAE?
The municipality in the UAE's Al Dhafrah region has created some kind of an attraction – a zebra crossing with a 3D effect, creating the illusion of raised white parallel lines above lines painted in darker colors, which is sure to catch the attention of any motorist or pedestrian, as shared in a report by the Khaleej Times.
From afar, the design creates an optical illusion which makes the zebra crossing appear like it is floating a few centimeters above the road, casting a shadow.
Through this artistic initiative, hopefully, pedestrians and motorists will both be made more aware as to where zebra crossings are located, and to be more mindful as to how to use these road facilities.
To put it into perspective, almost 18% of the death toll on the streets in the UAE arises from 'running over' of pedestrians.
To counter this, zebra crossings are designed to provide safe passage for pedestrians.
Through this, motorists are made aware that they are in a stronger position, and that pedestrians are in a very vulnerable position, especially at those zebra crossings without any traffic lights.
This being the case, motorists need to be considerate and extra vigilant when approaching zebra/ pedestrian crossings.
Here are some things which residents should take note of when approaching zebra crossings:
For Motorists:
The yield signs at zebra crossings indicate that pedestrians have right of way – be sure to follow it!
Slow down when approaching the zebra crossing, and stop to make sure pedestrians can cross safely.
If there are cars behind you, use your hazard lights for warning when you approach the zebra crossing.
If you approach a zebra crossing and you see pedestrians on the street already crossing, be sure to stop to allow their safe passage.
Remember: once you get out of your car, you are also a pedestrian, and you also want other drivers to watch out for you so be sure to do just that.
For Pedestrians:
Avoid any distractions when crossing the road. Do not use headphones or put away your phone when using a zebra crossing.
Make eye contact with approaching motorists and make a signal if you are about to cross the street.
Do not be reckless when using the zebra crossing. Always stop, look, and listen for any approaching vehicles in the area.
Never cross the road on a red light.
While it's interesting to find new sights on the street, the most important thing for any road user is to exercise caution and presence of mind when crossing the street or approaching road facilities such as zebra crossings.
ALSO READ: Schoolbus Driver Ignores STOP Sign and Almost Runs Over Child