Aside from Gitex shopper season, the Al Ain Computer Plaza is one of the places where you can buy cheap laptops, computers, hardware and software, Macbooks, etc. in Dubai. This is a shopping mall which is located outside a Al Fahidi metro station. They also offer computer repairs and gaming accessories.
Based on our experience, the best time to buy computers in Dubai is during Gitex Shopper as this is the biggest shopping festival on gadgets and technology. But in case you miss it, one of the places you can head to on a regular day is the Al Ain Computer Plaza located in Bur Dubai.
Nearest metro station: Al Fahidi station (Green Line)
Computer Plaza shopping mall in Dubai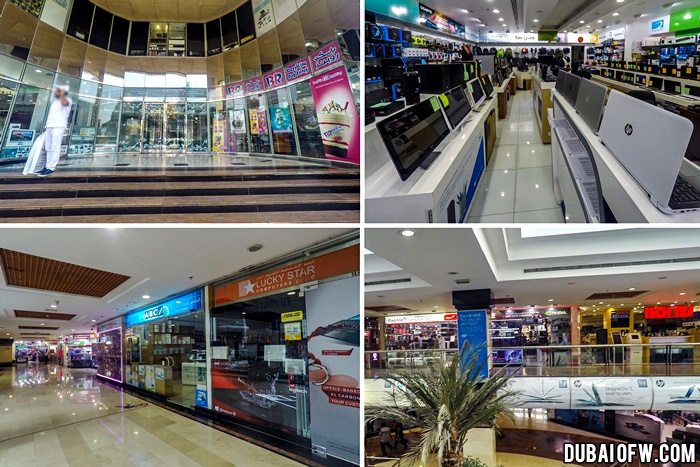 various shops inside the plaza. We visited on a weekend when not as many shops were open
Al Ain Centre Computer Plaza: Buying Computer Parts, Hardware, Laptops, Macbooks, etc.
Why is this a good place in Dubai  to find affordable computers and parts?
The Plaza is composed of computer retail shops that sell various laptops and computers. I was advised by a staff that they are the ones supplying the bigger and more well-known computer and technology shops inside the malls in the city. So you can get the items usually at a cheaper rate. If you are a business owner and you might buy in bulk, you can get a discount or haggle the final price of your purchase.
Please note that you should NOT expect that the prices of these technology gadgets are dirt cheap, because these are still gadgets! The thing is there may be a slight difference in their prices compared to the ones in malls. You may also check out some refurbished laptops and Macbooks as you wish.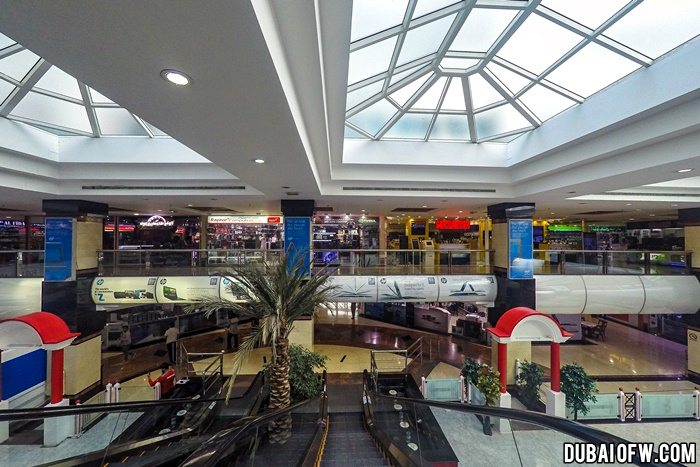 inside the Al Ain Plaza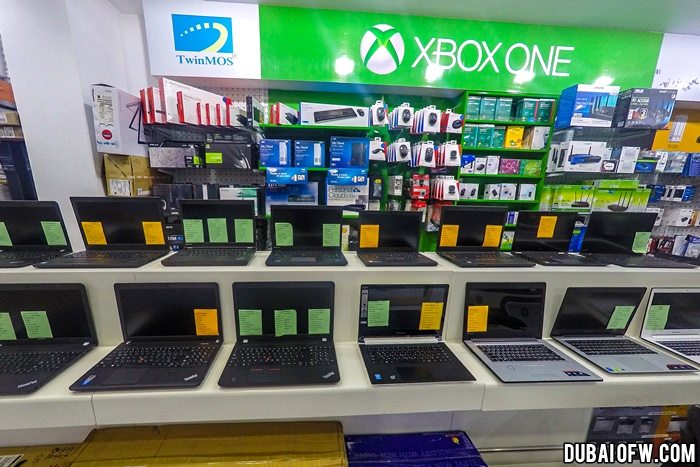 Lucky Star Computer Shop in Al Ain Centre
Buy Cheap Computer Parts in Al Ain Computer Centre
I have not yet purchased a laptop in this place because I always wait for Gitex season which is much cheaper, but I have bought some computer parts like a extra RAM and new original manufacturer batteries. I have also had my laptop serviced for repair here. In case you cannot wait and need to buy a computer, the Al Ain Computer Plaza is one of the places we recommend.
Here's a video clip of how this computer shopping mall in Bur Dubai looks like.
Additional Tip: Buying Computers in Bur Dubai Area
As an added tip, there are also shops in Bur Dubai that sell cheap laptops and computers, take for example a few shops in the Khaleej Centre (another plaza opposite Al Ain Centre) or the ones further towards Meena Bazaar. You may need to take time in visiting these shops, but these are the areas in Old Dubai where you can get some good finds. As for me, I'm fine with getting my laptop parts in Al Ain Plaza.
Al Ain Computer Centre
Address: Al Mankhool Road, Al Mankhool, Dubai
Opening Hours: 10:00AM – 10:30PM
How to Get There 
Ride the metro and stop at Al Fahidi metro station (green line)
Ask the RTA staff for the Exit leading to Etisalat/Al Ain Plaza and take that Exit.
The computer centre is just about a minute walk. It's next to Commercial Bank of Dubai.
Computer parts, PC, Apple products, hardware and software, gaming accessories, etc. you can get these They also offer laptop repairs and custom computer configuration so if you need to have your gadget serviced, you can have it fixed here.
Google Map Location
Below is a map location how you can get to Al Ain Centre. Please be guided for reference.