Al Ansari Exchange is a leading money exchange in UAE and has one of the largest branches network in the country. Al Ansari exchange meets the high quality of service. If you are a tourist in UAE and you need to exchange your money to UAE currency or if you are an expatriate and you needed to send money to your home country.
We have compiled the branches in UAE for you to exchange money and remit to another country. The list below have the address and contact number for you to easily locate. Below are the details.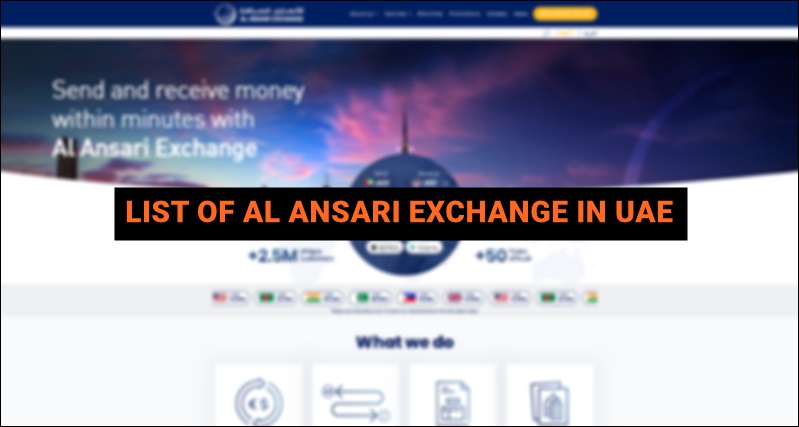 UAE Directory: Al Ansari Money Exchange Branches
If you are looking for a specific branch in an area near you, please see the gathered directory listing of Al Ansari Money Exchange centers from each emirate.
Al Ansari Exchange Dubai Branches
AL AWEER BRANCH
Address: Union Co-Op Society, Al Aweer,Dubai , Dubai
Working Hours: Saturday – Friday : 08:00 AM – 10:30 PM
Phone: +971 – 600 54 6000
AL BARSHA MAIN BRANCH
Address: Shop No.2, Ground Floor, Al Ansari Business Centre, Al Barsha 1 , Dubai
Working Hours: Saturday – Thursday: 08:00 AM – 11:00 PM, Friday: 02:00 PM – 11:00 PM
Phone: +971 – 600 54 6000
AL BARSHA MALL
Address: Al Barsha 2, Al Barsha Mall , Dubai
Working Hours: Saturday – Friday: 08:00 AM – 11:00 PM
Phone: +971 – 600 54 6000
AL DHIYAFAH CENTER BRANCH
Address: Shop No. 2 and 3, Ground Floor Dubai International Real Estate Building Al Diyafah Road, Dubai , Dubai
Working Hours: Saturday – Friday: 08:00 AM – 11:00 PM
Phone: +971 – 600 54 6000
AL FAHIDI ABRA BRANCH
Address: Old Abra, Near Bank of Baroda, Al Fahidi, Bur Dubai, Behind Dubai Museum, Dubai , Dubai
Working Hours: Saturday – Friday: 08:00 AM – 11:00 PM
Phone: +971 – 600 54 6000
AL FAHIDI SOUQ BRANCH
Address: Shop No. GR94, Ground Floor, Block No. 2, Al Fahidi Market, Al Souq Al Khabeer Area, Dubai, UAE , Dubai
Working Hours: Saturday – Thursday: 09:00 AM – 11:00 PM, Friday: 04:00 PM – 11:00 PM
Phone: +971 – 600 54 6000
AL GHADEER TOWER BRANCH
Address: Ground Floor, Al Ghadeer Tower 1, Shk. Zayed Rd Dubai , Dubai
Working Hours: Saturday – Thursday: 08:00 AM – 11:00 PM, Friday: 02:00 PM – 10:00 PM
Phone: +971 – 600 54 6000
AL GHUBAIBA BRANCH
Address: Al Ghubaiba Bus Station, Bur Dubai,Dubai , Dubai
Working Hours: Saturday – Friday: 08:00 AM – 11:00 PM
Phone: +971 – 600 54 6000
AL KARAMA BRANCH
Address: Al Karama , Bur Dubai , Dubai
Working Hours: Saturday – Thursday: 08:00 AM – 11:00 PM, Friday: 02:30 PM – 10:30 PM
Phone: +971 – 600 54 6000
AL KHAIL MALL BRANCH
Address: Ground Floor, Shop No. 6, Al Khail Mall, Al Quoz, Dubai , Dubai
Working Hours: Saturday – Wednesday: 08:00 AM – 10:00 PM, Thursday – Friday: 08:00 AM – 11:00 PM
Phone: +971 – 600 54 6000
AL KHALEEJ CENTRE BRANCH
Address: Ground Floor, Al Khaleej Center, Bur Dubai , Dubai
Working Hours: Saturday – Thursday: 09:00 AM – 10:00 PM, Friday: 02:00 PM – 10:00 PM
Phone: +971 – 600 54 6000
AL MUROOJ COMPLEX BRANCH
Address: Al Murooj Complex, Sheikh Zayed Road, Dubai , Dubai
Working Hours: Saturday – Thursday: 08:00 AM – 11:00 PM, Friday: 03:00 PM – 11:00 PM
Phone: +971 – 600 54 6000
AL NAHDA TWIN TOWER BRANCH
Address: Unit No. 9, Ground Floor, Twin Tower Al Nahda, Dubai , Dubai
Working Hours: Saturday – Friday: 08:00 AM – 11:00 PM
Phone: +971 – 600 54 6000
AL RIQQA BRANCH
Address: Al Mamura Bldg, Opp Abu Dhabi Comm'l Bank, Al Riqqa St, Deira, Dubai , Dubai
Working Hours: Saturday – Friday: 08:00 AM – 11:00 PM
Phone: +971 – 600 54 6000
AL SAFEER HYPERMARKET MURAQQABAT BRANCH
Address: Shop No. 1, Ground Floor, Al Safeer Market, Muraqqabat Deira, Dubai , Dubai
Working Hours: Saturday – Thursday: 08:00 AM – 11:00 PM, Friday: 02:00 PM – 11:00 PM
Phone: +971 – 600 54 6000
AL SATWA BRANCH
Address: Shop No. 12 & 13, Al Satwa Home Building, Al Bada'a, Al Satwa Road, Dubai , Dubai
Working Hours: Saturday – Friday: 08:00 AM – 11:00 PM
Phone: +971 – 600 54 6000
ANSAR GALLERY BRANCH – DEIRA
Address: Deira, Ground floor, near Salahuddin Metro Station , Dubai
Working Hours: Saturday – Friday: 08:00 AM – 11:00 PM
Phone: +971 – 600 54 6000
ANSAR GALLERY BRANCH – KARAMA
Address: Ground Floor, Ansar Gallery – Karama, Dubai , Dubai
Working Hours: Saturday – Thursday: 08:00 AM – 11:00 PM, Friday: 02:30 PM – 10:30 PM
Phone: +971 – 600 54 6000
ARABIAN CENTER BRANCH
Address: Shop No. 1615, Ground Floor, Arabian Center, Al Khawaneej Road, Al Mizhar Dubai , Dubai
Working Hours: Saturday – Friday: 08:00 AM – 11:00 PM
Phone: +971 – 600 54 6000
ARABIAN RANCHES BRANCH
Address: Kiosk K10, Community Centre, Arabian Ranches, Dubai , Dubai
Working Hours: Saturday – Thursday: 08:00 AM – 10:00 PM, Friday : 02:00 PM – 10:00 PM
Phone: +971 – 600 54 6000
BANIYAS SQUARE BRANCH
Address: Al Maktoum Hospital Road, near Commercial Bank of Dubai, Deira, Dubai , Dubai
Working Hours: Saturday – Thursday: 08:00 AM – 9:00 PM, Friday: 02:00 PM – 9:00 PM
Phone: +971 – 600 54 6000
BAY AVENUE BRANCH
Address: Shop.no.G45, Bay Avenue, Executive Towers M, Opp.Omniyat Bldg, Business Bay. , Dubai
Working Hours: Saturday – Thursday: 08:00 AM – 11:00 PM, Friday: 03:00 PM – 11:00 PM
Phone: +971 – 600 54 6000
BEACH CENTRE BRANCH
Address: Beach Centre, Jumeirah, Dubai , Dubai
Working Hours: Saturday – Thursday: 09:00 AM – 11:00 PM, Friday: 03:00 PM – 11:00 PM
Phone: +971 – 600 54 6000
BIN SOUGAT CENTRE BRANCH
Address: Bin Sougat Centre, Rashidiya, Dubai , Dubai
Working Hours: Saturday – Thursday: 08:00 AM – 11:00 PM, Friday: 03:00 PM – 11:00 PM
Phone: +971 – 600 54 6000
BURJUMAN CENTER BRANCH
Address: Branch Address: Shop No. 1020 & 1021, Level 3, Burjuman Center, Dubai , Dubai
Working Hours: Saturday – Thursday: 08:00 AM – 11:00 PM, Friday: 02:00 PM – 11:00 PM
Phone: +971 – 600 54 6000
CARREFOUR TECOM BRANCH
Address: Unit No. 4 GF, Carrefour Market, Dubai , Dubai
Working Hours: Saturday – Thursday: 08:00 AM – 11:00 PM, Friday: 02:00 PM – 11:00 PM
Phone: +971 – 600 54 6000
CENTURY MALL BRANCH
Address: Century Mall, 1st floor, Al Mamzar, Dubai , Dubai
Working Hours: Saturday – Friday: 09:00 AM – 11:00 PM
Phone: +971 – 600 54 6000
CITY CENTRE AL SHINDAGHA BRANCH
Address: Unit No. TW5, Ground Level, Opposite Mall Entrance, Dubai , Dubai
Working Hours: Saturday – Friday: 09:00 AM – 11:00 PM
Phone: +971 – 600 54 6000
CITY CENTRE DEIRA METRO BRIDGE LINK BRANCH
Address: Unit No. TW30 (DM # BLW01) City Centre Deira, Dubai , Dubai
Working Hours: Saturday – Friday: 08:00 AM – 11:00 PM
Phone: +971 – 600 54 6000
CITY CENTRE ME'AISEM BRANCH
Address: Unit No. G011, Ground Floor, City Centre Me'aisem, Me'aisem 1, Dubai , Dubai
Working Hours: Saturday – Friday: 09:00 AM – 11:00 PM
Phone: +971 – 600 54 6000
CITY TOWER 2 BRANCH
Address: Unit No. RT07, City Tower 2, Trade Center 1, Sheikh Zayed Road, Dubai , Dubai
Working Hours: Saturday – Thursday: 08:00 AM – 11:00 PM, Friday: 02:00 PM – 10:00 PM
Phone: +971 – 600 54 6000
CITY WALK 1 BRANCH
Address: CW1-K07, City Walk 1, Al Wasl, Dubai , Dubai
Working Hours: Saturday – Thursday: 10:00 AM – 10:00 PM, Friday: 02:00 PM – 11:00 PM
Phone: +971 – 600 54 6000
DEIRA CITY CENTRE BRANCH
Address: Shop G09, Ground Floor, City Centre Deira, Dubai , Dubai
Working Hours: Saturday – Friday: 09:00 AM – 11:00 PM
Phone: +971 – 600 54 6000
DRAGON MART BRANCH
Address: Ground Floor, I-Zone Area, Dragon Mart, Dubai , Dubai
Working Hours: Saturday – Thursday: 10:00 AM – 10:00 PM, Friday: 02:00 PM – 10:00 PM
Phone: +971 – 600 54 6000
DUBAI FESTIVAL CITY 2 BRANCH
Address: Ground Floor, Main Entrance, Near Ikea, DFC , Dubai
Working Hours: Saturday – Thursday: 09:00 AM – 11:00 PM, Friday: 09:00 AM – 11:00 PM
Phone: +971 – 600 54 6000
DUBAI FESTIVAL CITY BRANCH
Address: Ground Floor near Marks & Spencer , Dubai
Working Hours: Saturday – Friday: 09:00 AM – 10:00 PM
Phone: +971 – 600 54 6000
DUBAI FESTIVAL PLAZA
Address: Unit no. SU113, Ground Floor, Dubai Festival Plaza, Dubai , Dubai
Working Hours: Saturday – Thursday: 08:00 AM – 11:00 PM, Friday: 02:00 PM – 11:00 PM
Phone: +971 – 600 54 6000
DUBAI INTERNATIONAL AIRPORT TERMINAL 1 BRANCH – DEPARTURES AREA
Address: Unit No: Kiosk DXB-09-TB1-2001AA (Non-restricted Area) , Dubai
Working Hours: Temporarily Closed
Phone: +971 – 600 54 6000
DUBAI INTERNATIONAL AIRPORT TERMINAL 2 BRANCH – ARRIVAL AREA
Address: Arrival Area, Terminal 2, Dubai Intl. Airport , Dubai
Working Hours: Temporarily Closed
Phone: +971 – 600 54 6000
DUBAI INVESTMENT PARK SHOPPING CENTER BRANCH
Address: Shop No. 6, Ground Floor, Carrefour Market, Dubai Investment Park 1, Dubai , Dubai
Working Hours: Saturday – Thursday: 08:00 AM – 11:00 PM, Friday: 02:00 PM – 10:00 PM
Phone: +971 – 600 54 6000
DUBAI MALL 3 BRANCH
Address: 2nd Floor, near the food-court entrance (Aquarium side) , Dubai
Working Hours: Saturday – Thursday : 9:00 AM – 10:00 PM Friday: 9:00 AM – 10:00 PM
Phone: +971 – 600 54 6000
DUBAI MALL BRANCH
Address: Opposite Waitrose Supermarket, Dubai Mall , Dubai
Working Hours: Saturday – Friday: 09:00 AM – 10:00 PM
Phone: +971 – 600 54 6000
DUBAI MALL METROLINK BRANCH
Address: Unit No. TDM-SF-MLB 005 (Dubai Mall Metrolink) , Dubai
Working Hours: Saturday – Friday: 09:00 AM – 10:00 PM
Phone: +971 – 600 54 6000
DUBAI OUTLET MALL BRANCH
Address: Beside main entrance, near to French bakery and Tim Hortonz coffee, Dubai Outlet Mall, Al Ain Road, Dubai , Dubai
Working Hours: Saturday – Friday : 10:00 AM – 10:00 PM
Phone: +971 – 600 54 6000
DUBAI SILICON OASIS BRANCH
Address: Silicon Gates – 1. naad Hessa, Dubai , Dubai
Working Hours: Saturday – Thursday: 08:00 AM – 11:00 PM, Friday: 01:30 PM – 11:00 PM
Phone: +971 – 600 54 6000
ENOC JAFZA BRANCH
Address: ENOC Petrol Station, Gate No. 5, JAFZA , Dubai
Working Hours: Saturday – Thursday: 09:00 AM – 06:00 PM, Friday: Closed
Phone: +971 – 600 54 6000
EMIRATES COOPERATIVE SOCIETY – HATTA BRANCH
Address: Ground Floor, Hatta Emirates Coop, UAE , Dubai
Working Hours: Saturday – Thursday: 08:00 AM – 11:00 PM, Friday: 02:00 PM – 11:00 PM
Phone: +971 – 600 54 6000
EMIRATES COOPERATIVE SOCIETY – MEZHAR BRANCH
Address: Emirates Coop, Mizhar 2, Dubai , Dubai
Working Hours: Saturday – Friday: 08:00 AM – 08:00 PM
Phone: +971 – 600 54 6000
EMIRATES COOPRATIVE SOCIETY – AL TWAR 3 BRANCH
Address: Emirates Coop, Twar3, Al Nahda Road, Dubai , Dubai
Working Hours: Saturday – Thursday: 08:00 AM – 11:00 PM, Friday: 03:00 PM – 11:00 PM
Phone: +971 – 600 54 6000
FIRST AVENUE MALL BRANCH
Address: Shop No. 13, Ground Floor, First Avenue Mall, Motor City, Dubai , Dubai
Working Hours: Saturday – Thursday: 08:00 AM – 11:00 PM, Friday: 02:00 PM – 11:00 PM
Phone: +971 – 600 54 6000
FISH ROUNDABOUT BRANCH
Address: Shop Nos. 5 & 6, Fish Roundabout, Deira, Dubai , Dubai
Working Hours: Saturday – Thursday: 08:00 AM – 11:00 PM, Friday: 02:00 PM – 11:00 PM
Phone: +971 – 600 54 6000
GOLD AND DIAMOND PARK BRANCH
Address: Sheikh Zayed Road, Dubai , Dubai
Working Hours: Saturday – Thursday: 08:00 AM – 11:00 PM, Friday: 04:00 PM – 10:00 PM
Phone: +971 – 600 54 6000
HAMARAIN CENTRE BRANCH
Address: Hamarain Centre, Deira, Dubai , Dubai
Working Hours: Saturday – Thursday: 08:00 AM – 11:00 PM, Friday: 02:00 PM – 11:00 PM
Phone: +971 – 600 54 6000
HOR AL ANZ BRANCH
Address: Abu Baker Siddique Road, Near Muteena St. Signal, Hor Al Anz, Deira, Dubai , Dubai
Working Hours: Saturday – Friday: 08:00 AM – 11:00 PM
Phone: +971 – 600 54 6000
IBN BATUTTA MALL BRANCH – CHINA COURT
Address: IBN Batutta Mall, China Court , Dubai
Working Hours: Saturday – Friday: 09:00 AM – 11:00 PM
Phone: +971 – 600 54 6000
IBN BATUTTA MALL BRANCH – TUNISIA COURT
Address: IBN Batutta Mall, Tunisia Court (Next to Geant Hypermarket) , Dubai
Working Hours: Saturday – Friday: 09:00 AM – 11:00 PM
Phone: +971 – 600 54 6000
IBN BATUTTA MALL BRANCH – TUNISIA COURT 2
Address: Unit No. IBS-GF-052, in front of Carrefour, Ibn Battuta Mall, Dubai , Dubai
Working Hours: Saturday – Friday: 09:00 AM – 11:00 PM
Phone: +971 – 600 54 6000
J3 MALL BRANCH
Address: Unit No. 14, Ground Floor, J3 Mall, Khamis Abdulla Saeed Bin Subaih, Al Manara, Dubai, UAE , Dubai
Working Hours: Saturday – Thursday: 08:00 AM – 10:00 PM, Friday: 02:00 PM – 10:00 PM
Phone: +971 – 600 54 6000
JUMEIRAH BEACH RESIDENCE BRANCH
Address: Jumeirah Beach Residence, Dubai , Dubai
Working Hours: Saturday – Friday: 08:00 AM – 11:00 PM
Phone: +971 – 600 54 6000
JUMEIRAH LAKE TOWERS C F JLT BRANCH
Address: JLT, Red Diamond Building, Beside Carrefour Market , Dubai
Working Hours: Saturday – Thursday: 08:00 AM – 11:00 PM, Friday: 02:00 PM – 11:00 PM
Phone: +971 – 600 54 6000
LA MER BRANCH
Address: Unit No. NB-U2A (688A), La Mer, Jumeirah First, Dubai , Dubai
Working Hours: Saturday – Friday: 08:00 AM – 8:00 PM
Phone: +971 – 600 54 6000
LULU HYPERMARKET – AL BARSHA BRANCH
Address: Lulu Hypermarket, Al Barsha, Dubai , Dubai
Working Hours: Saturday – Friday: 08:00 AM – 11:00 PM
Phone: +971 – 600 54 6000
LULU HYPERMARKET – AL QUSAIS BRANCH
Address: Lulu Hypermarket, Al Qusais, Dubai , Dubai
Working Hours: Saturday – Friday: 08:00 AM – 11:00 PM
Phone: +971 – 600 54 6000
LULU VILLAGE BRANCH
Address: Sonapur, Dubai , Dubai
Working Hours: Saturday – Friday: 08:30 AM – 10:30 PM
Phone: +971 – 600 54 6000
MADINA MALL BRANCH
Address: Beirut Street, Madina Mall, First Floor, Beside Carrefour. , Dubai
Working Hours: Saturday – Friday: 09:00 AM – 11:00 PM
Phone: +971 – 600 54 6000
MALL OF THE EMIRATES 1 BRANCH
Address: Ground floor, Mall of the Emirates, Dubai , Dubai
Working Hours: Saturday – Friday: 09:00 AM – 11:00 PM
Phone: +971 – 600 54 6000
MALL OF THE EMIRATES 2 BRANCH
Address: TCK12- First Level, Entrance 1, Mall of the Emirates. , Dubai
Working Hours: Saturday – Friday: 09:00 AM – 11:00 PM
Phone: +971 – 600 54 6000
MARINA MALL BRANCH
Address: GF K11, Ground Level, Behind Starbucks, Dubai Marina Mall , Dubai
Working Hours: Saturday – Friday: 08:00 AM – 11:00 PM
Phone: +971 – 600 54 6000
MARINA WALK BRANCH
Address: GF K12, Ground Floor, Marina Walk , Dubai
Working Hours: Saturday – Friday: 08:00 AM – 11:00 PM
Phone: +971 – 600 54 6000
MIRDIF CITY CENTER BRANCH
Address: North Entrance, Ground Floor, Mirdif City Center, Mirdif, Dubai , Dubai
Working Hours: Saturday – Friday: 09:00 AM – 11:00 PM
Phone: +971 – 600 54 6000
MURAR BRANCH
Address: Omar Bin Al Khattab Street, near Murar Jadeed Bus Station, Murar, Deira, Dubai , Dubai
Working Hours: Saturday – Thursday: 08:00 AM – 10:30 PM, Friday: 02:30 PM – 10:30 PM
Phone: +971 – 600 54 6000
MURSHID BRANCH
Address: Murshid Bazar, Dubai , Dubai
Working Hours: Saturday – Thursday : 08:00 AM – 01:30 PM & 05:00 AM – 09:00 PM
Phone: +971 – 600 54 6000
MY CITY CENTRE BRANCH
Address: Unit No. B10, Ground Floor, My City Centre, Al Barsha, Dubai , Dubai
Working Hours: Saturday – Friday: 08:00 AM – 11:00 PM
Phone: +971 – 600 54 6000
NAIF BRANCH
Address: Naif Road, Opposite AL Karnak Hotel, Dubai , Dubai
Working Hours: Saturday – Friday : 08:00 AM – 10:30 PM
Phone: +971 – 600 54 6000
OASIS CENTRE BRANCH
Address: Ground Floor, Carrefour Market Entrance, Oasis Centre, Sheikh Zayed Road, Dubai , Dubai
Working Hours: Saturday – Friday: 08:00 AM – 11:00 PM
Phone: +971 – 600 54 6000
SONAPOUR BRANCH
Address: Muhishah 2, Sonapour, Beside Talal Supermarket, Dubai , Dubai
Working Hours: Saturday – Friday: 08:00 AM – 10:30 PM
Phone: +971 – 600 54 6000
SOUK MADINAT JUMEIRAH BRANCH
Address: Shop No. 32 near Burj Viewing Deck, Souk Madinat Jumeirah, Dubai , Dubai
Working Hours: Temporarily Closed
Phone: +971 – 600 54 6000
THE POINTE PALM JUMEIRAH BRANCH
Address: Unit # TPT-G-C-IM10A, The Pointe Palm Jumeirah Road, Dubai , Dubai
Working Hours: Saturday – Thursday: 08:00 AM – 11:00 PM, Friday: 02:00 PM – 11:00 PM
Phone: +971 – 600 54 6000
UNION COOPERATIVE SOCIETY – ABU HAIL BRANCH
Address: Shop No. G-03, Ground Floor, Abu Hail Union Coop, Dubai , Dubai
Working Hours: Saturday – Thursday: 08:00 AM – 11:00 PM, Friday: 02:00 PM – 11:00 PM
Phone: +971 – 600 54 6000
UNION COOPERATIVE SOCIETY – AL WASL BRANCH
Address: Ground Floor, Union Co-Op Society (Behind Shangri-La Hotel, Shk. Zayed Road) , Dubai
Working Hours: Saturday – Thursday: 08:00 AM – 11:00 PM, Friday: 03:00 PM – 11:00 PM
Phone: +971 – 600 54 6000
UNION COOPERATIVE SOCIETY – UMM SUQAIM BRANCH
Address: Umm Suqaim, Union Coop, Dubai , Dubai
Working Hours: Saturday – Friday: 08:00 AM – 11:00 PM
Phone: +971 – 600 54 6000
WAFI BRANCH
Address: Ground Floor, Near Carrefour Hypermarket, Wafi Mall, Bur Dubai , Dubai
Working Hours: Saturday – Friday: 09:00 AM – 10:00 PM
Phone: +971 – 600 54 6000
WATERFRONT MARKET BRANCH
Address: Shop No. SH-F28 & SH-F29, Ground Floor, Waterfront Market, Dubai , Dubai
Working Hours: Saturday – Thursday: 08:00 AM – 10:00 PM, Friday: 02:00 PM – 10:00 PM
Phone: +971 – 600 54 6000
Al Ansari Exchange Abu Dhabi Branches
ABELA BRANCH
Address: Abela Super Store Khalidiya, AUH , Abu Dhabi
Store Hours: Saturday – Thursday: 08:00 AM – 10:00 PM, Friday : 02:00 PM – 10:00 PM
Phone: +971 – 600 54 6000
ABU DHABI MALL BRANCH
Address: Abu Dhabi Mall Tourist Club Area, AUH , Abu Dhabi
Store Hours: Saturday – Friday: 08:00 AM – 10:00 PM
Phone: +971 – 600 54 6000
AL BUTEEN BRANCH
Buteen Co-Op Society, AUH , Abu Dhabi
Store Hours: Saturday – Friday: 08:00 AM – 10:00 PM
Phone: +971 – 600 54 6000
AL DHAFRA CO-OP, MADINAT ZAYED BRANCH
Address: Ground Floor Al Dhafra Cooperative Society, Madinat Zayed, AUH , Abu Dhabi
Store Hours: Saturday – Thursday: 08:00 AM – 10:00 PM, Friday : 02:00 PM – 10:00 PM
Phone: +971 – 600 54 6000
AL FALAH PLAZA BRANCH
Address: Al Falah Plaza, Old Passport Road, AUH , Abu Dhabi
Store Hours: Saturday – Friday: 08:00 AM – 10:00 PM
Phone: +971 – 600 54 6000
AL KHALIDIYAH MALL BRANCH
Address: Ground floor, Opposite Lulu Hyper Market, AUH , Abu Dhabi
Store Hours: Saturday – Friday: 08:00 AM – 10:00 PM
Phone: +971 – 600 54 6000
AL MUSHRIF COOPERATIVE SOCIETY BRANCH
Address: Shop No. 8, Fround Floor, Al Mushref Cooperative Society, Abu Dhabi , Abu Dhabi
Store Hours: Saturday – Thursday: 09:00 AM – 10:00 PM, Friday: 02:00 PM – 10:00 PM
Phone: +971 – 600 54 6000
AL RAHA MALL BRANCH
Address: Ground Floor, Beside BHS Home, Al Raha Mall, AUH , Abu Dhabi
Store Hours: Saturday – Thursday: 08:00 AM – 10:00 PM, Friday : 02:00 PM – 10:00 PM
Phone: +971 – 600 54 6000
AL RUWAIS BRANCH
Address: ADNOC Housing Complex, Al Ruwais , Abu Dhabi
Store Hours: Saturday – Thursday: 08:00 AM – 10:00 PM, Friday : 02:00 PM – 10:00 PM
Phone: +971 – 600 54 6000
AL WAHDA MALL BRANCH
Address: Sheikh Hazaa Bin Zayed Street, AUH , Abu Dhabi
Store Hours: Saturday – Friday: 09:00 AM – 10:00 PM
Phone: +971 – 600 546000
BAIN AL JESSRAIN BRANCH
Address: Bain Al Jesrain Co-op Society, Mussafah, AUH , Abu Dhabi
Store Hours: Saturday – Thursday: 08:00 AM – 10:00 PM, Friday : 02:00 PM – 10:00 PM
Phone: +971 – 600 546000
BANIYAS COOPERATIVE SOCIETY – MUSSAFAH BRANCH
Address: Shop No. 1, Baniyas Coop Society, Mussafah Sanaiya M-37, Abu Dhabi , Abu Dhabi
Store Hours: Saturday – Thursday: 08:00 AM – 10:00 PM, Friday : 02:00 PM – 10:00 PM
Phone: +971 – 600 54 6000
BAWABAT AL SHARQ MALL BRANCH
Address: Ground Floor, Bawabat Al Sharq Mall , Baniyas, AUH , Abu Dhabi
Store Hours: Saturday – Friday: 09:00 AM – 10:00 PM
Phone: +971 – 600 54 6000
CARREFOUR AIRPORT ROAD BRANCH
Address: Unit No. 35, First Level Al Saqar Hypermarket, Shk. Rashid Bin Saeed St., Abu Dhabi , Abu Dhabi
Store Hours: Store Hours: Saturday – Friday: 08:00 AM – 10:00 PM
Phone: +971 – 600 54 6000
CENTRAL MALL KHALIFA CITY-A BRANCH
Address: Shop No. 11, Ground Floor, Central Mall Khalifa City A, Abu Dhabi , Abu Dhabi
Store Hours: Saturday – Thursday: 08:00 AM – 10:00 PM, Friday : 01:00 PM – 10:00 PM
Phone: +971 – 600 54 6000
CENTRAL MARKET BRANCH
Address: Shop No. 93, Ground Floor, The Souk Central Market , Abu Dhabi
Store Hours: Saturday – Friday: 08:00 AM – 10:00 PM
Phone: +971 – 600 54 6000
DALMA MALL BRANCH
Address: Abu Dhabi – Tarif – Al Ain Highway,Opposite Mohammad Bin Zayed CIty , Abu Dhabi
Store Hours: Saturday – Friday: 09:00 AM – 10:00 PM
Phone: +971 – 600 54 6000
DEERFIELDS MALL BRANCH
Address: Level 1, Deerfields Townsquare, Bahya (Near Shahama), Abudhabi , Abu Dhabi
Store Hours: Saturday – Friday: 09:00 AM – 10:00 PM
Phone: +971 – 600 54 6000
DEERFIELDS MALL BRANCH 2
Address: Level 2, Deerfields Mall, Opposite Carrefour Hypermarket, Abudhabi , Abu Dhabi
Store Hours: Saturday – Friday: 09:00 AM – 10:00 PM
Phone: +971 – 600 54 6000
ELEKTRA STREET BRANCH
Address: Shop 1, Electra St, Opposite Emirates General Market, AUH , Abu Dhabi
Store Hours: Saturday – Friday: 08:00 AM – 10:00 PM
Phone: +971 – 600 54 6000
GARDENS PLAZA BRANCH
Address: Gardens Plaza, Khalifa City, AUH , Abu Dhabi
Store Hours: Saturday – Thursday: 08:00 AM – 10:00 PM, Friday : 02:00 PM – 10:00 PM
Phone: +971 – 600 54 6000
HAMDAN STREET 2 BRANCH
Address: Hamdan Street, Unit G5, Ground Floor, Near Dunia Finance , Abu Dhabi
Store Hours: Saturday – Friday: 08:00 AM – 10:00 PM
Phone: +971 – 600 54 6000
HAMDAN STREET BRANCH
Address: "Siemens"/"Philips" Bldg., Hamdan St , Abu Dhabi
Store Hours: Saturday – Friday: 08:00 AM – 10:00 PM
Phone: +971 – 600 54 6000
KHALIDIYAH BRANCH
Address: Ground Floor, Spar Shopping Center , Abu Dhabi
Store Hours: Saturday – Thursday: 08:00 AM – 10:00 PM, Friday : 02:00 PM – 10:00 PM
Phone: +971 – 600 54 6000
KHALIFA STREET BRANCH
Address: AUH Co-Op Society, Khalifa Street , Abu Dhabi
Store Hours: Saturday – Thursday: 08:00 AM – 10:00 PM, Friday : 02:00 PM – 10:00 PM
Phone: +971 – 600 54 6000
LIWA STREET BRANCH
Address: Ground Floor, Amin Tower, AUH , Abu Dhabi
Store Hours: Saturday – Thursday: 08:00 AM – 10:00 PM, Friday : 02:00 PM – 10:00 PM
Phone: +971 – 600 54 6000
MARINA MALL BRANCH
Address: Marina Mall, Corniche Break Water, AUH , Abu Dhabi
Store Hours: Saturday – Friday: 09:00 AM – 10:00 PM
Phone: +971 – 600 54 6000
MEGASTORE BRANCH
Address: Mussafah Sanaya, Adjacent K.M Hyper Market , Abu Dhabi
Store Hours: Saturday – Friday: 08:00 AM – 10:00 PM
Phone: +971 – 600 54 6000
MINA BRANCH
Address: Abu Dhabi Co-Op, Mina Port, AUH , Abu Dhabi
Store Hours: Saturday – Thursday: 08:00 AM – 10:00 PM, Friday : 02:00 PM – 10:00 PM
Phone: +971 – 600 54 6000
MUSHRIF MALL BRANCH
Address: 2nd Floor, Opposite "Dunkin Donuts", Mushrif Mall, Airport Road, AUH , Abu Dhabi
Store Hours: Saturday – Thursday: 08:00 AM – 10:00 PM Friday : 08:00 AM – 10:00 PM
Phone: +971 – 600 54 6000
MUSSAFAH BRANCH
Address: Shabiya Khalifa, Mussafah , Abu Dhabi
Store Hours: Saturday – Friday: 08:00 AM – 10:00 PM
Phone: +971 – 600 54 6000
MY CITY CENTRE MASDAR BRANCH
Address: Unit No.M039, My City Centre Masdar, Masdar City, Abu Dhabi , Abu Dhabi
Store Hours: Saturday – Friday: 10:00 AM – 10:00 PM
Phone: +971 – 600 54 6000
PARAGON MALL BRANCH
Address: Zone C, Ground floor, Paragon Mall, Al Reem Island , Abu Dhabi
Store Hours: Saturday – Friday: 08:00 AM – 10:00 PM
Phone: +971 – 600 54 6000
RAMEZ HYPERMARKET – SHAHAMA BRANCH
Address: Kiosk Ground Floor, Hyper Ramez, Besides Emirates Park Zoo, Al Bahia, Al Shahama, AUH , Abu Dhabi
Store Hours: Saturday – Thursday: 09:00 AM – 10:00 PM, Friday: 02:00 PM – 10:00 PM
Phone: +971 – 600 54 6000
SAFEER MALL MUSSAFAH BRANCH
Address: Safeer Mall, Mussafah, AUH , Abu Dhabi
Store Hours: Saturday – Friday: 08:00 AM – 09:00 PM
Phone: +971 – 600 54 6000
SHAHAMA BRANCH
Address: Baniyas Co-Op Society, AUH , Abu Dhabi
Store Hours: Saturday – Friday: 08:00 AM – 10:00 PM
Phone: +971 – 600 546000
SOUK MADINAT ZAYED BRANCH
Address: Madinat Zayed shop NO. 4 beside Shoe Mart , Abu Dhabi
Store Hours: Saturday – Friday: 08:00 AM – 10:00 PM
Phone: +971 – 600 54 6000
TCA CO-OP BRANCH
Address: Tourist Club Area, Co-Op Society, AUH , Abu Dhabi
Store Hours: Saturday – Thursday: 08:00 AM – 10:00 PM, Friday : 02:00 PM – 10:00 PM
Phone: +971 – 600 54 6000
YAS MALL BRANCH
Address: Lower Ground 016b, Near Hyper Market Parking, Opposite ADIB,Yas Mall, Yas Island, AUH , Abu Dhabi
Saturday – Friday: 08:00 AM – 10:00 PM
Phone: +971 – 600 54 6000
YAS MALL BRANCH 2
Address: Unit No. KSK-M-004, Mezzanine Floor, Near Cinema Carpark, Yas Mall, Yas Island, Auh , Abu Dhabi
Store Hours: Saturday – Friday: 10:00 AM – 09:00 PM
Phone: +971 – 600 54 6000
ZAYED THE FIRST STREET BRANCH
Address: Khalidiyah Area, near to Al Muhairi Centre, Ground Floor, Bin Haiyai 1 – Block A , Abu Dhabi
Store Hours: Saturday – Thursday: 08:00 AM – 10:00 PM, Friday: 09:00 AM – 10:00 PM
Phone: +971 – 600 54 6000
Al Ansari Exchange Sharjah Branches
AL AROUBA BRANCH
Address: Al Arouba Street, Sharjah , Sharjah
Working Hours: Saturday – Thursday: 08:00 AM – 10:00 PM, Friday : 02:00 PM – 10:00 PM
Phone: +971 – 600 54 6000
AL DHAID BRANCH
Address: Al Dhaid Main Street, Sharjah , Sharjah
Phone: +971 – 600 54 6000
AL KHAN 1 BRANCH
Address: Sharjah Co-Op Society, Al Khalidiya Street , Sharjah
Working Hours: Saturday – Thursday: 08:00 AM – 10:00 PM, Friday: 09:00 AM – 10:00 PM
Phone: +971 – 600 54 6000
AL KHAN 2 BRANCH
Address: Shop 3, GF, Carrefour Market, Al Khan, Street No. 13, Al Majaz 03 , Sharjah
Working Hours: Saturday – Thursday: 08:00 AM – 10:00 PM, Friday : 02:00 PM – 10:00 PM
Phone: +971 – 600 54 6000
AL MAJAZ BRANCH
Address: Shop No. 3, Al Majaz 3, Entifadah Road, Plot No. 767 next to Lulu Al Buhaira, Sharjah , Sharjah
Working Hours: Saturday – Thursday: 08:00 AM – 10:00 PM, Friday : 02:00 PM – 10:00 PM
Phone: +971 – 600 54 6000
AL MUBARAK CENTER BRANCH
Address: Al Mubarak Centre, Al Arouba Street, Sharjah , Sharjah
Working Hours: Saturday – Thursday: 08:00 AM – 10:00 PM, Friday : 02:00 PM – 10:00 PM
Phone: +971 – 600 54 6000
AL NAHDA TOWER BRANCH
Address: Carrefour Express, Al Nahda Tower, Sharjah , Sharjah
Working Hours: Saturday – Thursday: 08:00 AM – 10:00 PM, Friday : 02:00 PM – 10:00 PM
Phone: +971 – 600 54 6000
AL QARAIN BRANCH
Address: Ground Floor, Sharjah Co-operative Society, Al Qarain, Sharjah , Sharjah
Working Hours: Saturday – Thursday: 08:00 AM – 10:00 PM, Friday : 02:00 PM – 10:00 PM
Phone: +971 – 600 54 6000
AL QASIMIA BRANCH
Address: Shop No. 3, Ground Floor, Al Qasmia Sharjah , Sharjah
Working Hours: Saturday – Thursday: 08:00 AM – 10:00 PM, Friday : 02:00 PM – 10:00 PM
Phone: +971 – 600 54 6000
AL RIQQA BRANCH
Address: Ground Floor, Sharjah Co-operative society, Al Riqqa, Sharjah , Sharjah
Working Hours: Saturday – Thursday: 08:00 AM – 10:00 PM, Friday : 02:00 PM – 10:00 PM
Phone: +971 – 600 54 6000
AL SWEIHAT BRANCH
Address: Al Sweihat, Sharjah Cooperative Society , Sharjah
Working Hours: Saturday – Thursday: 08:00 AM – 10:00 PM, Friday : 02:00 PM – 10:00 PM
Phone: +971 – 600 54 6000
AL TAAWUN BRANCH
Address: Shop No. 1, Lootha building 931, Al Taawun, Sharjah , Sharjah
Working Hours: Saturday – Thursday: 08:00 AM – 10:00 PM, Friday : 02:00 PM – 10:00 PM
Phone: +971 – 600 54 6000
AL WAHDA STREET BRANCH
Address: Al Wahda Sharjah Road, Near Baskin Robbins, Sharjah , Sharjah
Working Hours: Saturday – Thursday: 08:00 AM – 10:00 PM, Friday : 02:00 PM – 10:00 PM
Phone: +971 – 600 54 6000
ANSAR MALL BRANCH
Address: Ansar Mall, Sharjah , Sharjah
Working Hours: Saturday – Thursday: 08:00 AM – 10:00 PM, Friday : 02:00 PM – 10:00 PM
Phone: +971 – 600 54 6000
CLOCK TOWER BRANCH
Address: Sharjah Clock Tower , Sharjah
Working Hours: Saturday – Thursday: 08:00 AM – 10:00 PM, Friday : 02:00 PM – 10:00 PM
Phone: +971 – 600 54 6000
HALWAN BRANCH
Address: Sharjah Co-Op Society, Halwan, Sharjah , Sharjah
Working Hours: Saturday – Thursday: 08:00 AM – 10:00 PM, Friday : 02:00 PM – 10:00 PM
Phone: +971 – 600 54 6000
KALBA BRANCH
Address: Sharjah Co-operative Society, Sanaiya, Industrial Area, kalba , Sharjah
Working Hours: Saturday – Friday: 08:00 AM – 10:00 PM
Phone: +971 – 600 54 6000
KHORFAKAN BRANCH
Address: Shop. No.2, Sharjah Co-op Society, Al Loloeya, Omar Bin Alkhatab St, Khorfakan , Sharjah
Working Hours: Saturday – Thursday: 08:00 AM – 10:00 PM, Friday : 02:00 PM – 10:00 PM
Phone: +971 – 600 54 6000
KING FAISAL STREET BRANCH
Address: King Faisal Street, Sharjah , Sharjah
Working Hours: Saturday – Thursday: 08:00 AM – 10:00 PM, Friday : 02:00 PM – 10:00 PM
Phone: +971 – 600 54 6000
MATAJER BRANCH – AL MIRGAB
Address: Unit No. M002, Ground Floor, Matajer Al Mirgab, Sharjah , Sharjah
Working Hours: Saturday – Thursday: 09:00 AM – 10:00 PM, Friday: 02:00 PM – 10:00 PM
Phone: +971 – 600 54 6000
MEGA MALL BRANCH
Address: Mega Mall, Sharjah , Sharjah
Working Hours: Saturday – Thursday: 09:00 AM – 10:00 PM, Friday: 02:00 PM – 10:00 PM
Phone: +971 – 600 54 6000
RAMEZ HYPERMARKET BRANCH
Address: Ground floor, Ramez Hypermarket, Industrial Area 13, Shaikh mohamed Bin zayed road, Sharjah. , Sharjah
Working Hours: Saturday – Thursday: 10:00 AM – 09:00 PM, Friday : 01:00 PM – 09:00 PM
Phone: +971 – 600 54 6000
RAMEZ MALL BRANCH
Address: Unit No 3, Ground Floor, Ramez Shopping Mall, Sharjah , Sharjah
Working Hours: Saturday – Thursday: 08:00 AM – 10:00 PM, Friday : 02:00 PM – 10:00 PM
Phone: +971 – 600 54 6000
SAHARA CENTER 1 BRANCH
Address: Ground Floor, Sahara Centre, Sharjah , Sharjah
Working Hours: Saturday – Friday: 09:00 AM – 10:00 PM
Phone: +971 – 600 54 6000
SAHARA CENTER 2 BRANCH
Address: Basement, Opposite Spinneys, Sahara Centre, Al Nahda Street , Sharjah
Phone: +971 – 600 54 6000
SHARJAH BRANCH – INDUSTRIAL 6 BRANCH
Address: Industrial Area 6, Street #117, J&P Signal , Sharjah
Working Hours: Saturday – Thursday: 08:30 AM – 10:00 PM, Friday: 01:00 PM – 10:00 PM
Phone: +971 – 600 546000
SHARJAH CITY CENTRE BRANCH
Address: Sharjah City Centre, Sharjah , Sharjah
Working Hours: Saturday – Thursday: 08:30 AM – 10:00 PM, Friday: 09:00 AM – 10:00 PM
Phone: +971 – 600 54 6000
ZAWAYA WALK BRANCH
Address: Unit No. 2 & 3, Ground Floor, Zawaya Walk, Al Shahba Area, Sharjah , Sharjah
Phone: +971 – 600 546000
ZERO 6 MALL BRANCH
Address: Unit No. GF-4 Zero 6 Mall, University City Road, Al Juraina, Sharjah , Sharjah
Working Hours: Saturday – Thursday: 08:00 AM – 10:00 PM, Friday : 02:00 PM – 10:00 PM
Phone: +971 – 600 54 6000
Al Ansari Exchange Ajman Branches
AJMAN CITY CENTRE BRANCH
Address: City Centre, Ajman , Ajman
Working Hours: Saturday – Friday: 08:00 AM – 10:00 PM
Phone: +971 – 600 54 6000
AJMAN MARKETS – AL NAIMIA BRANCH
Address: Ajman Market Co-op Society, Al Ittihad Road, Al Bustan (old Jawazat Road), Ajman , Ajman
Working Hours: Saturday – Thursday: 08:00 AM – 10:00 PM, Friday : 02:00 PM – 10:00 PM
Phone: +971 – 600 54 6000
AL JURF AJMAN – UNION COOP SOCIETY BRANCH
Address: Unit No. G02, Ground Floor, Al Jurf Union Coop, Ajman Market Cooperative, Ajman, UAE , Ajman
Working Hours: Saturday – Thursday: 08:00 AM – 10:00 PM, Friday : 02:00 PM – 10:00 PM
Phone: +971 – 600 54 6000
AL JURF BRANCH – SAFEER HYPERMARKET
Address: Shop No. 12 & 13, Ground Floor, Safeer Hyper Market, Al Jurf, Ajman. U.A.E , Ajman
Working Hours: Saturday – Thursday: 08:30 AM – 10:00 PM, Friday: 09:00 AM – 10:00 PM
Phone: +971 – 600 54 6000
AL RUMAILAH BRANCH – AJMAN MARKETS COOP SOCIETY BRANCH
Address: Shop No. G5, Ground Floor, Ajman Market Cooperative Society, Rumailah Ajman , Ajman
Working Hours: Saturday – Thursday: 08:00 AM – 10:00 PM, Friday : 02:00 PM – 10:00 PM
Phone: +971 – 600 54 6000
BURJ AL MADINA BRANCH
Address: Shop No. 2, Burj Al Mdina, Sheikh Rashid Bin Humeed Street, Al Nuaimia 3, Ajman , Ajman
Working Hours: Saturday – Thursday: 08:00 AM – 10:00 PM, Friday : 02:00 PM – 10:00 PM
Phone: +971 – 600 54 6000
burjmadinaajm@alansari.ae
CITY LIFE AL TALLAH BRANCH
Address: Shop No. 3, Ground Floor, City Life Al Tallah, Ajman , Ajman
Working Hours: Saturday – Thursday: 09:00 AM – 10:00 PM, Friday: 02:00 PM – 10:00 PM
Phone: +971 – 600 54 6000
LULU HYPERMARKET BRANCH
Address: Lulu Hypermarket, Ajman , Ajman
Working Hours: Saturday – Friday: 08:00 AM – 10:00 PM
Phone: +971 – 600 54 6000
RAMEZ HYPERMARKET BRANCH
Address: Ground Floor, Ramez Hypermarket , Ajman
Working Hours: Saturday – Thursday: 08:00 AM – 10:00 PM, Friday : 02:00 PM – 10:00 PM
Phone: +971 – 600 54 6000
SAFEER MALL BRANCH
Address: Ground Foor, Safeer Mall, Ajman , Ajman
Working Hours: Saturday – Friday: 09:00 AM – 09:00 PM
Phone: +971 – 600 54 6000
Al Ansari Exchange Fujairah Branches
CENTURY MALL BRANCH
Address: Ground Floor, Century Mall, Fujairah , Fujairah
Working Hours: Saturday – Thursday: 09:00 AM – 10:00 PM, Friday: 02:00 PM – 10:00 PM
Phone: +971 – 600 54 6000
FUJAIRAH BRANCH
Address: Humaid Bin Abdulla Street, Fujairah , Fujairah
Working Hours: Saturday – Friday: 08:00 AM – 10:00 PM
Phone: +971 – 600 54 6000
LULU HYPERMARKET BRANCH
Address: Shop No. G 2, Ground floor, Al Rashidiya road, Dibba, Fujairah. , Fujairah
Working Hours: Saturday – Thursday: 08:00 AM – 10:00 PM, Friday : 02:00 PM – 10:00 PM
Phone: +971 – 600 54 6000
QIDFA'A BRANCH
Address: Shop No. 1, Ground Floor, Building 52, Fujairah Khorfakkan Road, Murbah, Fujairah , Fujairah
Working Hours: Saturday – Thursday: 08:00 AM – 10:00 PM, Friday : 02:00 PM – 10:00 PM
Phone: +971 – 600 54 6000
Al Ansari Exchange Ras Al Khaimah Branches
AL HAMRA MALL BRANCH
Address: 1st Flr, Al Hamra Mall RAK, Opp. RAK Ceramics , Ras Al Khaimah
Working Hours: Saturday – Friday: 08:00 AM – 10:00 PM
Phone: +971 – 600 54 6000
AL KHARRAN R/A BRANCH
Address: Shop No. 6, Ground Floor, Al Kharan, Ras Al Khaimah , Ras Al Khaimah
Working Hours: Saturday – Thursday: 08:00 AM – 10:00 PM, Friday : 02:00 PM – 10:00 PM
Phone: +971 – 600 54 6000
AL MANAR MALL BRANCH
Address: Near the Southern Entrance of Al Manar Mall and beside Carrefour, Ras Al Khaimah , Ras Al Khaimah
Working Hours: Saturday – Friday: 09:00 AM – 10:00 PM
Phone: +971 – 600 54 6000
AL MUNTASIR STREET BRANCH
Address: Al Muntasir Road – Near Dubai Islamic Bank , Ras Al Khaimah
Working Hours: Saturday – Friday: 08:00 AM – 10:00 PM
Phone: +971 – 600 54 6000
AL NAEEM CITY CENTER BRANCH
Address: Ground Flr, Al Naeem City Center, Ras Al Khaimah , Ras Al Khaimah
Working Hours: Saturday – Thursday: 08:00 AM – 09:00 PM, Friday: 09:00 AM – 09:00 PM
Phone: +971 – 600 54 6000
AL NAKHEEL BRANCH
Address: Al Nakheel Street, Ras Al Khaimah , Ras Al Khaimah
Working Hours: Saturday – Thursday: 08:00 AM – 10:00 PM, Friday : 02:00 PM – 10:00 PM
Phone: +971 – 600 54 6000
MY CITY CENTRE AL DHAIT BRANCH
Address: Unit No. B26, Ground Floor, My City Centre al Dhait, Ras Al Khaimah , Ras Al Khaimah
Working Hours: Saturday – Friday: 09:00 AM – 10:00 PM
Phone: +971 – 600 546000
SAFEENA R/A BRANCH
Address: Shop No. 1 & 2, Al Faisal building, Sh. Mohd Bin Salem Al Qassemi Road, (Near Kuwaiti road). , Ras Al Khaimah
Working Hours: Saturday – Friday: 08:00 AM – 10:00 PM
Phone: +971 – 600 54 6000
Al Ansari Exchange Umm Al Quwain Branches
CARREFOUR EXPRESS BRANCH
Address: Shop No. 4, Carrefour Market, King Faisal Road, Umm Al Quwain. , Umm Al Quwain
Working Hours: Saturday – Thursday: 08:00 AM – 10:00 PM, Friday : 02:00 PM – 10:00 PM
Phone: +971 – 600 54 6000
MALL OF UMM AL QUWAIN BRANCH
Address: Retail 39, Ground Floor, Mall of Umm Al Quwain , Umm Al Quwain
Working Hours: Saturday – Friday: 09:00 AM – 09:00 PM
Phone: +971 – 600 54 6000
NESTO AL MAQTA'A 2 BRANCH
Address: Shop: 19, Ground Floor, Al Manama Hypermarket , Umm Al Quwain
Working Hours: Saturday – Friday: 08:00 AM – 08:00 PM
Phone: +971 – 600 54 6000