Craving for some mouthwatering Kunafa in Dubai? Look no further! Dubai, a vibrant and diverse city known for its culinary delights, is home to some of the best Kunafa near me spots.
Whether you're a resident or a visitor, indulging in this delectable Middle Eastern dessert is an experience you won't want to miss – especially from top places like Mr. Kunafa, Looshi's, and Al Baba, among others. From traditional recipes passed down through generations to innovative twists on the classic dish, Dubai offers a wide array of options that will satisfy any Kunafa lover's taste buds.
Kunafa, a Middle Eastern dessert, is an absolute delight and a must-try for first-time visitors in Dubai.
What makes kunafa so good is the perfect fusion of flavors, textures, and aromas.
The crispy, golden-brown vermicelli crust encases a luscious filling of sweet cheese or cream, accompanied by a drizzle of aromatic sugar syrup.
The contrast between the crunchy exterior and the creamy, gooey interior creates a sensational sensory experience.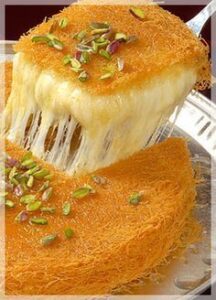 Each bite is a harmonious blend of sweet and savory, with hints of rosewater or orange blossom adding a touch of fragrant sophistication.
The combination of quality ingredients, meticulous preparation, and the mastery of traditional techniques results in a dessert that is rich, indulgent, and utterly irresistible.
Whether enjoyed as a decadent treat after a meal or savored as a standalone dessert, kunafa promises to captivate your taste buds and leave a lasting impression of Dubai's culinary excellence.
Hungry yet? Check out these popular spots for authentic and high-quality Kunafa around the city:
Contact number: +97144562881
Address: 29 Burj Dubai Boulevard – Moh'd Bin Rashed Blvd – Downtown Dubai – Dubai – United Arab Emirates
Google Map Location:
Al Hallab, a renowned Lebanese brand with a rich heritage dating back to 1881 in Tripoli, Lebanon, has become a household name in Dubai.
What began as a humble family bakeshop has now blossomed into a prominent full-service Lebanese restaurant.
Led by Ghassan Al Hallab, who honed his skills through years of family apprenticeship and experience in the hospitality industry, the brand has expanded its presence in Dubai.
Since 2002, Al Hallab has delighted its patrons with exceptional dining experiences at four distinct locations throughout the city.
In Al Garhoud, The Dubai Mall, and Mall of the Emirates, guests can savor the flavors of a full Lebanese Grill, offering an array of mouthwatering dishes.
For seafood enthusiasts, the Al Hallab BAB EL BAHR on MBR Boulevard, Downtown Dubai, provides an unforgettable Lebanese seafood experience.
Throughout its growth, Al Hallab has remained dedicated to its core values of authenticity, hospitality, and quality.
Whether you visit their original location or any of their branches, you can expect to be treated like family while enjoying the finest Lebanese cuisine.
Al Hallab continues to bring together the art of delicious sweets and warm hospitality, leaving a lasting impression on the hearts and palates of its guests.
Contact number: +97142697717
Address: 48 Al Muraqqabat St – Deira – Dubai – United Arab Emirates
Google Map Location:
With a rich heritage dating back to 1872 in Lebanon, Al Samadi Sweets has earned a well-deserved reputation as a purveyor of exquisite Lebanese and Arabic sweets.
Renowned for their delightful taste and unwavering commitment to freshness, Al Samadi Sweets quickly became a household name and a symbol of culinary excellence.
Not only celebrated for their traditional offerings, but Al Samadi Sweets also showcases their expertise in French cakes and pastries, coffee, and ice creams.
At Al Samadi Sweets, the art of sweet-making is elevated to new heights by the master chefs who meticulously blend tradition with the finest quality ingredients.
Each bite of their delicacies transports customers to a world of enchanting flavors and warm reminiscence.
Building upon their success in Lebanon, Al Samadi Sweets has expanded globally, with branches in Ukraine, the UK, and the UAE, bringing their unparalleled treats to discerning palates worldwide.
Contact number: +97143413123
Address: Sheikh Zayed Rd – opposite Al Salik Gate – Al Barsha – Al Barsha 1 – Dubai – United Arab Emirates
Google Map Location:
Feras Hanoun Sweets is renowned for crafting the finest Kunafa Nabulsiya, known as the world's best.
Originating from Nablus, a famous city in Palestine, this traditional Arabic sweet has been introduced to the U.A.E. by Feras Hanoun Sweets since 1984.
With a growing number of outlets across the country, Feras Hanoun Sweets now offers a diverse range of popular Arabic desserts, pastries, and fast-food options to the people of the U.A.E.
Their mission is to inspire and innovate by providing a wide selection of high-quality products that cater to the desires and expectations of their customers.
Authentic Arabic flavors, appearances, and taste sensations are at the heart of their offerings.
Driven by a vision to become a leading organization passionate about sweets, Feras Hanoun Sweets aims to fuel the growth and development of the confectionery market in the U.A.E.
They combine their longstanding traditional expertise with innovation and empowered talent to achieve this goal.
Contact number: +97142868000
Address: Al Warqa – Al Warqa 1 – Dubai – United Arab Emirates
Google Map Location:
"Firas Sweets" is a renowned establishment specializing in Oriental sweets, particularly their exquisite Kunafa, located in the heart of the region.
With a rich variety of Middle Eastern delicacies, Firas Sweets has mastered the art of creating delectable desserts that are loved and appreciated by locals and visitors alike.
Their Kunafa, often hailed as the "Queen of Arabic desserts," showcases the expertise and passion of the Middle Eastern culinary tradition.
Firas Sweets takes pride in perfecting this sweet and golden delicacy, infusing it with a unique touch that reflects the flavors of their community.
Every bite of their Kunafa is a testament to their commitment to delivering the best quality and taste to their esteemed customers.
But Firas Sweets doesn't stop at Kunafa alone. Their range of offerings includes a delightful assortment of Oriental sweets.
From the traditional Baklava, filled with an array of nuts and soaked in syrup, to the crispy Borma, delicate Basma, and fragrant Basima, they cater to diverse preferences and cravings.
Atayef, a staple during the holy month of Ramadan, is expertly crafted by Firas Sweets.
This delectable dessert features a pancake-like batter filled with unsalted cheese or a mixture of nuts, then fried or baked to perfection before being served with a hot syrup.
It adds a touch of sweetness to the post-iftar table, creating an unforgettable dining experience.
Ma'mul, another specialty at Firas Sweets, takes center stage during Eid celebrations.
These cookie-like pastries are filled with crushed walnuts, dates, or pistachios, and then delicately coated with powdered sugar.
Their melt-in-your-mouth texture and aromatic fillings make them an absolute must-have during festive occasions.
Additionally, Firas Sweets offers an assortment of cream and cheese-based delicacies such as Warbat, Halawet El Jeben, Mabroma, Basbosa, Ghray-beh, and Bara-zik.
These masterpieces are a testament to the expertise and dedication that goes into creating each dessert, ensuring an unparalleled taste experience.
Contact number: +971544441677
Address: Q1 Mall – Warqa 1 – 414 – Al Warqa – Dubai – United Arab Emirates
Google Map Location:
Salé Sucré Patisserie is renowned for its delectable Kunafa and has been a beloved household name among Egypt's discerning customers since its establishment in 1999.
With a mission to create desserts that are not only tasty but also deliver a truly unforgettable experience, Salé Sucré offers an irresistible treat for both special occasions and moments when one needs a break from the daily grind.
The exceptional taste of their Kunafa not only makes challenging days more bearable but also adds a touch of magic to gatherings and memorable events.
With 17 stores spread across Cairo and Alexandria, Salé Sucré has firmly established itself as a high-quality brand in the Egyptian market.
Their extensive selection of Middle Eastern and Western delights is crafted using the finest ingredients sourced from around the world, and their skilled chefs ensure consistent excellence with every creation.
Building upon their success in Egypt, Salé Sucré has expanded into the UAE and Kuwait, driven by a vision to become one of the leading patisserie brands in the Middle East.
Committed to customer satisfaction, Salé Sucré offers a diverse product range suitable for any occasion or celebration.
They prioritize freshness and maintain competitive prices, allowing their customers to indulge in their delectable offerings with complete satisfaction.
Contact number: +97143808090
Address: Jumeirah St – Umm Suqeim – Umm Suqeim 1 – Dubai – United Arab Emirates
Google Map Location:
Bosporus, the ultimate destination for experiencing the true essence of authentic Turkish cuisine.
With several elegant dining venues across the UAE, Bosporus takes pride in being the epitome of 'Tastefully Turkish', where culinary excellence, genuine hospitality, and a rich legacy of Turkish traditions converge.
At Bosporus, they passionately bring Turkish flavors to life through a meticulously crafted menu that pays homage to centuries of Ottoman cuisine.
Each dish is carefully curated and skillfully prepared, ensuring an explosion of authentic aromas and flavors that transport you to the heart of Turkey.
From succulent meats to fresh fruits, salads, and vegetables, every element is meticulously chosen to create a culinary experience that is truly unparalleled.
Beyond the exceptional cuisine, Bosporus celebrates Turkish heritage through meticulous attention to detail in design, service, and culinary philosophy.
The result is an unrivaled dining experience, where every aspect reflects the pride and dedication of the team.
In this city of contrasts, Bosporus offers a true sense of place, inviting you to embark on a culinary journey that embraces tradition, quality, and the joy of sharing unforgettable moments with friends and family.
Contact number: +97143990624
Address: Ground Floor, Auris Boutique Hotel Apartments Bldg، Next to Emirates Mall, Al Barsha – Dubai – United Arab Emirates
Google Map Location:
Established in 1950 by Mohammed Bachir EL Baba, AL BABA Sweets has a rich heritage in the art of crafting delectable Arabic sweets.
What began as a small sweets shop in Sidon, Lebanon, has now transformed into a renowned brand that spans across the Middle East.
AL BABA Sweets takes pride in offering homemade quality sweets to its customers, a tradition that has been upheld for over six decades.
With a total of 11 branches, including 7 in Lebanon and 4 in Abu Dhabi and Dubai, they have become a go-to destination for those seeking authentic and innovative Arabic sweets.
At the heart of their offerings lies their remarkable Kunafa, a beloved Middle Eastern dessert.
AL BABA Sweets has perfected the art of creating this delicate treat, utilizing time-honored techniques passed down through generations.
Their Kunafa delights patrons with its harmonious balance of textures and flavors, leaving a lasting impression of sweet satisfaction.
Continually pushing the boundaries, AL BABA Sweets remains dedicated to expanding its product lines and introducing pioneering concepts to the market.
With their commitment to quality and innovation, AL BABA Sweets continues to be a cherished destination for anyone seeking the finest Arabic sweets, including their renowned Kunafa.
8. Looshi's
Contact number: 04-2776190
Address: JLT, Cluster Y Lakeshore Tower, Shop B07 – Dubai – United Arab Emirates
Google Map Location:
Looshi's is a culinary gem in Dubai, specializing in the art of crafting exquisite Kunafa.
With a passionate and personal story behind their creations, Looshi's aims to break down barriers and make this beloved Middle Eastern dessert accessible to all.
Their journey began with a similar experience – a realization that something extraordinary was being missed out on due to misconceptions and reservations.
The team at Looshi's understands the hesitation that can come with indulging in decadent desserts, and they are determined to change that.
Looshi's takes pride in their perfectly balanced Kunafa, where the crispy outer shell gives way to a creamy and chewy center.
Every bite is a symphony of flavors that ignite the taste buds and leave a lasting impression.
Their dedication to quality and presentation ensures that each Kunafa is a work of art, inviting everyone to experience the magic firsthand.
Whether you're a Kunafa aficionado or a curious newcomer, Looshi's warmly invites you to join them on their mission to make this delightful dessert a staple in every sweet lover's life.
Prepare to be captivated by the irresistible allure of Looshi's Kunafa, crafted with love and meant to be savored by all.
9. MR.KUNAFA
Contact number: +971561003800
Address: مقابل مطعم عروس دمشق – Deira – Dubai – United Arab Emirates
Google Map Location:
MR.KUNAFA is a renowned establishment in the heart of Dubai that takes immense pride in offering the most delicious types of oriental sweets and baklavas.
With a commitment to quality and authenticity, MR.KUNAFA has gained a loyal following of Kunafa enthusiasts who appreciate their dedication to crafting the perfect dessert.
When it comes to service options, MR.KUNAFA goes above and beyond to cater to their customers' needs.
Whether you prefer a leisurely dining experience or a quick grab-and-go, they have you covered.
Their outdoor seating provides a delightful ambiance, allowing you to savor their delectable Kunafa while enjoying the surroundings.
For those on the move, MR.KUNAFA offers kerbside pickup, delivery, and even a convenient drive-through option, ensuring that you can enjoy their mouthwatering treats wherever you are.
Their takeaway service is ideal for those seeking a quick indulgence, while their dine-in option invites you to relax and relish the flavors in a comfortable setting.
MR.KUNAFA is committed to inclusivity and accessibility.
They provide a wheelchair-accessible car park, entrance, and seating, ensuring that everyone can enjoy their delightful offerings.
Additionally, their gender-neutral toilets promote a welcoming and inclusive environment for all patrons.
10. Qwaider Al Nabulsi Sweets
Contact number: Deira – Dubai – United Arab Emirates
Address: +97142277760
Google Map Location:
Qwaider Al Nabulsi is a renowned establishment in Dubai, celebrated for its exceptional Kunafa and a wide selection of Arabic sweets.
This popular destination is a must-visit for dessert enthusiasts seeking an unforgettable culinary experience.
Open until 1:00 AM, Qwaider Al Nabulsi caters to late-night cravings, providing a welcoming atmosphere both inside and outside in the seating area.
It has become a favorite spot among locals, drawing in crowds who appreciate the authentic flavors and impeccable quality of their offerings.
The Kunafa served at Qwaider Al Nabulsi is a true delight, with a perfect balance of sweetness and texture that leaves patrons craving for more.
11. Nablus – Traditional Kanafeh
Contact number: +971504718831
Address: Al Seef St – Al Hamriya – Dubai – United Arab Emirates
Google Map Location:
Indulge your cravings for Kanafeh at Nablus, where the authentic taste of Arabian food and culture comes alive.
Nablus Kanafeh specializes in this delectable dessert that will take your taste buds on an unimaginable adventure.
Picture this: a generous serving of mild, stretchy white cheese perfectly complemented by a topping of rich and crispy vermicelli.
Every bite is a harmonious blend of flavors and textures, leaving you craving for more. To enhance the experience, the Kanafeh is baked in giant rounds, ensuring each piece is baked to perfection.
As you savor this delightful treat, you'll be transported to the heart of Middle Eastern cuisine, immersing yourself in the rich traditions and culinary heritage.
Nablus Kanafeh is your go-to destination for a truly authentic and mouthwatering Kanafeh experience in town.
12. Ibsais Sweets
Contact number: +971545136140
Address: B2 mall – Dubai – United Arab Emirates
Google Map Location:
Ibsais Sweets is a popular haven for Kunafa enthusiasts in Dubai.
Renowned for their fabulous, high-quality, and incredibly tasty Kunafa, this establishment has gained a stellar reputation among dessert aficionados.
One of their standout offerings is the Bain Narain Kunafa, a delectable treat that has won the hearts of many.
With a commitment to quality, Ibsais Sweets is undoubtedly one of the best destinations for Kunafa in Dubai, making it a highly recommended place for those seeking an exceptional culinary experience.
Beyond their exceptional Kunafa, Ibsais Sweets is known for its friendly and helpful staff who go the extra mile to ensure a memorable visit.
The service is impeccable, reflecting the warm and welcoming atmosphere that awaits customers.
Whether you're looking to enjoy the Kunafa cheese rolls for office gatherings or indulge in authentic Nabulsi Kunafa with friends and family, Ibsais Sweets is the perfect choice.
Contact number: +97142689900
Address: 32 24 St – Deira – Dubai – United Arab Emirates
Google Map Location:
Bait Al Kanafa Traditional Foods Restaurant, located in the UAE, is a culinary haven renowned for its Arabic, Pastries, and Desserts.
With a convenient delivery service across Abu Hail, they offer a diverse menu that caters to various tastes and preferences.
Among their standout dishes, the Sambosa (5 pieces), Chebab Cheese And Honey, and Cinnamon Lokaymat rank as customer favorites.
However, the restaurant boasts an extensive selection of Arabic cuisine, pastries, and desserts to satisfy every craving.
Visitors have praised the skill of the waitstaff who consistently serve perfectly cooked chebab, chicken, and sandwiches.
Patrons can indulge in delightful meals while also relishing the option to order the tantalizing luqaimat.
Complementing the dining experience, guests can savor delicious tea, karak, or coffee.
Bait Al Kanafa Traditional Foods also offers the convenience of food delivery, adding to its appeal.
Nevertheless, Bait Al Kanafa Traditional Foods remains a destination worth exploring for its reasonable prices and delightful culinary offerings.
14. Arabesq
Contact number: +97143253515
Address: Unit LG – 126 – 3 – Financial Center Rd – Downtown Dubai – Dubai – United Arab Emirates
Google Map Location:
Arabesq, a renowned gourmet Arabic sweets shop, offers a delectable assortment of Arabic sweets, made fresh locally in countries such as Jordan, Lebanon, Syria, Yemen, Oman, UAE, Saudi Arabia, and Kuwait.
With a commitment to providing traditional and authentic sweet delicacies, Arabesq caters to people from around the world seeking to indulge in the flavors of the Middle East.
One of their standout creations is the irresistible Kunafa, which has become a personal favorite for many visitors.
As one approaches Arabesq, they are captivated by the captivating scene of a skilled artisan using a large wooden pestle to pound into a container, creating a rhythmic melody that entices onlookers.
This spectacle introduces guests not only to Kunafa but also to the famous Syrian hand-pounded ice cream known as "Booza."
The Kunafa at Arabesq is a culinary masterpiece, boasting a delightful blend of textures and flavors.
From the satisfying crunch of pistachios to the aromatic sugar syrup and the gooey cheese, every bite takes the senses on an enchanting journey.
For those seeking a taste of food heaven, Arabesq is the perfect destination. Indulge in their Arabic sweets at this charming boutique sweet shop, and you'll be grateful for the recommendation.
15. Papa Kanafa | Al Barsha
Contact number: +97143999779
Address: Al Barsha – Dubai – United Arab Emirates
Google Map Location:
Papa Kanafa is renowned for their exceptional kunafa, and their Kinder Nutella Kanafa is a true testament to their mastery.
With a crispy exterior and a melt-in-your-mouth interior, this dessert is a delightful blend of chocolate and cheese flavors. It is an experience that transports taste buds to new heights.
Customers have consistently praised Papa Kanafa's kunafa offerings, and the Kunafa Narem Cheese is no exception.
One satisfied customer recently ordered it through Talabat and couldn't help but rave about it.
They rated it a perfect 10 out of 10 and declared it the best kunafa they have ever tasted in Dubai.
In addition to the delectable taste, Papa Kanafa takes pride in their presentation.
The package and plate are designed to enhance the overall experience, ensuring that customers are delighted from the moment they receive their order.
For those seeking an unforgettable kunafa experience, Papa Kanafa is the go-to choice.
Prepare to indulge in the finest flavors and impeccable service that will leave you craving more.
Contact number: +97144248082
Address: The Beach – Jumeirah Beach Residence – Dubai – United Arab Emirates
Google Map Location:
Awani, a culinary establishment deeply rooted in Levantine heritage, offers a tantalizing culinary experience that showcases the rich flavors of the region.
Their expertise shines through in their signature dish, the Kunafa.
With a profound understanding of Levantine cuisine's narrative, Awani pays homage to age-old traditions while rewriting the recipe for the future.
Awani takes pride in using ancestral tools and authentic ingredients to create the Kunafa, a dessert that captures the essence of Levantine culinary heritage.
This sweet delicacy, made with layers of crispy shredded phyllo dough, rich cheese, and a luscious syrup, is a testament to the artistry and craftsmanship Awani brings to the table.
Every bite of Awani's Kunafa is a journey through time, evoking a sense of nostalgia and warmth.
By fusing these familiar tastes with contemporary flair, Awani creates a unique culinary experience that connects generations and celebrates the enduring legacy of Levantine cuisine.
17. Al Sultan Sweets & Oriental Restaurant
Contact number: +97143396900
Address: 605 Jumeirah St – Umm Suqeim – Umm Suqeim 1 – Dubai – United Arab Emirates
Google Map Location:
Al Sultan Sweets, established in Dubai in 1997, is renowned for its delectable Oriental and Arabic sweets and pastries, with a wide range of products to choose from.
Among their exceptional offerings, their kunafa stands out as a true delicacy.
Crafted with passion and using only the finest ingredients, Al Sultan Sweets ensures that each pastry is made with organic products such as vegetable margarine, almonds, cashews, and pistachios, carefully sourced from dedicated farmers who uphold the highest standards.
The dedication to quality and cleanliness has earned Al Sultan Sweets certification from the International Organization for Standardization.
This commitment to excellence has also garnered the company numerous accolades and awards, including ISO, HACCP, HALAL, and FDA certifications, as well as international recognition for the best taste in the world.
With a strong presence in the UAE and branches across different cities, Al Sultan Sweets provides customers with carefully packaged products, tailored to their preferences.
They offer special gift boxes that ensure the sweets remain fresh during long-distance travel.
Al Sultan Sweets is a regular participant in prominent local, regional, and international exhibitions and conferences, showcasing their exceptional products and expanding their reach globally.
Contact number: +97145844694
Address: The Dubai Mall, Fountain Level – Dubai – United Arab Emirates
Google Map Location:
Hafiz Mustafa, a renowned candy maker established in 1864 by Hadji İsmail Hakkı Bey, holds a prestigious position in Istanbul's culinary heritage.
Under the patronage of Sultan Abdulaziz Khan, Hafiz Mustafa's journey began in Bahçekapı, Istanbul, before being handed over to his son, Hafiz Mustafa.
Hafiz Mustafa is credited with discovering and perfecting the savory pastry known as pogaca, establishing a reputation that led to the brand winning 12 European medals in bakery and confectionery between 1926 and 1938.
This recognition not only bolstered the brand's credibility nationally but also elevated the global reputation of Turkish products.
Continuing the family tradition, Cemil Bey, Hafiz Mustafa's son, maintained the brand's reliability with the introduction of the "Çikolat Cemil" brand.
Sherbets, confectionaries, and Turkish delights occupy a special place in Ottoman cuisine, and Hafiz Mustafa's offerings exemplify the richness and tradition of these delicacies.
Contact number: +971543006800
Address: 455W+FRJ – Al Barsha – Al Barsha 1 – Dubai – United Arab Emirates
Google Map Location:
Kanafani, an esteemed establishment founded in Lebanon in 1987, takes immense pride in its traditional Arabic sweet-making expertise.
With a time-honored recipe that has been handed down through generations, Kanafani is thrilled to extend its 30-year legacy of kunafa craftsmanship to the vibrant city of Dubai.
At Kanafani, the art of creating the perfect kunafa is a cherished tradition.
Meticulously prepared using the finest ingredients and authentic techniques, our kunafa embodies the rich flavors and textures that have captivated sweet enthusiasts for decades.
Each bite is a harmonious blend of crispy vermicelli pastry and a luscious, melt-in-your-mouth cheese filling, delicately sweetened and infused with aromatic hints of rose water or orange blossom
Contact number: +971581153210
Address: Jumeirah 3 – 732 Jumeirah St – Umm Suqeim – Umm Suqeim 2 – Dubai – United Arab Emirates
Google Map Location:
Beygolu Baklava Dubai, renowned for its authentic Turkish baklava, presents a delectable selection of kunafa that promises an unrivaled taste experience.
Handcrafted with precision and passion, every kunafa from Beygolu Baklava Dubai showcases the essence of Turkish culinary traditions.
With a legacy of years in the industry, they have mastered the art of creating these delightful sweets that cater to the discerning palates of dessert enthusiasts.
Their commitment to excellence is evident in the meticulous sourcing of the finest ingredients, ensuring that each kunafa embodies the authentic flavors of Turkey.
Whether you indulge in the classic kunafa or opt for innovative variations, the unparalleled quality and unique taste will leave you craving for more.
Beygolu Baklava Dubai takes pride in bringing the original Turkish baklava story to the United Arab Emirates, offering customers the opportunity to savor the best and highest quality products directly imported from Turkey.
Experience the rich heritage and mouthwatering sweetness of Turkish kunafa by indulging in the irresistible creations of Beygolu Baklava Dubai.
Contact number: +97148878589
Address: Lower Ground Floor, Dubai Mall – Downtown Dubai – Dubai – United Arab Emirates
Google Map Location:
Kadayıfzade, renowned for its expertise in crafting delectable Turkish desserts, invites you to savor their exceptional kunafa creations.
Boasting a rich heritage spanning over 160 years, Kadayıfzade prides itself on preserving time-honored recipes that have been cherished for generations, guaranteeing an authentic and unforgettable gastronomic journey.
Drawing inspiration from the distinct flavors of traditional Turkish cuisine, Kadayıfzade seamlessly merges the exquisite taste of kadayıf with a contemporary and inventive twist.
Their kunafa, a quintessential Turkish dessert, showcases a harmonious blend of delicate, crispy layers of shredded phyllo pastry, indulgent cheese fillings, and a luscious syrup infusion.
Each bite unravels a symphony of textures and flavors, leaving a lasting impression on your palate.
With meticulous attention to detail and a commitment to using only the finest ingredients, Kadayıfzade ensures that every kunafa creation is a work of art, crafted with passion and expertise.
Contact number: +97142525252
Address: Dubai Silicon Oasis – Dubai – United Arab Emirates
Google Map Location:
Lamagon is an exceptional culinary destination renowned for its delectable kunafa, situated in the heart of the UAE.
With a reputation for providing an unparalleled dining experience, Lamagon stands out as one of the best establishments in the region.
Guests are immediately embraced by the warm and inviting hospitality, creating an atmosphere that feels like home.
Lamagon takes pride in serving an array of mouthwatering Arabic sweets, including their renowned kunafeh, which has garnered a remarkable reputation.
The menu extends beyond sweets, featuring a diverse selection of delectable options such as cakes, shawarma, pastries like pizza, fteer, manakesh, and an assortment of delightful dishes like kebab and shish tawook.
Beyond the culinary delights, Lamagon offers a beautiful environment and ambiance that adds to the overall dining experience.
The attentive and friendly staff ensures excellent customer relations, making each visit memorable. The convenience of the location is an added bonus, making it a preferred choice for both locals and visitors alike.
Contact number: +97143585822
Address: Al Seef St – Umm Hurair 1 – Dubai – United Arab Emirates
Google Map Location:
ILA is proud to introduce their new plant-based menu, catering to a variety of dietary preferences.
Partnering with Just Vegan, ILA offers an incredible selection of wholesome and delicious dishes that are perfect for vegans and vegetarians.
While ILA is known for their fresh Arabic cuisine, they also offer a range of other delectable options.
Whether you're in the mood for breakfast, lunch, or dinner, ILA has you covered with their chef's choice Shuk Shuka for breakfast, and a variety of soups, salads, and grills for lunch or dinner.
Indulge in their mouthwatering pizzas, burgers, pasta, and sandwiches, all crafted with the utmost care and quality ingredients.
No visit to ILA is complete without trying their signature Honey Cake and enjoying a rich cup of coffee.
With its contemporary-chic atmosphere, ILA is the perfect destination for those seeking an authentic and diverse dining experience.
Contact number: +97142223444
Address: Al Barsha – Al Barsha 1 – Dubai – United Arab Emirates
Google Map Location:
Nabeel Nafisah Sweets, founded in one of the historic neighborhoods of Damascus in 1957, is renowned for their exquisite kunafa and oriental sweets.
With a strong tradition upheld by generations of the family, Nabeel Nafisah Sweets has become synonymous with ancient Damascus and its famous culinary delights.
Over the decades, their commitment to providing the highest quality products to their valued customers has led to the establishment of multiple branches across the city and its surroundings.
Encouraged by their dedication to development and customer satisfaction, Nabeel Nafisah Sweets has expanded beyond Syria, while staying true to their original principles and foundations.
Their exceptional offerings have earned them international recognition.
Nabeel Nafisah Sweets' products have been awarded an impressive 3 out of 3 stars, with a remarkable score of 94.1%, by the prestigious International Taste Institute in Brussels, Belgium.
Contact number: +97142866577
Address: Dubai Digital Park A2 – Dubai Silicon Oasis – Industrial Area – Dubai – United Arab Emirates
Google Map Location:
Abbasoglu Sweets, with over 25 years of experience, is renowned for its exceptional kunafa and commitment to maintaining the highest standards of preparation.
With a wide range of products, boasting over 50 ancient and new varieties, Abbasoglu Sweets caters to diverse palates and ensures satisfaction for all customers.
With eight branches established worldwide, Abbasoglu Sweets is dedicated to delivering their delectable products in their finest form.
They take pride in promptly responding to customer requests, demonstrating their unwavering dedication to customer satisfaction.
Founded by Mr. Nasser Abbas (Abu Jamal) and his partners Abdul Qadir Ali Qatit and Dr. Ahmed Ali Abbas, Abbasoglu Sweets understands that the key to success lies in customer trust and contentment.
Hence, the company meticulously selects high-quality raw materials and constantly strives to enhance manufacturing standards, ensuring that their sweets meet the highest specifications.
Headquartered in Istanbul, Turkey, Abbasoglu Sweets has firmly established itself as a leading producer of Middle Eastern sweets, alongside other renowned confectionery companies in Damascus.
What to Look for in Great Kunafa Near Me
Dubai is renowned for its diverse culinary scene, and if you're craving the delectable Middle Eastern dessert known as kunafa, you're in for a treat. To ensure you find the best kunafa near you in Dubai, consider the following factors:
Authenticity: Look for a kunafa shop that prides itself on authenticity. Seek out establishments that use traditional recipes and preparation methods, ensuring an authentic and flavorful experience.
Reputation: Research the reputation of the kunafa shop. Check online reviews, ratings, and recommendations from locals or fellow food enthusiasts. A well-established and highly regarded shop is likely to deliver a memorable kunafa.
Quality Ingredients: A great kunafa is made with the finest ingredients. Look for shops that prioritize high-quality cheese, semolina, butter, and syrups. Freshness and attention to detail in ingredient selection can significantly enhance the taste.
Variety: Explore kunafa shops that offer a variety of flavors and options. Traditional kunafa with cheese is a classic choice, but some establishments may offer innovative twists with different fillings, toppings, or variations that cater to diverse preferences.
Presentation and Texture: The appearance and texture of kunafa can greatly impact the overall experience. Seek out shops that create visually appealing and perfectly textured kunafa, with a balance between crispiness and softness.
Hygiene and Cleanliness: Visit kunafa shops that maintain high standards of cleanliness and hygiene. A clean and well-maintained environment ensures the quality and safety of the dessert you're indulging in.
Customer Service: Excellent customer service can elevate your overall experience. Look for kunafa shops that offer friendly, attentive, and knowledgeable staff who can guide you through their menu and help you make the right choices.
Value for Money: While price shouldn't be the sole determining factor, consider the value you receive for the price paid. Seek a balance between quality, portion sizes, and pricing that suits your preferences.
Convenience: Finally, consider the location and accessibility of the kunafa shop. Opt for a place that is conveniently located near you or easily reachable, ensuring you can enjoy freshly made kunafa without much hassle.
By considering these factors when searching for great kunafa near you in Dubai, you're bound to find an establishment that serves this delightful dessert to perfection, allowing you to indulge in an unforgettable culinary experience.
Video: Kunafa || Simple And Creamy (The Food Lab)
Don't have time to go out and satisfy your craving for kunafa? No worries! In this step-by-step video, the vlogger will show you how to make this mouthwatering Middle Eastern dessert right in the comfort of your own kitchen.
From preparing the crisp, golden vermicelli crust to creating the ooey-gooey cheese or cream filling, the vlogger will guide you through the entire process.
Learn the secrets to achieving that perfect balance of flavors and textures as they share tips and tricks along the way.
With simple ingredients and easy-to-follow instructions, you'll be able to recreate the irresistible magic of kunafa at home.
So, grab your apron and get ready to impress your family and friends with this delectable treat.
Summary
Dubai's Kunafa scene is a true reflection of the city's cultural fusion and gastronomic innovation.
You can savor the traditional Kunafa, prepared with authentic ingredients and time-honored techniques, transporting you to the heart of Middle Eastern culinary traditions.
Alternatively, you can explore the creative interpretations and modern twists on this classic dessert, adding a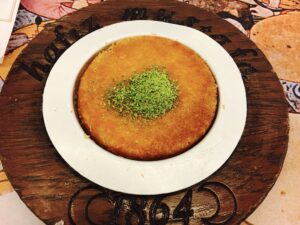 contemporary flair to your indulgence.
Whether you prefer the gooey and cheesy Kunafa or the creamy and nutty variations, Dubai's Kunafa spots have got you covered.
The combination of quality ingredients, expert craftsmanship, and a passion for perfection ensures that each bite of Kunafa is a heavenly experience.
So, if you find yourself in Dubai, be sure to embark on a Kunafa adventure and discover the flavors and textures that make this dessert so beloved.
From the traditional to the innovative, Dubai's Kunafa scene offers something to delight every sweet tooth and create lasting culinary memories.
READ NEXT: Food Recipes – Learn to Cook