Did you know that dates are considered as "holy fruits" in the Middle East? Aside from their sweet, delicious taste and being a good source of nutrients, dates have cultural and religious connotations in the region. In the UAE, in case you're wondering where you can buy dates, we have gathered this extensive list of where you can purchases these dried date fruits.
Also Read: 21 Things First-Time Tourists Should Know When Visiting the UAE
If you are a newcomer to Dubai — or any other Middle East city, for that matter — you are likely to find dates in supermarkets, souks, shopping malls, and even at the airport! In case you are wondering where you can find the cheapest dates or the best premium dates in Dubai, here's a guide to serving as your reference. Keep on reading to learn more about the region's most popular and most cherished fruit!
Today's article talks about dates, the different varieties of dates, date products, popular date brands, health benefits of dates, and where you can find the best dates, right here in Dubai!
What are Dates?
Dates are the fruit of date palm trees, which are native to most parts of the Middle East. Date palm trees can grow up to 21 to 23 metres high, with leaves measuring four to six metres in length. These trees have been cultivated in the region since ancient times for their sweet, delicious fruit!
Dates can be eaten fresh, as soon as they are picked from the tree. Likewise, they can also be dried and stored for many years — enjoyed as jam or as part of a sweet delicacy. They are a great source of fibre, iron, calcium, magnesium, potassium, and other essential nutrients.
As mentioned earlier, dates have cultural and religious connotations in the Middle East. They are mentioned in the Qur'an, the Holy Book of Islam. During Ramadan, Muslims end or "break" their fast by eating a few pieces of dates, as Prophet Muhammad (Peace Be Upon Him) used to do.
Culturally speaking, dates are also considered as symbols of abundance, generosity, and gratitude in the region. Arab families usually serve dates to relatives, friends, and colleagues who come to visit their home.
Varieties of Dates
Would you believe that there are more than 200 varieties of dates — all differing in size, shape, colour, and taste? Still, there are some varieties that are more commonly cultivated than others. Below are some of the most popular date varieties in the Middle East:
1. Barhi Dates. Barhi (also spelled as "Barhee") is a popular variety that is best enjoyed fresh instead of dried. It is known for having thick flesh and a rich, delicious flavour.
2. Dayri Dates. Originating from Basra in Iraq, Dayri (also spelled as "Derrie") is a soft, long, and red-coloured date. Over time, its colour changes from red to brown, and then to black. Although sweet in taste, this particular variety does not have an "overly" rich flavour — thus making it a great ingredient for sweet as well as savory dishes.
3. Deglet Noor Dates. Deglet Noor is a sweet and "semi-dry" variety of dates. In case you were wondering, the term translates to "Date of the Light," based on the golden, light colour of the fruit's centre when held up to the sun. Isn't that cool?!
4. Fard Dates. Commonly found in Oman, Fard (also spelled as "Fardh") features dark brown, tender skin, with a small seed and sweet flavour.
5. Halawi Dates. Halawi (also spelled as "Halawy" or "Halwa") is a small, soft, and very sweet type of date! In fact, the term "halawi" translates to "sweet" in Arabic. So now you know!
6. Khadrawy Dates. Khadrawy (also spelled as "Khadrawi") is soft, with a colour ranging from orange brown to light brown. Because of the fruit's soft texture and flavour, most people like to eat it fresh!
7. Khudri Dates. Originating from Egypt and Saudi Arabia, Khudri dates feature a dark brown colour and smooth texture. It is moderately sweet in flavour — often enjoyed as a snack, and sometimes used as an alternative to sugar. Perfect for those with diabetes!
8. Mazafati Dates. Mazafati dates are known to have originated from Bam, which is a city in Kerman, Iran. They are soft, fleshy, and dark brown in colour, with fruit measuring about 2.5-4 centimetres long. Mazafati is best enjoyed as a snack, though it can also be used in making sweet treats!
9. Medjool Dates. This type of date is cultivated in Jordan, Morocco, Palestine, and Saudi Arabia. Medjool (also spelled as "Medjul" or "Madjool") features a sweet flavour, with amber to reddish-brown skin that has a soft, yet fibrous texture.
10. Piarom Dates. Piarom dates feature a sweet taste and thin, dark skin. The fruit is also known for having a high level of fructose, which makes it a great sugar alternative for people with diabetes and high blood pressure. Interesting!
11. Rabbi Dates. Known as one of the oldest and most delicious varieties of dates, Rabbi dates originate from cities in Sistan Baluchistan, Iran. Measuring 3-5 centimetres long, the fruit is sweet and fleshy, with a soft texture. Rabbi dates can be enjoyed as snacks, or as sweet additions to breads, candy bars, cereals, ice creams, and puddings. Yum!
12. Safawi Dates. Originally cultivated in Madinah, Saudi Arabia, Safawi dates have a dark, cherry-brown colour and an intense, sweet flavour. They are known to help improve digestion, and are also used to help treat anemia and intoxication!
13. Sukkary Dates. Originally grown in Al Qassim region, Sukkary is often called the "queen of dates," due to its golden colour and sweet, delicious flavour. As you may have guessed, the name is derived from "sukkur," which is Arabic for "sugar."
14. Zahidi Dates. Zahidi dates are medium-sized, with a light brown colour and a rich, nutty flavour. They are known to be helpful in preventing indigestion, as well as improving vision and memory! Notably, the term "zahidi" means "of a small quantity" or "nobility" in Arabic.
Best Places to Buy Dates in Dubai
There are plenty of places where you can buy dates in Dubai. No matter where you go, you are likely to find dates and date products! Here are some of the most common areas where dates are available:
1. Grocery Supermarkets
Grocery supermarkets like Carrefour and Lulu — both of which are giant hypermarket chains that have numerous branches in the UAE and nearby countries — offer different brands of dates. If you are looking for packed or packaged dates, simply head to any of their branches near your place! The grocery supermarkets are probably where you can find cheap dates and of many varieties.
2. Souks or Markets
Meanwhile, if you prefer to buy fresh or freshly-picked dates, then you should definitely go to a souk or traditional market. While you're at it, you might want to buy some textiles, jewellery, perfumes, and souvenirs as well!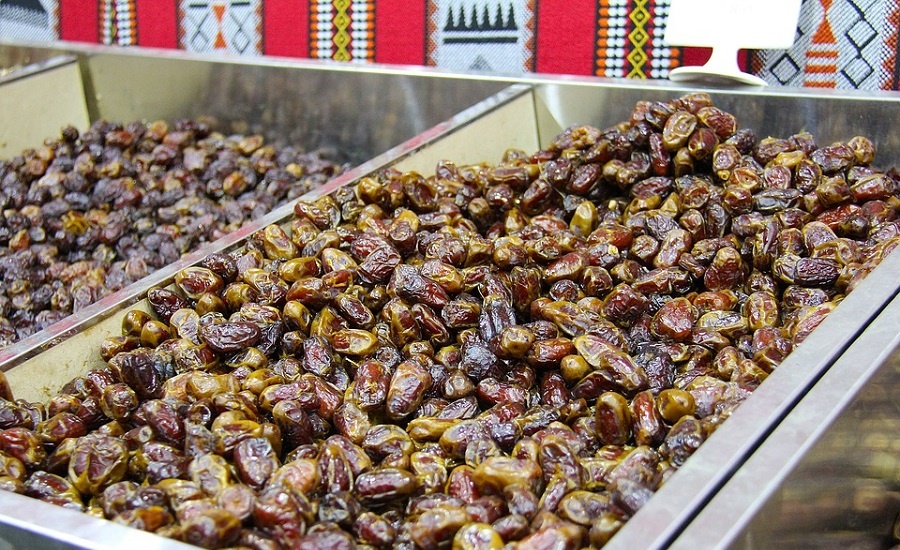 3. Dubai Duty Free
Planning to buy dates as a travel gift or souvenir for your loved ones? You can easily get them at Dubai Duty Free shops at the airport. They are the perfect, last-minute shopping gift, and your family and friends will love them!
4. Bateel Dates Gourmet Shop
Bateel is a well-known, premium cafe and gourmet dates shop in the UAE, featuring over 20 varieties of dates, such as Khudri, Medjool, and Sukkary. Aside from selling premium quality dates, they also offer delicious almond and hazelnut bars.
You will find Bateel outlets in the following locations: Burjuman Centre, Dubai City Centre, The Dubai Mall, Dubai Marina Mall, Festival City, Old Town, The Avenues Atlantis, The Walk JBR, Town Centre Jumeirah, Al Naeem Mall, and Ras Al Khaimah.
5. Online Stores
If you prefer to shop online, don't worry because you can purchase dates through shopping websites such as Amazon.ae, Dubai Store, Carrefour UAE, Fresh Fruit Mart, Kibsons, and Spinneys, among many others. All you need is your mobile phone or laptop, access to the Internet, and voila… online date shopping!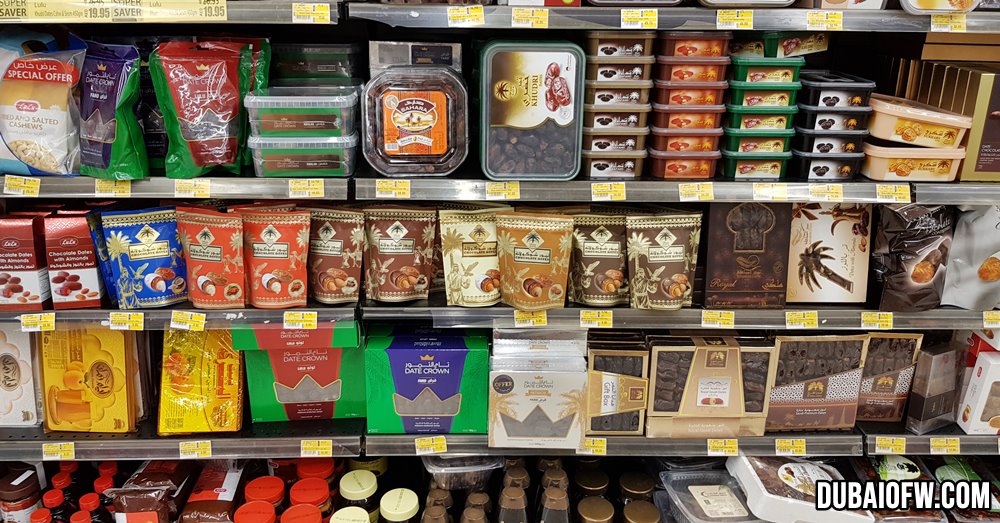 Popular Date Brands in Dubai
With regard to the specific brands of dates, here are some of the most well-known date brands in Dubai that you should try:
1. Bateel Dates
As mentioned earlier, Bateel is known for offering premium quality dates, along with butter cookies, chocolates, almond and hazelnut bars, and other gifting options. Simply head to any of their outlets scattered around Dubai!
2. Al Barakah Dates
Established in 1988, Al Barakah is a market leader in the packaging and processing of whole dates and date products. They have a state-of-the-art facility at Dubai Industrial City. Cool!
3. Bayara Dates
Bayara is the Arabic trademark of Gyma Food Industries, which is one of the most popular names in the food industry of the UAE. Interestingly, the word "bayara" means "orchard" or "plantation" in Arabic, an attribution to the fresh and natural ingredients that the company offers to all consumers. They feature more than 1,200 products, including dates, dried fruits, nuts, and spices.
4. Date Crown
Date Crown happens to be the first retail brand from Al Foah Group. It is one of the fastest-growing and leading date brands in the world, offering a wide range of products in more than 35 countries. Wow!
5. Jomara Dates
The Zahdan Group offers Jomara dates, which are cultivated at the Jomara date groves in Al Ghat, Saudi Arabia. The company's portfolio includes more than 20 varieties of dates, including Khudri, Medjool, and Sukkary. Their products also include date jams, date chocolates, and date drinks.
Date Combinations and Gourmet Products
Aside from fresh and packaged dates, there is quite a number of other products that feature dates as the main ingredient, including:
Date Oil;
Date Jams;
Date Paste;
Date Syrup;
Date Vinegar;
Date Delicacies;
Dates with Fruits;
Date Gourmet Drinks;
Dates with Chocolates (e.g. white, dark chocolate); and
Dates with Nuts (e.g. almonds, cashews, pecans, pistachios, walnuts).
Health Benefits of Dates
As mentioned earlier, dates are not only delicious, but nutritious, too! They are known to have several health benefits, as discussed below:
1. Dates are rich in protein. Dates are a great source of protein, which is essential in keeping our muscles strong and our bodies fit. In fact, did you know that many health enthusiasts and regular gym goers eat two dates a day as part of their fitness routine? Perhaps its time for you to follow their example!
2. Dates are rich in iron. Dates are rich in iron, another essential nutrient that keeps us healthy. They can help prevent iron-deficiency, which is associated with extreme fatigue, tiredness, chest pain, shortness of breath, and other symptoms.
3. Dates are rich in vitamins. Dates are a natural source of Vitamins A1, B1, B2, B3, B5, and C. They also contain natural sugars like fructose, glucose, and sucrose. They are just what you need to raise your energy levels!
4. Dates can help improve bone health. Dates contain copper, magnesium, manganese, and selenium — all of which can help keep our bones healthy, while preventing osteoporosis and other bone-related conditions.
5. Dates can help strengthen the nervous system. Dates are rich in potassium, a nutrient that helps in boosting the nervous system, while helping to reduce cholesterol and keeping the risk of a stroke at bay.
6. Dates can help lower cholesterol. Speaking of which, did you known that dates contain very little fat and are actually cholesterol-free? That's right! Eating just a few pieces of dates every day can help keep your cholesterol level in check.
7. Dates can help improve digestion. Dates have a high fiber content, which is particularly helpful if you suffer from constipation and other digestive problems. So be sure to include them in your daily diet!
8. Dates can help you gain weight. If you have problems in gaining weight, simply chew on several pieces of dates every day. The fruit contains protein, vitamins, and sugars that are helpful towards weight gain.
9. Dates can help improve your skin. Dates contain Vitamins C and D, which can help improve skin texture and elasticity. They also have anti-ageing benefits that can help prevent the accumulation of melanin. Indeed, dates can help you feel good inside, while looking good on the outside!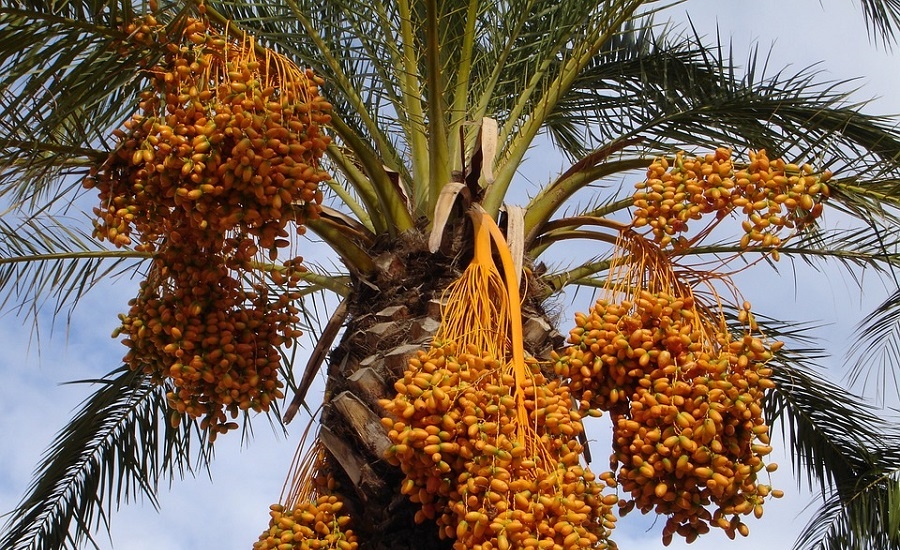 As you can see, there are so many varieties, world-renowned brands, products, and health benefits associated with dates. No wonder it such a popular and cherished fruit in the Middle East!
If you are wondering where you can buy dates in Dubai, simply refer to the list above. In addition, you can also check out these popular online shopping websites in the UAE, where you are like to find dates and date products as well!