Durian is not usually a staple of grocery stores and supermarkets in Dubai, so don't be surprised if you can't buy it there. Instead, durian is often found in specialty fruit markets that specialize in Southeast Asian produce. Some popular places to find durian in Dubai include WeMart Hypermarket, Wenzhou Supermarket, Lulu Hypermart, and Fruits & Vegetables Market.
Also Read: 24 Filipino Supermarkets in Dubai to buy Philippine Products
Durian is usually sold as packaged frozen durian pulp or fresh durian fruits depending on the store. If purchasing as a fruit, it is important to make sure you buy ripe durian with intact skin – unripe fruits will not taste as good! Durians are generally large and heavy fruits, so it is always recommended to buy from a store that can provide weighing and bagging services.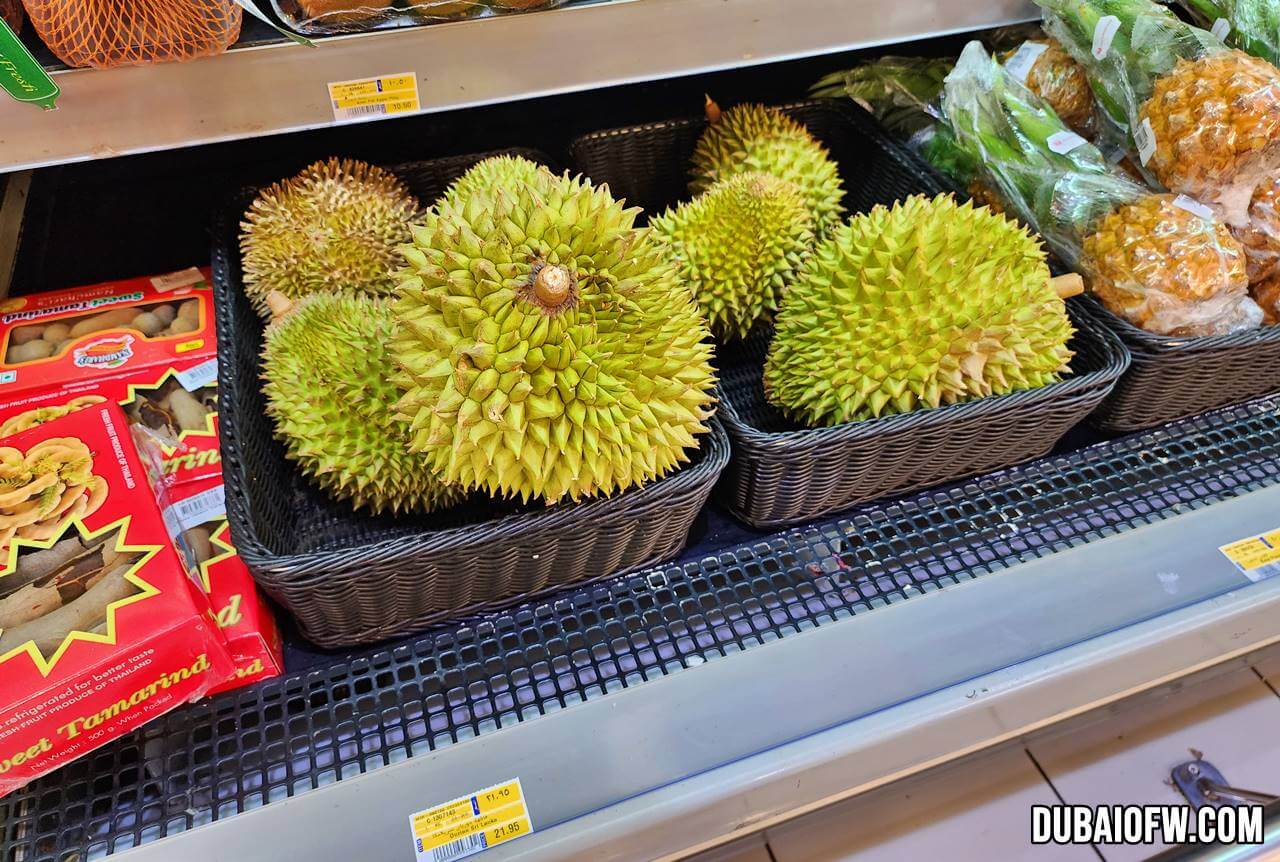 What is Durian Fruit?
Durian is a tropical fruit native to Southeast Asia. They are usually popular in countries like Philippines, Singapore, Malaysia, Thailand, and Indonesia. Durian fruits come in a wide variety of shapes, sizes, and colors – ranging from green to brown or yellow – and have an unmistakable strong aroma when ripe. It is known for its thick, spiky skin which contains sweet, creamy flesh inside. Durian is often described as having a unique flavor that can be both sweet
It has a distinctive smell and flavor – some describe it as an acquired taste, while others love its unique sweet-savory profile. Its flesh ranges from soft and creamy to firm and chunky depending on the variety.
Also Read: Baqer Mohebi: Where to Buy Cheap Chocolates in Dubai
Is King Durian fruit available in Dubai?
Yes, durian is available in Dubai and can be found at select specialty fruit markets around the city. Given that there are many Asian expats living in Dubai, durian has become increasingly popular over the past few years. You may also find durian products such as frozen pulp and concentrates at some stores.
Shops that Sell Durian in Dubai
Asian supermarkets are still growing in popularity in the Middle East and Dubai is no exception. Please check out the following places to see if this type of fruit is available.
1. WeMart Hypermarket – WeMart Hypermarket is a popular store located in Dubai that offers a wide range of Chinese and Asian products Here you can find fresh durian fruits as well as packaged frozen durian, as well as frozen durian, durian puffs and pastry. This is the best supermarket in Dubai where you have the best chance of seeing the durian fruit in the UAE. Below is a list of WeMart Branches in UAE:
Deira Clock Tower Area, Dubai
International City, Dubai
Baniyas AL Rigga Deira, Dubai
Salam&hamdan St., Abu Dhabi
DIP&Shop No 2-1, Darwish Bin Ahmed & Sons Building B, Dubai Investment Park 1
2. Lulu Hypermarket – Lulu Hypermarket is one of the supermarkets in Dubai where residents can buy affordable items. They sell a variety of items and sometimes in the fruit section, you can find durian fruit as well as other Southeast Asian produce.
3. Wenzhou Supermarket – Wenzhou Supermarket is located in the International City and is known for its wide range of Chinese imports. Here you can find durian fruits.
There are also some supermarkets in Dubai that offer Asian products but it is not guaranteed and depends on the availability of durian during that time. So if you're really keen in getting durian here in the UAE, please visit the WeMart supermarket.
Also Read: Where to Buy Dates in Dubai?
Other Durian Products
While durian is best eaten fresh, there are other products made out of the fruit which are very popular. These include:
durian chips
durian pastries
durian candies
durian ice cream
These products can also be found in some supermarkets and grocery stores as well. We saw some durian puffs and durian bread available in WeMart.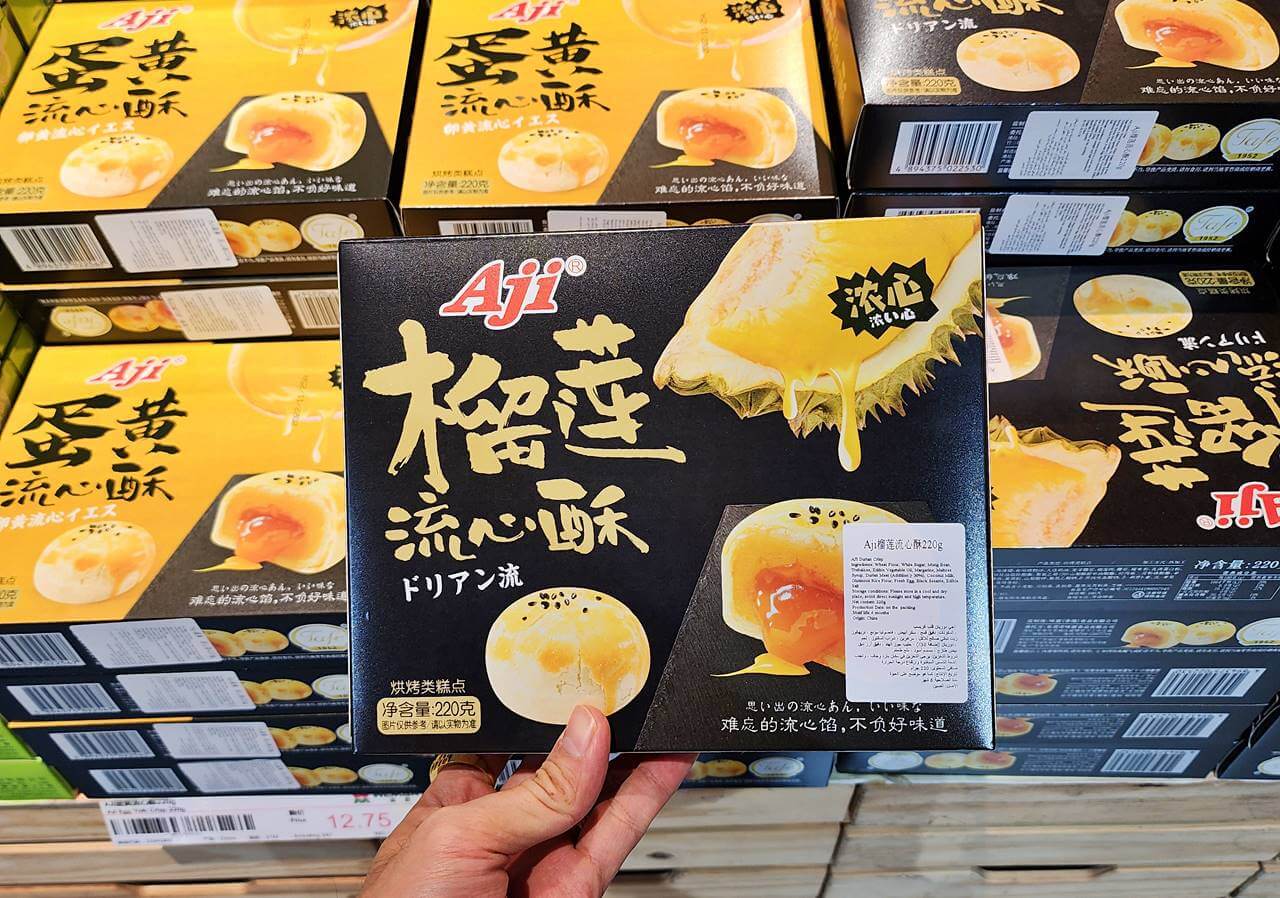 How to Choose Fresh Durian in Dubai
When choosing fresh durian in Dubai, it is important to be mindful of a few things. Here are some tips to help you choose the best durian:
Choose ripe durians with intact skin. Unripe fruits will not taste as good and may even spoil quickly.
Smell the fruit before purchasing. Durian have an unmistakable strong aroma when ripe and fragrant, while unripe fruits have a more mild smell.
Avoid buying bruised durian as they will not taste as good.
Look for durian with firm flesh and no soft spots or cracks in the skin.
Check the weight of the fruit to make sure it is not too light for its size.
Buy from a store that can provide weighing and bagging services. This will help ensure that you get the proper weight of durian, which may be difficult to measure on your own.
When stored correctly in the fridge or freezer, durian can last for up to two weeks. But if you don't want the smell to linger, it is best to consume durian as soon as possible after buying it.
Where to Buy Durian in Dubai Online?
Apart from buying durian at supermarkets and grocery stores, you can also purchase them through shopping websites online. Ordering online is convenient, fast, and hassle-free. All you have to do is pick the type of durian you want, choose a delivery date and time, and your order will be delivered right to your doorstep.
You can also find durian products such as frozen pulp and concentrates online. These are more convenient options if you want to enjoy the fruit's unique flavour without having to buy a whole durian.
However, it's really much better if you're able to go to the shop and pick up the durian yourself. This way, you can be sure that your durian is fresh and of good quality. But if you're looking for convenience, then online delivery is a great option.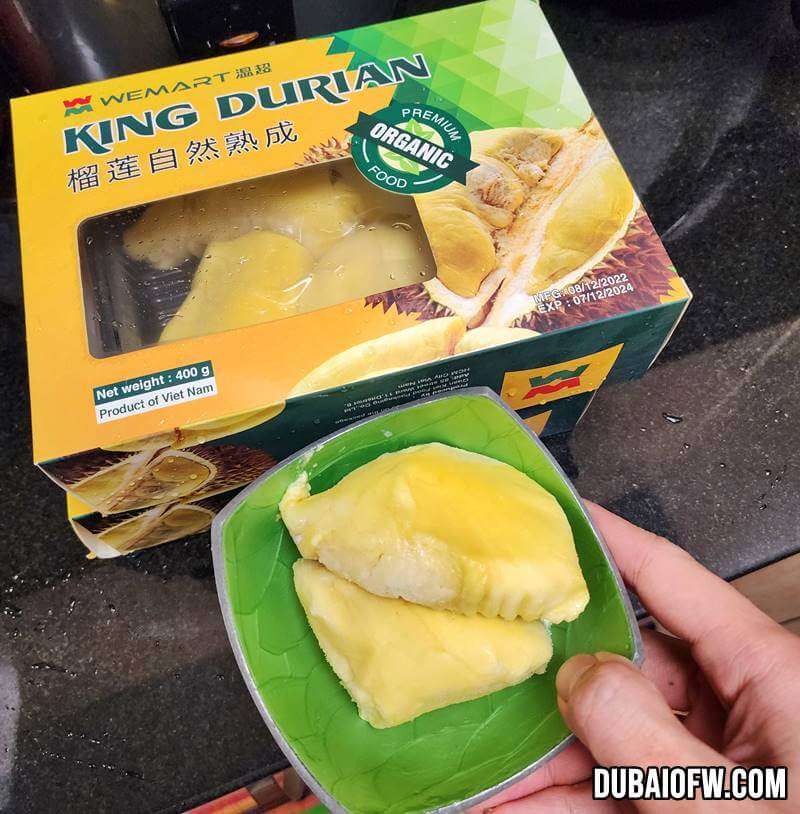 Summary
When buying durian in Dubai, the quality of the product should be checked for freshness and taste. Make sure to look for only ripe durians with no bruising or discoloration. If buying frozen durian pulp, check the packaging for any signs of spoilage or discoloration.
Many stores in Dubai offer delivery services, so if you're not able to visit a local market, it is possible to order durian online or by phone. There are many online shops that specialize in Southeast Asian produce and can deliver durians right to your doorstep.