Wondering what to do while staying at home? There are many fun, productive, and creative hobbies that you can engage in! One of these is gardening. You could grow and propagate flowering shrubs, vegetables, orchids, succulents, indoor plants, and much, much more!
ALSO READ: 15 Apps for Buying Goods & Services While Staying at Home
Gardening is a great way to relax, while doing something useful with your hands. It's like having your own piece of natural heaven, right in your terrace, rooftop or yard. Whether you are a beginner or an expert gardener, now is always a good time to flex your green thumb!
Where to Buy Plants in Dubai
Here in Dubai, you'd be happy to find many fellow nature lovers and gardeners. Even though the city is filled with modern technology, there are plenty of green spaces, such as public parks and urban gardens, where you can simply relax after a busy day at work.
As for plants and gardening supplies, you can easily buy these from supermarkets like Carrefour, Dragon Mart, and Spinneys. Aside from these, there is quite a number of plant nurseries and shops that offer garden tools and supplies, along with landscaping, irrigation, and maintenance services. Among these are the following places:
1. Dubai Garden Centre
Located along Sheikh Zayed Road, Dubai Garden Centre features gardening tools, indoor and outdoors plants, and decorative furnishings. Owned by the Desert Group, it is also a great place to relax with the whole family. There's a cafe, Roseleaf Cafe, where you can enjoy a cup or two while your kids enjoy the aquarium displays!
Every summer, the place holds a camp for kids, offering fun and exciting activities. There's also a 10:00 am fish-feeding activity daily, and everyone is invited!
Address: Sheikh Zayed Road, 4th Interchange, Dubai
Telephone: +971 4 590 4333
Email: garden-centre@desertgroup.ae
Website: https://dubaigardencentre.ae/
Timings: 8:00 am to 10:00 pm
2. Gover Garden Centre
Situated at Al Warsan, Gover Garden Centre spans a 40,000-square feet display area, filled with flowering shrubs, indoor plants, and garden supplies. If you are planning to set up a garden at home or in the office, this is a great place to start getting all that you need!
Notably, Gover Garden Centre is part of the Gover Group of Companies, a leading name in the field of horticulture across the GCC. Their products and services have been sought in more than eight countries in the region!
Address: Al Warsan 3, Dubai
Telephone: +971 4 287 2900
Email: govergardencenter@gmail.com
Website: https://www.govergardencentre.com/
Timings: 7:00 am to 8:00 pm
3. Green Glades
Also located at Al Warsan is Green Glades, a plant nursery owned by Green Glades Landscaping LLC. Their products include indoor plants, ornamental shrubs, succulents, forest trees, fruit trees, date palms, seasonal flowers, climbers, tall grasses, and more! The company also provides landscaping, irrigation, and maintenance services.
Address: Al Warsan 3 Dubai
Telephone: +971 52 5883 964 / +971 52 5883 965
Email: enquiry@greenglades.ae
Website: https://greenglades.ae/plant-nursery-dubai.html
4. Hassan Akbar Garden Design
If you live in or near Umm Suqeim, check out Hassan Akbar Garden Design, which is right in front of the mosque behind the Spinneys Centre. Here, you will find a wide variety of indoor and outdoor plants, along with vases and pots in different sizes.
Address: Umm Suqeim, Dubai
Telephone: +971 4 394 8009
Timings: 10:00 am to 10:00 pm
5. Orchid Garden Centre
Established in November 2010, Orchid Garden Centre is a "one stop shop" for all things related to gardening, including plants, garden furniture, accessories, and even irrigation systems! It is situated in Al Warsan, an area known for its many plant nurseries.
Aside from selling flowering shrubs, vegetable plants, and trees, Orchid Garden Centre also provides landscaping and irrigation services, for both residential and business settings.
Address: Al Warsan 3, Academic City Road, Dubai
Telephone: +971 4 287 3280
Email: info@ogc.ae
Timings: 8:00 am to 08:00 pm
6. OxyGreen Plants
Did you know that indoor plants serve as natural air purifiers? They not only make your home and office look good, but keep the air fresh and healthy, too! You can buy them from OxyGreen Plants, an online store featuring tabletop plants, flowing shrubs, and hanging plants that you can place indoors.
Check out their online plant gallery and take your pick from the bamboo palm, date palm, rubber plant, money plant, snake plant, spider plant, and other interesting flora!
Address: Al Karama, Dubai
Telephone: +971 56 171 5511
Email: oxygreenplants@gmail.com
Website: http://oxygreenplants.com/
7. Plantsworld.ae
Plantsworld.ae is another online store featuring plants and accessories, for both indoor and outdoor gardening. Owned by Plants World Trading, the company office is located at The Binary Tower in Business Bay. If you need help setting up a home or office garden, the company also provides designing, installation, and maintenance of indoor plants. Cool!
Address: The Binary Tower, 4th Floor, Marassi Drive, Business Bay. Dubai
Telephone: 052 427 9966
Email: sales@plantsworld.ae
Website: https://plantsworld.ae/
8. Wahat Al Sahraa Nursery
Situated at Al Khawaneej, Wahat Al Sahraa Nursery is one of the biggest plant nurseries in the emirate. Here, you will find a great selection of ornamental plants, succulents, and different kinds of herbs, trees, and palms. Pots, planting soil, and other gardening soil are also available at the nursery, which is managed by Desert Group, a leading landscaping company.
Address: Al Amardi St., Al Khawaneej, Dubai
Telephone: +971 4 289 1063 / +971 55 503 8430
Email: nursery.enquiry@desertgroup.ae
Website: https://dgnurseries.com/
Timings: 8:00 am to 6:00 pm
9. Zabeel Nursery
Another great place to check out at Al Warsan is Zabeel Nursery, which features a variety of flowering shrubs, vegetables, trees, and indoor plants. They also have plenty of tools, fertilizer, garden decor, and everything you could ever need to set up a beautiful garden!
Address: 1 Dina Home St, Al Warsan 3, Dubai
Telephone: +971 56 438 9009 / +971 56 533 4800
Website: https://zabeelnursery.business.site/
Timings: 6:30 am to 08:00 pm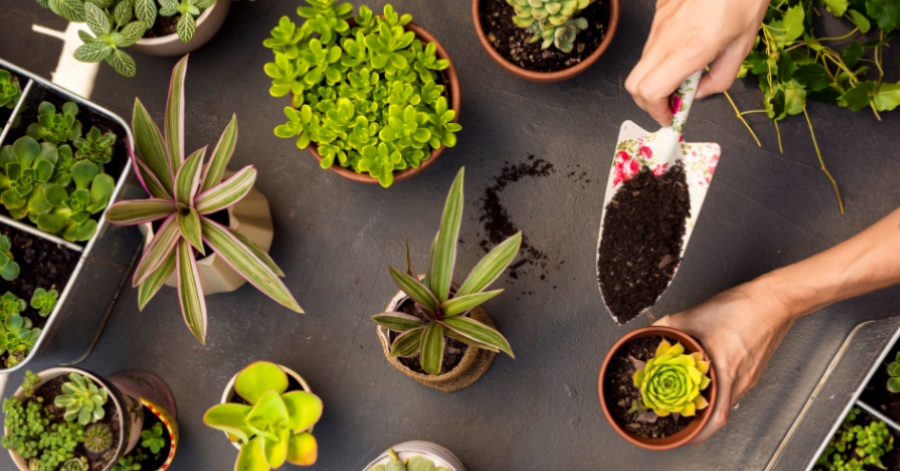 These are just some of the places where you can buy plants, tools, and accessories for your garden in Dubai. If you haven't tried gardening yet, then now would be the best time to start!
And speaking of plants, have you tried eating fresh or preserved dates? Grown all over the Middle East, dates are a popular snack, and can be consumed by itself or as part of a product, such as date jams, date syrup, date gourmet drinks, dates with nuts, and even dates with chocolates! Here are some of the places where you can buy the best dates and date products in Dubai.