Here it is, friends. We've arrived at the most wonderful time of the year. Christmas is finally upon us, and we're all hyped up for the exciting celebrations! If you're in the UAE, you might want to know how Christmas is celebrated in its top cities like Dubai and Abu Dhabi.
In this post, we'll look at some of the best places to celebrate Christmas in Dubai, as well as some of the biggest events that are happening in the city. We'll also answer some frequently asked questions about the customs and traditions of Christmas in Dubai. So, without further ado, let's get started!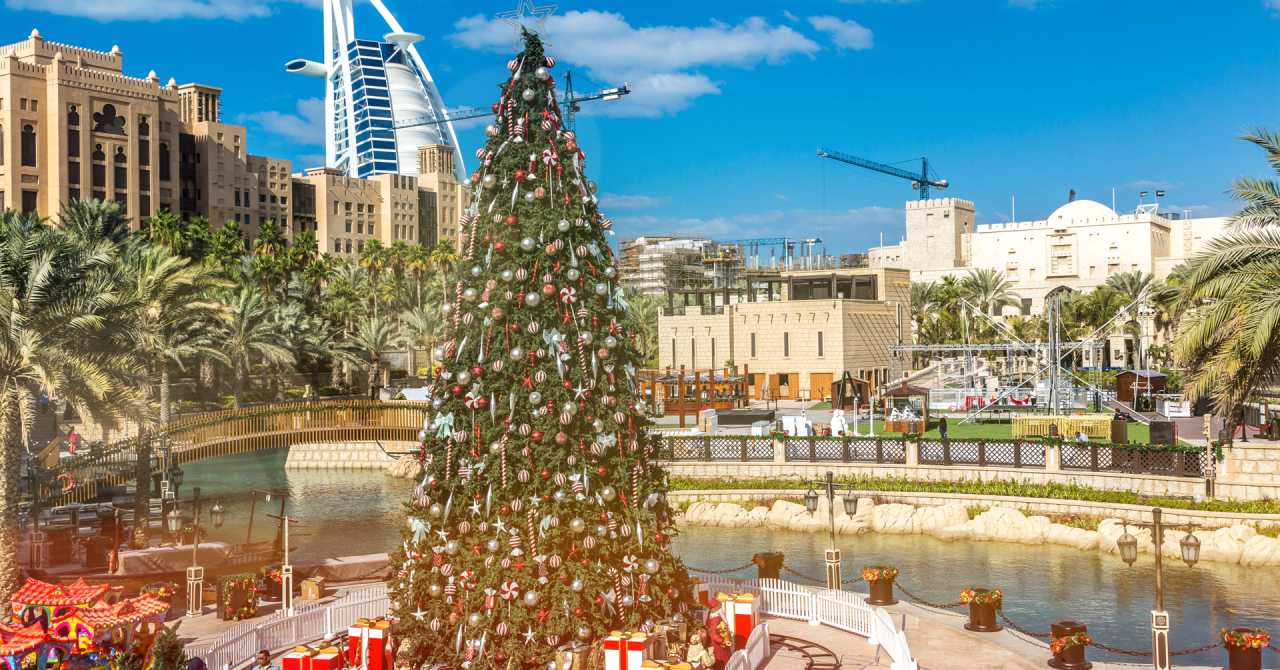 Christmas in Dubai
Dubai is the ideal location for those looking for the perfect Christmas weather. It's warm during the day, and it gets a little cold at night. This means that it's ideal to wear a light jacket or a cardi during your evening walks. The temperature in the city can reach around 21 degrees Celsius, and it can drop to around 16 degrees at night. Christmas is the best time of year for tourists from all around the world, as it's the perfect time to enjoy the city.
The chill is in the air, and December in Dubai is turning into a time for festivities and winter activities. There is plenty of fun to be had this Christmas season with a variety of activities and events happening in the city.
Although the UAE is mainly known for its Muslim population, other religious festivals are also celebrated in the country. One of these is Christmas. Dubai, which is a multicultural city, has embraced the holiday with open arms.
So if you're in the city for the holidays, you might be interested in the following activities and events that are happening this December.
Where to Find the Best Christmas Trees in Dubai
One of the most popular sights we get to see during the Christmas season is the Christmas tree. These are located in different parts of Dubai, including malls and commercial centers. They're beautifully decorated with colorful lights and other festive designs. If you're looking for a place to hang out with your family with a beautiful Christmas tree for your IG backdrop, then you might want to check out the following spots:
1. Swissotel Al Ghurair
Begin the holiday season with a special evening filled with delicious treats and festive drinks starting 29 November. Guests can enjoy a variety of activities, such as a tree-lighting ceremony and a gingerbread workshop. For those who want to learn more about Lindt chocolate, they can join a tasting session for just AED 99. Guests can also enjoy a festive afternoon tea experience for AED175.
2. Habtoor Grand Resort
The Habtoor Grand Resort and Residences' tree-lighting ceremony is a dazzling event that starts the holiday season. This year, the hotel's signature collection is celebrating the season by inviting guests to join in the festivities. Guests can enjoy a special Christmas sing-along with Santa Claus and his helpers – perfect for the kids and even the kids-at-heart!
3. Emirates Golf Club
The Emirates Golf Club is hosting a festive party and tree lighting ceremony this Christmas season. This event will feature a live choir singing some of your favorite Christmas songs, as well as a few glasses of wine.
The event is on a first-come, first-served basis, and it will be held at the club's Spike Bar. The festive party will feature two hours of house beverages beginning 8 pm for only Dhs155.
4. Taj JLT
It's a special occasion for the family to decorate their Christmas tree, which is a tradition that's celebrated once again at Taj JLT starting 7 December. During this time, guests can enjoy a variety of festive beverages and food, as well as listen to a choir. Kids can also get a photo with Santa Claus.
5. Santa's Secret Island – Blue Waters
This magical island in Dubai offers something for everyone during the holiday season. On December 9, there will be a tree-lighting ceremony. Kids can also enjoy a visit from Santa's grotto and participate in various workshops.
6. Expo City Dubai
From November 2022 to January 2023, the various areas of Expo City Dubai will be transformed into a magical winter wonderland. The area will feature a variety of Christmas markets and activities, such as a letter-to-Santa station and a snow globe.
The Winter City's official start will be on December 9, with a dazzling ceremony that will feature the lighting of a 16-meter Christmas tree. It will also feature the Mrs Claus Christmas show, which will be held from December 20 to 29.
7. Palazzo Versace Dubai
The festive season will be celebrated at the Mosaico lounge with a tree-lighting ceremony on December 9, starting at 6 pm. This event will feature a variety of activities and will allow guests to enjoy the views of Dubai Creek.
Where to Buy Christmas Decorations in Dubai
Nothing says Christmas like a lavish and festive home makeover. This season, give your house a festive makeover with the help of these Christmas decorations in Dubai. Various outlets in the city offer a wide range of Christmas decorations, such as ball lights, Christmas wreaths, and ball garlands. Here are some of the popular places worth checking out:
1. IKEA Dubai
2. Home Centre
3. Homesmith
4. Bloomingdale's
5. Marks & Spencer (M&S)
6. West Elm
7. Irony Home
8. Daiso Japan
9. Party Centre
10. Kibsons
And if you're not keen on going out for shopping, you can also send a request to any of these stores to place an order. You can even opt for online shopping if you're not keen on venturing out into the city during peak hours. Here are some of the top online stores in the city:
1. Crate & Barrel
3. Noon
Best Places To Visit For Christmas In Dubai
Although Dubai isn't usually known for its white Christmas, there are plenty of events taking place in the city that celebrate the holiday season. If you're planning on visiting the city this Christmas, then these are the experiences that you should check out.
1. Mall of the Emirates
The Mall of Emirates, which houses the world's longest indoor ski slope, will be holding its Christmas celebrations starting 1 December. The event will feature a tree-lighting ceremony and a parade led by Santa Claus. There will also be various activities for children, such as art workshops and storytime with Mrs Claus.
Santa Claus can be found inside one of the mall's atriums. He's sitting at the foot of a tree that's three stories tall. During the evening, various activities and musical performances will be held in the area.
2. Dubai Opera
The Dubai Opera, one of the most prominent cultural institutions in the city, will be hosting a variety of events during the holiday season. One of these is the Christmas market, which will be held from December 1 to 6. The venue will also be hosting a series of musical performances by London-based bands.
3. Peter Pan at Queen Elizabeth 2
The Dubai Opera, which is a prominent cultural institution in the city, will be holding various events during the holiday season. Some of these include the Christmas market, which will take place from December 1 to 6. Also, the venue will be hosting a series of performances by London bands.
4. Cinderella at the Palm
The Fairmont The Palm Jumairah will present a fairy tale to life with Cinderella, which will take place from December 18 to 27. This will be a delightful production that will feature a wide variety of costumes and sets and will also feature a few audience interactions.
The Best Christmas Markets in Dubai
The Christmas markets in Dubai are a major component of the city's celebrations. These are filled with world-class entertainment and traditional foods. There are a variety of fun and glamorous fairs that are also held in the city:
Winter City at Expo City
The Winter City will be hosting a Christmas market starting on December 9. It will feature various games and stalls, as well as the Mrs Claus show, which will be held during Expo 2020.
Ski Dubai
A festive Christmas season is filled with fun activities and gifts for all the children. It's also full of food stalls and festive movies.
Winter Garden, Habtoor City
The Winter Garden in Habtoor City features various stalls that offer unique and beautiful trinkets and clothes. There are also plenty of Christmas decorations for sale.
Madinat Jumierah Festive Market
The Christmas Market in Dubai is a must-visit for anyone who enjoys shopping and creating art. It's open from 15th December till the end of December. There are also various attractions such as the Santa's grotto and the Venetian carousel.
The Global Village
The Global Village is a multicultural theme park that showcases the heritage and traditions of various countries. It features over 25 international pavilions, and it has various rides, shows, and street food. The park also has the region's only Ripley's Believe It Or Not.
The Adventureland would be adorned with the festival's colors, and Santa would be bringing presents to the kids. Large Christmas trees would also be displayed. Global Village would be ideal for adults and kids to spend Christmas.
Video: Christmas desert: how Dubai celebrates the festive season
Here's a fun scoop about how residents in the city of Dubai celebrate Christmas in all the flashiest, most colorful and festive ways possible. If you're spending the holidays in the city, it's a good time for you to experience the local culture while having fun with friends, family and colleagues.
In this video posted by the euronews Youtube channel, we explore how people in Dubai are getting into the holiday spirit. From skydiving Santa to sleigh rides on water, we learn about how people are getting in the holiday spirit.
Frequently Asked Questions
1. Does it snow in Dubai?
Although Dubai doesn't usually experience snow, it does get a heavy shower of hail during the winter season. The areas around the city, such as the Jumeirah and the Al Wasl, are frequently hit by hailstones.
2. Can I swim in Dubai in December?
In December, swimming in Dubai is very pleasant. The sea temperature is around 78 degrees Fahrenheit, which is ideal for long periods of time in the water.
3. Is Dubai still hot in December?
In December, Dubai is quite cold. It's part of the winter season already The city will enjoy eight hours of sunshine a day, which will allow you to explore its various attractions. The temperature at the beach at 23 degrees Celsius is ideal for swimming.
4. Is Dubai expensive in December?
The most expensive time to go to Dubai is between December and February, as the best deals on hotels and families are usually sold out months in advance.
5. Do the Emirates celebrate Christmas?
Although the United Arab Emirates is a Muslim nation, Christmas decorations can still be seen in shops and hotels throughout the country. The streets are also adorned with trees and lights.
6. Do Muslims celebrate Christmas?
Muslims believe that it is important to respect other people's cultures and values. Although they do not celebrate Christmas, they try to help those who celebrate alone by participating in food drives and church services.
7. How can I celebrate Christmas in Dubai?
The Christmas season in Dubai is a popular time of year. The city's major landmarks and malls are adorned with decorations and festive lights. There are also various Christmas markets where you can buy gifts and other holiday accessories.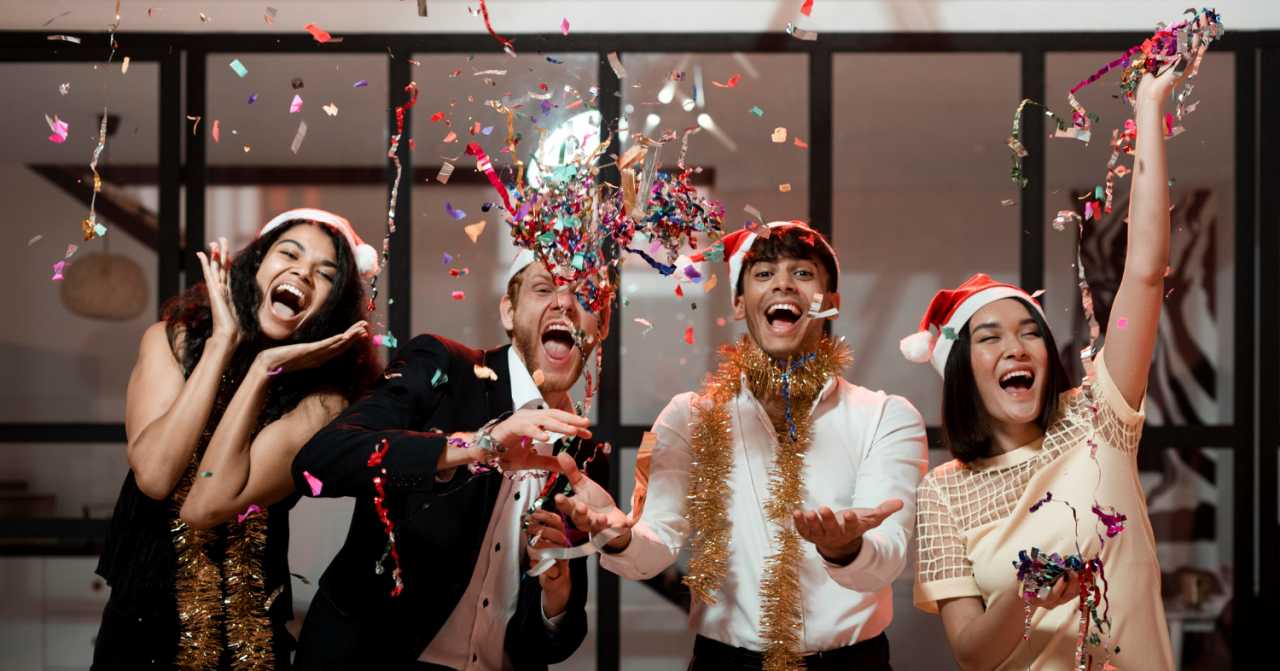 Final Thoughts
Whether you observe Christmas as a religious practice, there's no doubt that Christmas in Dubai is a major holiday attraction not only for residents but also tourists. This is why so many stores, shopping malls, and markets hold various activities and events to celebrate and share the joy of Christmas. That's why even if you do not practice Christmas in your religion, you should at least know what to expect and the best things you can do when you go out there this holiday season!
If you live in Dubai or are planning to visit, we hope you'll take the opportunity to experience the city's vibrant Christmas atmosphere. Happy holidays, everyone!
READ NEXT: 12 Best Christmas Festive Markets in Dubai